While visitors to Park City often seek out outdoor activities (and rightly so!), there's also a vibrant arts scene in our mountain town that you would be amiss to pass over.
"People may come for the mountain biking or skiing, but they're pleasantly surprised by the booming artistic and cultural community when they come off the mountain." says Jocelyn Scudder, managing director of the Park City Summit County Arts Council. "There's a current of creativity that flows through town."
Since the 1980s, Park City has been amassing a collection of public art, distributed throughout the community. The impressive collection currently consists of over 100 works commissioned by local, regional, and national artists. For a full list of the city's public art collection, visit the Park City Public Art website, featuring an interactive map.
One spectacular way to observe the creativity coursing through Park City is through a self-guided art walk. Visitors of any age will enjoy this self-guided tour, which you do on foot or on a bike! You'll take in eye-catching art as well as interesting facts about the storied history of the mining town. 
Old Town Transit Center
Start your art walk at the Old Town Transit Center, close to Main Street off Deer Valley Drive. Inside the transit center, you'll find a colorful mural depicting an overview of Park City history throughout the years by local artist and former director of the Park City Museum, Marianne Cone. The mural was commissioned as part of a project to rebuild the Old Town Transit Center for the 2002 Olympics.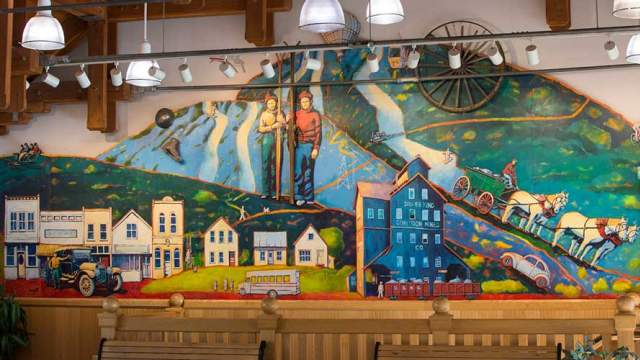 "Wild City" China Bridge Mural
Inside an unassuming parking garage, explore a brilliant and captivating 4-part mural, painted in 2018 by muralist Emily Herr. Starting on Level 1, walk through the mural's themes of Open Spaces, Arts and Culture, History, and Winter Sports.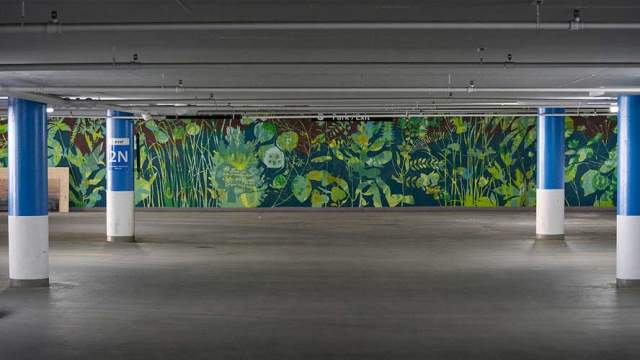 Loosey the Moosey and Franz the Bear
Time to observe the local wildlife (safely!). Head toward Swede Alley and walk down to the colorful Loosey the Moose, one of 22 moose sculptures originally created in 2003 to raise money for the Egyptian Theater.
Then, stroll down the walking path to Main Street, where you'll be greeted by Franz the Bear (as seen at the top of this blog), the iconic, 500-pound bear sculpture sitting on a park bench. Take a seat next to Franz for the perfect selfie photo opp.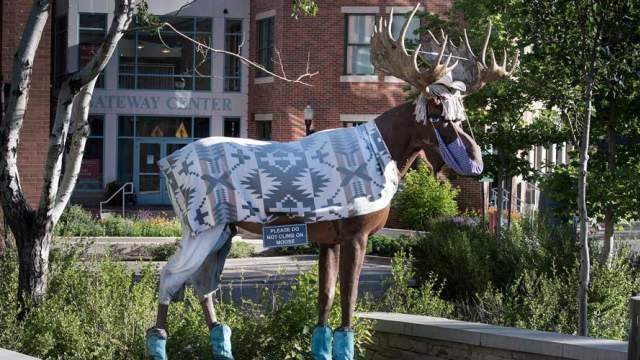 The Banksy Mural
Ready for a refreshment? Grab an ice cream cone across the street at Java Cow, before checking out one of the most iconic works of public art in Park City by Banksy. The renowned yet anonymous guerilla artist from the United Kingdom has graced the walls of Park City with a mural depicting a man photographing a flower in the alley right outside Java Cow. (The glass case was broken years ago in an act of vandalism!)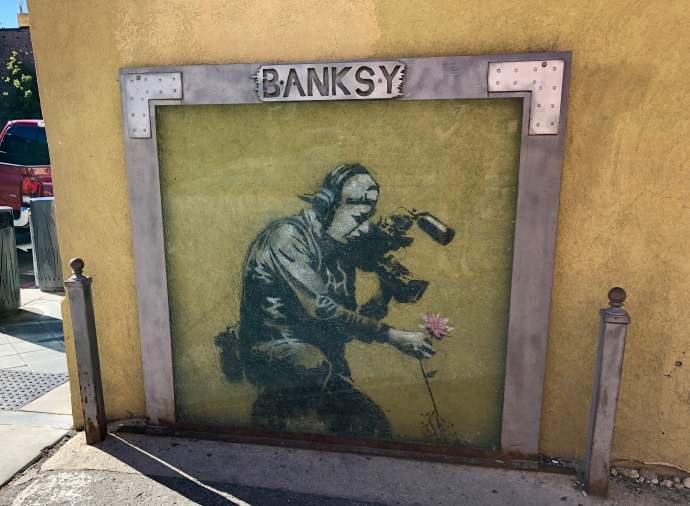 Life of Ontario Tunnel Mural
Head down Main Street to Heber Ave. Then, take a right until you meet up with the paved hiking trail, known as Poison Creek Trail, that runs parallel to Main Street. Next, check out the Life of Ontario mural inside the underpass you'll pass through, which depicts Park City's mining history in cartoon form.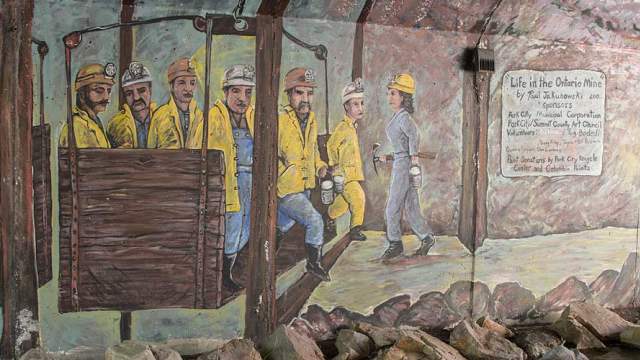 McPolin Barn and "Tunnel Vision" Mural 
Still have some energy left? Head to the historic McPolin Barn, either by foot, or grab a free e-bike through Park City's Summit Bike Share program. While the picturesque white barn is a work of art in itself, there's a hidden gem if you know where to look—a.k.a, below ground. In the tunnel below SR 224, you'll discover "Tunnel Vision," a mural by Utah artist Bill Louis featuring colorful geometric shapes, vibrant patterns, and silhouettes of the cows, hikers, and bikers you'll find in the surrounding area.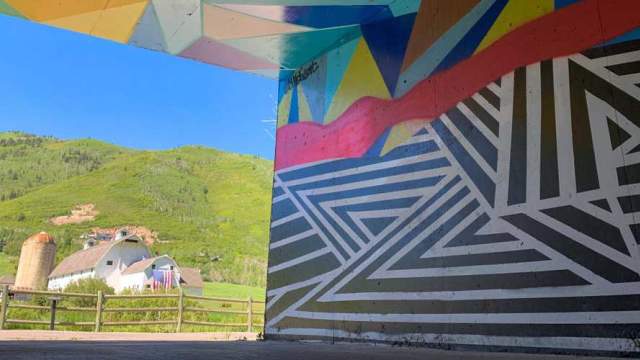 "Park City Scape" at Miner's Hospital
This stainless steel sculpture by artist James MacBeth was Park City's first piece of public art, dedicated in October 1984. The sparkling, tree-like silhouettes bring to mind the many Aspen trees lining the mountains in the area and cast stunning shadows as the sun moves throughout the day.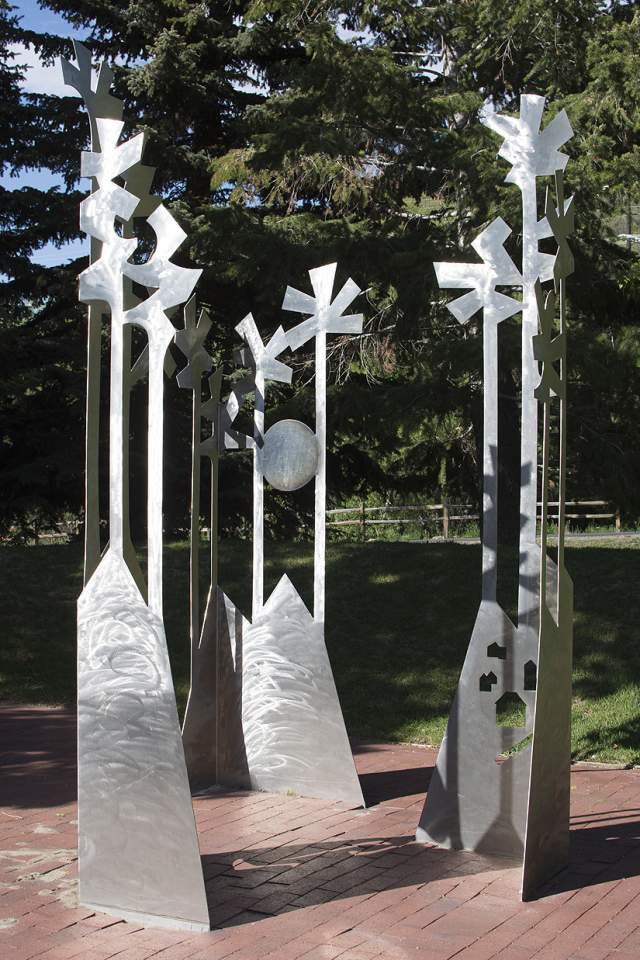 There is More Art to be Seen In and Around Park City
Here we've listed a few public art installations for you to check out as you explore Park City. But there are plenty more. In Kimball Junction? Check out the authentic "ski fence" used in the Visitor's Center main counter. Or check out the School of Fish metal sculpture, Sound Garden, and Sacred Community mural along the Poison Creek Trail. And institutions like the Park City and Summit County Arts Council work tirelessly to add to, improve, and maintain our vibrant culture and arts throughout town. There is so much great art in Park City, some of it permanent and some not. So join us for a stroll to see some of the best art that our community has to offer!