People flock to Park City for the nearly endless adventures in the surrounding mountains. But when you need a break from the slopes — or just want to start your day in a relaxing way — Park City's yoga studios offer a wonderful way to restore your energy, center your mind, and strengthen your body.  
Yoga provides the perfect complement to outdoor activities, like skiing, biking, and hiking, says Tiffany Harrison, certified fitness instructor, and owner of Backcountry Yogis. "A regular practice can prepare and protect the body," she says. "Yoga helps create a body-to-breath connection, improve cardio endurance, and work muscles used while carving turns or riding bumps in the powder."
Plus, yoga does more than simply strengthen and stretch your muscles — your mood and mental health will also benefit. Research shows that yoga provides a science-backed, practical way to manage stress and anxiety. In fact, one study found that just a single class can lower tension, depression, and fatigue. Yoga has also been shown to improve your immune system, reduce inflammation, help you sleep better, and even strengthen your bones.
While each class differs depending on the instructor, most yoga practiced in the United States is a form of hatha yoga. This style of yoga includes physical poses called asanas, controlled breathing that aligns with the poses, and a final relaxation period at the end of class, known as savasana. 
Whether you do yoga occasionally, have a regular practice, or have never tried it before, there's a yoga studio in Park City that's right for you. Ranging from heated power yoga classes to gentle and restorative yin yoga, you'll find the type of yoga your body and mind are craving in the list below.
Park City Yoga Adventures
Various Locations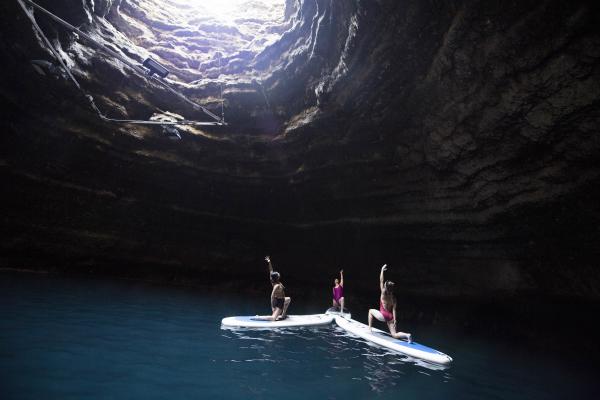 Expand your yoga practice beyond the four walls of a studio with Park City Yoga Adventures. This company offers unique outdoor experiences, all capped off with a custom yoga class in a cozy (and warm!) location. In the winter, take a snowshoe trek through Utah's "Best Snow on Earth" to a backcountry cabin or yurt. Year-round, Park City Yoga Adventures offers stand-up paddleboard yoga sessions in the steamy and invigorating mineral water of the Homestead Crater — an otherworldly experience to remember.
Cost: $150 per person for snowshoe yoga
Blue Sky Ranch
27649 Old Lincoln Hwy. Wanship, UT 84017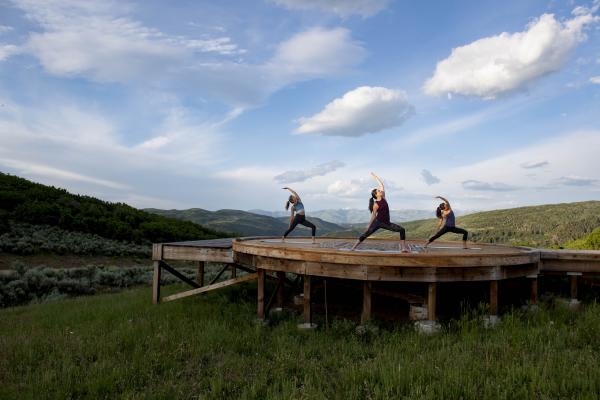 About 20 minutes outside Park City, Blue Sky Ranch encompasses 3,500 acres, complete with horses, creeks, and endless land and skies. Along with more adrenaline-pumping adventures such as horseback riding or clay shooting, Blue Sky also offers yoga classes in the great outdoors. Contact them to learn more about the options, including vinyasa yoga in a yurt or aerial yoga with views of the Wasatch Mountains.  
Cost: Price varies based on location and group size.
Eventful Yoga
Location Varies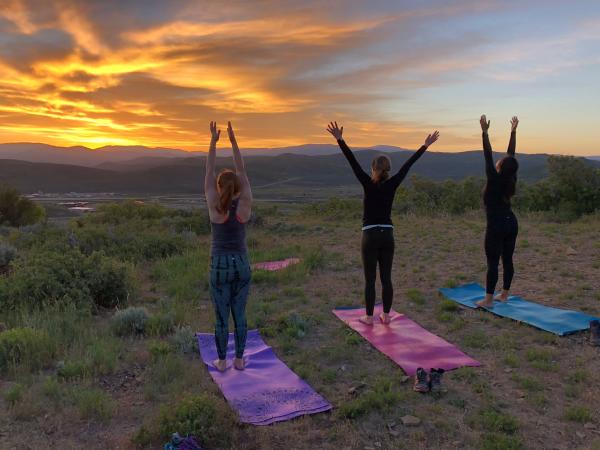 As a private yoga provider in Park City, Eventful Yoga promises to bring a "deep breath to your big day." Whether you're in town for a wedding, bachelorette celebration, family reunion, or corporate retreat, founder and owner Lindsey Marshall is passionate about making your big day even more memorable with a customized yoga class for you and your friends. You can even book a class with Lindsey to practice yoga in the great outdoors after an action-filled day of mountain biking or skiing. Another popular offering is Cheers! To Yoga, which allows you to have beer or wine in class — perfect for celebrating a special day! 
Cost: Price varies based on location and group size.
Tadasana Yoga Studio
3156 Quarry Road #3. Park City, UT 84098
Turn up the heat at Tadasana Yoga Studio, which offers power vinyasa classes at around 96 degrees. Each class is a little different depending on the instructor, but they keep the structure the same by focusing on their core tenets of "motion, athleticism, and grit." All levels are welcome — although the heat may be a shock to your system if you're not used to the altitude. Looking for a challenge? Tadasana's sculpt classes take your practice to the next level by incorporating weight training and cardio segments into a yoga flow. The playlists are always fun and uplifting, too. 
Cost: $25 per class; packages available