For Parkites being outside with one's dog is the epitome of self-care for not only yourself but also your dog. Park City has been established as a destination for dog lovers with our dog-friendly culture, from off-leash dog parks and hiking trails to dog-friendly shops, bars, and restaurants, canines are welcomed with open arms during all seasons! Below we are highlighting Park City's dog-friendly trails and open spaces, plus sharing information on how to be a steward of these natural places by creating the best trail experience possible for yourself and others, learning how to be safe, welcoming, and respectful.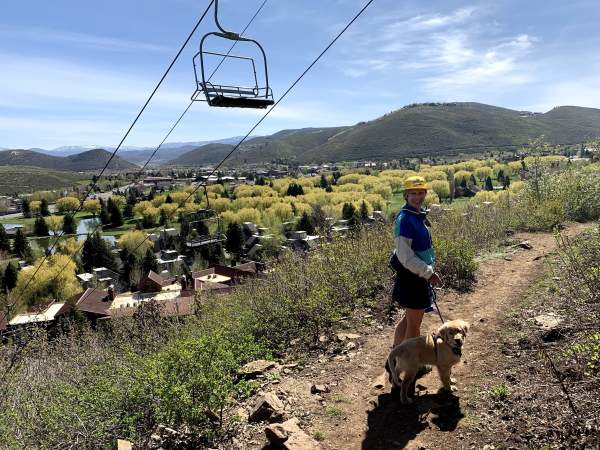 Leash Laws
While we are very pup-friendly here, we still have leash laws to help curb unruly doggy behavior. All dogs must be kept on leashes at all times except on enclosed private property and designated off-leash dog areas. Letting dogs run at large is unlawful and these laws help protect our community:
Dogs may be under the control of their owner through the use of an electronic dog collar, provided that the owner maintains voice and sight control and carries a physical leash or lead with them at all times.
Voice and Sight Control means that all dogs within the boundaries of a designated off-leash dog area must be managed through the use of "voice and sight control" defined as control of the behavior of a dog that is not leashed or otherwise physically restrained by its owner sufficient that the dog does not without regard to circumstances or distractions:

Charge, chase, or otherwise display aggression toward any person or behave toward any person in a manner that a reasonable person would find harassing or disturbing;
Charge, chase, or otherwise display aggression toward any animal (e.g., other dogs);
Chase, harass, or disturb wildlife or livestock; or
Fail to come to and stay with the owner immediately upon command by the owner.
 Actions prohibited within the boundaries of any off-leash dog area:

Failure of an owner of any dog within the boundaries of an off-leash dog area to carry a leash. Electronic dog collars may not substitute for a physical leash or lead.
An owner having more than four dogs simultaneously unleashed.
Failure of an owner to exercise voice and sight control at all times.
Failure of an owner to properly clean up and dispose of dog waste.
Failure of a dog to be properly licensed and to wear a license tag.
Failure to follow any other posted off-leash dog area rules and regulations.
Dogs must remain on leash within one hundred fifty feet (150') of an off-leash public trailhead.
Trail Etiquette
With no shortage of trails to explore here in Park City, understanding where to go with your pup and trail etiquette are two big first step before journeying out into the wild so you are properly prepared for who and what comes your way. The below are supremely important concepts to keep in mind while out on the trails to keep you, your dog, and others safe while recreating:
Know who has the right of way - Most trailheads will have the yield triangle signposted highlighting which user has the right of way, but let's break it down.

Both hikers and bikers ALWAYS yield to horses.
Bikers ALWAYS yield to hikers.
Downhill hikers ALWAYS yield to uphill hikers.
Downhill hikers and bikers ALWAYS yield to uphill hikers. The only time this does not apply is when using directional mountain bike trails and in this case, the trails will have signage stating that it is an uphill or downhill only trail.
Observe trail conditions…. avoid riding or hiking if it negatively impacts the trail (avoid leaving postholes or deep ruts)
Leash all pets per Summit County Ordinance, with the exception of the Round Valley Open Space, off-leash dogs can become confused by bikers and can cause significant injury to a person, themselves, or equipment.
Always place dogs on a leash immediately upon arriving at trailhead parking lots. That way excited pooches never get the chance to harass others, get hit by a car, or sneak in a bathroom break while owners are distracted.
Clean up and properly dispose of pet waste
Do not leave a "doggie bag" on the side of the trail. More often than not, they are forgotten and left to rot on the side of a trail. Bring extra waste removal bags just in case.
Observe all posted signs, including (but not limited to):

'No Parking'
'Do not block the driveway'
Following parking guidelines and signage is especially important at popular trailheads like Iron Mountain, Summit Park, Mid-Mountain, and Rob's Trail, where violators will be ticketed and/or towed.

Respect private property and stay on designated trails
Keep noise to a minimum, especially in the mornings and evenings
Do not harass wildlife
Practice 10 Seconds of Kindness. Slow down and smile. It's easy and it makes everyone feel good.
Mountain Trails Foundation is our local non-profit trail organization and a great resource for up-to-date trail conditions.
Trail Safety 
Elevation – Park City's elevation ranges from 7,000 (Main Street) to 10,000 (Jupiter Peak) feet above sea level. At higher elevations, your body works harder, your respiration rate increases, and your body loses water faster. This means you should be drinking an additional 1-1.5 liters of water per day and also increase your carbohydrate consumption; both of these will help you avoid altitude sickness. Another factor to be mindful of is knowing the elevation change for each hike. Many of our trails start off with a fairly consistent climb which may be more challenging for those visitors who live at lower elevations.

Respect Wildlife – Our local wildlife includes both the large and small variety. We have moose, deer, elk as well as squirrels, marmots, chipmunks, and rabbits. It is best to observe wildlife from a distance. If you are with your dog and are lucky enough to be in the presence of a moose be sure to stay back and immediately leash your dog if you are in an off leash area. If they happen to be standing in or close to the trail turn around and respect their space.

Hydration + Food - Plan to carry a minimum of 1 liter of water per person (and for your pup) for a 2-hour. As mentioned above, your body works harder at higher elevations so be sure to pack healthy snacks in your backpacks.

Check the Weather Before Each Excursion - be aware that weather in the mountains can change quickly, it's usually a great idea to dress in layers and have a couple extras including hats and gloves in your backpack.

Cell Service - may be intermittent throughout your hike so plan accordingly. Download a map and be sure you know all the trail specifics.
Dog Parks
Quinn's Junction Dog Park
Located next to Park City Hospital just a few minutes from downtown Park City. With a sizable fenced-in location and the trails of Round Valley nearby, this is a win-win for the owner who wants to jog with their dog and then take fido over to meet some furry friends.
Trailside Park
Trailside Park has two separate sides that accommodate small and large dogs. Both have sodded and natural surfaces for the hounds to run and play. Benches and shade shelters are provided for the owners to relax while the dogs enjoy the park. At Trailside, there is also a 1-mile off-leash trail where your dog can run free but make sure to pay attention to the signs identifying areas where dogs must be on a leash.
The Woods At Parley's Lane
The Woods at Parley's Lane provides a small, yet beautiful spot for your pet to play off-leash. This half-acre dog area has training/exercise features to keep your four-legged friend fit and healthy. While your pet burns some calories, you can rest on the benches provided. The Woods Trailhead also provides options to extend your time with your pet walking along a local trail!
Willow Creek Dog Park
Willow Creek Park is an enclosed 2.4-acre fenced area with grass and a large dog-friendly pond. The pond features both a zero-entry point on the east bank and a floating dock for the most adventurous dogs. Inside the dog park, you will also find a 1/3-mile soft surface trail and a 24,000-square-feet area of "fetch" space. The dog park features an agility course for your furry best friends and 3 small shade shelters for owners to enjoy while keeping an eye on the pups. Indy loves swimming at the Willow Creek Pond, but he hasn't quite figured out how to jump off the dock.
Run-A-Muck
Located below the Utah Olympic Park, this off-leash dog area contains 43 acres of open space and 2 miles of trail for you and your pup to run free. The trail wanders through aspen groves and open shrublands with great views of the surrounding hills and ski jumps at the UOP. There is a creek that runs through the area, but make sure to bring water in case it's dry as there's not a lot of shade! Leash required in the parking lot.
Off-Leash Areas
Library Field
Your pup has free range of this open field next to the Park City Library. This is a local favorite spot near Main Street Park City, that isn't exactly a dog park, as it is not fenced in, but is perfect for pups to meet and greet each other and have some fun running around.
Round Valley
Round Valley is the perfect place to hike, run or bike with your dog. This pup paradise offers over 30 miles of trail where dogs can roam off-leash. During busy times, it is best to stay on the main double-track trails to avoid bike-dog collisions. Leashes are required at trailhead/parking areas and make sure to bring plenty of water, especially in the summer because it can get quite hot as there is minimal shade and no water. The Round Valley area has numerous trailheads to base your adventure on. Keep in mind there is great parking at Quinn's Junction Trailhead, adequate parking at Highland Dr. and North Round Valley Trailheads, and limited parking at Old Ranch Road, the Cove, and Round Valley Way Trailheads.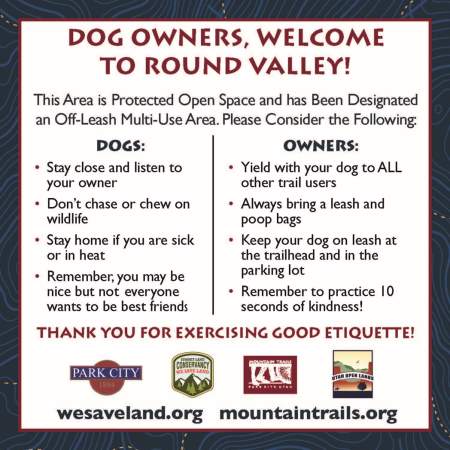 By choosing to recreate responsibility in Park City with your pup you are helping preserve Park City's world-class trail experience. As a last reminder on how to further support our mission we've summarized the concepts highlighted in this article:
Trailheads are built to a certain size to mitigate traffic on the adjacent trails and backcountry areas. This helps reduce impacts on trails, wildlife, environment and preserves the overall outdoor experience. Driving traffic to already pressured areas decreases the outdoor experience and compromises the environment/ecosystem/wildlife/experience. Check out Transit to Trails a convenient and free amenity. It helps with traffic congestion and crowded parking areas, especially in places like the Guardsman Pass area and Rob's Trail.

Remember to respect local trail culture by practicing 10 seconds of kindness to all you pass and adhere to trail etiquette.

By practicing trail safety, you'll understand how to Recreate Responsibly and know how to be safe in the wilderness even before you step foot on dirt.
We hope to see you out and about enjoying all the spectacular views and tranquility Park City has to offer!