Park City in the summer is packed full of great outdoor activities for families. Combine that with the fresh mountain air and the smaller crowds, and you'll quickly fall in love with this small town in the summertime. Truthfully, Park City is so packed full of outdoor activities in the summer, that there's rarely a reason to leave. Here are our family's top 9 favorite outdoor activities to do in Park City during the summer. To find out about great winter activities for the family, check out our article Kid-Friendly ways to Spend Time Off the Slopes. 
Hiking
Hiking is my favorite family activity in Park City because it's free, and just about anyone can do it. Park City has an incredible network of trails, so you could easily be hiking somewhere new every day of the week. You can also find trails as easy or as hard as you'd like. If you want a nice easy family hike, the Farm Trail is a paved trail that goes past McPolin Barn. This is an excellent trail for little ones, especially since it's stroller-friendly. There is also a great nature trail nearby (not paved), which is a perfect place to let younger kids explore and hike around. If you are looking for a hike with great views, without lots of leg work, consider riding the summer chairlift up Deer Valley Resort or Park City Mountain and then hiking down.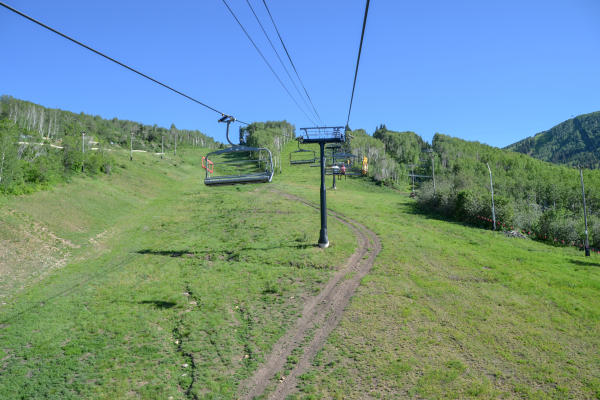 Mountain Biking
Park City has one of the best mountain bike trail systems in the entire state. The area is packed full of great trails, and there are plenty of areas that are excellent for riding with kids. For easy rides, our family go-to is to ride at Round Valley. There are plenty of beginner rides, and several of the trails are wider, which makes it an excellent place for beginning mountain bikers. If you've got kids of different abilities, as I do, you will absolutely love Trailside Bike Park. Trailside has several different short downhill loops that you can ride over and over. The trails start with a simple pump track (which even toddlers on balance bikes can do) and then move up to easy, intermediate, and difficult loops. As a mom with lots of biking kids, I love that I can hang out in a central location and keep an eye on everyone at the same time, and the kids love that they can go at their own pace and ability level. After you are done riding at Trailside, make sure to check out the fantastic new playground. It's massive, and even my 13-year-old loves playing there!
Stand Up Paddle Boarding
Stand Up Paddleboarding has quickly become one of the most popular water sports around, and for a good reason. Not only is stand up paddleboarding lots of fun, but there is a shallow learning curve, so just about anyone can figure it out. If you want a place to hang out and paddleboard in town, head over to Deer Valley's Pebble Beach. If you want a more significant area, but with a bit more of a drive, Jordanelle Reservoir is the place to go. My kids will happily play at the swim beach all day, and taking a paddleboard with us, gives everyone a chance to take turns swimming, playing in the sand, and paddling around the motor-boat-free swim area.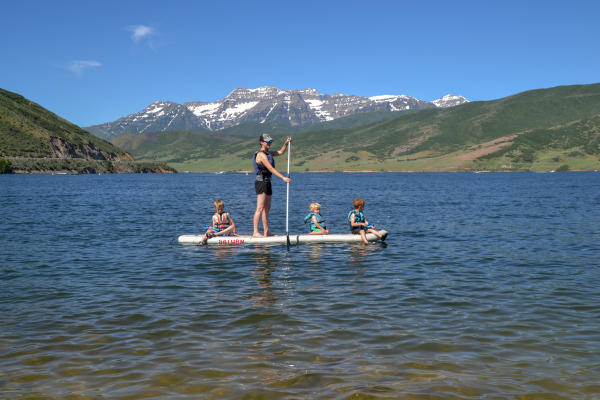 Ropes Course
If you're looking for a good adrenaline rush for the entire family, the Utah Olympic Park is a great place to go. Not only can you enjoy a ski jumping show from the Flying Aces All-Star Team, but there are lots of other activities like ropes courses and ziplines. We decided to try out the ropes course and had such a great time with our kids. There are three different ropes courses at the Olympic Park with varying difficulty and heights off the ground. Our tiny 5-year-old was even able to participate in the Discovery Course, while the rest of us enjoyed the intermediate Canyon Course. Well, that might not be entirely true. I clung to the ropes for dear life, while my 7, 10, and 13-year-old kids basically ran across the wires like trained circus monkeys, laughing the entire time. Warning parents - you're kids will likely show you up on the ropes course, so go prepared to have your ego dashed!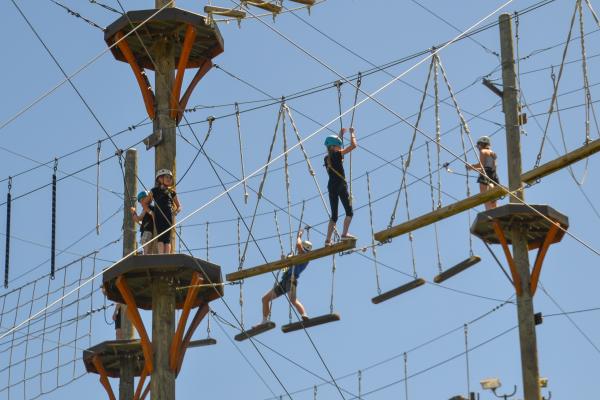 Swaner Eco Preserve
The Swaner Eco Preserve is one of our favorite places to go when we need a nice, calm dose of nature. Inside the visitors center, there are rotating exhibits. We always try and schedule our time there around the naturalist presentations. Before heading outside, we always head up to the top of the observation tower and use the binoculars to try and spot wildlife. From the tower, we have spotted a Red Tail Hawk, Coyote, Elk, and tons of Deer. 
After spending a bit of time inside the visitor center, head out back and walk along the boardwalk to see if you can spot any wetland animals. If you still want to spend more time in the preserve, ask the front desk for the code to get in the gate to access the trail system so you can spend a bit of time hiking around the preserve.
Ride the Alpine Slide or Mountain Coaster
The alpine slide and mountain coaster at Park City Mountain Resort are an absolute blast for families. The alpine slide is a longer and smoother ride, whereas the mountain coaster is fast and whips you around just like a typical roller coaster would. If you want a family bonding experience, I recommend going head to head racing down the Alpine Slide, that is, if you can handle your kids telling you the entire ride up the chairlift how badly they're going to beat you. Don't worry, you probably weigh more than they do, so they have no chance of winning unless you let them!
Younger kids can have the option of riding with an adult, which I highly recommend since it will help them go faster down the track (our 7-year-old had a tough time keeping his going since he is so light). We were especially thrilled that even our 2-year-old could join us on the alpine slide since he's usually excluded from fast-paced adventures like this.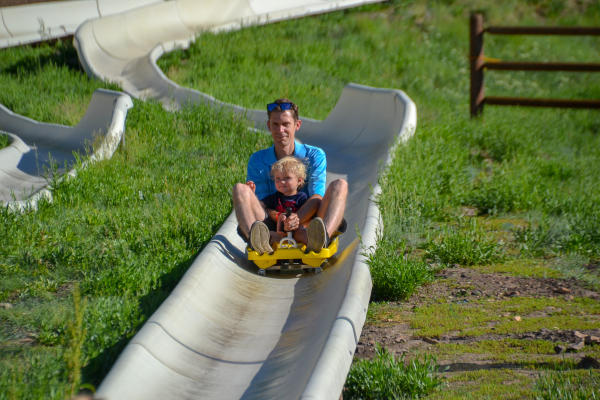 Rafting on the Weber River
If you're looking for a great way to cool down on a hot day, rafting down the Weber is actually one of my all-time favorite things to do. It's a very mild section of the river that you float down, so it's more of a scenic float than a whitewater adventure. We've taken all of our kids rafting down this section several times, and even though it's not an adrenaline-pumping ride, they have a blast jumping into the water and floating, as well as having water fights. If you don't have the experience and equipment to take your kids rafting on your own, check out some of the guided rafting tours offered from Park City. 
Horseback Riding
If you want a real Wild West experience, there's really no better way than by going on a horseback trail ride. It's a great way to escape the crowds and to see the beautiful mountains around Park City from a different viewpoint. There are a variety of rides available from Destination Sports and Adventure, though if you're a first-time rider or don't ride regularly, I recommend going on a shorter trip, so you aren't as sore afterward. Destination Sports allows riders as young as age 8.
Fishing
If you've got a fisherman in the family, then heading out for a day of fishing is a must-do when visiting Park City. The nearby Provo River is one of the best fly fishing areas around, and the guides at Rocky Mountain Outfitters can help you successfully navigate your fly fishing day with your kids. They will take kids as young as age 8 fly fishing, and they can provide lots of one-on-one attention to the kids so that they will not only learn a lot but also have a fantastic experience. If you've got younger kids or would rather fish in a pond, check out the fishing pond at Wasatch Mountain State Park. Kids under 12 don't need a fishing license, and the pond is regularly stocked in the summer, so your chances of catching something are much higher. There is also a playground right next to the pond, so if your kid's attention span only lasts for 15 minutes, like some of my kids, this is a great way to keep them busy while you catch a fish for them.