Located in Kimball Junction there is a unique wellness business that specializes in functional stretching called StretchLab Park City! At StretchLab they are revolutionizing stretching and flexibility with one-on-one assisted training sessions where you can choose from a 25 or 50-minute time slot and work with one of their trained Flexologists who will guide you through a series of custom stretches designed for your specific needs.
Details
What: 50-minute Stretching Sessions StretchLab
Where: StretchLab Park City 1678 Redstone Center Dr #115, Park City, UT 84098 (435) 275-1880
When: Make an appointment through the website or give them a call to hear their most updated availibility and get on a waitlist for your favorite Flexologist.
Who: 8-80 year olds looking for more flexibility, range of motion, recovery, and relaxation
How It Got Started and What They Do
StretchLab was founded in 2015 and is the leading assisted-stretching brand helping people through customized flexibility services. They are the fastest growing franchise in the last 4 years and in 2023 have opened over 300 studios. Owner of Park City's StretchLab Lucia Hevierova was introduced to its services more than a decade ago while she was living in Naples, Florida, after suffering from a back injury from a previous job. She was inspired to open a StretchLab in Park City after the StretchLab in Florida helped to relieve her of her back pain. She knew this type of functional movement would complement all the outdoor activities people like to do here such as skiing, snowboarding, hiking, and biking. She wanted to create a business that was rewarding not only for herself but for others, helping them to stay healthy or recover from injury.
People find themselves at StretchLab for many reasons. Some clients want to improve their sports performance, some want to decrease joint pain and others want the ability to touch their toes, or simply want a great relaxing stretch. No matter what brings you to StretchLab – the benefits of a professionally assisted stretching routine are tremendous.
StretchLab's certified Flexologist go through an intensive and thorough training that each of their employees must complete prior to joining StretchLab. During their required 60-70+ hours of theory and hands-on training, their Flexologists learn the muscular system, an array of assisted stretches, and how to work with a variety of clients of all ages and body types, so they are well-versed in how to help you become a better and more bendy version of yourself. You will definitely be in good hands!
Flexologists use the Proprioceptive Neuromuscular Facilitation or PNF system, which increases the clients range of motion by expanding muscle length neuromuscular efficiency. I did some quick research on PNF and it is a combination of two different types of stretches:
Passive Stretching
Isometric Stretching
When you place a muscle group into a stretched position and hold it there for a few seconds, you're performing a passive stretch; ie. lying on your back and lifting your foot toward the ceiling.  When you contract a muscle group without physically moving that muscle group, you're doing an isometric stretch; ie. placing your forearms against the sides of a doorway and lunging forward for a pec stretch. With PNF, you'll stretch a muscle group to its limit, and then push that same muscle group against a stationary apparatus.  The apparatus in this case is your Flexologist.  Your muscles will put forth resistance for a few seconds, then you'll take in a deep breath while relaxing the muscles, and your Flexologist will push your muscle group further as you exhale.
Highlights
A big highlight of booking an assisted stretching session at StretchLab are the plethora of benefits that comes with stretching the body which include improving sports performance, increasing range of motion & flexibility, reducing muscle and joint pain, improving posture, abd reducing stress.
StretchLab Park City offers sessions via a monthly membership where you can choose from 4, 8, or 12 sessions per month. In addition, StretchLab offers members a variety of session types, from their standard 50 Minute stretch, which is an extensive full-body stretch that focuses on all major muscle groups and extremities, to their Maintenance 25 Minute Stretch, which concentrates only on major muscle groups and can help alleviate muscle tightness. The 50 minutes is great for improving range of motion and flexibility, while also loosening tight muscles and easing stiff joints, and the 25 minute is ideal for when you don't have enough time for a full body stretch and need muscle relief. All of their sessions are available for ages 8 to 80!
Stretching is one of the most purest forms of wellness for the body. It can be seen as a preventative measure to help with aging and longevity so another (little-known) highlight of StretchLab Park City is that they take a couple forms of health insurance including United Insurance (you can check at the front desk for more info) and they also accept HSA programs. Check in with your insurance provider to see if they cover StretchLab sessions.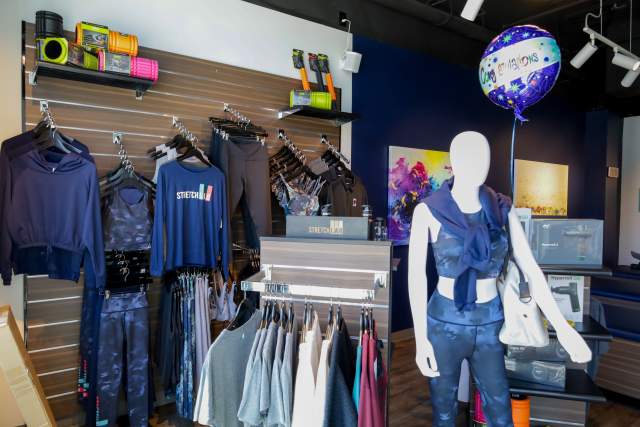 Looking Forward
StretchLab has been quite busy and their schedule is jam packed so Lucia is looking forward to hiring more Flexologist to help expand their schedule. Since StretchLab is so popular, there's usually a waitlist to see one of their practitioners, but by calling their front desk they can assist you with real-time availibility, waitlist options, and potential cancellation notifications via text.
Experience
I was really looking forward to trying StretchLab after they popped up in Redstone a year ago. In the past, I always loved the post-workout stretch with my personal trainer. Stretching is such a vital part of our bodies health and its something we know we should do more of.  It's a great idea to create a daily stretching habit to combat aging and create longevity for how our bodies function during daily activity. We need to stretch our muscles to stay flexible, nimble, and agile. I booked my session via their online booking scheduler and claimed my new member discount, your first introductory session is $49.
When I walked into Stretchlab I found myself amongst training beds and Flexologist helping their clients get a little more flexy. My Flexologist Erika greeted me and brought me back to our training spot where we went over my previous injuries and athletic endeavors. She explained to me the push and release technique that they use to help relax and flex my muscles. She started with my lower extremities and moved up my kinetic body chain towards my arms, shoulder, neck, and finishing with my head. Erika explained what she was doing while she went. She would bend me into position and then hold the stretch and release. It was quite relaxing but also an eye opener to where I was tight and could use more stretching. I asked Erika what was one of the more rewarding parts of her job, and she said helping people to touch their toes who couldn't! Consistent stretching, assisted and at home, helped her clients in as little as 3 weeks! Wow! Stretching is not a luxury but a necessity and having someone help you get a little deeper with your stretching will definitely help you feel stronger and healthier in the long run!
Advice
Bring grippy socks, if you don't have any you can purchase them there.
Don't allow yourself to hurt - definitely speak up when your Flexologist has reached your stretch stopping point
Be mindful of your breathing
Hydrate before and after
Wear comfortable clothing
Stretch Lab Park City just had its one-year anniversary party and is excited to continue helping people in the area recover from injuries, expand their range of motion, and become more flexible.