Some of my absolute favorite memories from my childhood were from our family ski trips. Learning how to ski was one of my favorite things and I looked forward to our annual ski vacation for the entire year.
Now as a parent myself, with my own set of little skiers I'm trying to create the same memories for, I can fully understand the amount of planning and prep work that my parents put into those trips each year. One thing that I am learning is that with family ski vacations, location matters. Choosing the best location for our family ski trips means that instead of being frustrated and frazzled during our trip, I can spend my time having fun and enjoying how much fun it is to ski as a family.
What Makes Park City a Great Family Ski Destination?

Close to the Airport
Park City is only about 35 minutes away from Salt Lake City airport, which is absolutely perfect for families. Eliminating the stress of extra travel on the front end always makes a trip go so much smoother. Not only will your kids be better rested, but they'll get to transition right away into the excitement of being in a ski town.  
Free Town Shuttle
Take my advice and just don't rent a car when you come to Park City. Plan to arrange a shuttle for transportation to and from the airport and once you're in town, you can take the free shuttle. Yes, there will be a couple of times that you'll want to grab a taxi or an Uber, but that free shuttle will be your best friend (my kids are a bit obsessed about riding it). Not only will you get to save money, but you'll also get to avoid the stress of driving in Park City in the winter. Parking can be really limited in downtown Park City and if it's snowing (which it often is), you'll have to deal with slick roads and difficult driving conditions.
Chairlift Access in the Middle of Town
That's right, you can access the Town Chairlift to Park City Mountain right from downtown! This is the ultimate convenience for families staying near Main Street since it will save you tons of time and energy to get everyone and their gear on the slopes. At the end of the day, take an easy run down Creole to get right back to Main Street.
Historic Main Street is Just Off the Slopes
Main Street is a great place for an Apres Ski family stroll, that doesn't take much time or energy to get to. If you're staying downtown, you can easily walk there, or if you're a bit farther out, the free shuttle will drop you off at Main Street. Enjoy checking out the shops, browsing the galleries, and of course, grab a bite to eat. Whether you're looking for something hot or cold, make sure to take the kids to Java Cow for some ice cream or hot chocolate.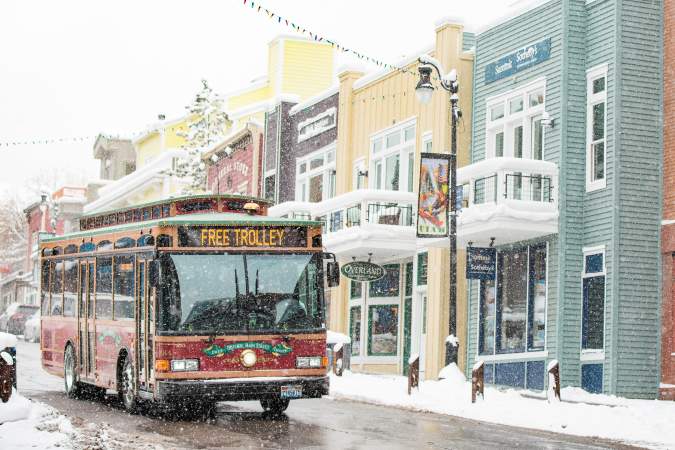 Great Activities to do on NON-SKI Days
While most parents would LOVE to ski for a week straight, the reality is that most kids can't handle that much skiing. Instead, we suggest that if families are going on a week-long ski trip, they ski for 4 out of the 7 days. Here are some great options to do on days that you don't hit the slopes. 
Head out for a sleigh ride. There are several different options for sleigh rides in town that operate at different times of the day. Some of them operate during the days while others offer evening tours (and several include dinner as well).
Go snowmobiling. If your kids love speed and adrenaline, then they will absolutely love snowmobiling. There are several different tour companies in the Park City area that offer everything from a few hours of riding to a full day.
Go sledding. Sledding is always a hit with the kids and is such a great way to spend the day. If you're looking for a facility that offers sledding, head over to Soldier Hollow in Midway (about 20 minutes away) where you can get tubes as well as be towed back up the hill. If you're looking to go on your own, grab a couple of sleds and go over behind the Park City Ice Rink where there's a great sledding hill.  
Swim in a Geothermal Crater. If you're needing a break from the cold and snow, head to the Homestead Crater. Here you can swim or snorkel in the warm geothermal crater, or if you're feeling like you've got great balance, you can even try your hand at paddleboard yoga with Park City Yoga Adventures.  
Kid-Friendly Nightlife
While the terms "kid-friendly" and "nightlife" doesn't usually go together, there are a surprising number of kid-friendly entertainment options at the end of the day. 
Park City Escape Room: If you haven't tried an escape room yet, this is a fantastic one to try (and if you've been to one, you know how fun they are). A mix of puzzle, mystery, and adventure, the escape rooms will have your family working together against the clock on fun challenges to see if you can escape before time runs out. There are even rooms that are open to all ages, so it really is a great experience for the entire family. 
Additional options with calendars to keep an eye on for more kid-friendly activities include:
Huge Variety of Lodging Options
Park City really does have it all in terms of lodging, so you can find something that suits every travel style and budget. Whether you want a simple chain hotel, a private house, a luxury 5-star hotel, or even ski-in ski-out chateaux, you'll find it all here.  
Restaurants Galore
There is no shortage of dining options in Park City so whatever your family likes, you'll probably find it here. Main Street is the place to go for one of a kind local restaurants, or if you're looking for something more familiar, head out to Kimball Junction for a huge variety of chain restaurants.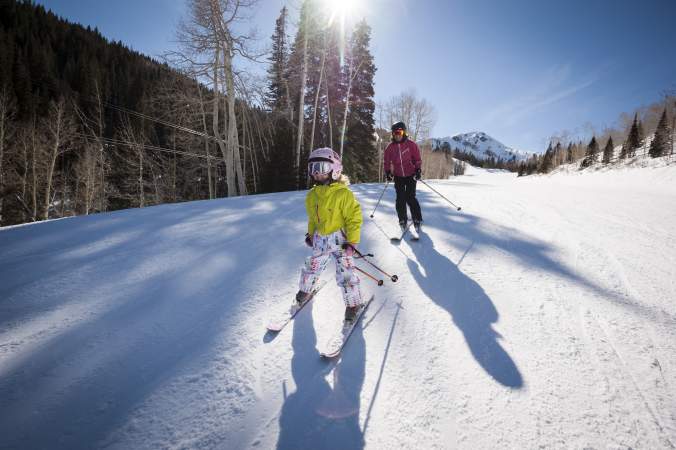 Terrain for All Abilities
When you ski in Park City, you will literally find something for everyone. Between Deer Valley and Park City Mountain (the largest ski resort in the US), the terrain options seem endless.
Best Beginner Terrain at Park City:  If you're at the Park City Village, you'll want to check out the First Time Lift and run.  It's just like it sounds, a run that's perfect for first-timers. If you're over at the Canyons Village, head up the High Meadow Lift at the top of the Red Pine Gondola.  
Best Beginner Terrain at Deer Valley: Deer Valley is really great for first-timers because they have a big variety of easy terrain that's great to learn on. Once you can turn and stop, I recommend heading up the Quincy Lift and skiing down Ontario. It's a longer run than most beginner terrain, but that also gives you lots of time to practice your skills. Once you've mastered Ontario, head down Bandana (on the west side of Quincy), and if you've got a daredevil in the group, let them try some of the trails through the trees.  
Best Intermediate Terrain at Park City:  If you're looking for great intermediate terrain at Park City, head over to the Canyons side of the mountain. For your first few runs, make some turns off the Saddleback Lift. Snow Dancer is the easiest intermediate run there, but Kokopelli is a great step up from there. From the bottom of Saddleback, head down the Chicane run and up the Tombstone Lift. Most of the runs on the east side of Tombstone are intermediate trails and there are over a dozen intermediate trails over here. 
Best Intermediate Terrain at Deer Valley: Over 40% of Deer Valley is made up of intermediate terrain, so you'll find no shortage of blue runs here. Both the Sterling and Wasatch Express Lifts have several great intermediate runs for your blue skier such as the wide-open runs Keno and Nabob. The double blue (advanced intermediate runs) of Steins Way and Tycoon are also great because they give intermediate skiers a taste of expert terrain while still having intermediate skills. These runs are a great option for kids who are really wanting more difficult terrain but don't quite have the skills for black diamonds yet. 
Best Expert Terrain at Park City: Undoubtedly the best expert terrain at Park City is accessed off the Jupiter Lift. Up there you'll find lots of steep runs, chutes, and some wide-open bowls. If you've got a kid who can ski Jupiter, you'll pretty much be in heaven all day long as you take laps here (especially if there's fresh snow). If you're at the Canyons side, head over to the Super Condor Express for some excellent tree skiing and fewer crowds than other lifts.
Best Expert Terrain at Deer Valley: The best steep terrain for experts is found on the Sultan Express and Mayflower Lifts. The Ruins of Pompeii is a great run for some steep tree skiing and Steins way will give you a good mix of both intermediate and expert skiing. If you're willing to make a bit of a trek to go out farther, the Mayflower Chutes is really steep and is a great challenge, especially if there's fresh snow.
All of these features combine to make Park City, UT one of the easiest and best places to take a family ski vacation. It's easily accessible, has great terrain for every ability level, and has plenty to keep the whole family busy even when you're not on the slopes.
Explore Winter in Park City