It's not a buzzword, it's a movement. Sustainability is here to stay, and why not? It's all about protecting our winters, protecting our mountains, and leaning into conservation. From big resorts to local fair businesses across Park City are doing their part to recycle, reduce, and reuse. In fact, Park City has one of the most ambitious green projects in North America, aiming for net-zero carbon and operating on 100% renewable energy for all city operations by 2022, and for the entire community by 2030. But in a town that relies heavily on tourism, can it be done? We believe it can, but only with a little help from our guests.
There are endless ways to decrease your carbon footprint at home, from recycling, to solar, and composting. But what about that once or twice-yearly ski trip? Here are five ways to turn that once or twice-yearly ski trip into a sustainable vacation, while continuing to enjoy all mountain life has to offer.
Lodging
When booking your next hotel, condo, or home consider your carbon footprint and research accommodations that support Park City's initiative for net-zero. Here are two we love, with many more options available.
Hyatt Centric
Adjacent to the Sunrise Lift at Canyons Resort is the Hyatt Centric, a LEED (Leading in Energy and Environmental Design) Certified hotel, outfitted with LED lighting, toiletries in recycled packaging, ENERGY STAR kitchen appliances, low chemical gardening, and environmentally safe cleaning products. It's easy to say that a night (or five) enjoying Hyatt's sustainable initiatives will leave you rejuvenated and guilt-free.
Treasure Mountain Inn
Awarded twice as Utah's Business Recycler of the year, Treasure Mountain Inn is not only devoted to placing recycling stations at each entry point, but they sort their garbage as well. But it's not just cans and bottles, Treasure Mountain Inn recycles their soaps, donating them to the Clean the World Program, which "reconstitutes them for use in 3rd world countries." The Inn, located at the top of Main Street, also purchases 120% of its electricity from wind power and was the first hotel in Utah to go carbon neutral.
Transportation
The mountains are vast, the parking is…well, crowded. Luckily, Park City is one of the most accessible mountain towns in America, giving locals and guests the opportunity to traverse the city while also traveling sustainably. And, in a town proud to offer a variety of free public transportation options, including easy access to ride-sharing and airport shuttles, there's no need to rent a car.
High Valley Transit (Free)
Recently introduced as "micro" this on-demand transit system will pick you up at any one of their "virtual bus-stops" (usually a street corner) which services the Jeremy Ranch and Silver Springs areas of Park City. Simply download the High Valley Transit app from the app store, let the system connect you with nearby vehicles, and receive an ETA while tracking your vehicle in the app. Their minivans are equipped with bike and luggage space, so whatever your adventure, they will deliver.
Park City Transit (Free)
Winter routes are in effect which means wherever you're staying in Park City, a simple download of the myStop Mobile app will get you to and from your hotel, the resorts, main street, and a plethora of various destinations along the way, (skis and kids in tow). Map your route, track your bus, and hop aboard.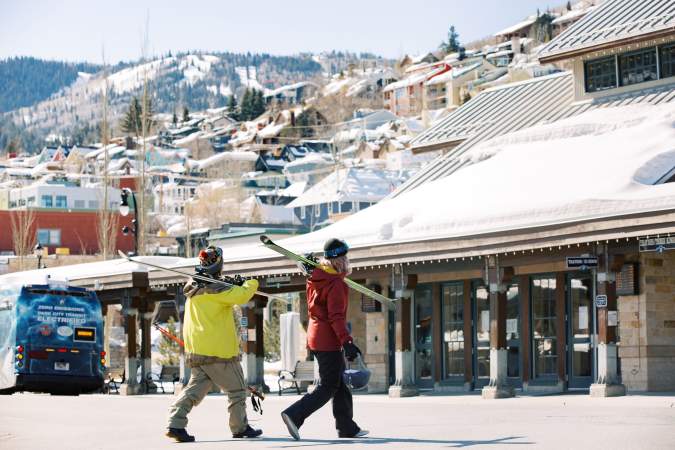 Gear
It seems simple enough, jacket, pants, gloves, and you're off! But sustainable skiing starts well before you hit the slopes. Sustainable clothing has a variety of impacts from eco-friendly packaging to emission-reduced production and organic materials.
But our favorite renewable clothing source is closer than you think, in fact, it might be right next store! Borrowing gear from friends, family, and neighbors is the easiest way to reduce your carbon footprint, and let's face it, keep a few dollars in the bank. But if you're the lone snow-bunny in the family, never fear, Park City is home to endless opportunities to suit up.
Backcountry
Headquartered in Park City, Backcountry is a local online reseller providing the best in outdoor gear. When searching through their extensive catalogue keep an eye out for "responsible" products, which must meet "at least one of the following criteria: Certified B-Corp, bluesign® APPROVED, Organic Materials, Recycled/Repurposed Materials, Responsible Wool Standard, Responsible Down Standard, or Fair Trade Certified™."
Rental Gear
Jans Mountain Experts and Cole Sport are just two of the rental companies in town with options to rent ski or snowboard clothing, along with a board or pair of skis. Check their website for pricing and feel confident that you're reducing your carbon footprint while donning quality gear that won't leave you out in the cold. Forget your jacket or pants? Rentals are a great option for anyone whose time on the slopes is reserved for that once or twice-yearly trip up the lift without dipping into your holiday savings.
Food
Park City is a foodie town, so it's only fitting that you'd enjoy the local fare. Here are a few restaurants committed to serving up savory (and sustainable) meals.
Chimayo, Windy Ridge Café, Grappa, Sushi Blue, and Billy Blanco's
Each of these restaurants is a part of the Bill White Restaurant Group, a team committed to healing the earth through local farming practices by regenerating the soil up on which their 500 chickens, 50 apple trees, 600 cows, and 2,000 asparagus plants (to name a few) grow and feed.
Ritual Café and Chocolate
Just off main is a hidden gem of sustainability and flavor. Ritual Chocolate uses organically grown cacao, organic sugar, factory LED lights, compostable packaging, and has goals of becoming 100% zero waste and solar-powered. They also make a seriously delicious latté.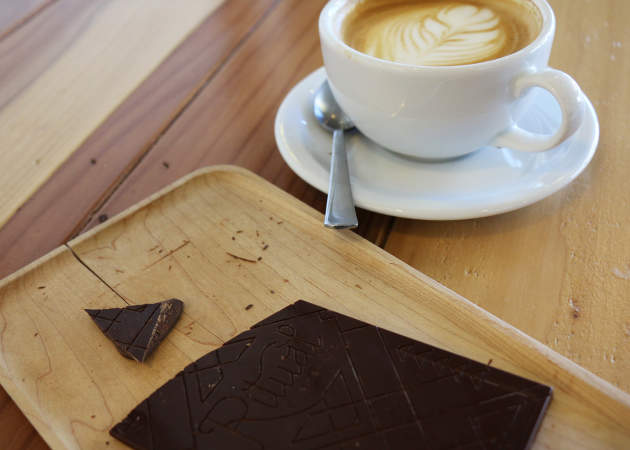 So, the next time you're planning a trip to the sunny snowy slopes of Park City, Utah live like a local and support our initiative to give back to the mountains that have given us so much in return.