When you visit Park City you not only notice our mountainous beauty but also our wide-open natural spaces. As a community, we are so lucky to have these natural places preserved from development, as they keep Park City from becoming overdeveloped and continue to provide a home for many wildlife species that we cohabitate with.
As you enter the Kimball Junction area from 80 and head towards Old Town Park City you pass what looks like a massive field, but don't let your eyes deceive you as this is a 1,200-acre protected nature preserve with nearly 10 miles of trails full of wetlands and wildlife habitats known as the Swaner Preserve.
How It Got Started
The Swaner Family owned land in the Kimball Junction area that was very special to them as they spent a lot of time there together. When patriarch Leland Swaner died the family decided they wanted to set aside some of this land to be preserved as a place of reflection and solace. Their initial vision was a rose garden and amphitheater, but as they started to learn more about their land, they discovered it was a fen, a type of peat-accumulating wetland fed by mineral-rich ground or surface water. It is one of the main types of wetlands along with marshes, swamps, and bogs. Since this land was so special and important to the wildlife in the area they tried to preserve more of it with help from neighboring landowners, donors, and the local government. They were successful in preserving 1,200 acres dominated by wetlands and stream ecosystems. The fact that the preserve is water-based is what makes it so important to the area, as less than 1% of Utah is covered by wetlands, but 80% of our wildlife needs them during their lifespan. The Southside of the preserve is more than meets the eye and has an incredibly diverse lot of wildlife with 170 species of birds. It's quite a disproportional habitat type for Utah, and we are lucky to have this area preserved right in the heart of our community.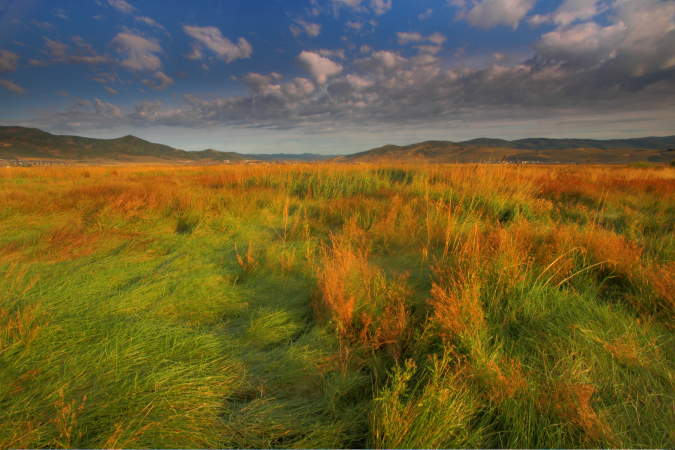 What They Do
The Preserve is surrounded by houses and roads, bisected by a major interstate and crisscrossed by trails and a maze of land easements. Its management means understanding the needs of both the ecosystem and the people who live in and around it. The Preserve's conservation efforts enhance both environmental health and human well-being. There are three main facets to what The Preserve does. First, they seek to understand their precious resources by conducting professional field surveys and assessing the land, wildlife, and waters, working to restore the Preserve to its most natural state. Then they enhance the streams and wildlife habitat for the benefit of the community, creating space for visitors to experience The Preserve through special exhibits. Finally, they partner with other organizations to ensure that their conservation efforts are comprehensive and meaningful on a larger scale and help educate over 20,000 people per year through youth and adult programs, field trips, and summer camps.
Highlights and What They are Looking Forward To
The Swaner Preserve is excited to announce its new exhibit opening on October 2, 2021, Survival of the Slowest. This bilingual (English/Spanish) exhibit takes a close look at the often-overlooked species that have used their presumed disadvantages to help them survive—and even thrive—in a world where large, strong, and fast animals are often at the top of the food chain. This world-class exhibit, produced by Little Ray's Nature Centres, based out of Canada, features 12 habitats with LIVE animals and plants. Visitors have the chance to see a two-toed sloth, pixie frog, veiled chameleon, and many other incredible animals. Throughout these habitats, the exhibit explores the counterintuitive adaptations of these unique species. How can slow and steady win the race? Does bigger always mean better? What animals benefit from being weak rather than strong? Visitors will learn how general biology concepts apply in the real world and how survival in the animal world is all about trade-offs—some are cold-blooded, others warm-blooded; some have adapted to need food less frequently than others, and some have honed unique ways to hide from their adversaries.
The goal of this special exhibit is to spark curiosity about nature and inspire environmental stewardship, go beyond our local habitats and environment and learn about larger global issues to look at the world with new eyes and fresh perspectives.
Survival of the Slowest will be open at the Preserve's EcoCenter from October 2, 2021, to January 9, 2022, Wednesdays through Sundays. Live animal presentations will be offered throughout the day with wildlife educators, and animal care staff will be on hand to engage with guests and help them connect with wildlife. Pricing: Adults: $12. Children 3-12: $8. 2 and under: Free. Member Discounts.
Another exciting program at Swaner is the Preserve Project, their stream restoration project called Beaver Dam Analogs. BDA as they like to call them are man-made beaver dams to mimic the structures and functions that real beaver dams would have. These help to store more water in our watershed, improve habitats for native fish, improve the water quality and help the environment adapt to climate change.
The Swaner Preserve is looking forward to continuing to increase focus on applied research that can help other land managers in the Intermountain West to make educated and improved land management decisions for our wildlife and watershed.