Park City is a mecca for outdoor activities and adventures. Beautiful hiking and biking trails are abundant, for all ability levels, that make this "ski town" a genuinely world-class summer destination. Having just moved to Park City this summer, I am surprised and delighted by all the options, especially when it comes to mountain biking. From wide dirt roads and beginner singletrack to scenic cross country trails, and heart-pounding downhill options, there really is something here for everyone.If you're feeling adventurous, there is even a bike park with multiple features that include flow trails, tabletops, and pump tracks, With so many options, it can be overwhelming for first-time visitors, new locals (like me!), and even returning guests who are looking to explore some new areas. Thankfully, White Pine Touring helped me get the lay of the land and connect with some great people to ride with.
Located in the heart of Park City, Utah, White Pine Touring is an outdoor retailer specializing in mountain biking, backcountry skiing, cross country skiing, snowshoeing, and rock climbing. They rent top-of-the-line equipment and offer guided mountain biking, road biking, hiking, and rock climbing as well as lessons throughout Park City's 450 miles of trails and the neighboring Uinta Mountains. During the summer months, June through August, White Pine Touring offers FREE guided group mountain biking rides on Tuesdays (women only) and Thursdays (everyone is welcome). I joined the Tuesday Women's Only Group for a fun, no-pressure trip led by professional guides to explore more of Park City's epic singletrack.
Details
WHAT: White Pine Touring Free Mountain Biking Group Rides
WHERE: Rides start from White Pine Touring Retail Location 1790 Bonanza Drive Park City, UT 84060
WHEN: Memorial Day to Labor Day Women's Only Ride Every Tuesday. Coed Ride Every Thursday 6-8 PM Rides head out pretty close to 6 PM sharp so make sure to get there a couple of minutes early. And if you need to rent a bike suggested time of arrival is 5:30 PM
WHO: Women on Tuesdays, Coed on Thursday. Beginner, Intermediate, Advanced - All Levels Welcome as you are split up into groups with similar ability level to explore the variety of Park City's bike trails.
Experience
Having just moved to Park City from San Francisco I was looking to get acquainted with the local mountain biking trail systems and make some new riding friends but wasn't really sure where to start. I've been mountain biking on and off for multiple years, but never regularly. With so many trails so close to home, I'm hoping biking can become a daily or weekly activity. Mountain biking is one of those sports that really makes me come alive and takes me entirely out of my comfort zone.
I decided to join the Women's Only Tuesday Night Ride as I believe there is a special supportive and encouraging energy that comes alive when women come together for outdoor pursuits. The Women's Rides are lead by Team Sugar, a group of women who have been promoting women's mountain biking in Park City since 2003. Needless to say, I was really looking forward to getting started.
I arrived about 30 minutes early, at 5:30 PM, to White Pine Touring's retail location on Bonanza Drive, to get the lay of the land and set up on a rental bike. As soon as I walked up to the shop, there were multiple women in Team Sugar White Pine Touring jerseys, who were to be our designated guides while out on the trails, asking if I've checked in yet, have I attended any of the rides before, and what ability level do I consider myself. I really liked that I wasn't wandering aimlessly around and that many people were welcoming me, saying hi, and rounding us up so we could get situated and out on our ride by 6:00 PM sharp.
I asked about the bike rental process, and I was directed inside where the staff at White Pine was super helpful in setting me up on a bike that fits correctly. It took a couple tries to get the right size bike, as I'm 5"2, but Steve was super attentive and found me a 27 + Dual Suspension Stumpjumper to try.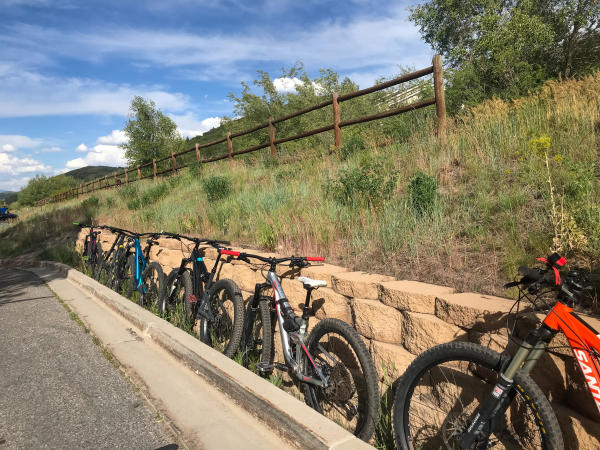 With my bike in hand, I headed back outside where more women had accumulated. The number of women in attendance far surpassed my expectations, and there must have been 50 women milling around chatting with each other. Many appeared to be new to the group like me, but there were others accustomed to the routine.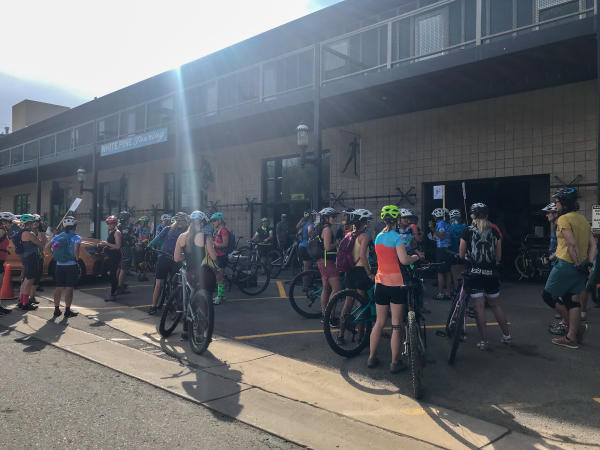 After signing a waiver and being handed a raffle ticket the guides rounded us up into ability level groups, where they each held signs that ranged from level 1-5. I associated my ability level with not quite beginner, but in need of some confidence-building and a refresher of basic skills, so I opted for the 1+ group.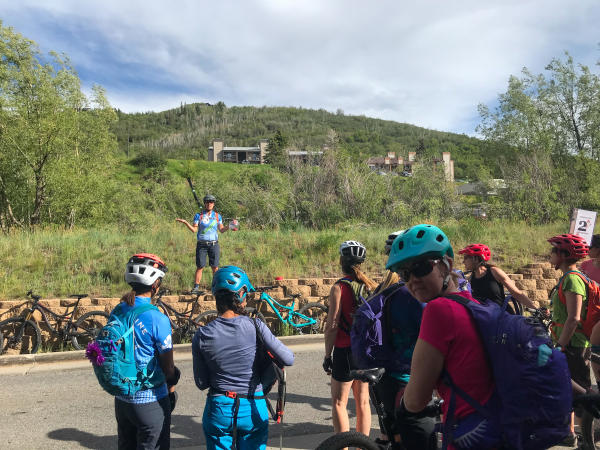 As 6:00 PM neared, the raffle was announced, and each group circled up. There were about 20 of us in the 1+ group and five guides. I introduced myself to a couple of women standing near me, and I was surprised to hear that they had come up that evening from Salt Lake City. Interesting to see that these rides attract women not just locally but from the surrounding areas. The guides introduced themselves and relayed the plan of attack for the evening. We were taking the Rail Trail, a paved trail, to Round Valley, one of the premier mountain biking spots in Park City, where we would gather  again and discuss trail options. Before hitting the road, we took a couple spins around the White Pine parking lot working on our cornering skills, practicing looking through our turns and keeping our pedals even, basic building blocks to take our mountain biking to the next level.
And off we went, I was pretty pumped to be around all these women who all seemed genuinely excited to be on their bike. These rides not only allow you to explore your comfort zone but also an opportunity to socialize and get to know other women riders in the area. I met women who were beginner mountain bikers trying something new by themselves, and others who met up with friends every week for this ride as their social friend time.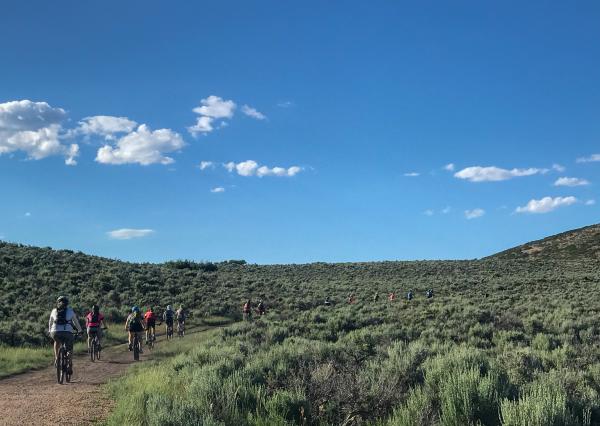 When we got Quinn's Trailhead at Round Valley, we assessed which trails we would be riding. We started as a pretty large pack with a relatively gradual singletrack climb on Rambler, which was fun and challenging. There were a variety of paces amongst the group, and the guides did a great job of spacing us out and making sure there was no one left behind. When the trail split in different directions, there was always someone there to relay directions which made it easy to keep up with the group, again making sure no one was left behind. We continued to Matt's Flat, working on some of the single track skills we practiced in the parking lot. It was awesome to see how supportive everyone was from the guides to the other attendees. Words of encouragement were handed out on the regular, which personally always makes me feel more confident with whatever I am doing. Our leading guide would stop the group every so often to remind us to drink water and to offer tips and tricks on how to improve our riding, which I appreciated. Mountain biking is hard enough, so I love all the advice I can get.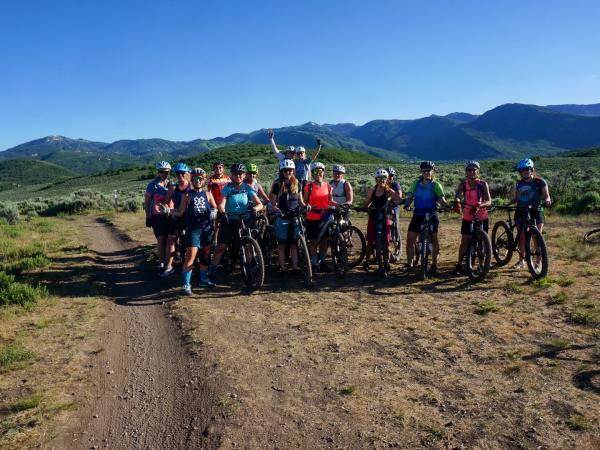 We arrived at a junction to take in the views and to pose for a group picture. At this point, there was a clear distinction between the different paces of the group. We then split into two groups with women who wanted to ride a little faster and women wanting to keep a more conversational pace. Even though I was probably more comfortable in the slower-paced group,  I opted for the faster one as to push myself a little more outside of my comfort zone. I was on the tail end of the faster group, slowly picking my way through Ramble On's rock gardens and steep switchbacks, and it was reassuring that there was always a guide bringing up the rear of group encouraging me every step along the way that "I had this" and that "I was doing great", no matter if I stopped and hiked with my bike.
After two hours of riding and instruction, as the sun started to slowly get lower in the sky, we started our descent of Round Valley and headed back to the shop where I would return my bike, sweaty, dirty, and happy. 
Highlights
The instruction. I started mountain biking by just being told to get on my bike and go fast, so I always appreciate when there is a considerate effort to break down the actual necessary skills and techniques, it takes to become a better rider, not only to progress, but also to ride safely.
Being able to get out and ride on some trails I never knew existed. It was fun to explore a different zone, while in the comfort of a group, and find my flow riding at an ideal time of day, connecting with nature. It wasn't too hot, and the views were spectacular.
I enjoyed meeting other women who liked to ride as much as I do. Between the guides and the other attendees, it was a delightful array of women, of all skill levels, age groups, looking to move their bodies, be active, find community, and pursue a sport that challenges their comfort zone.
Advice
Make sure to get to White Pine at least 20 minutes early even if you are not renting a bike, the parking lot will fill up.
Wear some sweat-wicking active clothes, and bring a helmet, a backpack, sunglasses, gloves, plenty of water, snacks, and sunscreen.
Bring a positive attitude and remember that mountain biking is challenging, but in an extremely rewarding way. It's okay to go at your own pace. Everyone's comfort zone is different, and it's okay to live at the edge of yours and not someone else's. So go the pace you feel confident at, try some new skills, and have fun!
Overall this experience with Team Sugar and White Pine definitely exceeded my expectations, and I've already been back a second time. I'm hoping to continue to try new trails, and build up my skills so that I can keep progressing as a stronger mountain biker. Take advantage of these free rides while you can as they are only offered throughout the summer. You will not be disappointed! Hope to see you out there!