Want to get your kids outside and exploring the beautiful mountains around Park City, but you're not quite sure how to do it? The good news is that hiking is one of the easiest and safest outdoor adventures to do with your kids. After years of trial and error with my kids, I can't wait to share the tips I've learned that help everyone have fun on the trail together.​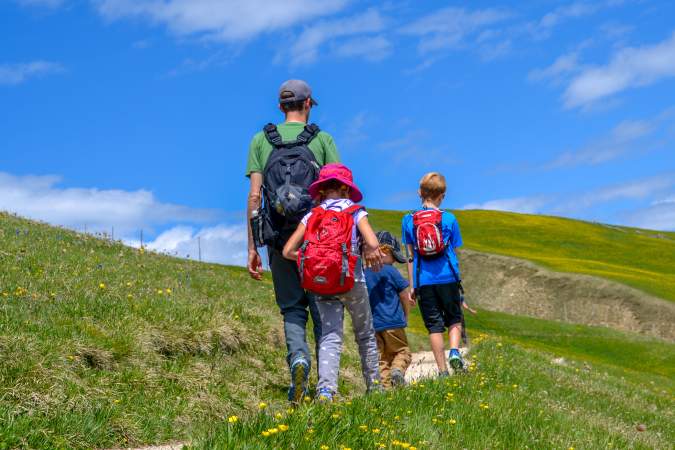 Helpful Tips
Water
Pack lots of water. Even if it might not seem like a hot day, dehydration is one of the fastest ways to ruin a hike (especially at Park City's high altitude). Plan on taking at least 1 liter of water per person (even kids). If you're planning to be on the trail for more than a few hours, or you're hiking in the summer, you'll definitely need more. 
First aid
Take a first aid kit. It doesn't need to be extensive, but make sure you have the basics covered. Band-Aids, antibiotic ointment, anti-itch cream, antihistamine, ibuprofen, and antiseptic wipes are each a must and can easily fit inside a Ziploc bag.
Sun Protection
Protect yourself from the sun. The sun at this elevation is strong whether it's summer or not — plan on applying sunscreen 30 minutes before you start hiking and bring enough to reapply every 90 minutes. Hats with a brim provide shade for heads, necks, and ears. Sunglasses protect little eyes and the sensitive skin around them from UV rays.
Clothing
Dress in layers. In the mountains, the weather can change FAST. It's not uncommon to start hiking in the sunshine and experience brief rainstorms and gusts of wind long your route, especially if you to mountain peaks or other exposed areas. I suggest starting your hike with a good breathable short sleeve or long sleeve top, and packing both warmth and water-resistant layers. 
Map
Have a map and know where you're going. In this day and age, you don't need to take along a giant paper map, but having a map of your trail downloaded on your phone is essential. In the mountains, a lot of areas don't have cellular coverage, so make sure that your map is downloaded for offline use AND make sure to set a marker on your phone, so you know exactly where you are parked. 
Shoes
Wear good shoes. Hiking in uncomfortable shoes is all around miserable, so try and plan ahead to make sure that you have comfortable and sturdy shoes to wear for your hike. It can take a few weeks to break in a pair of shoes so don't wear brand new shoes. Although hiking shoes often provide the best all-around comfort and support, a good pair of tennis shoes should work fine as well. 
Food
Bring lots of food. If you're hiking with kids, you'll inevitably need snacks. Somehow, whenever we hike with kids, they are all instantly starving and can eat their body weight in granola bars and trail mix. A general rule of thumb that we follow is to figure out how many snacks our kids eat on a typical day and then bring at least twice that amount. Tasty snacks for hiking are granola bars, nuts, carrots, apples, and just about anything involving peanut butter! Try to avoid lots of sugary treats since that tends to make it difficult for kids to regulate their energy. 
Bribes
Okay, I know I just said not to give kids lots of sugar while hiking, but sometimes in the world of parenting, bribery is necessary. This is especially true when hiking. Between going up and down hills, varying weather, and tired legs, you'll probably hear your fair share of whining. Carrying a bag of candy and telling them they can have a piece when they reach the top of the next hill will likely save your sanity and will definitely buy you a lot more time on the trail. I especially like skittles, starbursts, and gummy bears for trail bribes.
Games
Play games. At some point in your hike, you're likely to hear "I'm BORED" from one of your kids. This is the perfect time to start up a hiking game. Some of our favorites are I Spy, Follow the Leader, 20 Questions, or an on the fly scavenger hunt ("Everyone go and find the most interesting shaped leaf you can" or "find a rock with at least 3 different colors on it").
Enjoy the Journey
Remember it's really about the journey, not the destination. Hiking with kids can be long and tiring, and often you don't make it to your end goal. Instead of focusing on getting those miles in to get to the end, focus more on having fun as a family. Hiking provides an excellent opportunity to really connect with your kids and get them talking about the things that really matter to them. So slow down, start chatting, and enjoy your time together!
Great Hikes With Kids In Park City. 
The McPolin Barn is one of the most iconic sites in Park City, and the nature trail near it is a fantastic introduction to hiking for kids. This trail is only a mile long and is tucked back in the aspen grove away from the main trail. As you start off hiking along the main trail, you will get to a "T" and at this point, turn right and walk until you reach the sign for the nature trail. 
To get to this beautiful lake, head up to Guardsman Pass, south of Park City. You'll start at the Bloods Lake trailhead and can park on the street, or across the street, there is a makeshift gravel parking lot. The hike is just under 2 miles there and back. This trail can get busy in the summer months, so start early. Note: Guardsman Pass is only open seasonally, so these hikes are usually accessible only in the late spring, summer, and early fall. 
The view from the top is one of the best panoramic views of Park City. The hike is best early morning or late evening due to the lack of shade along the route, it is also one of the first areas to dry out in the spring.
Round Valley is located just south of US 40 on the east side of Park City. It's an open space area with over 30 miles of trails and offers hikes for all skill levels. This area has excellent views of the valley around but provides almost no shade since it's through the sagebrush. The best time to hike the trails at Round Valley is during the early morning or evening. Note: Round Valley is very popular with mountain bikers as well so plan on sharing the trail.