To ensure an unforgettable first experience at Park City Mountain, check out this advice ahead of time. 
I'll be honest: Skiing used to terrify me. The thought of sliding down a mountainside on two pieces of fiberglass always seemed impossible — and possibly painful. I'd tried to ski a handful of times in my 20s, some more successful than others, but I never really stuck with it.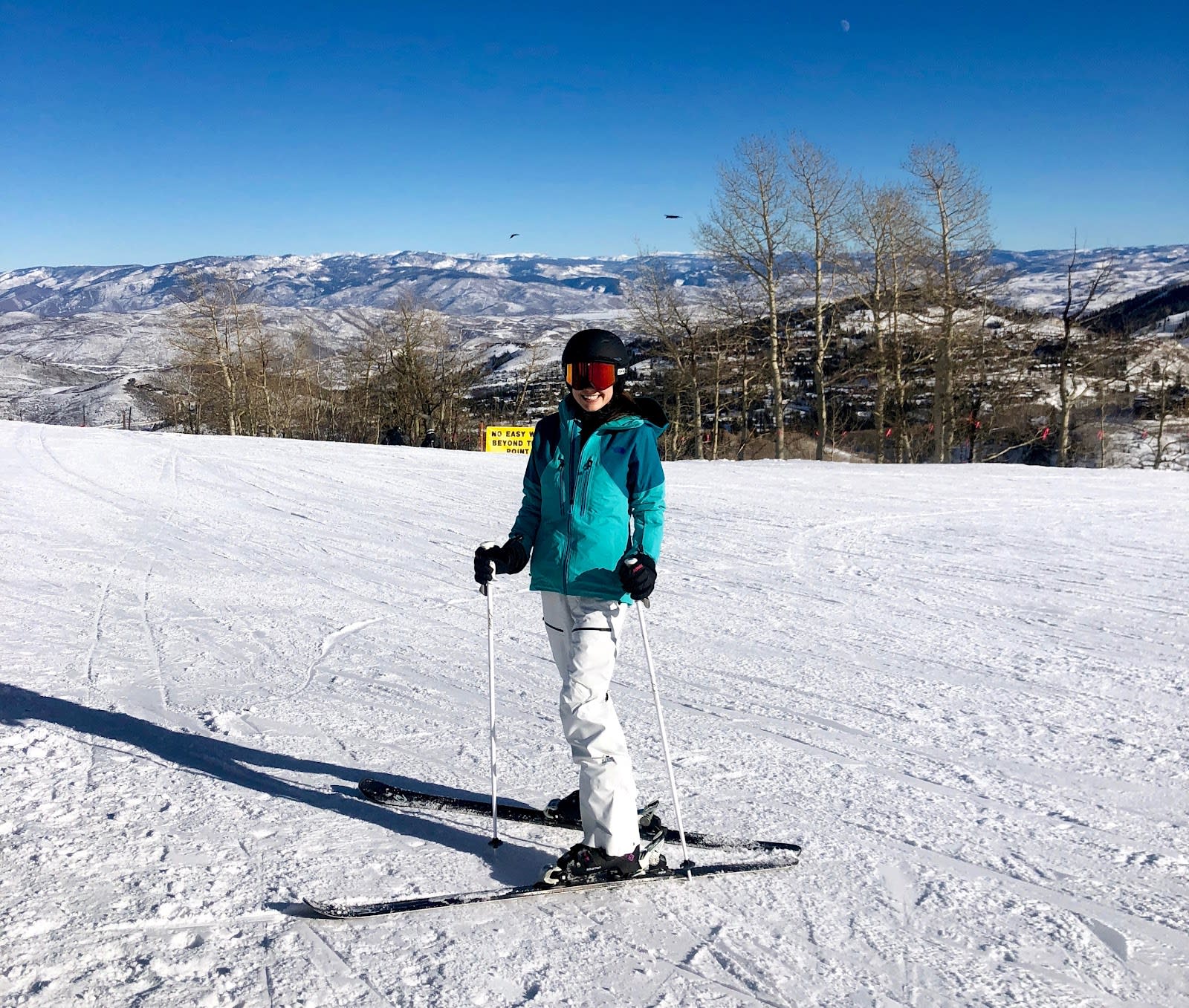 Then, I relocated to Park City this past year. With a long winter season ahead of me, I decided it was time to learn how to ski — once and for all.
If you're new to the sport as well, I know that lots of emotions (fear! excitement! nerves!) are probably running through your head. Below, I'm sharing seven essential tips that I learned on my first-day skiing at Park City Mountain that will help you feel confident — and have a blast.
1. Relax.
First, take a deep breath: You've come to the right place. Park City, Utah is Winter's Favorite Town.™ And Park City Mountain is a great place for new skiers to learn the ropes of skiing in a comfortable — and beautiful — environment.
Another perk: High Meadow Park, a new learning terrain area designed for beginner skiers, just opened for the 2018-19 season. They installed a new high-speed, four-passenger lift with a ride time of only three minutes, as well as additional snowmaking to ensure ideal snow surface conditions for learning. Plus, as you progress, you can explore three new adventure trails decorated with carvings of local wildlife.
2. Book a lesson. 
"If you're just learning to ski, you'll have much more fun and save yourself a lot of hassle if you take a group lesson the first day," says Phillipe Astié, a ski instructor at Park City Mountain, who I worked with on my all-day lesson. After all, skiing is not exactly an intuitive sport, especially if you're learning as an adult.
Luckily, Park City Ski & Snowboard School offers a variety of adult lessons to accommodate any ability level. I choose a "foundation" lesson for skiers with some experience. I felt especially reassured after the instructors evaluated my skills on the bunny slope and placed me with another skier around my level.
If you're new to skiing book a "never ever ski" lesson, limited to a maximum of five students per class, that introduces first-timers to the thrill of the sport. If you're a more advanced skier, try a "peak-to-peak" lesson with a guide who will lead you across the resorts 7,300 acres of runs, uncovering interesting new terrain. Small Women's Group lessons are available on select dates throughout the winter. 
3. Arrive early.
Take it from me: You'll want to allow plenty of time — ideally one hour — to get organized at the base of the mountain before your lesson. I was pressed for time as I rented my gear (from multiple shops — more on that later!), signed in for my lesson, stashed my stuff in a locker, and tried to get hydrated and caffeinated before heading out on the slopes.
You can save even more time by purchasing your lift ticket and rental equipment in advance when you book your lesson.
4. Get expertly equipped.
If you didn't purchase rental equipment with your lesson, you have an excellent selection of highly experienced outfitters to choose from. Shops such as Cole Sport, Ski-N-See Park City, or Legacy Sports & Rentals are great options at the base of Park City Mountain, while Canyon Mountain Rentals and Aloha Ski and Sport are located in Canyons Village. A full list of equipment rental shops can be found here.
Click here for a helpful checklist of everything you'll need for a day on the slopes.
As any skier knows all too well, the boots are the most important item! Since they are your direct connection to the skis, if they're uncomfortable or ill-fitting, then you will not be able to ski effectively — let alone enjoyably, Astié explains.
"You want them to be comfortably snug — like a firm but not crushing handshake," he says. Check with your outfitter or instructor if you have any concerns. Another pro tip: Don't leave ski boots in your car or outside for any amount of time. When the plastic gets cold, it makes it nearly impossible to get on your feet.
5. Fuel up.
Whether you're looking for a bite for breakfast, a hearty mid-day lunch, or a fun après ski scene, Park City's 16 restaurants have you covered. Start your mountain morning at Jupiter Java at Park City Mountain Village or Murdock's Café in Canyons Village. Before a day on the slopes, you'll want to eat a hearty, yet healthy breakfast — you're burning lots of calories out there.
When you're ready to take a lunch break, check out Mid-Mountain Lodge — it's been newly transformed for this season with a new menu and full-service bar. Cloud Dine has also expanded this year with an additional 200 seats, offering selections like wood-fired flatbread pizza and chicken pot pie. Lookout Cabin is a table-service option, while Tombstone Grill is a great spot for house-made barbecue.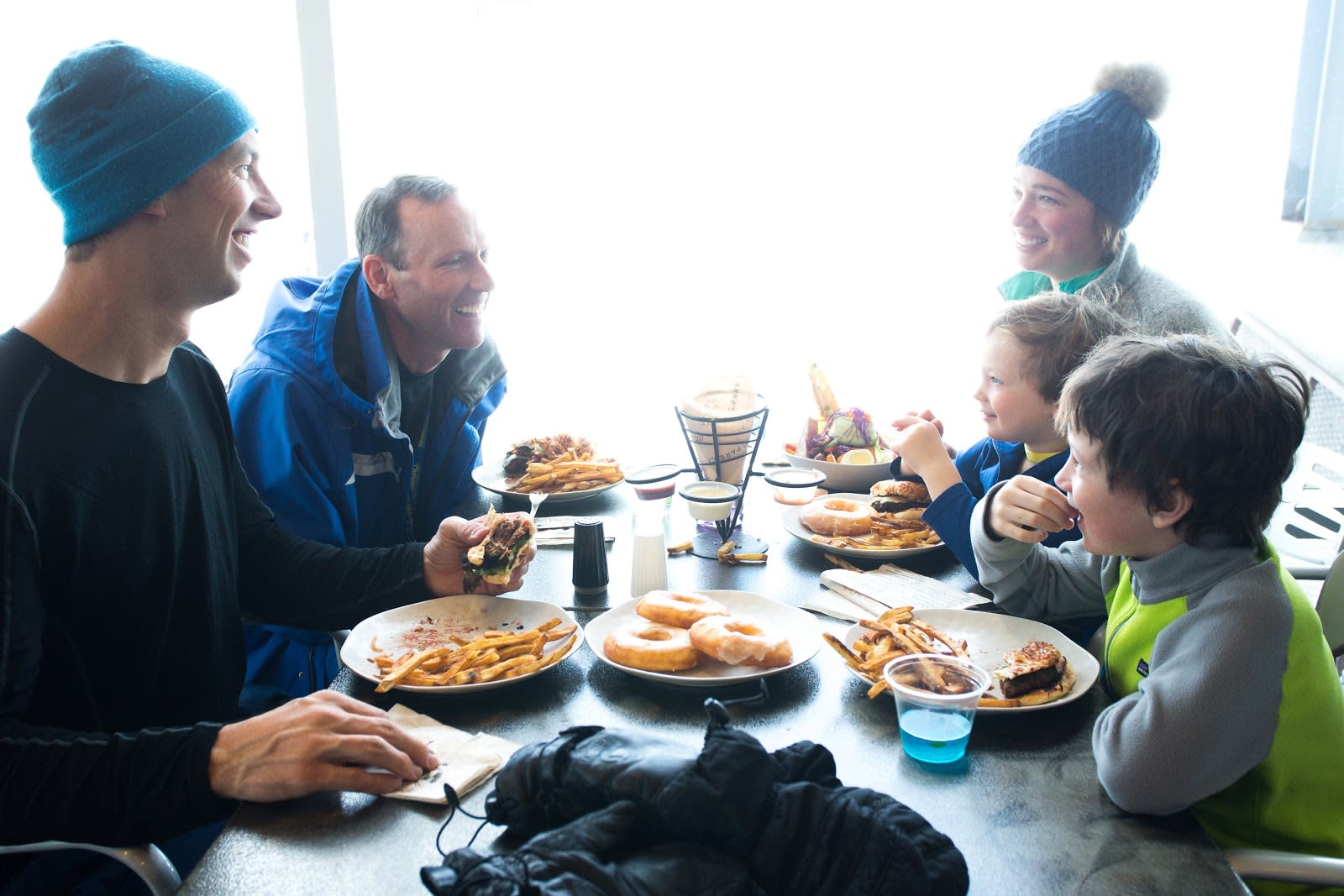 Done for the day? Head to Legends Bar & Grill in Park City Mountain Village for après. They offer delicious dining options, full wine, and cocktail list, and live music performances. Find a complete list of on-mountain dining options here.
6. Stay safe.
Park City Mountain is committed to promoting a safe environment for everyone. Before your first day on the slopes, check out the Skier Responsibility Code. Following these seven rules is essential to ensure a safe and enjoyable skiing experience for everyone.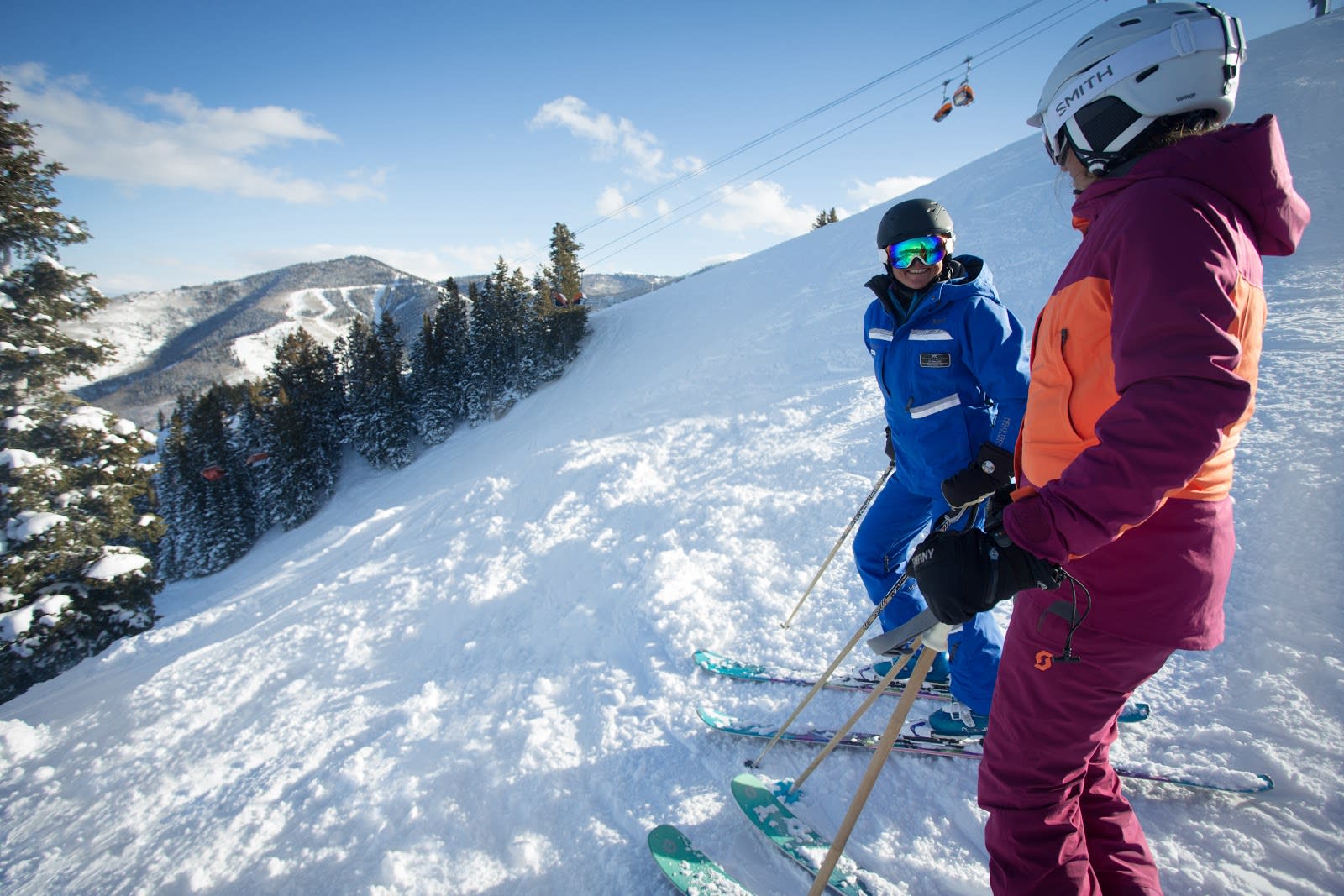 As Astié told me when we started out, the most important rule is to stay in control. You need to be able to stop or avoid people or objects in front of you. Also good to know: People ahead of you have the right of way — it's your responsibility to avoid them.
7. Remember: You're not riding a bike.
We won't get into a bunch of the technicalities of skiing technique here, or we'd be here for hours! But we would suggest trying to avoid the biggest mistake first-time skiers (like me!) make, according to Astié. "A lot of new skiers try to turn with their upper body like they're riding a bike or a motorcycle," he explains. "Instead of trying to move your shoulders and your upper body, try to turn using only your legs."
8. Have fun!
Now that all the nitty-gritty is out of the way, don't forget to enjoy yourself! While it's easier said than done, try to remember: You're outdoors, in a beautiful environment, with gorgeous views just about everywhere you look.
As my lesson progressed, I felt more and more comfortable on the slopes. My group stopped frequently to go over tips and techniques, which helped me feel more confident. It was a gorgeous bluebird day, so I also made sure to take time to take in the stunning vistas of Park City and the mountain ranges.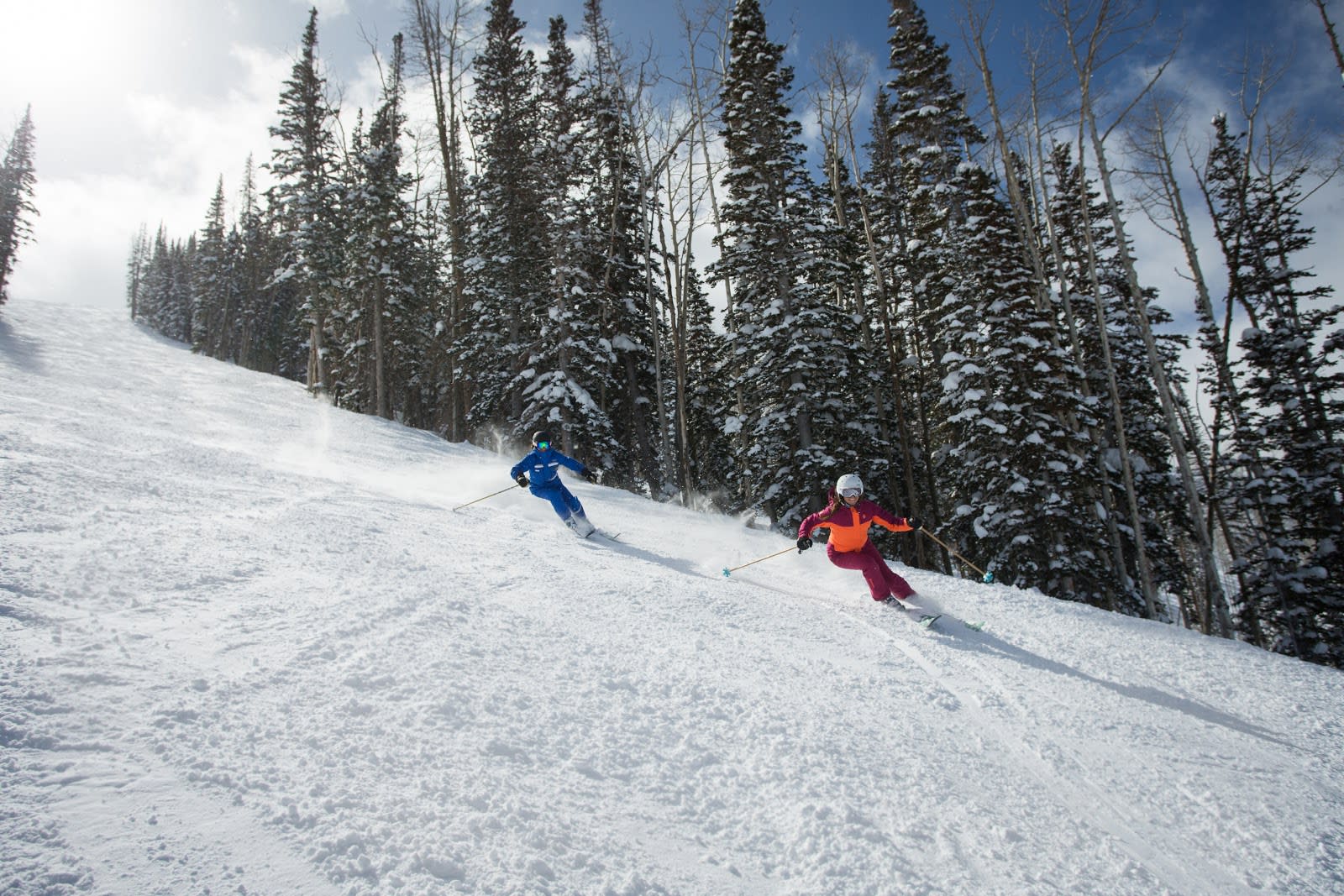 By the end of the day, I was able to go down blue runs by myself — not that my nerves had completely disappeared! So I asked Astié what to do when I felt stressed about a run. His advice: Break it down into small steps. "Rather than think of it as a massive undertaking, just think about the next turn in front of you," Astié suggested. "Instead of looking down at the entire run, just look ahead to the next section of trail — see where there's a nice view or a flat area to take a break." Then keep going, step by step — or rather, turn by turn.