Navigating the world of wine and cheese can be incredibly intimidating; fortunately, there is an excellent class in Park City that helps make them more approachable. Having a passion for both wine and cheese, the Table for Twelve, "Savory Soft Sensations" class immediately grabbed my attention. Going into the class, I knew I was going to experience a great selection of wine and cheese; however, I did not anticipate having as much fun while learning as much as I did!
Experience 
Table for Twelve is definitely more of an experience than a traditional class. Although you do have top Instructors and Educators in their fields, the evening was intimate and flowed more like a conversation at a dinner party than a class lecture.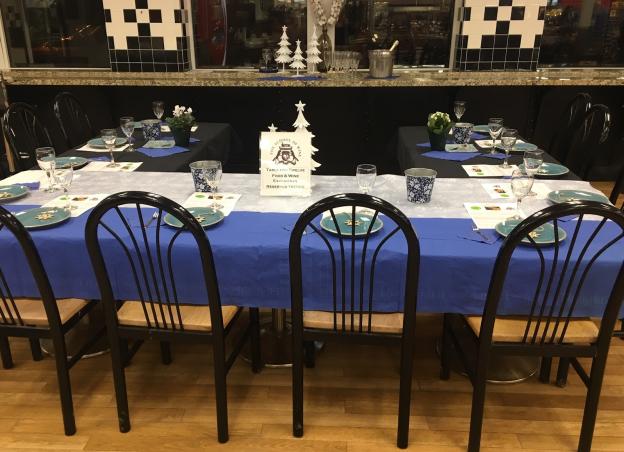 The class takes place in a reserved area of the food court at the Market (outside courtyard during the summer months). Walking in, I quickly noticed a large table that was nicely set by the windows. At each seat, there was a detailed menu of what the class was going to be tasting. After everyone arrived and taking my place at the table, the lights were turned down, and we were ready to start.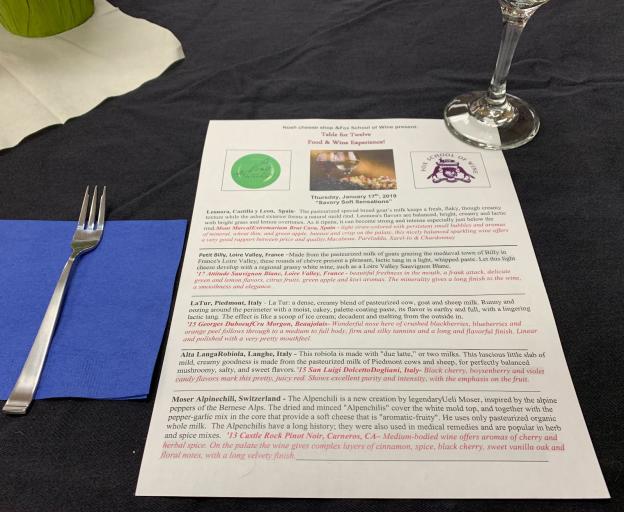 There are two hosts for the class, Pamela Wood, certified wine Educator, Specialist of wine, and Sommelier. Darcy Swedish, a Cheese-Monger who has a deep understanding of farming and how it translates into artisan cheese and charcuterie. After a warm welcome and introductions, the class began. My class only had 8 students, so instead of standing and talking at the group, Pamela and Darcy decided to sit down with us at the table, which was great as it made it much more intimate and engaging.
Throughout the night we had five pairings, and they were all stellar. As each pairing was served both Pamela and Darcy talked about their individual process of selection and why they ended up choosing each wine and cheese. Also, the pairings came with a detailed description of the wine and cheese, where it was from, what sensations you may experience while tasting, and why that is.
Educators 
Table for Twelve is an exceptional experience for many reasons, but most of all, I would say that having an intimate evening with two top professionals in their field is not only a rare occurrence, but it is a fantastic opportunity.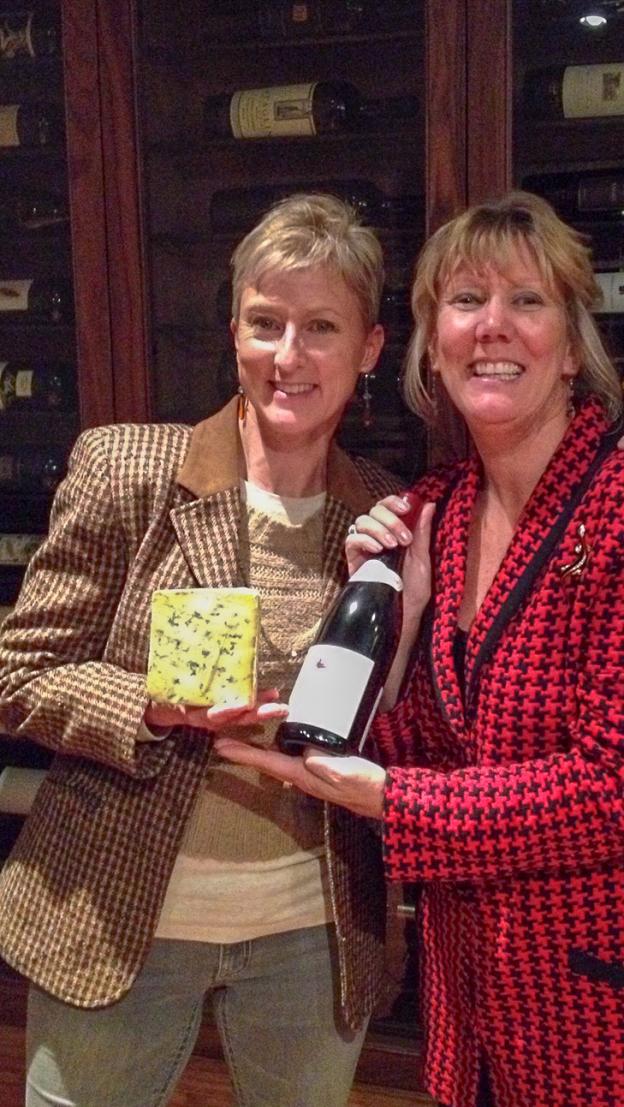 From Left to Right, Darcy Swedish, and Pamela Wood  
Pamela Wood, Certified Wine Educator (CWE), Certified Specialist of Wine (CSW), & Certified Sommelier. A genuine passion for wine and sharing the journey, history, cultures, grapes, soil, and vine with others is what she loves. Pamela became a Certified Sommelier in 2011 and that opened a whole new world. She became a professor of wine with Fox School of Wine in 2011, began Park City Wine Club in 2012, started organizing travel groups to wine regions in 2013, as well as establishing the monthly Table for Twelve wine and food experience at The Market with Fox School of Wine and partnering with Cheese-monger Darcy Swedish. In 2015 Pamela obtained her Certified Specialist of Wine (CSW) and in August 2018 became one of only 443 Certified Wine Educators in the world! Pamela is also the state educator to the Utah Dept. of Alcohol Beverage Control. January 2019 brought even another level as Pamela became the Director of Education for the Culinary Wine Institute, providing training to restaurant servers helping them be more comfortable, and confident in wine recommendations and pairing suggestions. In short, if there is wine involved, Pamela is sure to be close by. "I simply have found a true passion, and I so enjoy sharing all things wine with others. I feel so lucky to be a part of this industry and to make wine less intimidating. It's hard to call this work when you love what you do!"
Darcy Swedish, is currently the cheese-monger at The Market at Park City, where she has cultivated a wide selection of fine cheeses, charcuterie and other specialty foods to offer great international, domestic and even local foods with an old-world quality that is reflected in today's "craft food" movement. She developed an appreciation for the foods, traditions, and landscapes of the world during her career of 22 years as a flight attendant for Delta Air Lines. Upon retirement from Delta, she worked in the specialty foods department at Whole Foods, learning about the retail side of sharing great food. A little over six years ago she was recruited by a private chef to manage a new specialty foods program at The Market. Through her self education, relationships with distributors and meeting producers she has acquired a vast knowledge of the regions of the world as well as farming practices and the lifestyle, work, and dedication involved in making these wonderful foods and amazing cheeses. "I love to say that It's really about time - the time to tend the land, raise the animals, make the cheese and age it but most importantly the time you share with friends and family to enjoy these foods together! When Pamela approached me to do a charity event, "Wine, Cheese, and Change" back in 2013 a partnership was born." The two of them approached Fox School of Wine with a concept to have a monthly, educational tasting with wine and cheese to be held inside the market. Now into their 5th year they both still have a passion for the pairing and teaching of these fantastic cheeses and the wine they pair with.
Wine and Cheese
I attended the cheese and wine pairing class entitled "Savory Soft Sensations." We had five pairings for the evening, and each cheese was available to purchase at the market, and each wine selected was available to purchase in Utah.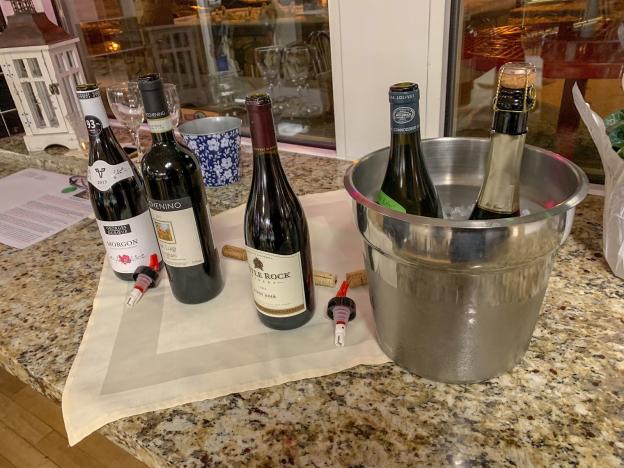 Highlights 
What makes for a good food and wine pairing? Balance.
What makes for a great food and wine pairing class? Excellent Instruction, Selection, and Location.
Instruction – Not only are Pamela and Darcy exceptionally well educated, but they also worked fantastically together running the class. The pace of the class flowed very well, and it did feel more like a conversation than a lecture. It was also very educational, and I walked away with a lot of tips to make my own pairings beyond just wine and cheese but also including crackers, jams, nuts, and charcuterie.
Selection – All five pairings were fantastic. I have to admit, even when I wasn't a fan of either the wine or cheese by itself, the pairing improved each of them. Additionally, within the five pairings, there was still so much variety among them, and they all fit into the theme of "Savory Soft Sensations" perfectly.
Location – I don't think I will look at the market the same and I appreciate it so much more now. I loved the setting, and I had my reservations knowing it was in the food court, but now I couldn't imagine a better location. Here are some reasons why I love it. You can buy the cheese you loved immediately after class. You can walk across the parking lot and buy the wines you enjoyed. Lastly, by having the class in this location, Darcy and Pamela are free to create classes without some of the unique limitations that Utah requires.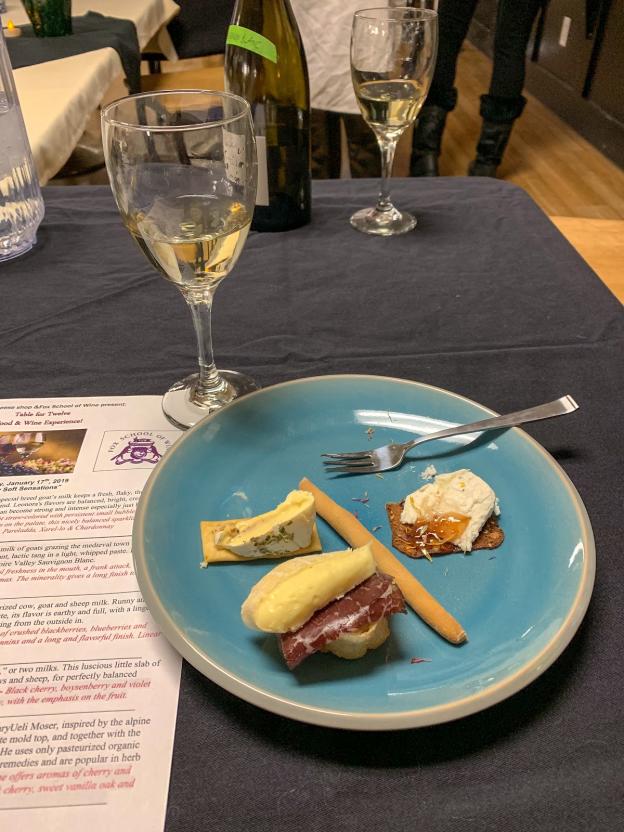 For those who love wine and cheese, but only see an impossible number of wines and cheeses at the store and have no idea where to start. Fox School of Wine's, Table for Twelve is a perfect place to start. Click here to sign up for the next class.