In Park City, skiing and snowboarding are known as the winter sports of choice, but snowshoeing is another great way to get outside, enjoy nature, and get your body moving in the mountains. For those who might not want to glide downhill but are still winter enthusiasts, a snowshoe tour is a magical way to be active and enjoy our winter playground. 
My husband and I are always up for getting out of our comfort zone and spending time in the mountains, so as a special dawn patrol mission before work I booked us a Sunrise Snowshoe tour with Wasatch Adventure Guides. Getting outside at the crack of dawn is not an easy task in the winter, but a sunrise snowshoe adventure was calling our names. Sunrises are not always the easiest to catch, especially if you are not an early riser or value the warmth of your bed. But what I can promise you is this, you will not be disappointed by any attempt you make to catch a sunrise. 1. If you do catch a sunrise in all its glory, it elicits all the feels and starts your day off superbly and 2. If the sunrise doesn't pan out as expected you can find solace in the fact that an adventure was had, and you started your day with some physical activity out in nature, and that too is a positive start to your day.
Details
What: Sunrise Snowshoe Tour with Wasatch Adventure Guides
Where: Rob's Trail (or other trails identified by the guides)
When: Winter
Who: Early risers who'd like to take in a special moment in nature and an incredible view of Park City.
Experience 
Wasatch Adventure Guides (WAG) offers many options for snowshoe tours, but for some reason, the sunrise tour was calling my name. Yes it would be dark at first, and very, very cold, but there is something so peaceful about waking up when most people are still sleeping, slipping on your adventure gear, and heading out for a walk in the woods to greet the day.
I gave WAG a call the week prior to ask about tour options and availability and Matt, the owner, answered the phone. He asked me questions about what we were looking for, a strenuous vs. leisurely hike, and what our timing looked like, which would help our guide customize the tour for us. The day before our hike, our guide Craig, gave me a call to coordinate our pick up and to fill me in on timing, what gear we should wear, and where we were going.
At 5:30 am our alarm went off and we peeled our bodies way from the warmth of our cocoon to get ready for our hike. Dressing in layers we made sure we had gloves, hats, long underwear so we were properly equipped for the cold morning temps. At 6:15 Craig picked us from our house and drove us to the trailhead at Rob's Trail over in the Sun Peak neighborhood of the Canyons Village.
WAG provided us with headlamps, snowshoes, and poles which was excellent as our poles and snowshoes were still in boxes that we have yet to unpack from our move. Once we were all geared up, Craig led the way up Rob's Trail. He mentioned being on the lookout for large animals, especially moose because this was the time of day they would be stirring. Shortly after we started up the path, I settled into the gentle meandering of the trail and felt grateful for where I was in this moment, hiking amongst snow-covered trees, in the stillness of the dark early morning, listening to the only sound, of the snow crunching beneath my feet. Hiking higher, the lights of Kimball Junction and Park City began to come into view. We could see morning commuters and Christmas lights lighting up the valley below. And as the horizon began to turn shades of purple our eyes adjusted to the day beginning to come alive and we were able to turn off our headlamps and walk on in a natural state of existence.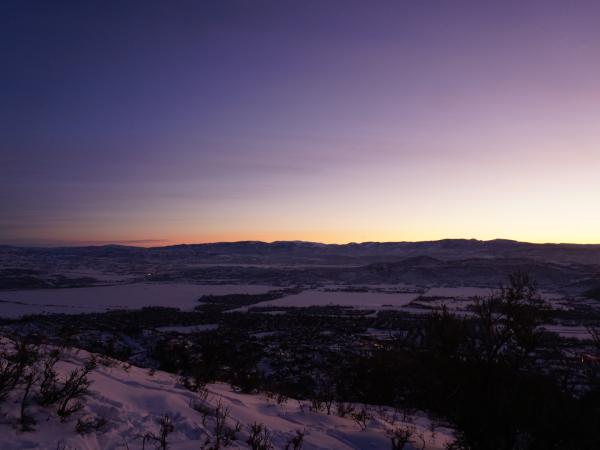 As Craig guided us along he stopped at a clearing overlooking the Canyons Village side of Park City Mountain and the entire Park City Valley below where we would watch the sunrise over the mountains in the distance. I, of course, whipped out my camera and started snapping pics as the sky started to change color from purples to pinks.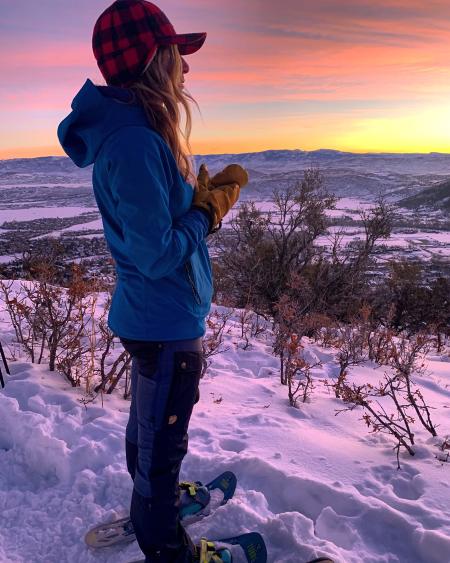 It was all quite breathtaking taking in the hustle and bustle of the roads from our peaceful perch, watching the colors of the sunrise dance across the sky as they reflect off the white mountains surrounding us. As the sun peaked over the horizon and illuminated the Wasatch mountains for a morning alpenglow we were happy for the warmth and started to head back down the trail to Craig's car.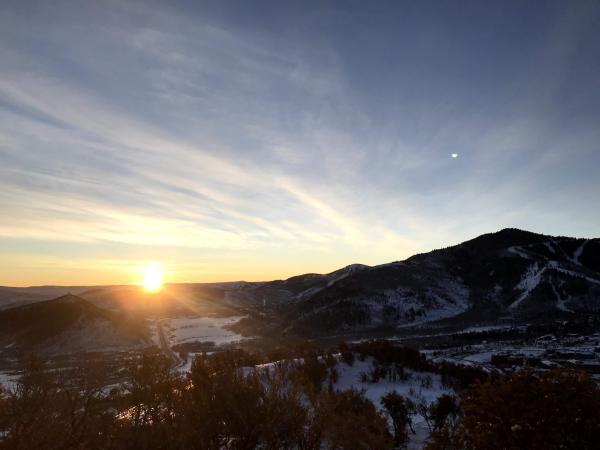 Overall the hike was a perfect way to get the day started. We were back at our house thawing out by 8:30 AM and were ready to take on anything life threw at us.
Advice
Definitely wear warm clothing like long underwear and wind repelling pants/jackets.
Bring extra layers.
Wear appropriate winter footwear to avoid cold toes.
Bring water and potentially a thermos of hot tea.
Bring snacks.
Don't forget your camera with a backup already charged battery that you should keep in a warm place.
Handwarmers might be a nice addition as well.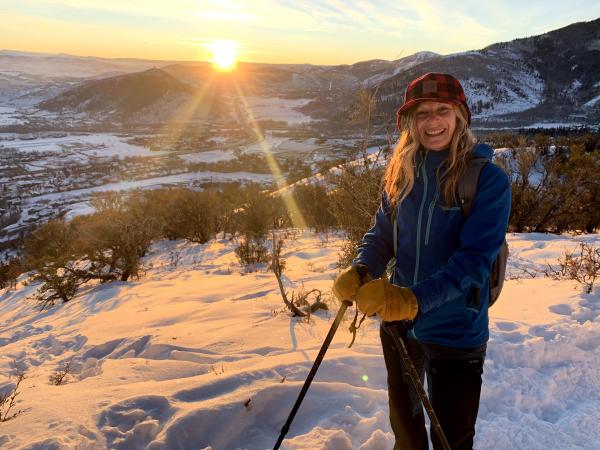 Starting our day with a burst of activity, fresh air, and a sunrise really set us up for a great day. We felt accomplished, invigorated and excited to be alive! Doing small manageable adventures like this one always reminds us that we do not need to go on multi-hour/day adventures to get outside and out of our comfort zone. A micro-adventure like this makes us appreciate how much we love getting out early to enjoy the peacefulness of the morning and to start our day right. We really loved how Wasatch Adventure Guides were happy to customize this tour for us, and I am sure they'd be excited to build an adventure that fits your needs while here in Park City.