If you are looking for a one-of-a-kind dining adventure that you will never forget, you must experience the Snowed Inn Sleigh Company. Hop in a cowboy lead horse-drawn sleigh, to a warm cabin with delicious food and live entertainment, and then end the evening with a relaxing sleigh ride back down to the base of Park City Mountain. 
How It Got Started and What They Do
The Snowed Inn has a storied history here in Park City. In 1986 it used to be a bed and breakfast in the old mansion off of 224 where the Good Movement Pilates Studio is now. Mary Ann Pack and her husband at the time went to a holiday party at the Homestead where they were offering sleigh rides with a dining experience and they thought this might be a great idea for the Snowed Inn. Soon after in 1990 two horses and a sleigh showed up at the Inn to launch this memorable winter experience for guests, and the Snowed Inn Sleigh Company was born. In 2000 the Snowed Inn was sold and they began looking for a new home. In a fortuitous turn of events, Park City Mountain was looking to add more family-friendly activities, and so they entered into an arrangement and joined forces to start building the new Snowed Inn off of Home Run in July of 2000. The project got fast-tracked and by December of 2000, the Snowed Inn was open and taking reservations. If you've taken the Crescent Lift up at Park City Mountain you might have noticed the Snowed Inn, and thought it was an old mining building relic, that was done on purpose so the aesthetic stayed in line with the mountain's mining theme, resort base, and for visitors to feel like they were entering an old cozy cabin for their dining experience. Mary Ann now the sole owner of the Snowed Inn, and the rest of her staff creates one of the more unique dining experiences in Park City by offering horse-drawn sleigh rides up the snowy slopes of the ski resort to their lodge where you will find a gourmet dinner and live entertainment in a true western atmosphere that awaits you and your family.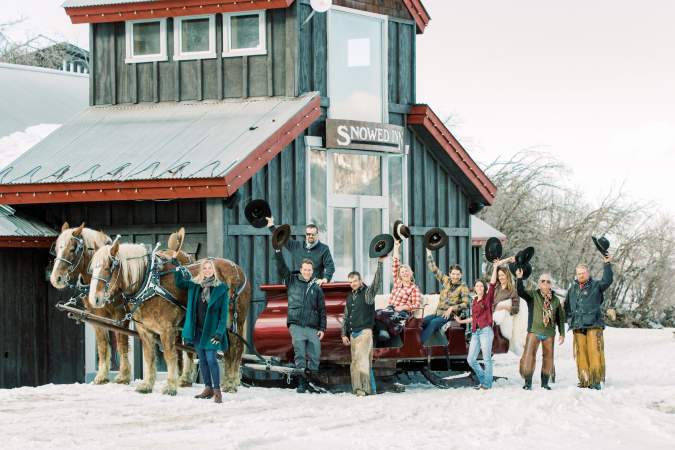 Highlights
Mary Ann and her team are excited for things to get back to normal and to welcome guests back to the Snowed Inn this winter season. They are seeing higher demand than they have ever seen before and they are ecstatic that new and past guests are finding their way to the Snowed Inn to create memories with their families. They've been super diligent about taking precautions around the pandemic and hoping that will pay off by providing the best experience they can for everyone. They are not only enthusiastic about welcoming guests back at full capacity but also having their wonderful staff back who return year after year and feel like an extended family.
If you are looking for reservations to the Snowed Inn for a sleigh ride and dinner you can book through their online reservation system. Their reservations open up during the summer so if you are someone who plans in advance for the holidays make sure to mark your calendars to book for Christmas 2022.
As for their food, some menu highlights and favorites at the Snowed Inn are their chili appetizer, the popular prime rib, and the highly recommended trout.
Looking Forward To
Like a lot of businesses in Park City, Mary Ann and the staff at the Snowed Inn are really looking forward to a more lenient winter with vaccinations readily available. They are also excited about creating this unique experience and for the return of a boisterous lodge full of guests.
Something new they are looking forward to is the new seating area on the deck for lunch and apres ski. You'll find couches and fire pits to cozy up to while sipping on something from their take-out window along with their large picnic tables. Take note - their lunch start date has not been confirmed.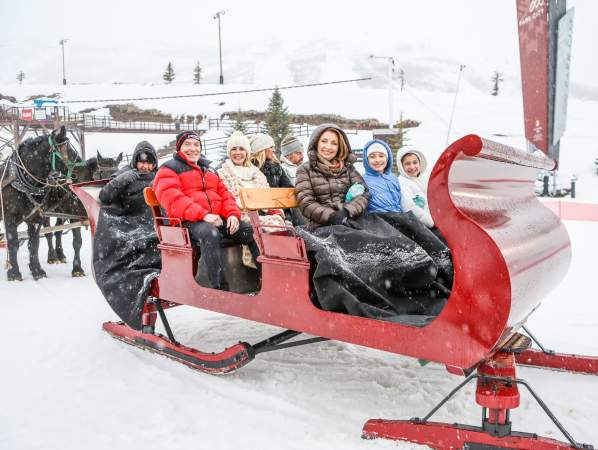 Details
Where: Meet at the base of the Payday Lift at Park City Mountain 
When: Multiple Seatings per night - 5:30, 6:30, and 7:30
Who: An ideal experience for families, out of towners, and locals looking for a unique experience in Park City.
Experience
My husband Mike and I were very excited about this unique date night opportunity. I booked our reservations online through their reservation page on their website and where you have the option to choose from a 5:30, 6:30, or 7:30 PM seating. Currently, they are extremely busy with reservations and are getting booked up fast, so if there is a date you are looking for that isn't available continue to look back at their reservation calendar daily because it is continuously updated with cancellations. Dinner + sleigh ride prices are as follows and include both the dinner and the sleigh ride - Adults (Ages 13+) - $100 Children (Ages 3-12) - $65 Infants (Ages 2 and under) - Free.
We met our horse-drawn carriage at the base of Park City Mountain right in front of the Payday lift where we had some time to take pictures with our horses Ping and Pong and sleigh driver Kim. Each sleigh is pulled by two draft horses and holds approximately 10-12 passengers. For our evening excursion, the Park City snow globe officially turned on and we were in a winter wonderland for our sleigh ride.
As we dashed through the snow in our two-horse open sleigh I felt a rush of excitement, as I've never experienced Park City Mountain in quite this way. The snow falling, the cool rush of air on my face, the jostling of the sleigh, all the twinkly lights on display as we overlooked Park City from above.
After about a 20-30 minute sleigh ride we pulled up to the festively lit Snowed Inn where we were ushered into the cozy lodge with warm fireplaces ablaze. Hot apple cider was offered upon arrival as we were seated at our table. You definitely feel like you are transported to another world, quite different from the settings of the many restaurants in Historic Old Town. There is a communal lively feel with the acoustic guitar musician playing your favorites and the cowboy and cowgirl servers buzzing about with drink orders.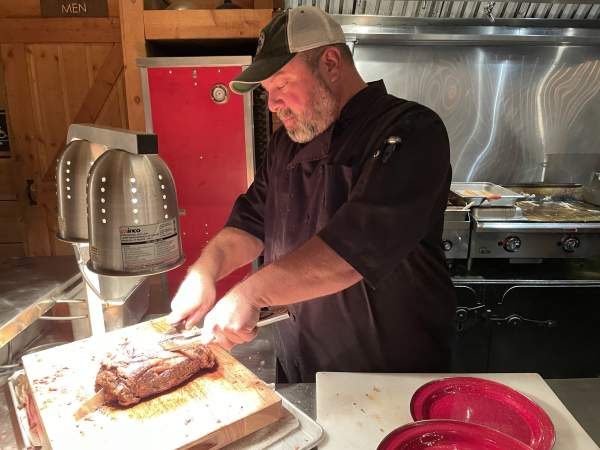 The Snowed Inn's dining experience is wonderful! We never felt rushed but there is definitely a method to their seatings. When everyone was settled with drinks, the Chef came out to explain how the evening was going to flow. You line up cowboy style to grab your grub from the kitchen which is a nice touch so you're not just sitting in your chair the entire time. The Snowed Inn's menu goes as follows - you get a choice of appetizer either their Soup Du Jour or Chili Con Carne plus a Bread Sticks, the main course choices comprise of Slow-roasted Prime Rib with horseradish cream and au jus, Utah Trout with Asian Glaze, Roasted Chicken, or a Vegetarian / Gluten Free Option Upon Request. And don't forget about dessert, a decadent Chocolate Brownie with Ice Cream. We opted for the chili and the prime rib and they were both delicious. The chili had a great flavor profile with some nice spice to it and we were given a large piece of perfectly cooked prime rib with a side of caesar salad and mashed potatoes when dinner was ready to be served. 
We really loved the ambiance with the reclaimed wood floors, fireplaces, and twinkly lights hanging above our heads. The acoustic guitar player never stopped strumming the hits so you always had some nice background music while dining. After we finished our chocolatey brownie dessert we were able to chill for a bit before our sleigh drivers gave the holler that it was time to head back down to the base.
You not only get one, but two sleigh rides with this experience! The snow was still falling and we were full and happy from dinner as we departed the Snowed Inn. Our horses Ping and Pong cruised down Home Run as the night sky was lit up by all the Park City lights and the snowcats groomed the ski runs for all skiers and snowboarders who would be taking delight in the fresh blanket of snow we just received. We took a couple of last minute pics with our handsome horses and then headed back to our car laughing all the way.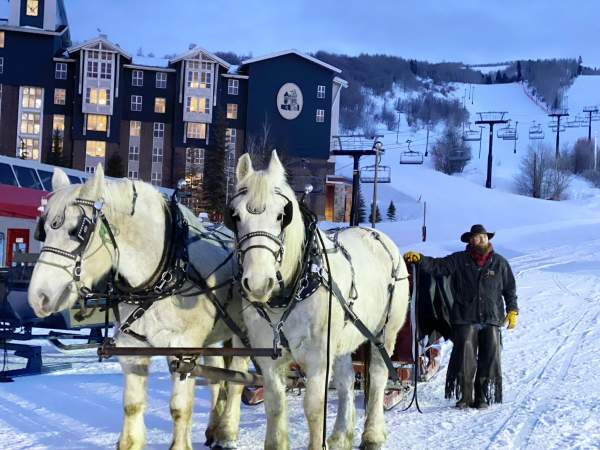 Advice
Book your Sleigh Ride and Dinner a couple of weeks in advance as the Snowed Inn is very busy this year.
Definitely check the weather the day of your reservation and dress for the weather. You'll want a hat, warm coat, gloves, and winter snow boots if it's cold and snowy.
Sleigh rides have never been canceled due to weather.
Blankets are provided but if you'd like to be a bit cozier I'd suggest bringing your own to snuggle under.
Tips are not included for your sleigh driver, acoustic musician, and servers if you order alcohol. Tip accordingly and if you don't have cash for the driver or the musician Venmo is also accepted.