When heading out on a ski vacation there is a lot to consider - accommodations, flights, passes, dinner reservations, kids, weather, and gear rentals. In terms of gear, your group may have different needs, some people may bring their own while others prefer to rent. For those who want to rent or even buy, there are a lot of great shops to rent and buy gear in Park City. There is also another option, Ski Butlers, the concierge ski shop on wheels that comes to you making ski rentals safe, easy, convenient, and delivered right to your door.
How it got Started
Ski Butlers got started in 2004 by CEO and Founder Bryn Carey who grew up around the ski industry in a quintessential skiing family. His father, Chip, was marketing director at Sugarloaf, CMO at Jackson Hole, and took over marketing at what would become Canyons in Park City, bringing Bryn and his family, then a young teen to Utah. By being so immersed in the ski industry, from such a young age, Bryn got to see all the ins, outs, and pain points. He ended up writing his senior collegiate theses on the cumbersome business of ski rentals and how bringing gear to the customer would make it easier and more convenient for them so they can enjoy their ski vacation without the hassle. And with that, Ski Butlers was born with Park City being their first location and home office.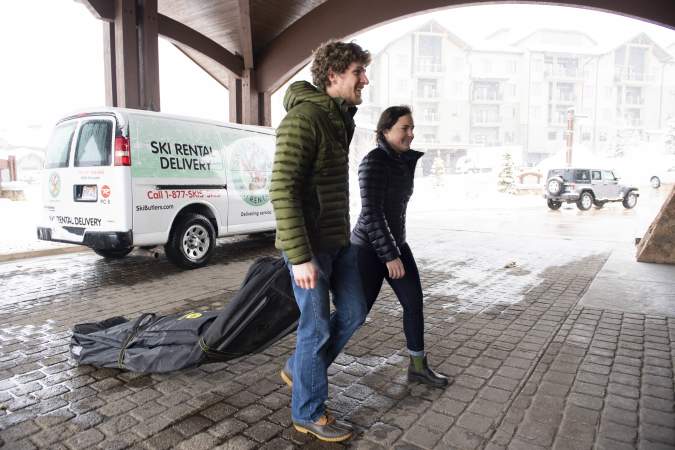 What they Do
Their customers can reserve high-end gear in advance by booking online, or over the phone. Every order is personally customized and sized based on height, weight, and ability level. Once guests arrive at their accommodations, Ski Butlers brings the ski shop to you! Relax after a long day of travel as you get your boots, boards, and skis fitted. There is no rush as the ski butlers also see themselves as full-time concierges dolling out local tips and advice so their customers can have the best time during the stay and live like a true local. Once everything is fitted the ski butlers walk through all the equipment with customers making sure they know how it works and how it will handle on the slopes.
One of Ski Butler's biggest selling points is its high-end support service. If conditions change from a groomer morning to a blower powder day, you can hit them up and they will come and change out your equipment within 45 minutes wherever you are! Helping you to really maximize your skiing time and not lose any of your precious vacation skiing down to the shop you rented your gear at, waiting on-line to swap out gear, and then heading back up the chair lift. Ski Butlers really give their customers more flexibility and freedom.
At the end of your trip, Ski Butlers also makes it super convenient to return your gear by picking it up from your accommodation before departing.
Highlights
With the uncertainty that was last year's ski season with the COVID pandemic, Ski Butlers was the go to gear company of many visitors to Park City. The company now knows that they can have a successful season even when things get challenging. They put protocols into place to keep team members and customers safe with lots of precautions, masks, and sanitary measures to continue to provide convenient and simple gear rental services working together with the community to create a great experience for guests.
Ski Butlers is proud to be a turnkey business at 50 resorts, 37 in North America and 13 Europe, where the process for gear rental and the actual rental equipment is the same at every resort making it super easy for guests to rebook the gear they loved from a previous trip. Their customers really take advantage of this perk knowing that their ski rental experience will always be the same during any ski trip they take.
Currently, Ski Butlers is in growth mode by putting investment back into the business with better equipment, more team members (they've increased their team by 20%), better processes, improved communications and technology, and looking ahead to expansion in new markets and growth in current ones. 
One big thing in the works for Ski Butlers is their Climate Change initiative because no snow = no business. They understand the impact of their carbon footprint and are trying to get that to net zero by 2022. Not just by figuring out a way to offset but by truly being a carbon-neutral company with electric vehicles, solar panels, and other important initiatives.
Ski Butlers is truly looking forward to a strong and snowy winter, making sure guests have a phenomenal experience in Park City and beyond.