Silver Star Ski & Sport has been a Park City staple for 13 years, and owner and operator Todd Fischer knows a little bit about skis as he has been coming to Park City since 1984, so you can be sure you'll be getting the best quality rental and demo skis and a high end local experience that will fully enhance your trip to Park City.
How It Got Started
Todd originally started working for long time retail staple Cole Sports and then for the Silver Star Development where they asked him if he wanted to either run a restaurant or a ski shop for the development community, and since Todd had some retail experience he was like ok lets go ski shop, so the development funded it and created a Silver Star community ski shop. The shop is housed in an old mining building and it all just kind of happened by accident, with everything lining up the way it did Todd says. 
A product of the Deer Valley Ski School, Todd lives and breathes skiing. His dad was ahead of the curve with owning a condo here in the late 80s, and in 1997 when Todd and his family were out here on vacation he decided after graduation and he was going to come out to Park City to be a ski bum for a year, and this year marks 23 years of living in town.
With owning any business things get busy. Todd sometimes spends 14 hour days at Silver Star, whether he is receiving inventory and entering it in the system, creating labels, or as a deckhand amongst his ski shop employees helping out behind the counter ringing people up, it's a small business, and he does whatever he has to do to get it done for his customers.
Shop Highlights and Things They Are Excited About
Silver Star Ski and Sport is a bit off the beaten path, as it's not by the main lifts of Park City Mountain. It's a small local shop that prides itself on being a little quirky and different from the other shops in town, where the owner is on the floor practically every day and sometimes you'll find his wife behind the counter helping. When you walk in you may get the shop dog biting your ski boot buckles as a tender welcome in. Todd believes that customers want to feel connected to that local ski town vibe when they visit Park City, and as a local ski shop, Silver Star is trying to keep those ski town vibes alive.
These days with ski delivery and more corporate ski shops you don't really get all the old school feels of what walking into a ski shop used to be like. But when you walk into Silver Star a highlight for a lot of customers is that you can actually smell the p-tex and the wax wafting in the air from all the in-house repairs. Todd says he gets a lot of customers who appreciate that ski shop smell being like "Wow, so that's what a ski shop smells like!" 
Even though they may be small, Silver Star considers themselves a high end rental shop. All of their gear is high end demo quality. They carry Burton and Rossignol snowboards. And their rental fleet of skis are primarily Rossignol, which means customers are getting a premium retail ski as a rental ski. Todd says " I think everybody deserves a good ski no matter your ability, customers can look in a ski magazine and can actually see the ski they're renting" Their fleet of rental skis are some of the best where a beginner to an expert skier can be excited about what they are going to ski on that day. And their rates aren't extraordinarily high versus other places in town, they are about the town average, but you're getting a lot of value with a setup that would cost you around $1,300 between the boot and ski to purchase.
And then on the demo side of things Silver Star carries Blizzard, Nordica, Head, Volkl, and Rossignol which is a pretty diverse lineup and an immense perk for customers as they can start their day on one setup, try that out, and then as conditions change, switch them out as much as they want. And since the shop is right at the base of the Silver Star Lift it's easy for guests to swap out their skis quickly and then get back to shredding around the mountain.
Another important highlight of Silver Star Ski and Sport are their shop dogs, because who doesn't love shop dogs?! When Silver Star opened in 2008 the developers told Todd it was totally fine to bring his pups Vidalia, an English Bulldog and Tallulah a Frenchie, around as they didn't chew anything expensive, and about halfway through that first winter, people started to just pop by to visit the dogs, and then started asking for stickers and t-shirts. You'll notice all the dog merch from hats and shirts to bike jerseys, as they have become a big part of who Silver Star is. Now that his other pups have passed, Todd has another bulldog, Azalea, named after hole number 13 at Augusta Golf Course (Todd's a big golfer too). Todd uses their distinguished mugs in Silver Star's marketing and you can usually see Azalea on Instagram enjoying days playing in the snow.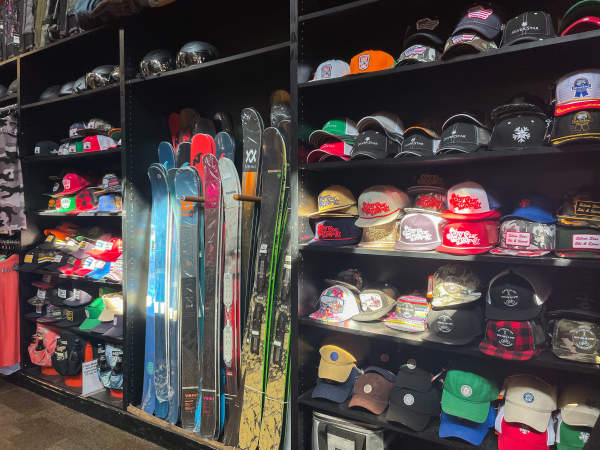 What They are Looking Forward To
Todd absolutely loves winter, and he still loves to ski, he really can't get enough. So he's hoping for and looking forward to a big winter full of many powder days. Also, he's excited for a brand new fleet of rental skis that he thinks his customers are going to love! 
The Staff at Silver Star Ski & Sport are all avid skiers and bikers which creates an ambiance of authenticity. And they all understand that their customers might be visiting Park City for the first time, or this might be their first stop from the airport after a long day of travel, so they try to set the stage for their trip with fun local vibes but with the personalized service of a high end ski shop because at the end of the day there are a gazillion different places in this town for guests to rent skis so they try to make the whole rental experience just a little bit better, smoother, and friendlier for everyone.