Even before moving to Park City, I'd already had the distinct pleasure of visiting the High West Saloon on numerous occasions. As a whiskey lover, I've been pretty enamored with their spirits for quite some time, but many people are still surprised to find one of the best craft distilleries in the country here in Utah. So when I officially moved to Park City this May, there was no doubt that I would take the time to visit their distillery up in Wanship to learn more about their process and sample their finest new flavors right from the source.
The High West Distillery and Refectory is located on the Blue Sky Ranch in Wanship, which is only about a 30-minute drive from Main Street Park City. This beautiful facility is still fairly new as it opened in 2015, but it has already built a great name for itself in the community, and the broader whiskey world when in 2016 it was Named Distiller of the Year by Whisky Advocate.
Details
What: High West Distillery Tour + Tasting and Sunday Brunch
Where: High West Wanship Distillery and Refectory. 27649 Old Lincoln Highway, Wanship, Utah (435) 649-8300
When: Open daily 10 am to 5 pm (tours on the hour between 11 am – 3 pm Sunday Brunch 10:45 am - 4:00 pm) Tour and Sunday Brunch reservations strongly recommended
Who: Whiskey and brunch lovers
Experience 
Reservations are highly suggested for the High West Distillery tour, tasting and brunch, so I reserved our spot for Sunday brunch via Open Table and called the distillery to secure our place for the tour and tasting, about a week in advance. We're in-between seasons currently so I would suggest at least 2 weeks in advance if you're coming to Park City this winter.
Driving up to the High West Distillery and Refectory we were greeted with spectacular views of wintry hills from the snowfall the night before and frosted fields with grazing horses. When we pulled up to the gate we were directed to park in the lot and wait inside a cozy looking building for the bus to come and shuttle us up to the Refectory and Distillery. 
Once all the guests piled onto the bus, our driver started to meander up the hill diving into the historical context of the area and pointing out notable trails and buildings along the way. One nugget that I found particularly interesting was that the word refectory describes a room used for communal meals where monks dine and reflect. I'm sure monks aren't sitting around drinking whiskey with their meals, but I like how it portrays a meditative state of breaking bread and drinking quality spirits with like-minded people.
As we disembarked from the bus, I felt enchanted by the presence of the buildings in front of me. The new, Old West-style felt more like an alpine resort than an industrial facility. We met our tour guide Greg inside the Refectory building, which houses the tasting room, restaurant and gift shop, where Greg gave us a little backstory before we began the tour: When they began distilling in 2006 in Park City, High West was Utah's first legal distillery since 1870. That first location is still their ski-in, flagship Saloon off of Main Street. And, one of the reasons High West decided to build the distillery in this particular spot, is because it sits atop the Oyster Ridge aquifer — an ideal source of clean, mineral-rich groundwater perfect for making whiskey.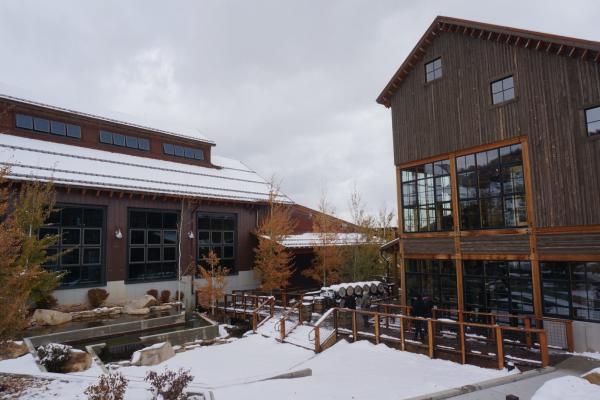 We were then led across the courtyard and over a babbling stream toward the building where the magic happens. Once inside, we were handed safety glasses, and by the appearance of stainless steel fermentation tanks and the loud whirring of work in progress, we were quickly reminded why we were here. In front of us, a diagram provided a visual for the group, about 12 people, of how whiskey is made. Greg explained the fermentation process and the difference between the various types of whiskey. I didn't realize that in order for bourbon to be bourbon it needs to be made in the USA, aged in a brand new barrel and comprised of 51% corn. Whereas the High West specialty of rye whiskey has to contain 51% of rye which gives it that cinnamon/clove flavoring.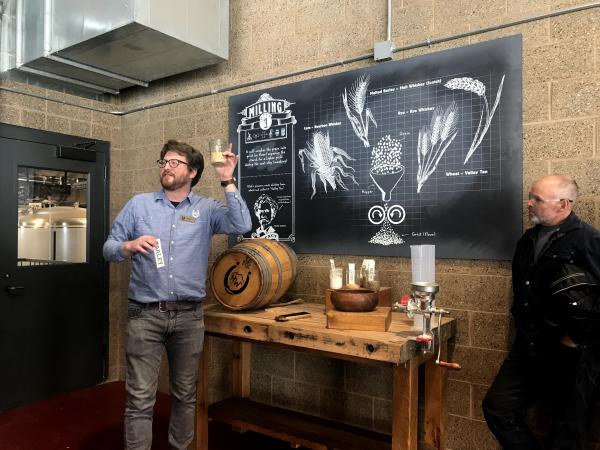 As the tour continued we moved around the distillery on a steel catwalk, and soon we were standing in front of their pride and joy: the massive Forsythe copper pot still imported from Scotland. Greg explained how the hybrid pot still and rectifying column work. For those who don't know, there is a lot of chemistry involved and I am stunned by the amount of work and science that goes into making whiskey.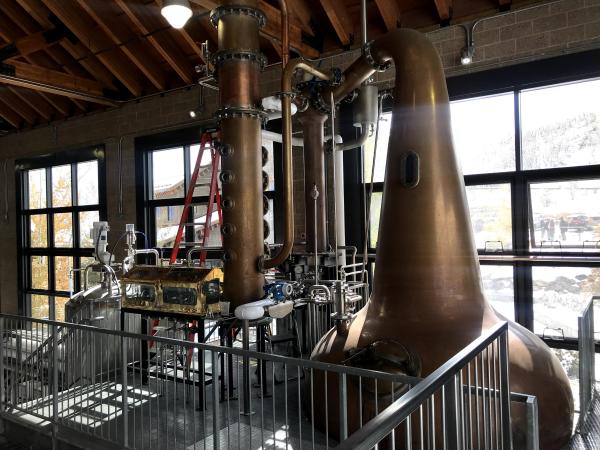 Our last stop on the tour, before the fun really began, was on a catwalk overlooking the bottling room where he reveals that as of April of this year they implemented a new machine based bottling system that is able to produce 12-16,000 bottles of whiskey a day, whereas before a crew of people were hand bottling and hand numbering each vessel and generated about 8,000 bottles in a day. Still really impressive! Greg also revealed that before the whiskey is poured into each of their barrels, the barrels are charred, as it was found out back in the day, that by setting the barrels ablaze the sugars in the alcohol are then caramelized by the char, which then gives the whiskey it's sweet taste. You can order your barrels from a 1-5 char level depending on how sweet you want your whiskey tasting.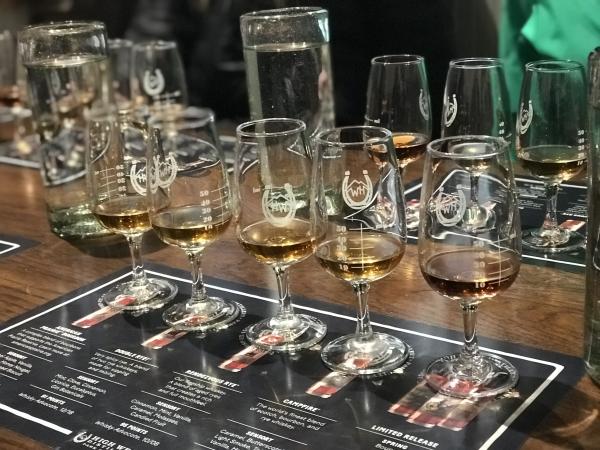 Back at the Refectory, in their tasting room, Cara our tasting bartender had set up a flight of four whiskeys for us to sample. I've tried many of High West's whiskeys, but never side by side. Amongst the flight was their: American Prairie Bourbon, Double Rye, Rendezvous Rye, Campfire, and their Limited Release A Midwinter Night Dram (which we ended up buying a bottle of). Cara also guided us toward some rare releases, one being the Valley Tan, a re-creation of a Brigham Young–era, Utah-produced whiskey. Another was a Barrel Selects variation of the Campfire, that was finished in barrels that used to hold rum. The distillery has many more Barrel Selects and special releases in their library, and an intriguing discovery is that High West will soon be releasing their very own Scotch this November. Insider tip, you'll only be able to get it at this location, which would be reason enough to make the drive up the canyon — not to mention the magical mountain surroundings which don't hurt, either.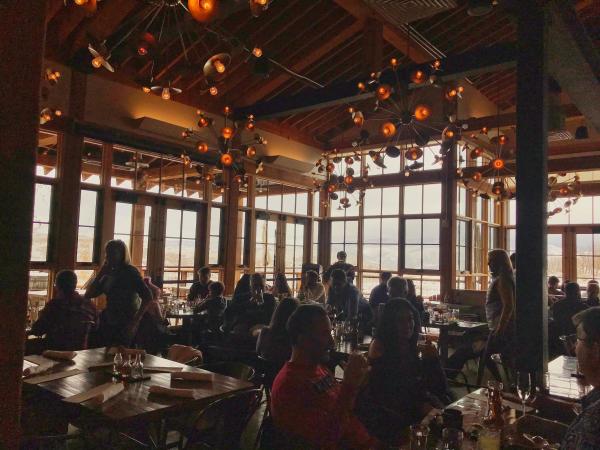 With the tour and tasting complete it was time to fill our bellies with all the delicious food at the Sunday Brunch Buffet. Nothing short of spectacular, the dining room's floor to ceiling windows display the snow-covered mountainous landscape and live music is wafting through the air, a perfect backdrop for the meal we were about to devour. High West serves up a decadent buffet featuring a variety of fruits, meats, cheeses, baked goods, scrambled eggs, ham and prime rib carving station, gumbo and french toast with whiskey maple syrup. Of course, we paired our brunch with a couple of their signature cocktails: a Bloody Mary and Mimosa. We cheersed to a wonderful morning of revelry in our beautiful mountain town!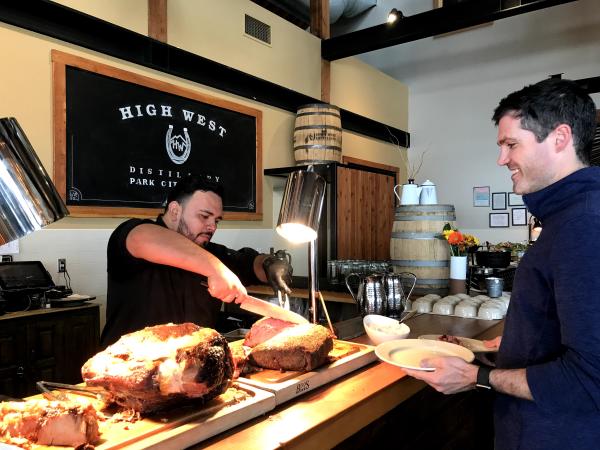 Advice
Make a reservation for brunch, tour, and tasting at least 2 weeks in advance.
Arrive 20 minutes early for your reservation as it does take some time to get up the hill in their complimentary shuttle
If you are attending their brunch, bring your appetite as it is an all you can eat breakfast buffet! $40 per person. Alcohol additional. 
Purchase a bottle of their limited run whiskey - as it will be hard to get in the future.
As you prepare for your trip to Park City, I highly suggested that you make plans to go on the High West Distillery tour, and if you're feeling adventurous, a whiskey tasting as well. This is a truly unique experience that will leave you wanting to make the pilgrimage up there every time you come back to visit. As Mark Twain said, "Too much of anything is bad, but too much good whiskey is barely enough."