Although snowshoeing can look intimidating, what many people don't understand is that it's very similar to hiking - just at a slower pace. It's the perfect winter activity with kids because you don't need any special instructions or lessons to get started, and Park City is full of excellent trails that are perfect for snowshoeing in the winter. Although it's easy to get started snowshoeing, it's also a great workout and is bound to get your heart rate up and your blood pumping! We especially love that snowshoeing is a really family-friendly winter activity, and if you take along a baby carrier or sled, you can even take babies and toddlers snowshoeing with you as well. So if the snow's getting deep and you're looking for an easy way to get outside, grab a pair of snowshoes and hit the trail.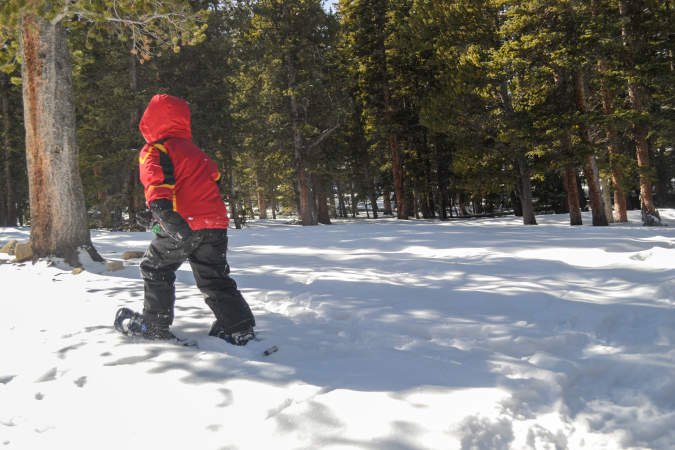 How do you Teach Kids to Snowshoe?
Probably my favorite part of snowshoeing is that kids don't really need any instructions. Just strap a pair of kids snowshoes onto their boots (waterproof hiking boots or lace-up snow boots are best) and let them try it out. When kids are first learning to snowshoe, give them some time to practice before taking them on an actual trail. We love letting our kids tromp around in the backyard in their snowshoes, or if you need a little more space, head to the park. Letting kids practice snowshoeing in an open flat area will give them more confidence when they hit the trail.
While it's common to see adults snowshoeing with poles for extra support, I've found that poles just confuse my kids and that they're more likely to sword fight with poles than they are to use them properly.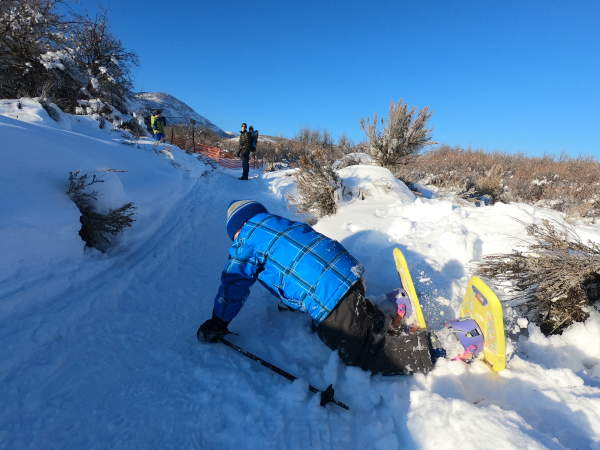 Once you are ready to hit the trail with your kids, get ready to practice lots of patience. There will inevitably be some tripping and a few face plants, so be ready to give a little extra help to your kid on the trail. Although snowshoeing is very similar to hiking, it does go a lot slower, especially with kids, so plan in some extra time into your schedule.  
Start on a relatively flat trail (our top suggestions are listed below), and gradually move to steeper terrain as your kids gain more confidence on snowshoes.  
Snowshoeing with Toddlers and Babies
Like I already mentioned, it's really easy to take babies and toddlers along on your snowshoeing adventures. Just like with hiking, you can easily wear younger kids in a baby carrier or child backpack, and toddlers will love the thrill of being pulled behind mom or dad in the sled. We always take a sled with us when we're snowshoeing so that if one of the younger kids gets tired, we can pull them, or if we find a hill, the kids can all take a sledding break.  
The most important part of snowshoeing with young kids is to check them often to make sure that they are warm. Since they aren't moving around, they will need to be dressed warmer than everyone else, and you should plan on checking on them every few minutes to make sure that they're doing okay and that their hands and feet are staying warm.  
Once kids are about 2 or 3, they're at a great age to try snowshoeing out on their own. They may not make it very far, so plan on having a sled available to pull them in, but letting them try out snowshoeing when they're young is a great way to get them excited to go more when they're older. 
What to Wear Snowshoeing with Kids
One of the major differences between hiking and snowshoeing is that snowshoeing requires more effort. Yes, the snowshoes will help you float on top of the snow, but it takes a lot more effort than just a regular hike down the trail in the summer. This means that you'll probably warm up really quickly, so make sure that you're dressed appropriately. A good wicking base layer is the most important piece of clothing to wear when snowshoeing so that you stay warm, but once you start to sweat, the moisture is wicked away from your body (so you don't freeze as soon as you slow down). On top of that, dress in layers, and plan to take some off or add them depending on how active you're being. We typically have our kids wear a base layer, a mid-layer, and a jacket. If you're new to snowshoeing or going with really young kids who are going to want to play in the snow, make sure that they're wearing waterproof snow pants and a waterproof winter coat as well. Older kids can be just fine wearing a thin pair of gloves, while younger children will want waterproof mittens since they're more likely to fall or feel the spontaneous urge to build a snowman.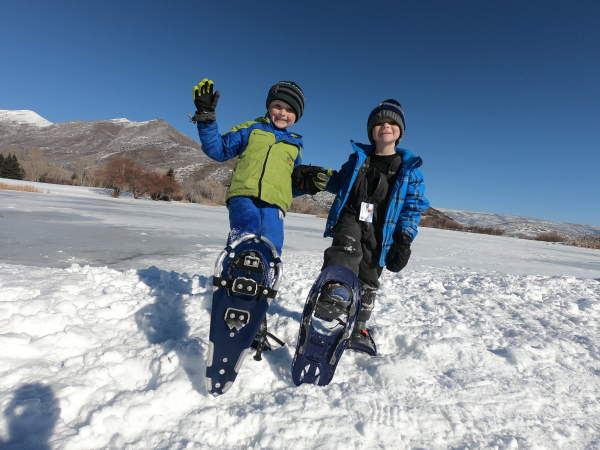 What to Bring Snowshoeing with Kids
Hydration is key when snowshoeing with kids, especially if you're not used to the mountain altitude. In the summer, we naturally think about drinking a lot because of the hot temperatures, but staying hydrated isn't as natural in the winter. If we are out snowshoeing for a long time, we have our kids wear hydration packs, making staying hydrated so much easier. To make sure that they don't freeze, we have the kids wear them under their coat and keep the tube tucked inside.
We also always have a thermos full of hot chocolate in the car waiting for us at the end of a snowshoeing adventure. It's a great reward to coax a kid a little farther down the trail and is also the perfect way to end your outing with some hydration.  
Just like when you're hiking with kids, I always recommend bringing a few treats along in your pocket as trail bribes. I'm always amazed at the effort my kids will give at the promise of a gummy bear or two if they make it just a little farther down the trail!  
Best Places to Snowshoe in Park City With Kids
While there is no shortage of places to hike and snowshoe in Park City, not all of them are going to be great for kids, especially if they're just learning to snowshoe. I recommend finding a trail that isn't too steep and wide enough to walk side by side instead of a single file, so you can help your kids more easily if they fall down. Here are some of the best places to take your kids snowshoeing while you're in Park City:
Round Valley
This is my favorite place to take my kids snowshoeing in Park City. The trails are well maintained, and there isn't a lot of elevation gain, so it's perfect for the little ones. My kids also love that on most of the trails, they're hiking next to a hill, so it's the perfect place to go if you're already anticipating some sledding breaks! There are several different trails at Round Valley, so you can easily make your snowshoeing trip longer or shorter, depending on the day.
Note: Many of the trails at Round Valley are groomed for cross country skiing. Use good trail etiquette and avoid the cross country ski track set, and hike along the edge of the groomed trail or off to the side so you don't damage the trail for skiers.
Gamble Oak Loop
Located right outside of downtown Park City, the Gamble Oak Loop is a fantastic snowshoeing trail that's easy to get to. This trail is nearly 4 miles and has a bit of elevation gain, but it's a good trail to take if your family is ready to try a snowshoeing trail that's just a little bit more challenging. Make sure to download a map before you go since the trail markers can be a little bit confusing in the winter.
Note: Depending on the trail map you are looking at, this trail is also called Lost Prospector.
Swaner Nature Preserve
On Saturday mornings, Swaner offers guided snowshoe walks along the nature preserve. This is a great way to learn about the area, as well as having an expert show you around and help you identify signs of wildlife. The naturalists at the Swaner Nature Preserve have a fantastic knowledge of the area, and our family has loved all of their programs that we've attended. After your snowshoe tour, make sure to stick around the nature center for a while to let your kids enjoy the indoor exhibits and lookout tower. Snowshoes are available to rent for the tour for only $5.
Where to Rent Snowshoes In Park City
If you're new to snowshoeing and don't have your own equipment, there are plenty of places in Park City that offer rentals to help your day go smoother.
White Pine Touring
White Pine Touring offers snowshoe rentals and has outdoor guided tours for everything from cross country skiing to fat biking. If you're looking for adventure guides in Park City, you'll want to stop in here.  
Adult Snowshoe Rentals $18
Kids Snowshoe Rentals $10
Jans 
Jans is a sporting goods shop that's a great place to stop for all your snowshoe and skiing needs. 
Adult Snowshoe Rentals $18
Kids Snowshoe Rentals $8