Whether you are chasing a winter storm or looking for some sunny spring skiing, Park City is a world-class choice for a weekend ski trip. It's ok if you may not have a week or two for a vacation, even a weekend in Park City can satiate that thirst for shushing around the mountains. Planning and executing a worry-free trip can be a bit daunting, with so many possibilities, and never enough time. If you're like me, you want to spend most of your time shredding and having fun, not coordinating logistics like transportation, lodging, tickets, gear, and reservations. But don't worry, we have you covered on how to plan and execute a weekend ski trip to Park City, one of the most convenient ski destinations in the world, where you can touch down in the morning and be on the slopes by the afternoon.
Getting There
If you've never flown into Salt Lake International Airport, well you are in for a treat. Peak out your window and feast your eyes on the breathtaking Wasatch Range as you descend into Salt Lake City. While being a major international airport and Delta hub, with plenty of airlines offering direct flights, you still get a small-town feel, where if the stars align, you could be off the plane and out the door in 20 minutes. 
One of the many things that make Park City so special is how accessible it is. In a mere 35 minutes, you can be in the mountains sandwiched between Park City Mountain, Deer Valley Resort, and Woodward Park City. Minimize your hassle by pre-arranging a shuttle service to pick you up and take you directly to your Park City lodging. 
Gearing up
Fear not if you came to town without your gear, there are a plethora of ski/snowboard shops in Park City that have you covered, regardless if you are a skier or a snowboarder. Pop into Legacy Sports or Cole Sports at the base of Park City Mountain, and a highly skilled technician will get you set up in no time with the best of the newest gear. If you can, grab your equipment the day before you want to ski so that you don't have to worry about it when you are rushing to the slopes. Another option is delivery and pickup services, Black Tie and Ski Butlers. They will get you fitted and ready with your equipment in the comfort of your lodge, which is a great way to minimize stress and maximize your time on snow.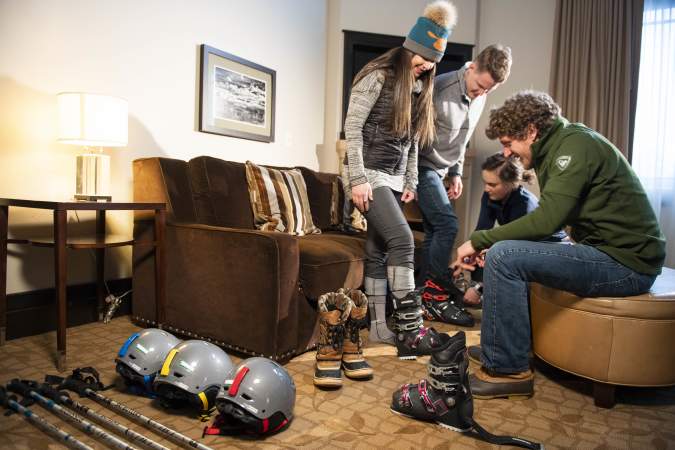 Where to Stay
To maximize your time on the hill during your weekend ski trip, stay close to the slopes. If you'd like to start on the Canyons side of Park City Mountain, the Grand Summit Hotel at Canyons Village and The Waldorf Astoria are both great options. They give you easy access to the Orange Bubble Express Lift that will lead you to some exceptional terrain. On your way into Downtown, you come across Hotel Park City, an upscale, all-suite ski lodge adjacent to the Park City Golf Club and 1 mile from the base of Park City ski area. If you are looking for something a little more on the boutique side, built as a school in 1889, but converted to a hotel, The Washington School House completed a stunning renovation that strives to set the new high mark for luxury. It's only 5 minutes' walk from the Town Lift, so you'll be on the slopes in no time! If Deer Valley is more your speed, the legendary lodging at The Montage and the Stein Erickson Lodge never disappoint and will give you unparalleled ski-in/ski-out access to Deer Valley Mountain.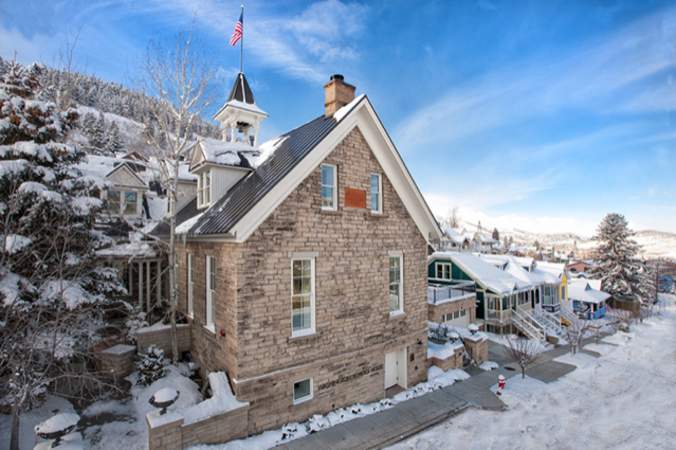 Getting on the Mountain
Now that you've got your gear, it's time to hit the slopes! If you haven't pre-purchased lift tickets online or don't already have a season pass, head over to the ticket office at the base of Deer Valley or Park City Mountain, and they will get you set up with a day or multi-day ticket.
Need a lesson? Check-in at the Ski School office at either resort to advance your skills. You can pre-purchase lessons before your trip to save time if you know you'll need a little extra guidance. Both Private and Group lessons are available and provide you instruction and a guide, but they help you skip ahead in the lift lines!
Skiing-wise, there is truly something for every ability level at each Park City resort. Park City Mountain offers 8 percent beginner terrain, 49 percent intermediate terrain, and 43 percent expert terrain. However, Deer Valley has a bit more beginner/intermediate terrain, with 23 percent being beginner, 43 percent intermediate, and 34 percent advanced. On powder days, locals and experts will vie for first tracks down Deer Valley's Daly Chutes and Park City's Jupiter Bowl, but don't be too concerned. There is plenty of terrain to go around! Another good option, if you're at PCMR, is to hop on their free mountain tour. It is geared towards intermediates and is a great way to explore Park City Mountain with an expert guide and uncover the historic mining buildings and hidden relics scattered across the resort. 
When your legs can't take any more morning powder turns, refuel at one of the many lodges. My favorites are the Mid-Mountain Lodge on the Park City side for a poke-tuna bowl, Tombstone BBQ on the Canyons side, or indulge in the Fireside Dining at Deer Valley.
Out On The Town
No ski trip is complete without some end-of-day après drinks (that's Happy Hour in mountain-speak), cheersing to the epic time just had on the mountain. Here in Park City, we take après-ski very seriously. There are several bars and lounges just off the slopes at both Park City Mountain and Deer Valley Resort. Head over to the ski beach outside Silver Lake Lodge at Deer Valley Resort or the EBS Snow Park Lounge - where the afternoon sun hovers perfectly over the deck. At Park City Mountain's Canyons Village, grab a cold one on the Umbrella Bar's deck or head to the Corner Store at the Park City base area for a lively scene with a large patio. If you're headed off the slopes by the Town Lift, take a load off at The Bridge Café & Grill and watch your fellow skiers finish their day.
After a fun-filled après reminiscing about the glory and folies of the day, head back to your hotel and rest up with a hot tub session and a shower, as it'll soon be time to check out one of Park City's fine dining establishments. Make sure to make reservations in advance as restaurants do fill up on weekends during the winter. No matter what type of food you are looking for Park City has it! Savor a flavorsome Southwestern meal at Chimayo, enjoy authentic Japanese cuisine and some of the freshest seasonal fish flown in from around the world at Yuki Yama, or experience the award-winning fare at Riverhorse on Main.
After dinner, If you still have some energy, grab a chill nightcap at Fletcher's Lounge or Old Town Cellars Bar. If you want to ramp things up a bit, The Spur and The Cabin usually have live music or a DJ, and the No Name Saloon is a classic favorite.
The next morning if you require coffee or looking for some delicious breakfast before hitting the slopes again: The Eating Establishment, Five 5eeds, and Harvest, should have you covered.
With Park City being such an easy and accessible ski destination, you can have it all - maybe even a couple more turns before a late afternoon flight home!
A weekend in the mountains really does a body good. You'll be relaxed, rejuvenated, and ready to take on the world.