There's a lot more to Park City than just our skiing and outdoor adventures. We have a rich and storied historic past that began as a rambunctious silver mining town, nearly fading into history as a ghost town, and then re-invented as a ski town that grew into a world-class destination that hosts global events such as the 2002 Winter Olympics and the Sundance Film Festival. As you roam the streets of Park City you might come across abandoned mines, tram towers, and commemorative statues that are relics of our past that might peak your interest and curiosity about the history of Park City and how it all began. We've found one of the best ways to delve into Park City's past is via a tour that will fully immerse you in the history and culture of our mountain town. 
Below we've highlighted Historic Tours and Cultural Activities that will help you experience a deep dive into Park City's origin story.
Mines and Wines Tour 
If you like your history paired with wine then look no further than the Fox School of Wine's signature Mines & Wines Tour. This three-hour excursion takes you on a tour of Park City's historic locations paired with great wines. The tour begins with an overview of the feud that brought mining to Park City, while you enjoy a vintage sparkling wine made for the king and queen of Spain. Then climb aboard a luxury vehicle for an afternoon of wining and exploring. Discover five stops around Park City where you'll sip wines that Kirsten Fox, executive sommelier, chose for each location. Light, paired nibbles are included. (Mines and Wines Tour follows Summit County Utah's Covid-19 guidelines so all services are delivered with an eye to social distancing.) Tour is 21+.
Park City Museum
Stop into the Park City Museum and wander through their interactive exhibitions exploring Park City's colorful mining and ski history. In the heart of Park City's historic Old Town district, the award-winning Park City Museum is full of surprises. The museum offers a self-guided tour through the museum that you can amble along at your own leisure that is $15 per adult. They also offer a Main Street Walking Tour that begins at the end of June Monday - Friday at 2 PM where you hop on a trolley that drops you off at the top of Main Street and then stroll down with your guide who will point out significant architectural buildings, historic markers, and other points of interest. The Guided Tour lasts one hour and fifteen minutes and is appropriate for ages 13 and up. Please arrive 10 minutes early, wear comfortable walking shoes, bring water, and wear sun protection. Private Guided Tours are available by reservation.
Park City Ghost Tours
The spookiest tour in town, the Park City Ghost Tour highlights the seedier side of mining history with stories of bar fights, poison, revenge, and untimely deaths. Meet the ghosts that haunt our town to this day with a 75-minute long walking tour on Main Street. Summer tours depart daily at 8 p.m., starting at Miner's Park on Main Street; Reservations are required 24 hours in advance. Tickets are $30/person, $15 kids (ages 16 and under).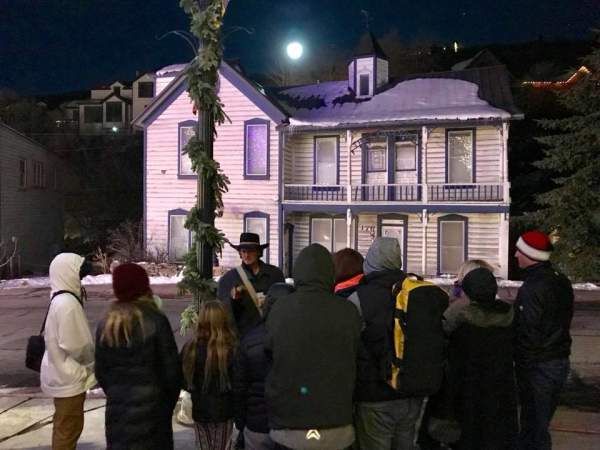 White Pine Touring Historic Park City Hiking Tour
On White Pine's Historic Park City hiking tour, they delve into the intriguing history of our pastoral town, while offering picturesque views along the way. The route leads through Daly Canyon and ends at the massive remains of the Silver King Mine. This intermediate hike lasts about three hours and offers fresh air and a chance to stretch your legs as you learn about Park City's rich history.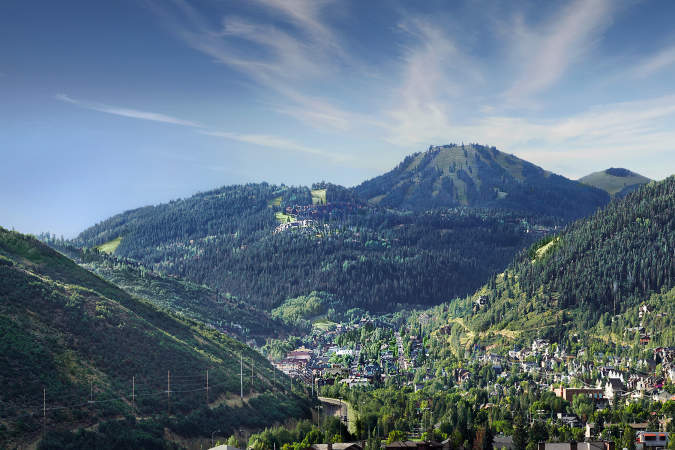 Guided Historical Hikes at Deer Valley 
Enjoy the beauty of Deer Valley Resort with a guided hike of the area. These hikes last three to four hours, cover moderately strenuous terrain, are typically less than six miles long, and highlight the area's mining history. The hikes will be on June 20, July 25, August 15, and September 19. Participants meet on the Snow Park plaza. A portion of the fee benefits the Friends of Ski Mountain Mining History, a nonprofit organization. Reservations are required and a $10 fee applies.
Group size is limited to 20 participants. To continue to keep guests and staff safe, face coverings will be required when social distancing is not possible. Participants should be in good shape, wear sturdy footwear, face covering, bring proper sun protection and carry plenty of water and snacks. For the safety of others who share the mountain, no dogs, please.
Museums At Utah Olympic Park
The Joe Quinney Winter Sports Center is home to Alf Engen Ski Museum and Eccles Salt Lake 2002 Olympic Winter Games Museum. This world-class facility highlights the history of all skiing disciplines in the intermountain region through interactive touch screen displays, videos, a virtual reality ski theater, games, and topographical maps. Visitors can also experience the glory of the 2002 Olympic Winter Games through a gallery of visual highlights and artifacts from the 2002 games. Open Daily 9 am to 6 pm. Entrance is Free; The Museum's mountain sports simulator is open daily 10 am-5 pm, with tickets starting at $5/person. 
Summit County Museum
If you are looking to dive deeper into the history of Park City and the surrounding areas head over to the Summit County Historical Museum in Coalville. What you'll find portrayed at the Summit County Museum are many legacies handed down through the generations. Not only is this museum a preservation, it is also a tribute to the community's heritage. Join a guided tour of the museum and courthouse, or a walking tour of Main Street Coalville. Open Monday - Friday 8 AM - 5 PM visit the museum at 60 North Main in Coalville Utah, in the basement of the County Courthouse, just 15 minutes from Park City. Also available by prior arrangement by calling 435-336-3042.
Swaner Preserve and EcoCenter
Get outside and explore all that the Swaner Preserve has to offer. Guided tours of the Preserve are available to you and your small crew (up to 9 people total) while practicing safe social distancing outdoors. Learn about wetland science, check out local plant and animal species, and dig into the history of the Preserve with a Swaner Naturalist. Tours occur on the Southside of the Preserve, which is closed to un-guided public access and usually takes between 1 and 2 hours. $15/person | $7.50/member | Free for children 5 and under. They ask that tour fees are prepaid – so that when your family/group arrives, you can jump right into the tour and focus on the fun stuff! Payments are taken over the phone upon confirmation of booking. COVID-19 Precautions - Face coverings are required by staff and participants 2 and over. Hand sanitizer will be available throughout the tour. All tools, such as binoculars or magnifying glasses, will be sanitized before and after each use.
So come enjoy all the good tidings Park City has to offer and immerse yourself in our past. Your stay in our mountain town will be even more enriched by learning about our diverse and rich history along with playing amongst our wide-open spaces.