Park City businesses Alpine Distilling and 350 Main Brasserie have partnered together to give adults the ultimate educational experience: gin making. While kids are preparing for days back in the classroom, visitors and locals 21+ can reserve a spot to spend an evening learning about and making their very own bottle of gin with a team from Alpine Distilling while dining on a 4-course gourmet dinner prepared by 350 Main's Executive Chef Matthew Safranek.
Upon arrival to 350 Main- an upscale mountain dining restaurant serving contemporary American cuisine- located on Historic Main Street, guests of the gin making experience work their way downstairs to the private Vintage Room. Newly renovated to include a distilling laboratory, this cozy environment is arranged with a private dining table for the group, each place holder equipped with a flight of four unnamed gin samples.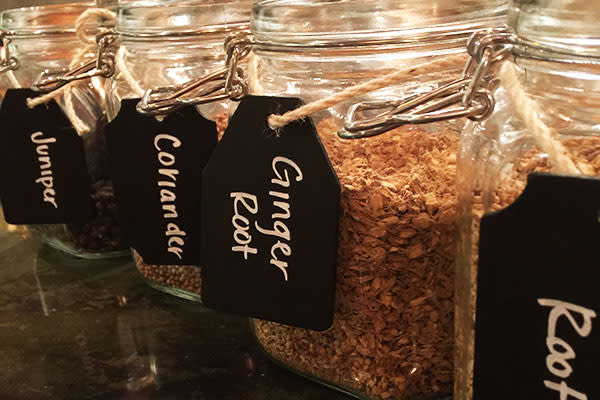 To kick off the night, Founder of Alpine Distilling, Rob Sergent, highlights the bar topped with glass jars full of botanicals. These are the tools to create aroma notes and flavor profiles of the desired taste. Upon explanation that gin is, in short, plain vodka infused with botanicals- fifty percent of which must be Juniper- and diffused, or "cut" with fifty percent water, the group of guests pick out the botanicals of their choice by creating and weighing out their own ratios. Depending on the number of stills set up in the lab compared to the party size, guests may need to pair up with a friend to concoct one bottle of gin to share. Currently Alpine Distilling is able to provide one 750 ml-size bottle per still. Here is a sample of botanicals that may be found in gin: Herbal mint, rose hips, cinnamon, cucumber, lavender flower, licorice root, carnation, ginger root, coriander, pepper, rye, orris root (from an iris plant), malted barley, orange peel, celery, anise, carrot, grapefruit peel, chamomile, corn and, of course, juniper. Note that the options are pretty endless, and botanicals can include floral, spicy, grainy and fruity components. Alpine Distilling has set up a nice assortment to provide a range of flavor preferences.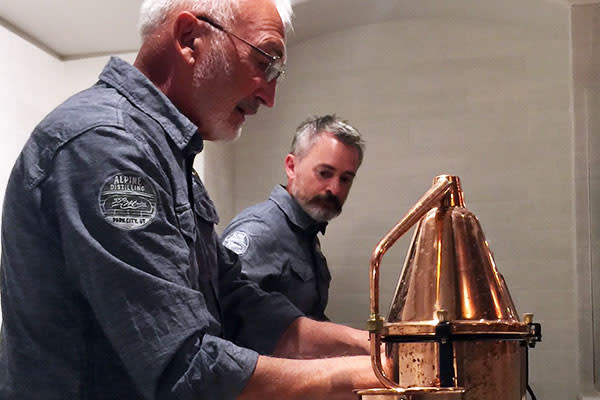 Once each person or pair has established their flavor profiles in a copper bowl, the experts step in to set up the stills while guests enjoy a two-hour gin tasting and dinner experience- enough time to allow the distillation process to turn plain Alpine Distilling vodka into a personalized gin creation so that, by the end of dinner, guests can take home their personalized bottles. Distillers work behind a glass door to set up each guest or pair's unique "recipe" while Rob treats guests to scent sticks of aromatic notes and has the group continually taste each unidentified glass of gin in front of them to appreciate how dominant, binding, and accent notes bring out different qualities and flavor appreciations.
Throughout the evening, Executive Chef Matthew Safranek brings out four-courses of his own creation to highlight impeccable flavor pairings, aligning with the key takeaway of the evening: that having fun with flavor and creativity mean a lot for not only gin, but for delectable menu items. By the end of the meal, guests will have experience approximately 10 different aromatic scents, surprising themselves with how much those aromas can change their appreciation for the different gin sample. The evening is an opportunity to learn more about an often times lesser-known alcohol, and leave with a personalized bottle of delicious liquor.
To reserve your space for the Gin Experience, please call 350 Main Brasserie at 435-649-3140 and ask about availability. Bottles of Alpine Distilling's gin, whiskey, bourbon, liqueur and vodka are on display at the restaurant and can be purchased onsite.