Hiking and exploring Park City's trails is one of the best activities for experiencing nature while visiting our scenic mountain town. We have miles and miles of trails that have a diverse range of accessibility so that people of all abilities can enjoy what if eels like to bask amongst the trees and witness some of the very best views of the Wasatch Back. 
Speaking of accessibility, Park City has an amazing program to help alleviate congestion at trailheads and make it easier for visitors who do not have access to a car to get the most popular trails around Park City. The Transit to Trails Program is a free service intended for summer  recreators looking for transportation from the Bonanza Park Neighborhood and Bonanza Flat Conservation Area which includes access to the Mid Mountain, Bonanza Flat, and the Bloods Lake trailheads. Services is provided Thursday to Sunday and is dog- and mountain bike-friendly!
Also, the new High Valley Transit Micro Program is another great and free option to move around Park City, specifically the Kimball Junction area, and access trailheads without the need to drive!
Farm Trail
The Farm Trail is a wonderfully accessible hike that is great for all physical ability levels and the entire family. This easy paved path takes you around Park City's historic McPolin Barn, one of Park City's most stunning landmarks, off Highway 224. The path stretches for several miles, so you can go as far you would like while enjoying some spectacular views of quaking aspens, babbling McLeod Creek, and a stunning meadow with grazing horses. Make it a morning adventure or an after-lunch stroll. The Farm Trail is a so picturesque, making it an incredible spot for family and engagement photos. 
RTS Loop
The RTS Loop Trail lies just below the Utah Olympic Park, easily accessible from Olympic Parkway, opposite the Run-A-Muk trailhead. High Valley's Micro Transit is a great option for accessing this trail. Covering 2.6 miles, RTS offers a lesser-known but delightful opportunity to venture into nature without an overwhelming commitment, perfect for those seeking a quick and easy jaunt outdoors. With a modest 200 feet of vertical variation between the highest and lowest points of the loop, it becomes an ideal spot for leisurely hikers, families with small children, and trail runners. As you meander through the trees, be prepared for breathtaking views of the surrounding area, especially if you decide to embark on an enchanting sunset excursion. Between the tree canopies, you'll catch glimpses of the UOP and other scenic spots.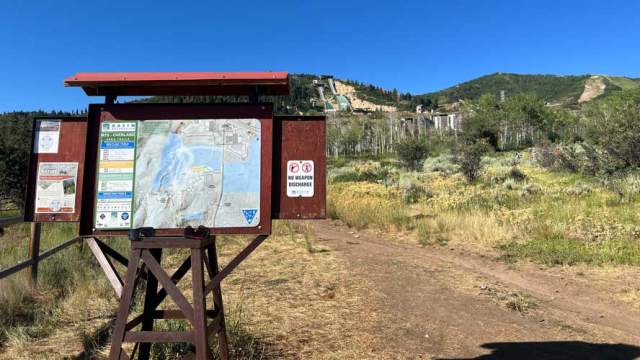 Free Mason Trail
The Free Mason Trail is a short and easy trail, and a hidden gem located near the Prospector neighborhood. It can be accessed approximately 100 yards from the Rail Trail trailhead, east of White Pine Touring (parking available at Prospector Park or Rail Trail). Overall this 1.5-mile route is fairly smooth with mellow steady descents and climbs as it wraps around April Mountain. As you come around the west side of the hill, you'll be treated to breathtaking views of Old Town. You can add some variety to your hike by connecting to other trails in the area like Lost Prospector, Masonic, and Gambel Oak.
Silver Lake Trail
The Silver Lake Trail offers some of the more exquisite views of Park City's nature. Take the free bus service to Deer Valley Resort's Silver Lake Lodge where you'll find the trailhead. From here the trail winds its way up Bald Mountain, climbing 1,300 feet in a two mile stretch. The hike leads you to spectacular views of the Jordanelle Reservoir and the Uinta Mountains. From the top, you can descend the Ontario Canyon Trail, which slowly winds down the mountain, ending back at Silver Lake Lodge.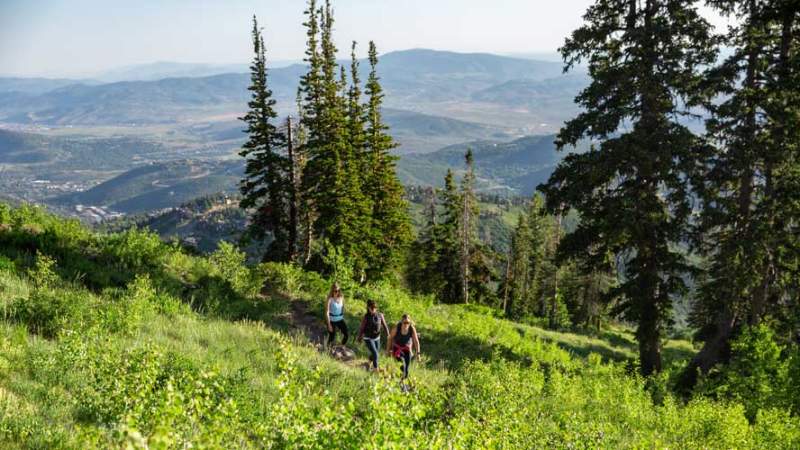 Mother Urban
Mother Urban is one of Park City Mountain's newer trails and starts in the heart of Old Town. You'll begin from the Treasure Hill trailhead, which is pretty small, with room for only five cars, and is located up Lowell Avenue about 1/2 mile from the Park City Mountain (PCM) parking lot. We suggest parking at the PCM lot and walking up Lowell or booking a ride to the trailhead with High Valley Transit. The trail begins on lower Sweeney's Switchbacks and gently ascends for nearly five miles and 1,200 feet before topping out on the Mid Mountain Trail just south of King Road. Mother Urban passes under the Town Lift and along the way, you'll pass iconic tramway towers, abandoned mine shafts, and other relics—fun reminders of Park City's rich mining history.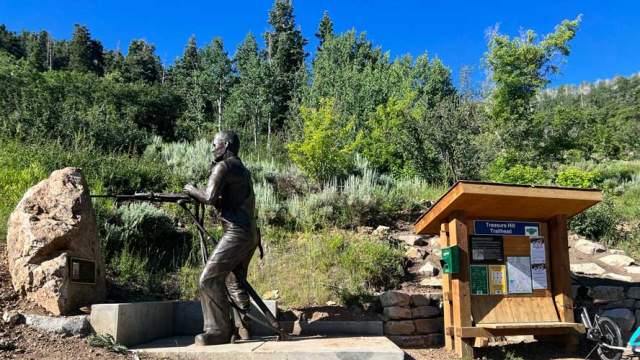 For more information on Park City's trail system, view our new Hiking information page. Or when you arrive, stop at the Visitor Information Center to speak with our knowledgeable staff.