In a large historic space at the top of Main Street, chef-owner John Murcko and his team bring the outdoors in with his New American cuisine cooked over an open wood-burning fire. Here, firewood is more than just the name; it's the main ingredient. 
The story of Firewood started with a familiar tale: Murcko first fell in love with Park City while visiting for ski vacations growing up. In 1991, he moved out West from for good. Since then, Murcko has helped close to 20 restaurants in Park City — so to say he's a veteran of the food scene is an understatement. 
At Firewood, the warm ambiance is emphasized by both its flame-cooked cuisine and its turn-of-the-century industrial décor. The lower level houses Firewood's Nickel Bar, which has a speakeasy feel and delicious cocktails that diners can enjoy before their meal or as an aprés-dinner treat. (Psst: If you can find the Indian-head nickel, your next round is on the house!) 
In terms of the menu, Murcko took inspiration from the way he cooks at his remote cabin in Southern Utah. At Firewood, he combines this primitive cooking method — an open wood flame — with an innovative, forward-thinking menu, using the freshest regional produce from local farms and suppliers. "Local lamb, trout from the mountains — that's what we should have on our menu, not something that travels for so long," Murcko tells us.
Basically every dish on the menu is cooked in this open-flame style — no gas or electric cooking allowed! This takes several different methods and equipment — from baskets to cast iron pans — as well as a lot of creativity. And thanks to an open kitchen design, diners can peek into the kitchen and observe the chefs hard at work.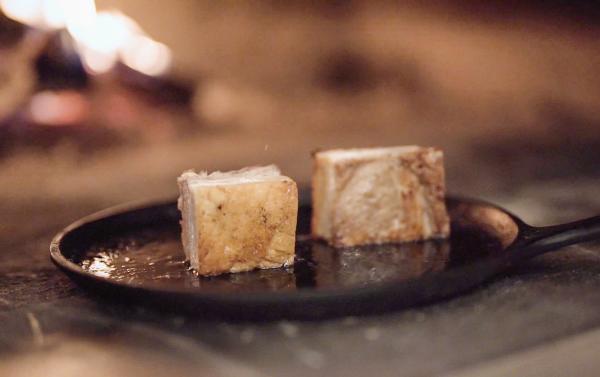 In this episode, we sat down with Murcko to learn more about his background, cooking philosophy, and how he came up with the one-of-a-kind concept at Firewood. We also got an up-close look at the open-fire kitchen, and tried some of Firewood's most popular dishes: a Manhattan-cut steak; the pork belly appetizer (a playful riff on the classic BLT); and the sea scallops, served with foraged mushrooms, peas, zucchini noodles, and a parmesan-cauliflower puree.