When you think about fly fishing, what comes to your mind? Is it a romantic vision of Brad Pitt casting a fishing rod bathed in the warm glow of the sun? While that is a beautiful daydream, and "A River Runs Through It" is a great film, it doesn't quite help one grasp what to expect when it comes to fly fishing. 
Interested in trying my hand at another outdoor activity, I booked a half-day guided fly fishing trip with Park City Fly Fishing Guides, who have over 40 years of experience in the Park City area. They are locally owned and operated by Layne Edwards and Erik Hufnagle, and take great pride in providing the best possible fly fishing experience for their guests. Their home waters include the Provo River, the Weber River, and many small & remote streams in the North and South Uinta Basins.
Details
What: Fly Fishing with Park City Fly Fishing Guides
Where: Provo River, Weber River, and many Small & Remote Streams in the North and South Uinta basins.
When: Make a reservation for a half-day or full-day tour through their website or by calling 435 -631-9933
Who: Family Friendly
Experience 
Fly fishing is a new activity for me. I've been once before with a friend who just put a rod in my hand and showed me some basics, but never took the time to teach me the proper techniques needed. I've gone deep sea fishing and fished off a sailboat before but never anything quite like this, wading through a river. In comparison, fly fishing really is a whole other ball game as the technique needed to cast the rod correctly takes a bit more practice. At first, I was nervous that I wasn't going to get it right and in turn not catch any fish. But despite my nerves, I reminded myself that this day was supposed to be fun and that it was already a win because I was spending my morning outside in the sun learning something new.
Hiring a guide was imperative, as I wanted to learn the basic building blocks and not develop any bad habits. I decided on a half-day wading trip that would either be on the Provo or the Weber River, which are both close to proximity to Park City. 
After making my reservation online, Layne, one of the owners, reached out to schedule my half-day. He was friendly, helpful, and shortly after speaking with him, he sent me a confirmation email and a reminder to purchase my Utah fishing permit. The night before he called to confirm all the details: waders and boots size, and sent a pin to where I'd be meeting my guide in the morning. The whole process was super easy to book, and Layne was responsive via text when I had specific questions.
I met Layne and my guide Jeremy at 8 AM, and after Layne handed over my waders and boots, Jeremy and I were off to our fishing spot. That morning, Jeremy chose to fish on the Weber River, it was going to be less crowded and had a high chance of catching Brown Trout and Salmo Trutta.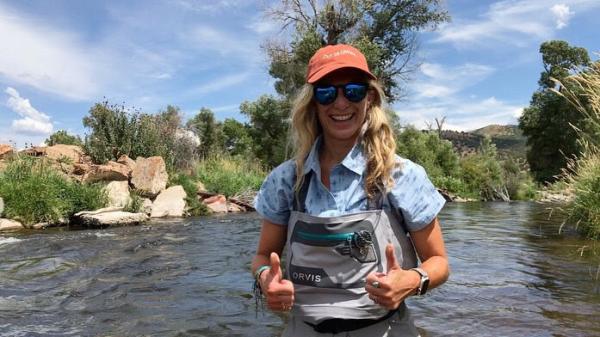 Right away, Jeremy and I got along, and it felt like I was fishing with a friend. The lesson started with a casting technique, and throughout the day, Jeremy taught me three different ways to cast that included: Water-Load Cast, Roll Cast, and Dry Fly Cast.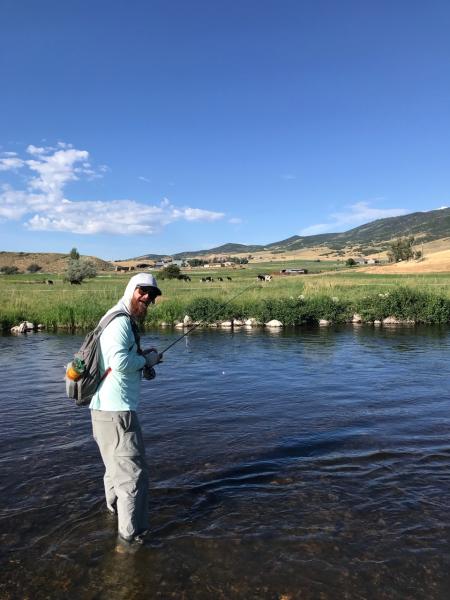 I had a reasonable amount of time to practice my casting technique as the fish were not biting at the first spot we tried. Honestly, I thought it would be frustrating not catching any fish. But, I actually found it very peaceful standing in the river, feeling the current against my body, the sun on my face, while practicing my cast. 
Jeremy really wanted me to feel the joy of catching some fish, so we moved to a spot that was a little deeper. A guide is definitely helpful as they will know what type of flies the fish will eat in each specific location, and how to correctly tie the flies. These are things I would have had to learn if I wanted to go fly fishing on my own, so it was nice to have an expert along to help me with these decisions.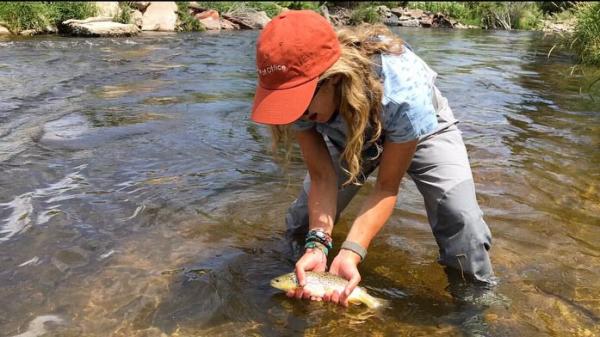 Within 5 minutes, I had a meaty fish at the end of my line! In the next 45 minutes, I had caught another 4 fish! Woohoo! Even though the first part of the day was uneventful, I think this constitutes as a success, and what can I say I am hooked!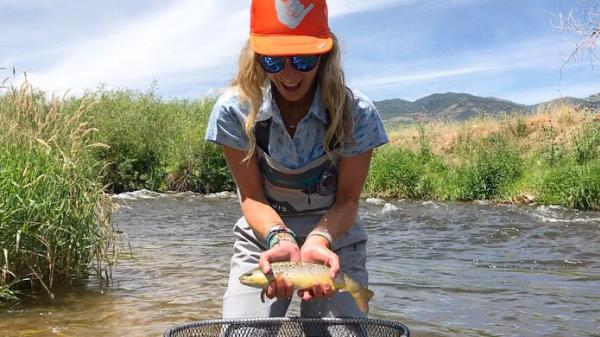 Advice
Don't forget to purchase your fishing permit beforehand.
Let your guide know if you need transportation to the meeting point. They'd be happy to provide transportation if you do not have a rental car.
Your guide will provide: waders, boots, high-quality rod and reel, terminal tackle, split shot, indicators & flies, some snacks & cold drinks (Lunch is included for Full Day Trips)
Don't forget to bring: weather-appropriate clothing, sunscreen, chapstick, polarized sunglasses, a hat, lunch (if you booked a half-day) and your Utah fishing license you purchased
When wearing waders I'd suggest wearing a layer like leggings for females or long shorts/ some other kind of comfy pants for men, as when they get hot they will get stuck to you if you don't have some sort of buffer between your legs and the waders.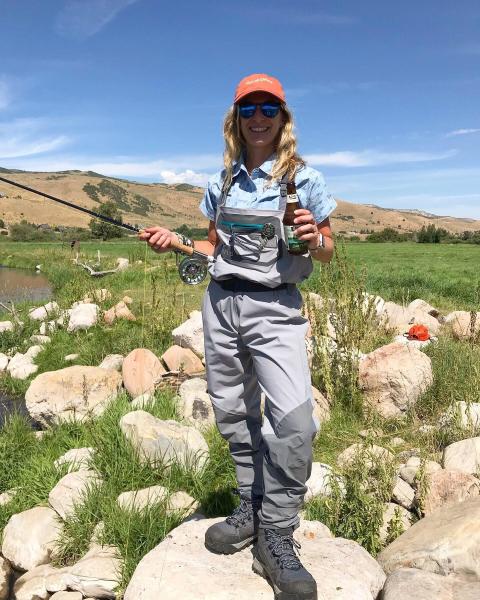 If you are looking for a fun day outdoors, with knowledgeable fly fishing guides, check out Park City Fly Fishing Guides. They will provide you with a wide range of high-quality gear, drinks, and a plethora of knowledge. Their guides are also trained to keep you dry and safe on the river. So for those of you who desire to learn as much as possible about holding water, casting techniques, fish behavior, fly choice, and to overall have a great day on the river in the mountains of Park City, I definitely recommend hiring a guide, if only for a day, so you can build a solid base of skills to build upon in the future.