Park City is a mecca for mountain biking. We have 450 miles of mountain biking trails in and around our charming mountain town kept in pristine shape. This is thanks to the Mountain Trails Foundation, which is dedicated to building, maintaining, and preserving trail access in the area. But with so many options, how do you know which is the right trail for you? Thankfully, that's where White Pine Touring comes in! Located close to Main Street, White Pine Touring offers guided mountain biking tours based on your ability level and the kind of terrain you'd like to ride. Their guides are happy to show you around and give you a great day out on some brown pow. And for those of you concerned about the pandemic, this is an especially great activity right now as it allows you to explore our wide-open spaces while socially distancing.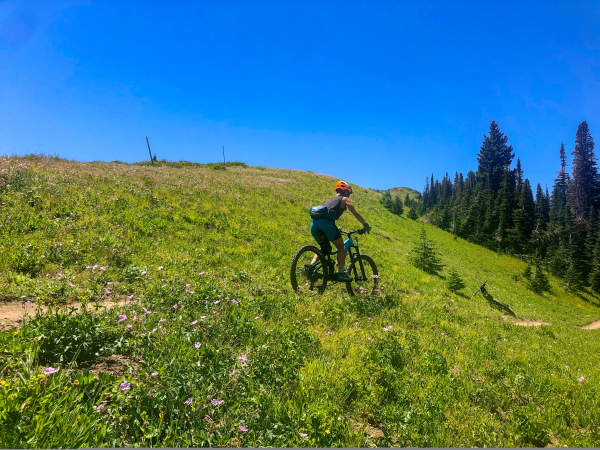 Details
What: White Pine Touring Free Mountain Biking Group Rides
Where: 1790 Bonanza Drive Park City, UT 84060
When: Schedule a tour during the spring, summer, fall months when the trails are dry.
Who: Anyone interested in exploring Park City's mountain biking trail system - either looking to get on new terrain or discover a trail they weren't aware of.
Experience
Mountain biking has really become a huge obsession of mine this summer. I thoroughly enjoy hitting the dirt trails, pushing myself uphill, and flowing in and out of aspens. I've explored trails all over Park City, including Round Valley, Bob's Basin, Park City Mountain, The Olympic Center, and more. Although I haven't been on every trail in Park City (some trails are just too hard/scary!), I've seen my fair share. For me, perfection is an intermediate, not super technical, flowy trail, so I was looking to explore some new options around town. I reached out to White Pine Touring to set up a mountain bike tour to help guide me in the right direction.
I easily booked my tour through their website, which was a breeze to navigate. If you are visiting or want to demo a new bike, there is an option to rent one of their high-quality bikes that best suits your skill level. My guide Betsy Bothe contacted me the day before our ride to go over some details and get to know my skill level and style of riding. I mentioned I was an intermediate rider looking for some "new to me" trails that were fun and flowy. She said she had the perfect trails in mind as she was a similar style of rider.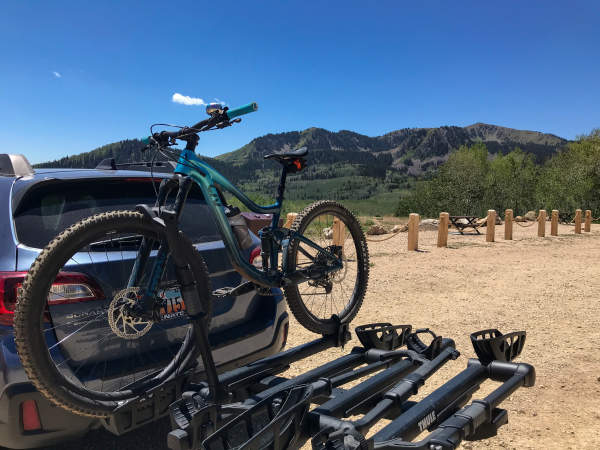 The next day I met Betsy at White Pine Touring, filled out some paperwork, and went over our mountain biking plan. The staff at White Pine have a safe social distancing policy in place, so masks were needed for interacting at the shop. Betsy also made sure I had all the equipment I needed for a safe day out in nature. We caravanned to the top of Empire Pass, where we parked in the new Bonanza Flat parking lot. We crossed 224 and climbed a fairly short double-wide road until we got to our starting point: the new 9K trail.
The 9K trail is a new trail that has been built over the past two summers by the Mountain Trails Foundation that is currently incomplete and only rideable as an intermediate out and back option. If you are an expert rider, you can sync up with the Black Forest or Fat Lip trail.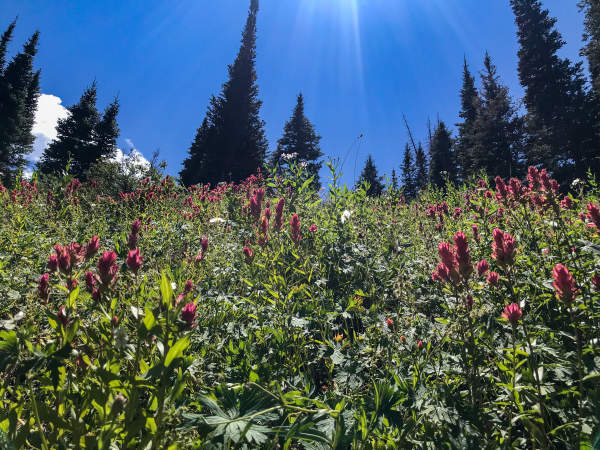 Betsy thought this would be a great trail to show me as it was new, fun, flowy, and the wildflowers were popping! I was excited to explore a new spot and ride amongst the peaking wildflowers. The trail was in excellent condition and had some nice little climbs intermingled with smooth downhills. Betsy was super knowledgeable about the surrounding trails, and she'd give me a heads up on what was ahead and was able to dole out little nuggets of feedback on my riding. She also offered to take some hero shots of me shredding amongst the wildflowers because you know I do it for the 'gram!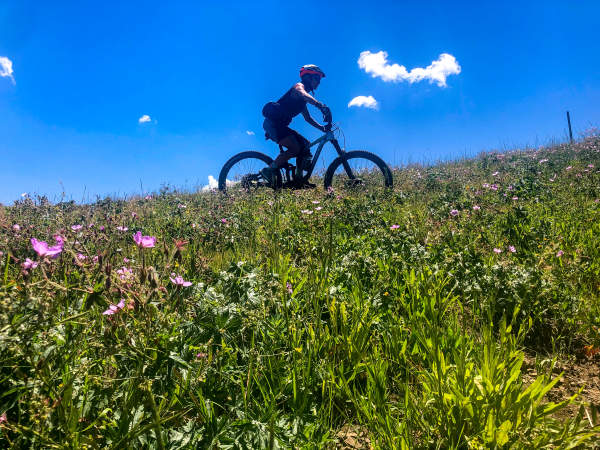 After our ride, I spoke with Charlie Sturgis, Executive Director of the Mountain Trails Foundation, to get a better idea of what this 9K trail was all about. He informed me that the 9K trail should be finished in the fall, which is exciting as it opens up a vast terrain that was hard to access for intermediate riders. To be exact, the 9k trail will traverse from Empire Pass, cross the run out to Jupiter Peak, then on to Main Bowl, Scotts Bowl, and all the way to Blazing Saddles, just 100 yards shy of Scott's Pass all at 9,000 feet above sea level. It will give riders another option for getting to the bottom of Puke Hill so they can ride the Crest Trail without having to use Scott's Bypass. 9K will change the way riders traverse and access the mountain presenting more options for different ride loops than currently exist. Now, for example, if you ride Mid-Mountain from the Montage to Blazing Saddles you will then be able to ride the 9K trail, once it is complete, back to your car, giving you a nice little 10-11 mile loop which never would have been possible before.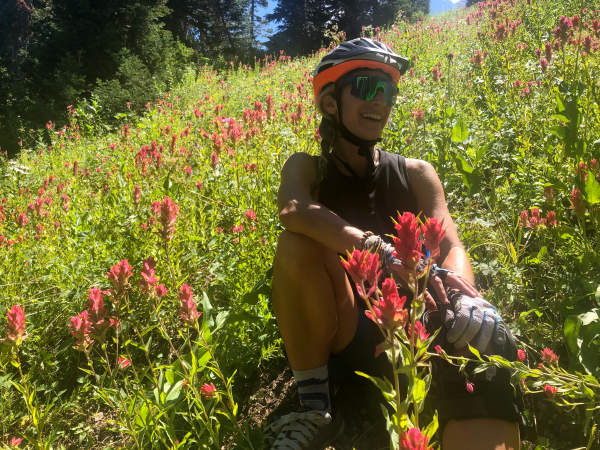 Advice
Wear bike shorts or longer shorts, and a lightweight shirt.
Bring a light windbreaker, and warmer layer as the temperature in Park City may vary if clouds move in.
Bring the following if you have them: bike gloves, sunglasses, sunscreen, snacks, and a camelback/hydration pack. If you do not have any of those items you can purchase them at the White Pine Touring shop before the tour starts.
Helmets and water bottles will be provided for the tour, but feel free to bring your own.
I highly suggest going over a plan with your guide and inform them of your skill level and what type of riding you are looking for as they will organize a great tour based on this information.
Have Fun!
White Pine Touring's Mountain Bike Tour is a great option for visitors and locals alike. Your guide will have plenty of trail suggestions that match your ability level and potentially even offer options that are completely new to you. If you are looking to discover your next favorite trail in Park City, I highly suggested taking a guided tour from White Pine.