Go full throttle this summer in Park City on an electric bicycle from Pedego! Akin to a regular bicycle you are able to manually peddle a Pedego bike, but that's where the similarities end. Pedego Electric Bikes go farther and faster, empowering you to see more in less time. With a power bank attached to your bike, you can make the decision to pedal like a regular bike, use the pedal-assist feature, or use the throttle to get the power you need when hills come your way. One could argue that riding a Pedego might be a little more fun than a regular bicycle with that differentiating WOO factor. It most definitely feels like being a kid again! 
Riding a Pedego bike around the bike paths of Park City is family-friendly and a perfect way to explore all around town. And there is no better way to spend quality time with your family or friends as a Pedego is an inclusive activity, allowing group members with differing fitness abilities the opportunity to enjoy an outdoor excursion together.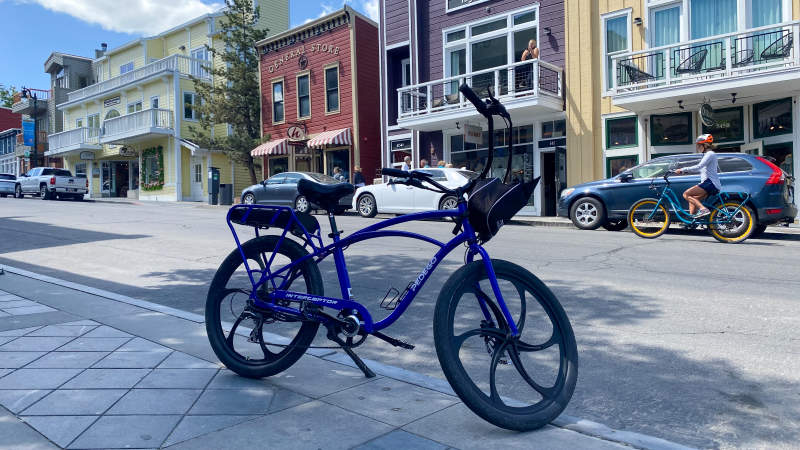 Details
Where: Rides start from Pedego Retail Location 1890 Bonanza Dr #102, Park City, UT 84060 (435) 649-6663
When: Monday - Saturday 10 AM - 6 PM Sundays 11 AM - 5 PM
Who:  Those looking for an inclusive fun outdoor activity for the whole family.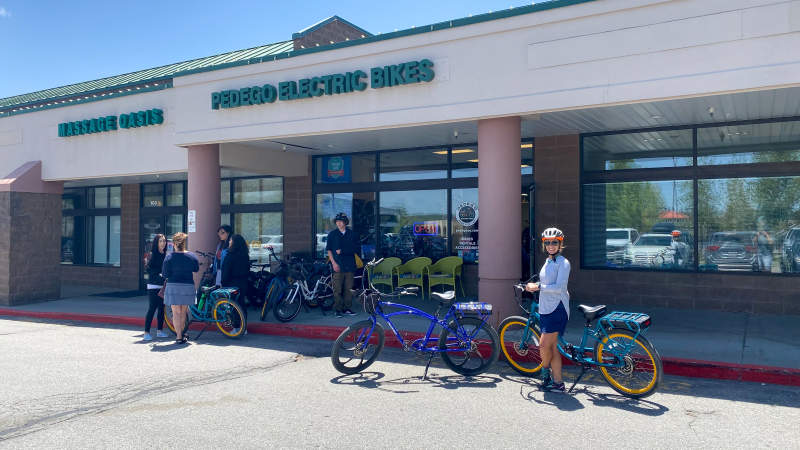 The staff at the Pedego Retail Store makes your experience of renting one of their electric bikes seamless. They get you signed in quickly and help you pick out a bike that is right for you and your adventure. Before setting you free out onto the bike paths they show you the many features of these powerful bikes. On the right side of your handlebars, you have gears that you can shift like a normal bicycle to give you resistance, but there's also a throttle that is powered by a battery attached to the back of your bike. By turning this throttle ever so gently the bike will propel you up our many hills in a hurry. On the left side of the handlebars is a little computer where you can adjust the pedal-assist feature giving you a jolt of power as you pedal, and where you can see your speed. Once we did some practice laps around the parking lot we were on our merry way!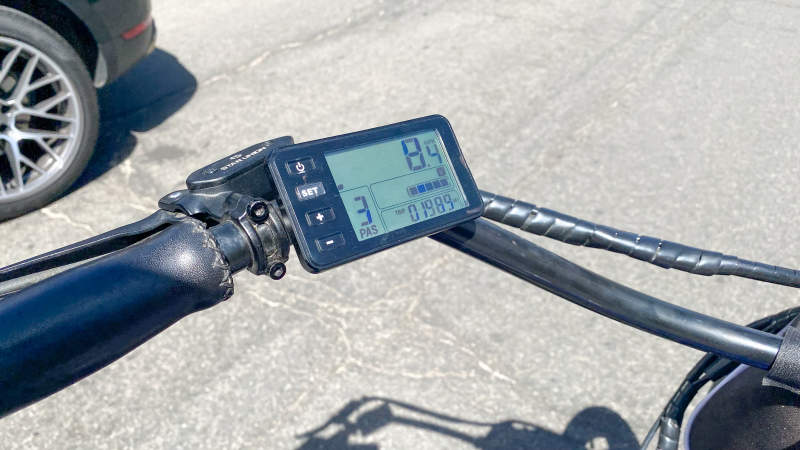 I have to say as soon as we took off I could not stop smiling. Riding a Pedego bike was TOO MUCH FUN, which I didn't expect at all since I love riding my non-motorized bicycle. As we headed up the bike path towards Main Street Park City I adjusted my pedal assist so I would get a little bit of exercise and pedal action, but when I came upon a big hill, full throttle it was (which only means a slight flick of the wrist). I definitely squealed with excitement the first time I hit the throttle. It was way more fun than I expected, and I felt totally safe since I was the one controlling my speed.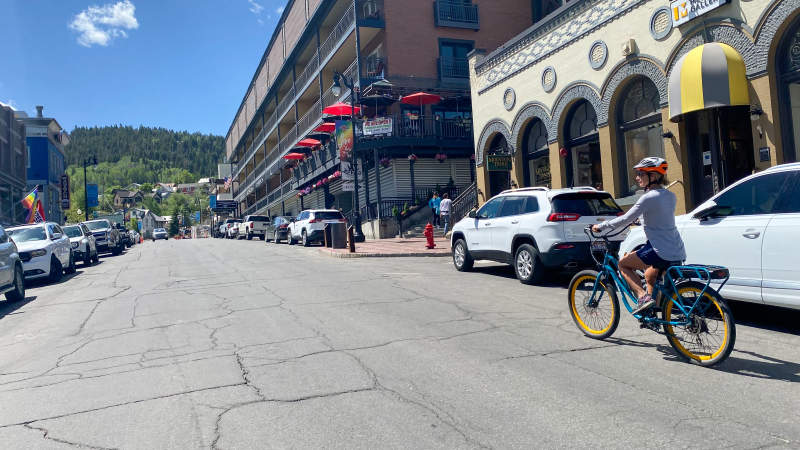 We rode up Main Street, people watching and perusing all the Old West architecture, our bikes helping us climb the steep hill with not much effort. We then scooted down Park Ave towards the paved bike path that meanders all the way to the iconic White Barn. If you want you can take side streets and dash past impressive homes, all the while taking in Park City's breathtaking scenery. After passing the pastures, and taking some photos in front of the White Barn, we continued down the bike path towards Canyons Village where there were a couple more hills that were no match for our e-bikes. We then crossed the highway on Old Ranch Road and took these baby's offroad on the gravel bike path making our way back towards town.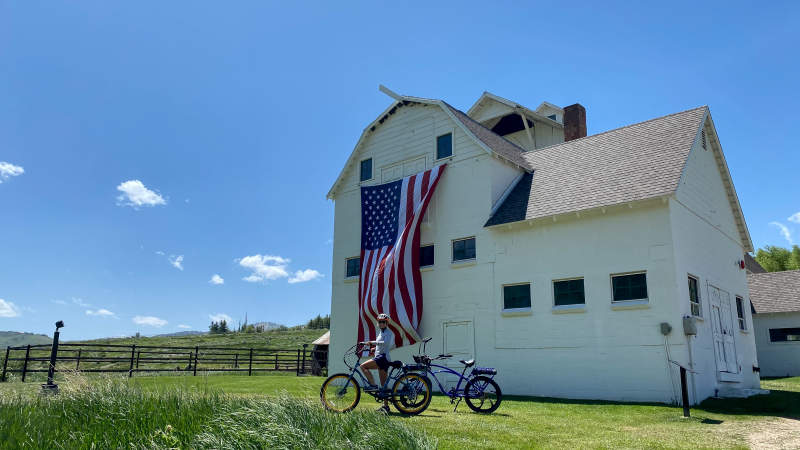 A Pedego electric bike rental might be one of the best ways to experience Park City and beyond! As someone who loves moving my body and uses a bike for exercise I was a little skeptical about these powerful e-bikes, BUT what I found is that these bicycles are super fun for cruising around town, are super-inclusive, and help so many different types of people enjoy the joys of pedaling and being outside.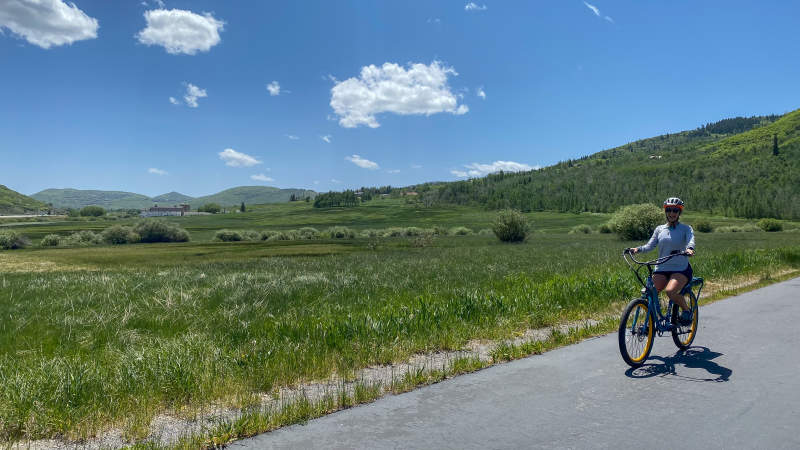 These bikes are 100% FUN! I definitely felt like a kid with lots of smiles and wees! I felt safe with the right amount of control over the throttle and using the gears and pedal-assist features made the Pedego a really well-rounded bicycle experience. Pedego bikes are perfect for visitors coming from sea level looking to go for a cruise on our many bike paths without feeling out of breath enjoying our wide-open spaces, mountain views, and sunshine.