There is no denying the feel-good factor of water. The wild frothy ocean, swimming in lakes and rivers, the first dips of summer, soaking in a hot spring or hot tub. Even hot showers on cold days and vice versa. It's a surge of adrenaline, balm for the soul, and the feeling of absolute calm and freedom. So when you put yoga and water together you get quite a healing and relaxing combination. 
We are truly lucky in Park City to have such a unique experience right here in our backyard, as there's yoga, and then there is yoga on a SUP, and THEN there is yoga on a SUP in a CRATER! Park City Yoga Adventures has really tapped into the adventure aspect by providing unparalleled experiences that blend yoga with the excitement of trying something new.
One of the more special activities you'll ever experience in your lifetime, The Crater is a geothermal spring hidden within a 55-foot tall, beehive-shaped limestone rock located on the Homestead property. Over 10,000 years in the making, The Crater formed when melting snow on the Wasatch Mountains seeped deep within the earth. Two miles below the surface, the earth's interior heated the water. As it percolated upward, it picked up minerals, which were then deposited on the surface -- eventually forming the volcano-shaped limestone deposit called The Homestead Crater. The hole at the top of the dome lets in sunlight and fresh air while the interior stays heated by the mineral water at a constant range of 90 – 96 degrees Fahrenheit.
We already know that yoga challenges your mind and body, and by adding in a SUP you are now challenging your balance and stability by really focusing on that core strength. And when you bring water into the equation you are also adding a form of mindfulness called the Blue Mind: A mildly meditative state characterized by calm, peace, unity, and a sense of general happiness and satisfaction with life in the moment. Being on, in, around, or near water can calm our overactive minds while it imbues our senses, reducing cortisol levels (the stress hormone), slowing our breathing and heart rate, and allowing us to gently move into a mildly meditative mood. As a result, we are calmer, more creative, and in a much more connected state of mind. By practicing yoga on a water source you are tapping into the healing benefits and restorative power of this natural element.
SUP Yoga doesn't take itself too seriously either. When you are trying poses there is a chance you might fall into the warm water of The Crater, which adds an element of fun, and the feel-good effects of swimming which stimulates the release of endorphins, which make you happy!
Details
What: Park City Yoga Adventures SUP Yoga at the Homestead Crater
Where: 700 North Homestead Dr, Midway, UT 84049
When: Any season!
Who:  Anyone looking for a unique yoga wellness experience.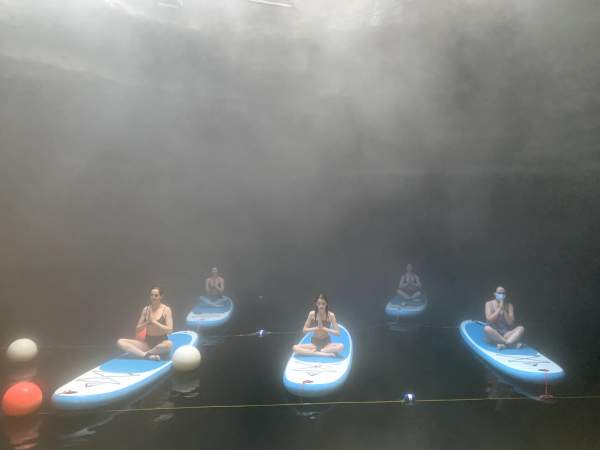 Experience
Looking for another new way to experience yoga, I got back in touch with Julia Geisler, the founder of Park City Yoga Adventures, and booked SUP Yoga at The Homestead Crater for me and my friend Colleen. We were excited to experience yoga in a completely different way than we were used to, especially in a natural setting, where we would also get to swim in a hot spring in the middle of winter.
The Homestead Crater is in Midway, a gorgeous 30-minute drive from Downtown Park City, where you meander past the Jordanelle Reservoir, and many pastures as you make your way to The Homestead Resort. Side Note: Midway is one of my favorite places to explore. It's surrounded by the towering giants of the Wasatch State Park and you can find many delicious baked goods down on their main street.
When we arrived at The Crater we parked right in front and headed in to meet our yoga guide, Larissa. The Crater is quite a sight! As you walk into the dimly lit cave, you already feel like you are on an adventure!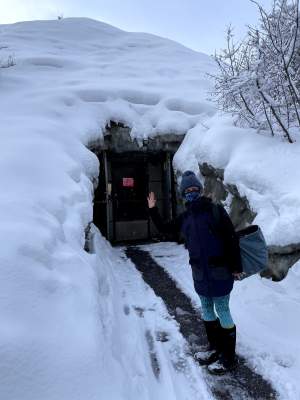 As you move further down the entranceway, The Crater comes into view. It's fairly large with deep blue water, and steam filling the air. There's a slight chill from the hole at the top, but it's refreshing.
Colleen and I change and meet the other folks in our group. PCYA does a wonderful job at keeping the groups small, and the nature of SUP Yoga definitely helps with the social distancing.
By joining a SUP Yoga class you get The Crater all to yourself, which is an added perk! There are open swim times, and scuba diving classes, so it does get a little crazy with divers and little ones splashing around, so it's quite nice to have some private time in the crater.
Larissa helped each of us find our way to a SUP where we then paddled them to a spot in the middle of the crater and hooked it onto attached lines so we were a little more stable than just having them float freely. After we got situated, the class began, and we dived right into our yoga practice.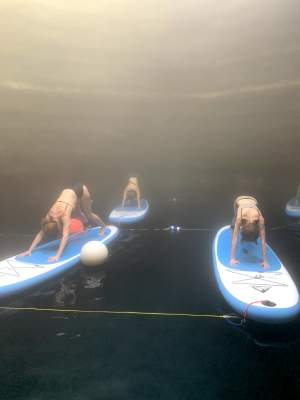 We flowed from sitting poses, down dogs, and warrior twos, to wheelbarrow, reverse dog, and tree pose, challenging our stability, balance, and core strength, all the while being encouraged to "fall in" either by accident or on purpose to experience the 97-degree thermal water. Larissa made the class fun, as I mentioned before, SUP yoga doesn't take itself too seriously. I loved the challenge of the SUP and adding the element of water to the practice, as it made for some nice heated swim breaks, and peaceful moments floating about. The flow of yoga was definitely enhanced by being on the water and feeling the relaxing properties water elicits.
During the class, Colleen and I would give each other animated glances acknowledging how fun and different this yoga experience was. As class came to a close we prepared for savasana which you could take either laying on your board, or in the water, which I opted for. It was a serene way to end class, being enveloped by the warm water.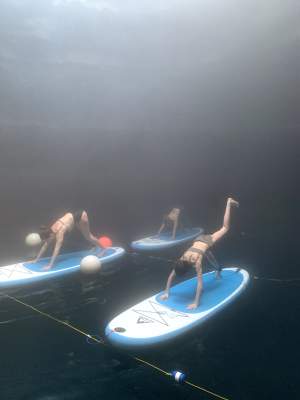 Advice
Make sure to arrive on time as the doors will be closed and locked once class begins
Bring a towel and change of clothes
Bring two masks, as I jumped in the water with my mask on, and having to wear a wet mask out in the cold was not ideal
In the winter, wear surf leggings, a rashguard, or a wetsuit top as it does feel quite chilly out of the water on your board once you get wet.
By combing yoga, geothermal water, a crater, and a SUP you truly get a unique experience that one can only have in Park City with Park City Yoga Adventures. By adding the element of water to your yoga practice you can deepen mindfulness and access an even greater state of "flow".