The seasons are a changing and with the cooler temps and shorter hours of sunlight come our glowing hillsides - full of golden aspens and other strikingly colorful auburn-hued trees. Fall in Park City is nothing short of spectacular. You get those cool mornings and evenings with the waning summer warmth during mid-day. It's one of my favorite times of year in the mountains to explore the never-ending mountain bike trails that Park City has to offer! 
With over 450 miles of easy-access trails, Park City is a mountain biker's dream come true, especially in the Fall months. Take yourself on a leaf peeping tour through our flowy, cross-country single track and techy downhill trails where the magic of the season will create an even more joyful experience.
Experience 
Rob's Trail
Distance: 5 miles (or more if you decide)
Elevation Gain: 1003 ft
Trail Use: Hiking and Biking
Loop or Out and Back: Out and Back (or Loop if you sync up with other trails)
Dog-friendly? Yes - but Park City requires dogs on leash
Parking: There's minimal parking at the trailhead on Bear Hollow Drive to your left. Please park your car at an angle, and there are no restrooms available.
Rob's Trail is a local's favorite, especially in the Fall. Tucked in a neighborhood close to the Canyons side of Park City Mountain, Rob's is a moderately strenuous, multi-use trail with plenty of opportunities for spectacular views and lots of leaf-peeping.
Rob's Trail is an out and back, but you can make it a loop by syncing up with the Ambush Trail, which will cross the slopes of The Canyons, and loop around to Rosebud's Heaven where you can then reconnect with Rob's. If you choose to do a loop you're looking closer at a 7-mile ride. Rob's climbs through groves of golden Aspen trees and has some amazing spots to view the ever changing fall landscape of The Canyon's slopes.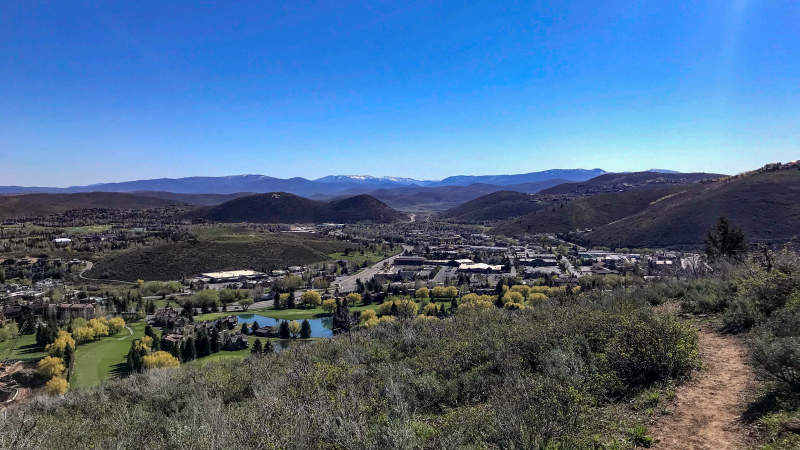 Park City Mountain - Armstrong
Distance: 3.8 Miles
Elevation Gain: 1262 ft
Trail Use: Hiking and Biking
Loop or Out and Back: Uphill - connects with other trails for a loop 
Dog-friendly? Yes - but Park City requires dogs on leash
Parking: Park at the lower parking area of Park City Mountain Resort
Another local favorite is the Armstrong trail. A 3.8-mile-long trail classified as intermediate in difficulty, but it's quite a huffer and puffer with 1262 feet of vert gained. You can find access to the trail by way of a 0.1-mile connect on Silver Star Access, which also opens into Dawns, Spiro, and Silver Spur. Once on Armstrong, enjoy the brightly hued tree coverage as you pedal up the mountain. Stop along the way to take in those glorious fall views. One of my favorite things about riding Armstrong in the fall is traversing over all the colored leaves that have fallen on the trail making it look like someone has thrown multi colored confetti on the trail.  Riders can connect directly to Dawns and Mid-Mountain. Dawns is a comfortable 1.8-mile trek back down to Silver Star Access with additional outlets to Spiro and Silver Spur, while Mid-Mountain (a challenging 23-mile point-to-point behemoth) connects bikers to dozens of other trails throughout the Wasatch Back - which also in another spectacular fall ride for a full day of excitement.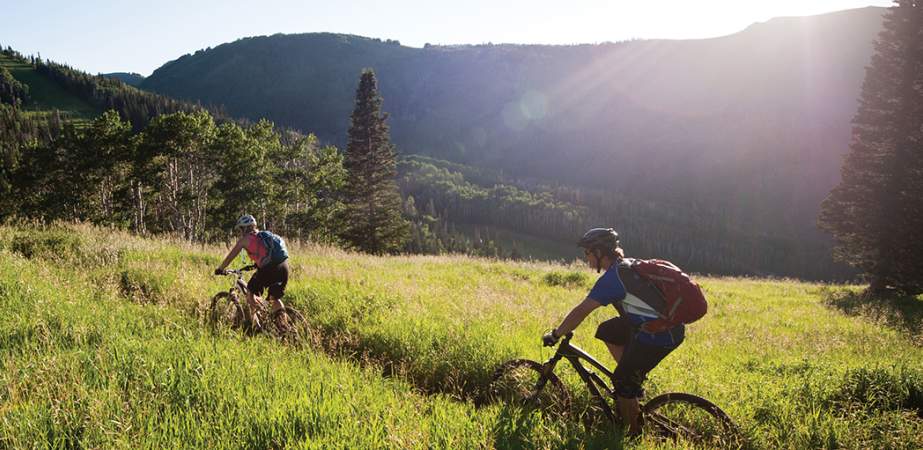 Park City Mountain - Jenni's Trail
Distance: 3 miles 
Elevation Gain: 195 ft
Trail Use: Hiking and Biking
Out and Back or Loop: Out and Back or Loop
Dog-friendly? No
Parking: Large lot at the base of Park City Mountain Resort, easy to find parking
Now that lift access is closed on Park City Mountain Resort, the only option to get involved in some golden Aspens on PCMR is to pedal up! At the PCMR base area near the First Time Lift, look for the Jenni's Trail signage, and follow a meandering, gentle uphill trail through gorgeous Aspen groves with smooth switchbacks that cross numerous ski runs until it opens up to some beautiful views of Park City Mountain with the leaves shining brightly. 
Partway up Jenni's Trail, there's an intersection to head down the lower portion of Crescent Mine Grade (CMG) that will allow you to cut back to the base for a shorter loop ride. To complete Jenni's trail in its entirety, ignore the CMG turn off and keep going up until you get to Mid-Mountain trail, where you can turn around and head back down Jenni's or for a longer hike head across Mid-Mountain Trail till it connects with CMG on the right to take you back down to the base. All along the way you'll be inspired by that Park City autumn glow.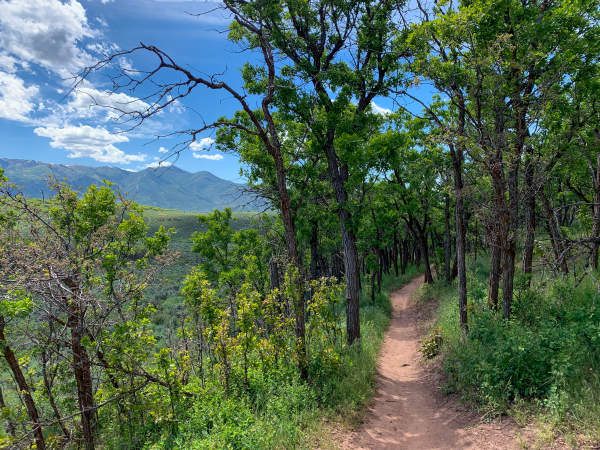 Round Valley Trail System
Distance: There are 40 miles of trails at Round Valley where you can choose your own adventure.
Elevation Gain: Depends on which loop you decide to do
Trail Use: Hiking and Biking
Out and Back or Loop: Out and Back or Loop
Dog-friendly? Yes - off-leash
Parking: The main trailhead is at the Park City Sports Complex just off US 40 on Kearns Blvd (Highway 248). Within the complex, Quinn's trailhead on the west side puts you on the doubletrack trails. At the northeast corner of the complex, you'll find the entry to the singletrack trails Rambler, Practice Loop, and Matt's Flat.
One of the best places to enjoy fall mountain biking in Park City is from the Round Valley trail system. This extensive trail network has rides for all ability levels, and offers expansive views of Deer Valley, Park City Mountain Resort, and Canyons where you can really see the entire mountain range light up! 
Choose your own adventure from an easy (Family) Ride where you can try out the trail Fast Pitch to Round Valley Express, a 6.1 mile ride with about 200 vertical feet of climbing to a longer more intermediate ride where you can climb and descend Nowhere Elks to Rusty Shovel to Rambler for 9.2 miles of stellar shredding with 1000 vertical feet of climbing.
Flying Dog Loop
Distance: 15.7 Miles
Elevation Gain: 2,598 ft
Trail Use: Hiking and Biking
Out and Back or Loop: Loop
Dog-friendly? Yes 
Parking: Start at the Bad Apple Trailhead in Jeremy Ranch.
If you are looking for a bit of a longer and more challenging ride while enjoying the colors of the season head over to this moderately trafficked trail in the Jeremy Ranch neighborhood of Park City. Topping out over 7,500 feet, with about 2,598 ft of elevation change, Flying Dog takes riders on a journey through several vegetation zones. Beginning in a sage-filled desert and climbing through graceful oaks and towering aspens shimmering a golden yellow or bright orange, Flying Dog explodes when timed right. Along the southern portion of the trail, views of Park City and Deer Valley Resort allow riders to take in the area's ski hills as they reach their color pinnacle—usually a week or so behind the Flying Dog area.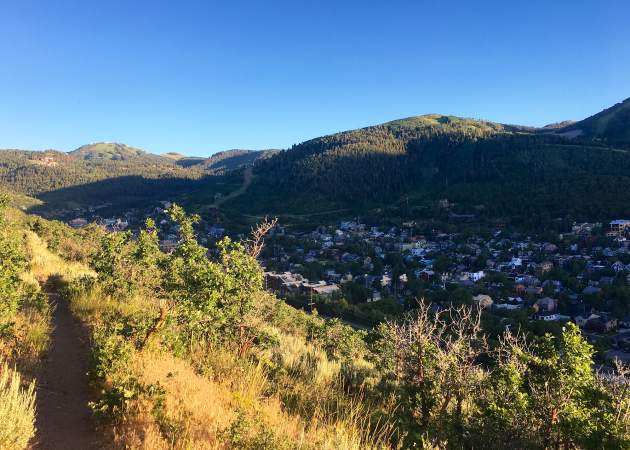 Lost Prospector
Distance: 3.7 miles
Elevation Gain: 6800 to 7100 feet
Trail Use: Hiking and Biking
Out and Back or Loop: Loop
Dog-friendly? Yes - should be leashed
Parking: Park at White Pine Touring, take the Rail Trail to Skid Row and then turn right onto Lost Prospector
Another great loop trail in the heart of Park City that will easily capture your heart during prime leaf-peeping season is the Lost Prospector trail, an easy/intermediate loop where you connect with a variety of other trails that include Freemason, Gambel Oak, and Masonic. The trail is well maintained, with few rocks and roots along the way, offering mostly smooth surfaces and a gentle grade. Dip in and out of forests and take in expansive views of Old Town, Park City Mountain, and Deer Valley. During the autumn months, the scenery becomes particularly splendid with fiery reds, oranges, and yellows exploding from the groves of quaking aspen, Gambel oak, and Rocky Mountain maple
Tidal Wave/Flagstaff Loop
Distance: 3.5 miles
Elevation Gain: 254 feet
Trail Use: Biking
Out and Back or Loop: Loop
Dog-friendly? No
Parking: Park at Snow Park Lodge Parking Area at Deer Valley Resort
Deer Valley Resort is a stunning area for some fall mountain biking. For intermediate/advanced riders try the more challenging Tidal Wave/Flagstaff Loop, big brother to the Holy Roller trail. A single lift ticket gives you access to as many loops of either or both trails as you like daily through September 6th, then Friday - Sunday only through September 26, 2021, 10 a.m. - 5 p.m. The downhill-only Tidal Wave stretches for 2.7 miles, dropping 1,100 vertical feet from the top of the ski lifts on Bald Mountain all the way to Silver Lake Lodge, while the Flagstaff Loop is known for its spectacular views of the surrounding area. From the top of Bald Mountain take in the views of the brilliant changing fall colors of the surrounding mountains and the Jordanelle Reservoir, and then as you roll through wide-open meadows and descend through aspen forests you'll be following Dorothy home on that yellow brick road.
Advice
Set realistic goals and research the trail ahead of time  - pay attention to the total distance and the total elevation gain. Have an idea in mind of how far you can comfortably ride and how much elevation gain is too much.
Bring enough water and snacks for the amount of time you think you'll be on the trail
Tell a friend where you are headed in case of an emergency
Bring layers and rain gear - the weather can be fickle this time of year
Wear appropriate mountain biking clothes for comfort
Keep in mind the altitude if you are coming from a lower elevation - stop as many times as you need to catch your breath, stretch your legs, and hydrate
Wear sunscreen - even on cloudy days, at our elevation, you can get a pretty gnarly sunburn
Leave No Trace - Please pack out any trash you find and stay on the trail
Make sure your phone and camera are charged to take all the photos of the beautiful fall foliage
Practice proper trail etiquette - downhill bikers always yield to uphill hikers
If you are on a shared multi-use trail, stay alert and be aware of your surroundings. Mountain bikers should always yield to hikers. 
What an amazing time of year to visit Park City - how lucky are you to get to experience the true majesty of fall in the Wasatch.  You not only get to see the transformation from Summer to Fall but also get to experience it from the trail. In my opinion, the fall is too short here, so take advantage of this special time of year and get out on the trails for an extraordinary mountain bike ride before the days get shorter, colder and the snow begins to fall.