The beautiful summer weather in Park City lends to a diverse restaurant scene with open-air dining options. We've compiled an extensive list of pleasurable patios, parklets, and picnic spots that will give you peace of mind while enjoying a meal by one of our many delectable dining options. You can also see which Park City restaurants are dog friendly so you can bring your favorite furry friend along!
Parklets on Main Street
501 On Main:  Open for Dine-In & Carryout, Thursday – Sunday 11 a.m. – 8 p.m.
Bangkok Thai on Main: Open for dine-in & curbside pick up, 11:30 a.m. – 3 p.m. for lunch and 4:30 – 8:30 p.m. for dinner.
The Eating Establishment: Open daily for dine-in beginning at 8:00 a.m.
Flanagan's on Main: Dine-in and takeaway Thursday- 11:30 a.m. – 9:00 p.m, Friday- 11:30 a.m – 10:00 p.m, Saturday- 11:00 a.m – 10:00 p.m, Sunday- 11:00 a.m – 9:00 p.m.
Main Street Pizza & Noodle: Open Daily 11 a.m. - 9 p.m. for dine-in, take out and delivery.
Shabu: Open daily from 5 - 9 p.m. with dine-in, takeout, and delivery.
Patios and Outdoor Dining
Coffee Shops with Outdoor Spaces
Atticus Coffee, Books & Teahouse: Open daily 8 a.m. - 5p.m.
Harvest: [Dog-Friendly Patio] Open for curbside pickup 8 a.m. - 3 p.m., daily, Also offering the Harvest Abundance Box available for pick up between noon and 3 p.m.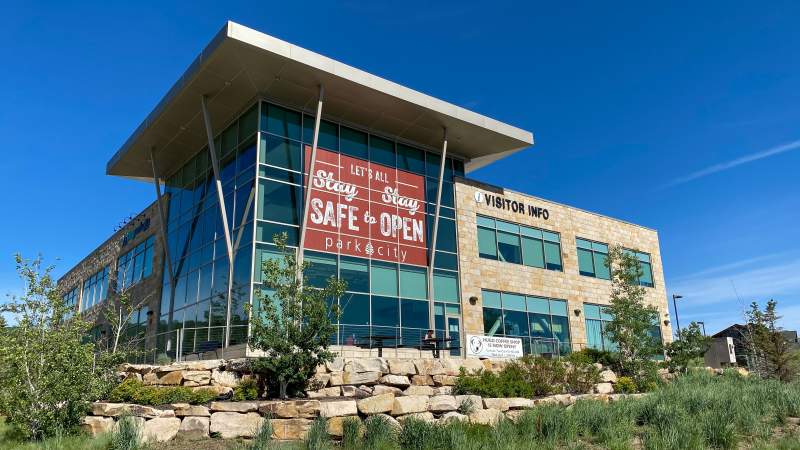 Hugo Coffee is located at the Visit Park City Visitor Center and has tables outside to enjoy.
Pleasant Picnic Spots
Now with an extensive array of restaurants offering curbside takeaway, visitors have many great dining options for creating their own enjoyable eating experiences in our wide-open spaces. Here is a list of spots to either soak up the sun or create a unique romantic date day/night while enjoying your takeaway meals.
Old Town Neighborhood Park
Found at 144 Main Street, and tucked into the hillside of Old Town is the Old Town Neighborhood Park. FYI - There is not a lot of parking near the park
Miner's Park Plaza
Located at 415 Main Street, Miner's Park Plaza is a popular and great spot to people watch. The park features an intimate stage that might have a musician serenading you while you eat.
City Park
City Park has it all. From the state of the art skateboard park to the volleyball courts, softball diamond, basketball and tennis facilities, City Park is an excellent destination for an afternoon of fun and picnicking. There is a playground for the young ones and lots of open space for tossing frisbees, playing catch, or enjoying your picnic.
Prospector Park
Prospector Park is located in the Prospector neighborhood at 2500 Wyatt Earp Way toward the east end of the subdivision. There is a playground, picnic tables, and shade. This is a centrally located park and could be easily combined with a ride on the nearby Rail Trail or Lost Prospector Trail, or a swim at the Silver Mountain pool.
Willow Creek Park
Eat your takeaway with a view! One of the best characteristics of Willow Creek Park is the expansive views of both the mountains and the border of open space. You'll also find lots of green space, an off-leash dog park, a playground, and a nice trail loop. Willow Creek Park is located at 4460 Split Rail Lane.
Rotary Park 
Located at the end of Pay Day Drive, within the Thaynes Canyon neighborhood, the lush greenery of towering aspens and a babbling creek creates a picturesque park perfect for a picnic. There is a large grass area, plenty of picnic tables, and grills, making it the ideal spot for dining outside.