Park City is on track to be net-zero by 2030, which means major resorts like Deer Valley are boosting their efforts in support. From trail maps to snow, Deer Valley is making strides towards protecting Utah's winters. "Climate change is one of our biggest challenges we're going to face," says Victoria Schlaepfer, Deer Valley's Sustainability Manager, and an avid skier with a passion for environmental protection. Schlaepfer sat down with us to answer a few of our burning questions around Deer Valley's approach to sustainability touching on both the landscape and their guests.
Tell us a little bit about your day-to-day. What is the life of a Sustainability Manager like?
On a day-to-day basis, we track greenhouse gas inventories, water, energy, fuel usage, and waste in our restaurants and ski school. We also work with other resorts once a month to share best practices and collaborate with the city on transit and rideshare platforms.
What initiatives are new to the 2021/2022 season?
The new solar project being built in Tooele will provide 100% of the resorts' energy by 2023. We are doubling down on our efforts to reduce waste. COVID put things in reverse since we had to transition to single-use items for a time, but we're now back to reusable cups near our water filling stations. We've also switched from bottled to canned water and Wild Harvest Farms is once again composting all our day lodge and ski school waste and working to take on our evening restaurants as well.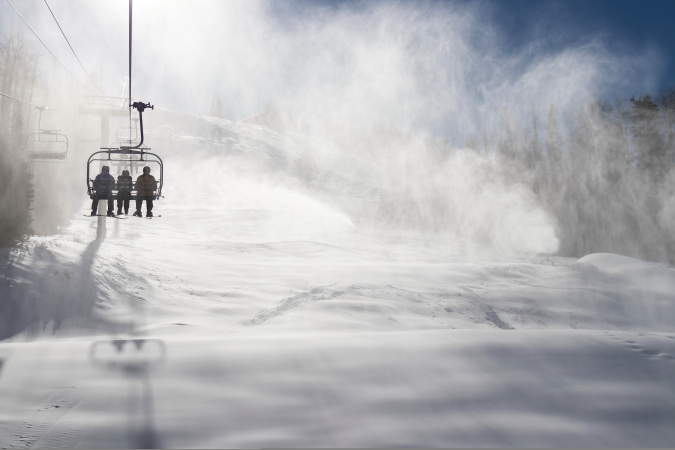 What are the unique approaches Deer Valley is taking today to support Park City's Net Zero Initiative by 2030?
We divert 47% of our waste through composting and recycling and have composted more than 440,000lbs of food scraps. We have reusable wares at all our day lodges and evening restaurants and our trail maps are printed on 100% recycled cement, which also makes them tearproof and waterproof, and we encourage our guests to return them for reuse. We are working with Coca-Cola to phase out plastics through purchasing power and we've eliminated plastic keycards in favor of wooden bamboo keys at all Deer Valley owned lodging. We offer paper straws upon request and our used uniforms for all on-mountain guides have been donated to a foundation in Nepal.
Also, in terms of food sourcing, we try to source locally as much as we can to support the local food economy and eliminate production and carbon emissions in travel. We also know more nutrients are held in food with a shorter transport time.
Let's talk about climate change and renewable energy.
As of now, 37% of Deer Valley's energy is purchased through a subscriber solar program with Rocky Mountain Power. House bill 411 was supported by Deer Valley, Park City Mountain, Park City Municipal, and Salt Lake City to develop renewable energy specifically for the customers signed onto the program. In October of 2021, they broke ground on a new Electron Solar Project which will support Deer Valley's energy needs, and any lodging partners will have the opportunity to opt-in and purchase the energy through Rocky Mountain Power.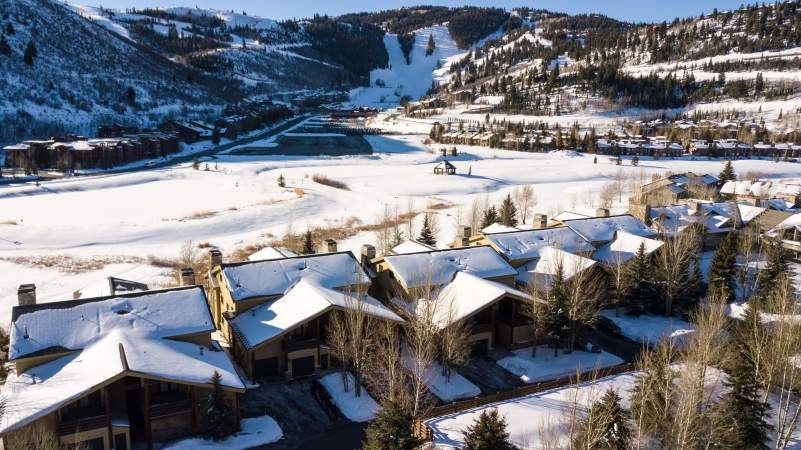 With so much emphasis on becoming a greener resort, how do you inform guests of your efforts?
We have a lot of signs and tidbits for guests to read throughout the resort. We reduce our water usage by giving each guest clean linens at the beginning of their stay and encouraging their reuse, if possible, until they leave. We also donate the leftover shampoo and conditioner to local shelters.
Transportation is a huge issue in Park City, how is Deer Valley combating emissions and traffic?
We have an app called Deer Valley Direct that is accessible to our guests. Cadillacs will drop a party off, on main street for example, and then they can use the app to get picked back up. We also have a heavy emphasis on employees carpooling or taking transit. It's a full training as a part of onboarding. In the winter, we have a carpool lot for guests who travel with three or more on weekends and during busier periods. We're trying to help people understand they don't need to drive a car around town.
Tell us about any efficiencies you've made to snow-making?
More than 50% of our snowmaking guns are low-energy. Snow Logic helped develop those guns which require much less water. We see an 82-86% return of that water at the end of the season when it melts and refills our water systems, which means we are only losing roughly 14-18% through evaporation.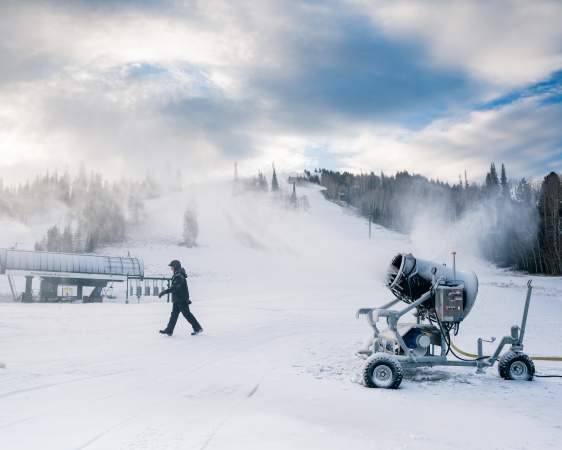 How are Deer Valley employees involved in the sustainability efforts? Can you talk about a few of your partnerships?
A lot of our staff members are involved in local nonprofits and committees. Employees are very involved in the community, and we do our best to support as many nonprofits as we can.
We provide donations, advocacy, and help host fundraising events for Summit Land Conservancy. We also encourage our employees to help with their advocacy efforts and sign petitions. Utah Climate Action Network put an emphasis on connecting all the ski resorts in Utah to help us lobby and bring an amazing group of organizations together.
How can guests support Deer Valley's Sustainability initiatives?
Be thoughtful in day-to-day consumption. Bring reusable water bottles and help our staff by sorting waste correctly and carpooling to the mountain.