Summers can get hot, and being landlocked in the mountains locals and visitors alike look for ways to chill out from the Summer heat. River rafting is a great activity to not only cool off but also to get the heart pumping with some adrenaline. Park City may be a mountain destination, but it's sandwiched between two rivers the Weber and the Provo that flow from snowmelt in the Uintas, and provide people with plenty of opportunities to chill on the water. I was lucky enough to spend a morning with some friends river rafting on the beautiful Weber River with Utah Outdoor Adventures that included some solid class II - class II+ rapids, plenty of waves, wildlife, and scenery!
Details
What: Utah Outdoor Adventures Weber River Rafting
Where: Put in is near Henefer about 30 - 40 minutes from Park City
When: Multiple time slot options 9:40 AM, 10:00 AM, 10:20 AM, 1:40 PM, 2:00 PM, 5:00 PM 7 days a week
Who: an ideal rafting experience for families, first-timers, dates, adults, and children.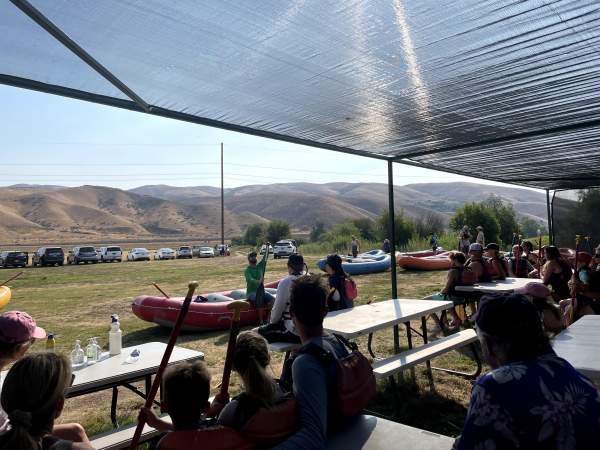 I had some friends visiting Park City and I thought a great way to spend a summer Saturday would be to escape the heat on one of our cool rivers. Utah Outdoor Adventures makes it super simple to book a river rafting trip. I booked directly from their website at $65 per adult and got an immediate confirmation. They have multiple different launch times so it's a very flexible operation. Their rafting trips are perfect for all ages, as you are on the water for a solid 2.5 hours, giving you plenty of time to enjoy this half-day rafting trip on the Weber River floating about 10 miles to your take-out point.
On the Friday before our trip, UOA confirmed our trip via text with all the information we'd need to find their rafting operation on the banks of the Weber River. We made sure to map out our timing the night before as they suggested arriving 40 minutes early to cover safety and all the paddling instructions before pushing off. From about anywhere in Park City, it should take about 30 - 40 minutes to get to UOA's rafting basecamp so plan accordingly!
Once we arrived one of their friendly guides greeted us and made sure we were being taken care of with release forms, life jackets, and paddles. My crew was extra prepared as we brought a cooler full of drinks and some snacks because obviously, we didn't want to go hungry or thirsty while adventuring in the hot sun. After getting all of our gear together and prepped we joined the rest of the guests for a safety talk. One of the head guides went over how to hold paddles and how not to hold paddles, what to do if you fall in, and how to help support your guides. We were getting excited to get on the water and experience Park City's river rafting!
We met up with our guide Mackenzie who has been leading trips with UOA for the past 4 summers so we knew we were in good hands. As we pushed off down the Weber, UOA had their photographer stationed on the bank to get some action shots of us getting stoked for the first rapids ahead (they email out all professional action shots for free after your trip).
All the rapids were class II or II+ and were heart pumping enough with the water levels being a bit low. We ping ponged off of rocks and surfed waves helping Mackenzie navigate our raft through the rapids and other obstacles that came our way. We passed by fly fisherman, other rafting groups, tubers, and lots of wildlife! We saw horses, sheep, river otters, ducks, and a bald eagle! There were even opportunities to hop in the water to cool off and really feel the power of the river propelling us forward. Mackenzie also pointed out some pretty neat rock formations as well (that you can't see from the highway if you've ever driven to the Ogden area from Park City).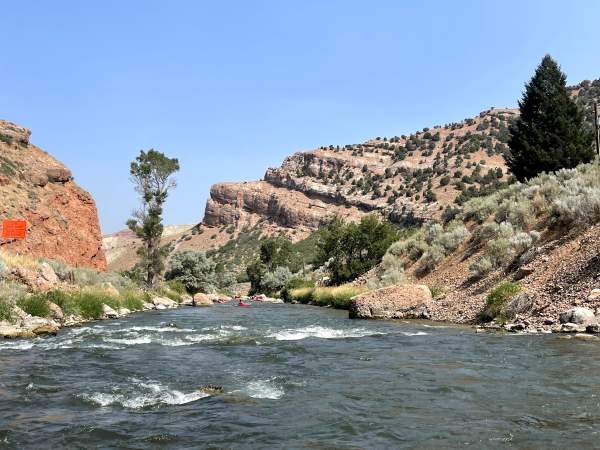 Once we successfully made our way through all the rapids, 2.5 hours later we eddied out to our take-out point where shuttles were waiting to take us back to our cars. It was quite an enjoyable morning spent basking in the sunshine out in nature.
Visiting Park City doesn't just have to mean you spend all your time on land. Definitely find your way out onto the water and experience a different way to adventure in the mountains. This year Utah is in a drought and the water level of our rivers has been a bit low even though they are controlled by dams. If you are looking to head out on a river rafting experience I'd suggest scheduling your trip in the next 2 weeks as Utah Outdoor Adventures did mention that they might have to cut their rafting season short this summer due to the drought.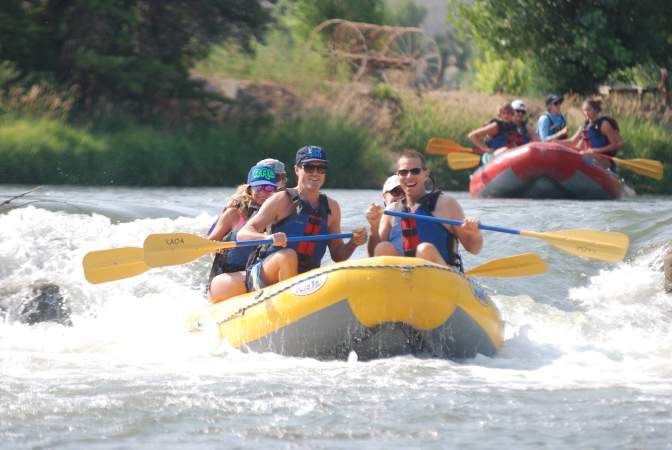 Advice
Definitely wear and bring sunscreen.
Wear clothing you can get wet and swim in.
Wear water shoes that stay on your feet like Tevas or Chacos, NO flip flops.
Leave valuables at home or in your car as you might be going for a swim.
Guides will have some snacks and water - but if there is anything you specifically want you can bring a cooler and any easy snack you'd prefer
Wear a strap on your sunglasses so they don't fall off in the water.
Bring a dry sac for anything you want to have on the boat with you but you don't want it to get wet.
Definitely wear a hat as there is not much shade.
Make sure to smile for the photographer.
There's also an option to sign up for a BBQ lunch after rafting if you want to stick around!