There is a reason Park City is one of just a few locations ranked as a Gold-Level Ride Center by the International Mountain Bicycling Association (IMBA).  With 450+ miles of easy-access trails, Park City is a mountain biker's singletrack paradise.  From flowy, cross-country trails with truly epic mountain views to technical downhills with near-endless features, there is truly something for any rider.  With so much to choose from, here are a few classic Park City mountain bike trails to use as starting points.
Mid-Mountain Trail
Designated an Epic Ride by IMBA, the Mid Mountain Trail hovers at an elevation of 8,000 feet throughout its entirety making it a fun, intermediate trail loaded with pristine single-track.  The trail stretches from Deer Valley Resort all the way to Park City's Summit Park neighborhood, about 26 miles, and many of the other area trails intersect with it along the way making for tens of loop options. The views are spectacular and varied as it meanders through aspen groves and pine trees, crosses open meadows, and around gulches. And the ride can be as long or short as desired.  Mid Mountain in a way is "the trail" as it offers plenty of loops and connections to other trails or it can be ridden as an out-and-back starting from Deer Valley Resort's Silver Lake area.
Here's just one option for riding Mid Mountain as a loop: start your ride at the base of Park City Mountain and climb up Armstrong, which is uphill-only (for bikers). Four miles in, Armstrong merges into Mid Mountain. Cruise across to Deer Valley Resort, continuing past the Silver Lake area, and descend via Deer Crest.  It's nice to get the climb out of the way before it's time to cruise. The bottom of Deer Crest will drop you at the Snow Park area of Deer Valley Resort. From here you can cruise down the road back to your car in the Park City Mountain Resort parking lot. This is a great morning or afternoon ride for an experienced rider that is new to Park City. And there are plenty of après options to choose from on the ride back.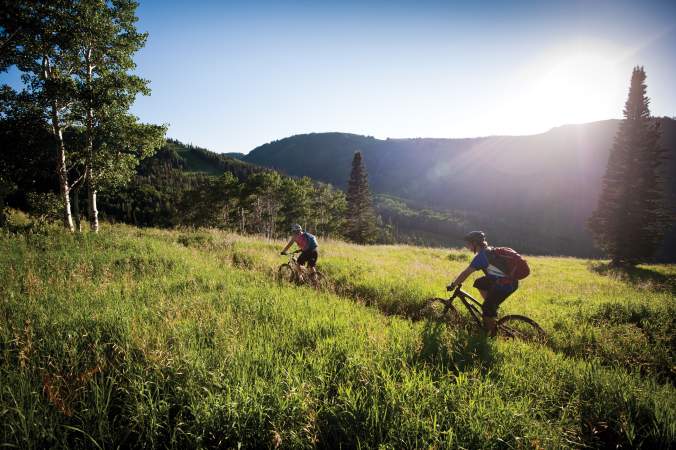 Wasatch Crest Trail
The views from Wasatch Crest Trail are unparalleled, as the trail sits atop the Park City ridgeline giving you a 360-degree view of the Wasatch Mountain range, including the greater Park City area and Big Cottonwood Canyon.  "The Crest," as many locals call it, is flowy, somewhat techy (including "the Spine" section), requires strong physical fitness, and is a commitment as there aren't many intersecting trails to bail out over at least 13 miles of riding.  Partway through the Crest, the trail separates and riders must decide whether they will descend into Mill Creek Canyon (and shuttle back to Park City) or end in Park City Mountain Resort's Canyons Village area. Depending on whether you prefer to shuttle or integrate some serious cardio into your ride, there are a few ways to approach this trail:
Use Transit to Trails to access Guardsman Pass, ride Scotts Bypass, and climb "Puke Hill" to the Crest - 13 miles
Climb four miles up Armstrong, and another four up Pinecone (4,000 feet in elevation gain) before reaching Crest - 23 miles
Use one of many trails on Park City Mountain Resort to get to Shadow Lake Loop and Blazing Saddles, which will drop you at the base of "Puke Hill" - 23+ miles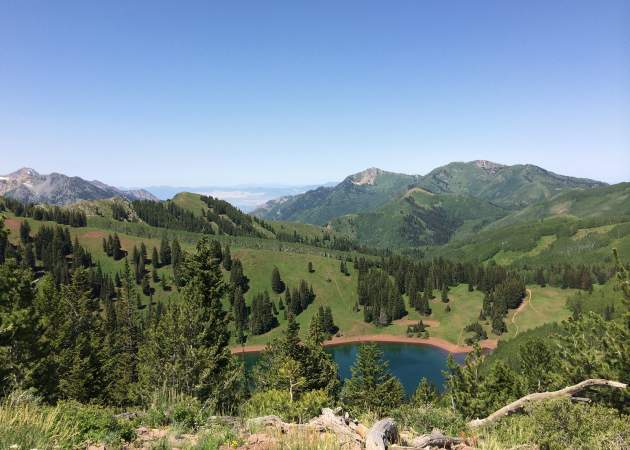 Lost Prospector
Easy to access from many different points in Park City, Lost Prospector is an enjoyable cruise with fantastic views of the town and the resorts.  It's a bit of legend maybe, but Lost Prospector is thought to be the first machine-built trail in Park City. Lost Prospector may be ridden as an out-and-back or a loop that includes a cruise along the Historic Union Pacific Rail Trail. A fun beginner-intermediate option, Lost Prospector is a great trail to ride before linking up to others in the area for a longer ride.  It also serves as a great introduction to single-track mountain biking.
To ride Lost Prospector, start at White Pine Touring and head east down the Rail Trail, which is paved, for about a tenth of a mile and then turn onto Free Mason (which will be on the right).  Free Mason meanders west and south around what's called April Mountain until it reaches Lost Prospector. Take a left at the junction and follow Lost Prospector back east for three miles until it reaches Skid Row. Now hit this fast, smooth descent with tight and technical corners all the way down to the Rail Trail and pedal back to the White Pine Touring parking lot to complete this almost 7 mile loop.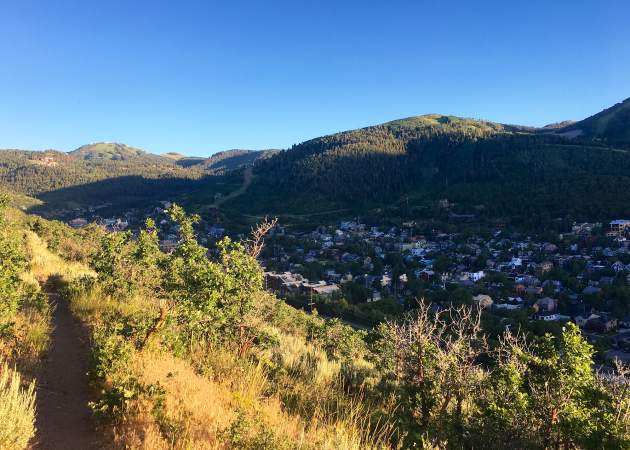 Charlie's 9k
If you're looking for a true high-alpine adventure ride with options for added technical flavor, Charlie's 9k is your trail. This is one of the latest additions to Park City's vast network. It was named after Charlie Sturgis, former head of the Mountain Trails Foundation and a steward and advocate for all singletrack. Charlie's 9k starts at Empire Pass and hovers at about 9,000' elevation. It crosses Deer Valley and into Park City Mountain, winding through open bowls, dense old growth forest, aspen groves, and alongside old mining structures from the town's gold and silver days. Core climbers will love the challenge of riding from town and ascending ~2700' via Daly Canyon. But the rest of us can use the Purple Empire bus or Transit-to-Trails to access this new classic ride.
One popular loop on Charlie's 9k is to start at Empire Pass and take the trail west 1.6 miles to the Black Forest intersection. Take Black Forest 0.2 miles to Cyn City. Here you have a choice: Cyn City is a 2.2 mile intermediate flow trail that ends on Mid Mountain or you can take the very advanced remainder of Black Forest for another 0.6 miles (straight down) to Mid Mountain. Better yet, ride Charlie's 9k all the way, 5.7 miles, to Blazing Saddles and head up The Crest Trail or head back down toward the Park City base area. There are so many options for you to choose!
Flying Dog
Flying Dog includes a steady climb followed by a smooth 5-mile descent (if ridden counter-clockwise) that is sure to delight.  An intermediate trail in the Glenwild area of Park City, located just outside of Kimball Junction, Flying Dog can be accessed via the Spring Creek Trailhead or the Bad Apple Trailhead. It's wonderfully fun, offering smooth single-track and a variety of dips, curves, and rolls—a trail that intermediates and experts are both certain to enjoy.  There are great options for exploring Flying Dog, allowing riders to make it a 10-mile ride or up to as long as 23 miles when you link up the greater Glenwild trails.
How Do You Choose?
These are only five of the endless amounts of loops, out-and-backs, and shuttles you can ride in Park City. We didn't even mention the bike parks! If you're feeling overwhelmed, try booking a guide from White Pine Touring or All Seasons Adventures. Or use an app like Strava or Trail Forks to find trails and create loops. Download the GPX file and load it onto your Garmin so you have a map to follow. The Mountain Trails Foundation, Park City's local trail advocacy group, also has an interactive map on their website that allows you to explore and build routes. Or better yet, ask a local. Stop by any bike shop and you'll surely find someone to point you in the right direction!
One last pro tip: ditch the car. Park City's free transit system includes buses all the way to Mid Mountain Trail where it crosses Deer Valley and even free shuttles to Empire Pass to access Charlie's 9k and Guardsman Pass to access The Crest Trail. Where are you going to ride?