The Utah Olympic Park, referred to by locals as the UOP, is where dreams are realized, actualized, and come true. Not only for the athletes who have trained and competed there but also for the guests who come from far and wide to experience what it feels like to be an Olympian. When you visit the UOP you fully understand how The Utah Olympic Legacy Foundation celebrates the spirit of the Salt Lake 2002 Olympic Winter Games and inspires active healthy lifestyles, and increases the community uses of Utah's Olympic venues. 
How it got started
Built for the Salt Lake 2002 Olympic Winter Games, the Utah Olympic Park is located in Park City, just 25 miles east of Salt Lake City, Utah. The nearly 400-acre venue houses one of only four sliding tracks in North America, six Nordic ski jumps, a 2002 Winter Games museum, and a multitude of adventure activities. The UOP is a dynamic multi-use facility focused on developing and growing participation in winter sports in the state of Utah and is an official USOC Training Site.
A few years before the 2002 Olympics, the UOP was the home base for test events and was used to host bobsled, luge, skeleton, and ski jumping during the Olympics. The facility wanted to be fiscally responsible and create legacy venues to live on and be a center for training and development for athletes participating in winter sports. Before the Olympics, The Utah Olympic Legacy Foundation made sure to put money aside to keep the facilities functioning for years after, and creating unique ways to utilize the venues to subsidize spending with activities for the public to have their very own olympian experiences. 
What they Do
Everything the Utah Olympic Park does is winter sport-focused, and the neat thing is, is that athletes can train in their sports year-round. The ski jump is functional in the summer where athletes are able to practice their aerials and tricks by gliding down a special kind of carpet and landing in an aerated freestyle pool that breaks the surface tension of the water to minimize injuries. By creating a training facility that is utilized during all seasons athletes do not have to chase snow, and can stay, live, and train here in Park City which is a huge advantage for them. Other facilities like the Olympic Oval, in Kearns, Utah, houses Utah's only 400-meter speed skating oval and two international-sized ice sheets as well as a state-of-the-art four-lane 442-meter running track that can be accessed all year round to promote the future of ice sports. And down in Midway, you'll find the Soldier Hollow Nordic Center which hosts a plethora of nordic events and training all year round plus mountain biking in the summer.
The Utah Olympic Park has become a beacon for future Olympic host cities in that they've created a working model making the Olympic movement a sustainable endeavor, creating facilities that are not only used for continued training and competitions, but also allowing the public to participate in these winter sports, and really grasping what it feels like and what it takes to be an Olympian. People clamor to be a part of the Olympic experience and want to relive Olympic moments for themselves, and the Utah Olympic Park has created a thriving facility where those dreams can become a reality.
The UOP is currently in the planning stages of figuring out what the totality of a bid would look like for the 2030 games, and Park City is ready to produce another world-class event. By setting up their facilities for success they've made it fiscally responsible to acquire another Olympic Games because they already have the facilities and are ready, willing, and able to heed the call! One of their missions is to show the world that the Olympics can be constructed in a sustainable way and doesn't have to bankrupt communities.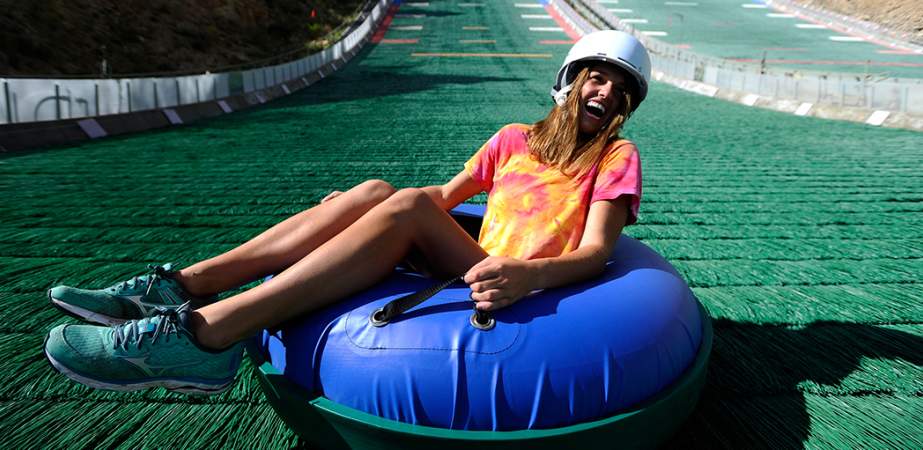 Highlights
During the summer months, the Utah Olympic Park is open to the public to experience the rush and thrill of what it feels like to be a winter sports athlete in the Olympics. The venue is utilized in unique ways, like the Extreme Tubing experience where participants can enjoy the thrill of soaring just like an Olympic Nordic ski jumper careening down the landing hill of a Nordic Ski Jump in an inner tube gaining speeds up to 50 mph. The landing hill where your ride starts is constructed from a state-of-the-art plastic surface that slides just like snow when wet. Other experiences that mimic the feeling of being an Olympian are the alpine side, summer bobsled experience, and zipline tour.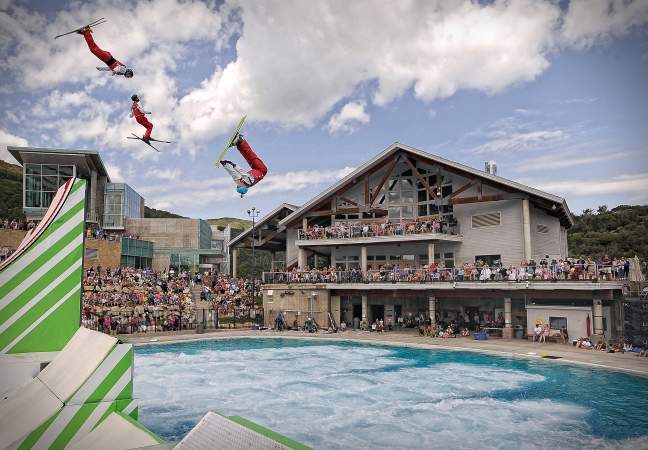 This summer the UOP is bringing back their highly anticipated Flying Ace Freestyle Shows on Fridays and Saturdays. Watch current and former Olympians and prospective elite ski and snowboard athletes boggle your mind with flips and tricks into the pool set to music during a 30 minute choreographed aerial show. Shows begin mid-June and will now be an evening endeavor starting at 630 PM.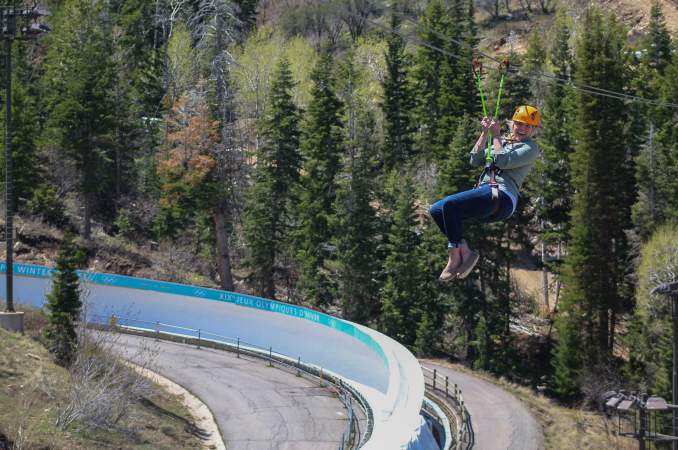 You will also find the return of their infamous Zipline Tour, where you get to zip around treetops for almost a mile reaching speeds of 40 miles per hour, stopping at 7 towers gaining a birds-eye view of the bobsled track. The UOP is very excited to have this experience back and can't wait to welcome the public. There is a 100-pound weight minimum, but a fun option for families is that if a child is over 50 lbs you can ride tandem if both riders' weight is under the maximum of 275 Ibs. Zipline opening day is slated for June 12th.
Another product the UOP is excited to have back is their FULL Gold Pass! One ticket that will give you access to all the activities (with a few exceptions that include the Guided Bobsled Tour and the Seven Tower Zipline Tour). The Gold Pass will be limited to 250 people/session with two sessions a day. You can purchase your Gold Pass online and reserve for a specific day and time frame. You will only be able to gain access to these activities via reservation so make sure to check out their website for the most up-to-date booking information. The UOP will sell individual activity tickets if capacity allows but will only sell those tickets on-site so make sure to call in advance. Tentatively, all activities will open for the season on May 28th!
So come experience the thrill of a lifetime and be inspired by stepping into the shoes of the many Winter Olympians who have graced these mountains.