Need some help planning the perfect winter getaway for kids, parents, and even grandparents? Park City has something for everyone, no matter what the age. Whether you're trying to accommodate toddlers or teens, skiers or spectators, you'll have no problem finding something that the whole family will enjoy.  
Park City is a great place to gather the entire family, because not only is it less than 35 minutes from Salt Lake City International airport, but there are also options to accommodate a wide variety of budgets and group sizes. Trust me - we've been gathering three generations of our family in Park City for over a decade, and there are so many amazing things to do that everyone will love.
While skiing is probably the first thing that comes to mind when you think of, there are so many other great activities to do, that it can be hard to choose where to spend your time! Here are some of the best things to do in Park City on a multigenerational winter trip.
Activities for A Multigenerational Trip 
Art classes at the Kimball Art Center
The Kimball Art Center is a great place to escape the cold weather, and let your creative juices flow. In addition to their art exhibits, the Kimball Art Center has a variety of art classes that are offered several days every week. Classes cover a wide variety of art styles including pottery, painting, textiles, and even glass making, so you should have no problem finding something that works well for your family. To make it easy for families, all of their classes are advertised online and can all be sorted by the best ages, so you can be certain to sign up for a class that suits your unique group well.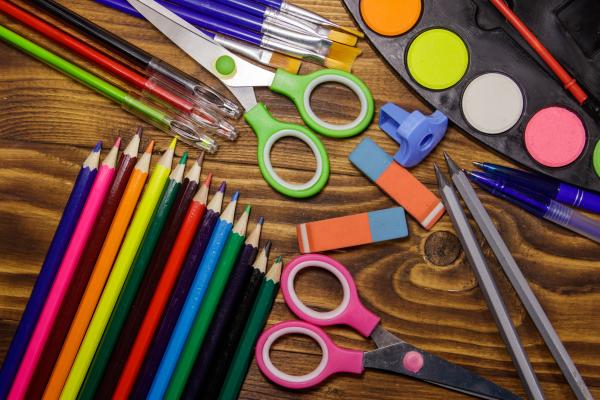 Dog Sledding
Rancho Luna Lobos is a great place to introduce the family to dog sledding. They'll give you a tour of the kennels, let you spend some time getting to know the dogs and then take you out for a sled ride. I was thrilled to learn that children as young as age 2 are allowed on the sleds, as long as they have an adult accompanying them.  Depending on your comfort level, you can enjoy just sitting on the sled and riding, or if you're feeling adventurous, you can join the musher in the back and learn what it's like to drive the sled for a while. Typically, 2 people and one child can fit on one sled (advance booking is definitely recommended).
Family Sleigh Ride
If you're looking for a nice way to unwind at the end of the day, a family sleigh ride is one of our favorite activities. Bundle up together under blankets as you're pulled through the snow behind a team of horses, and you'll quickly feel like you've been transported to another time. With several different sleigh rides available in Park City, you can be whisked away to a fine dining yurt, or perhaps just enjoy a short ride with everyone before dinner. With our young kids, we found that taking a short sleigh ride followed by dinner at Cena, was a perfect combination.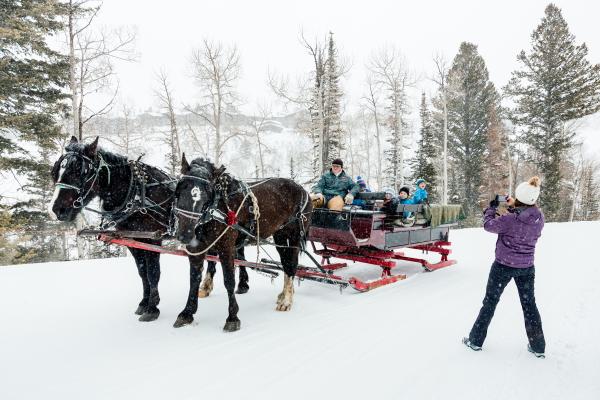 Ice Skating at Park City Mountain
There are few experiences as unique to a winter getaway as ice skating is. Luckily, Park City Mountain Resort has an outdoor skating rink right at their base area, so it's an experience that you can easily fit into any winter itinerary. The rink is small, but it's perfectly set up for families. There are complimentary skate trainers for a balance that allowed even our toddler to skate, yet it was still big enough that my pre-teens could race around. There are also several benches near the outside of the rink, so if you've got someone in your group who prefers not to skate, they can relax right there and still be where the action is.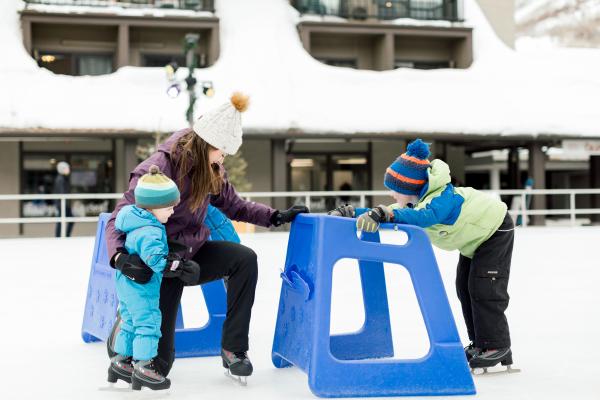 Park City Escape Room
If you're looking for a bit of a mental challenge, and are willing to really work together as a team, make sure to visit the Park City Escape Room. With several themed rooms, your family will work together to solve a puzzle and figure out how to escape the room. Escape rooms are fantastic for multigenerational groups, since everyone has something unique to bring to the game, and we always leave feeling like we've learned something new about everyone there. In our family, there have been times when the parents and grandparents have been totally stumped and one of the younger kids will discover a clue for the team and keep us moving in the right direction. While they do have rooms that are open to all ages (as well as adult-focused rooms), I've found that escape rooms can be difficult with younger kids, so I'd recommend this for ages 4 and older. During ski season, Park City Escape Room can be very busy in the evenings, so if you've got some free time, consider visiting during the afternoon (reservations recommended).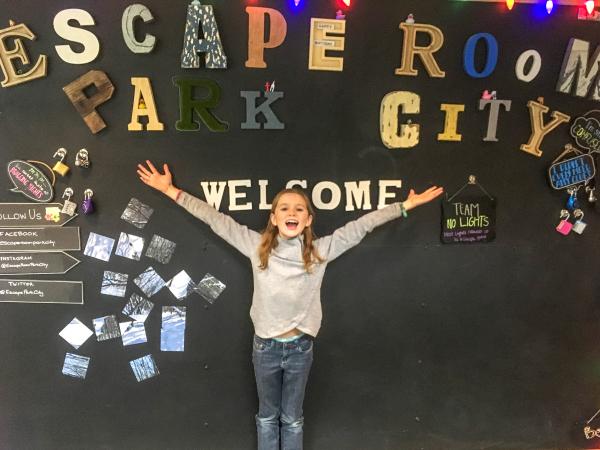 Tubing at Woodward Park City
Woodward Park City just opened up this December and is a fantastic place for spending some family time. The best option for families at Woodward is the tubing hill which for years was known as Gorgoza Hill. With 2 magic carpets to speed your way to the top, Woodward tubing hills are the longest in all of Utah at 1200 feet long. Tubing passes are good for 2 hours and reservations are strongly encouraged since they limit the number of guests in each time slot. Thankfully, with 7 different tubing lanes, you'll get to spend plenty of time on the snow while you're there.
While you're tubing, you also have access to Woodward's Start Park which is the perfect place to try out skiing or snowboarding for the first time - no equipment is necessary and the coaching staff is on hand to assist you, so it's a great place to try it out!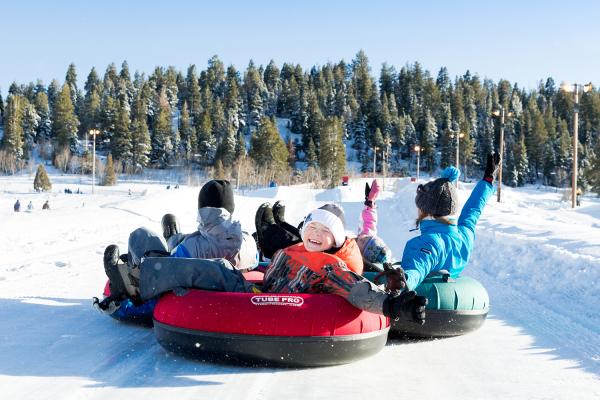 Champions Club at Stein Eriksen Lodge
If you're looking for some fun built into your lodging, then Stein Eriksen Lodge's Champions Club is a great option. It's over 3,500 square feet of entertainment and casual dining. With everything from the latest video games to giant Pac Man and skee ball, there's a little something for everyone, and it's a great way for grandparents to introduce kids to some of their favorite games from decades past. While you're there, enjoy some of their casual dining making this a great relaxing place to wind down after a long day of fun.  Note: Champions Club is only for Stein Eriksen guests.  
Lodging Options for Multigenerational Trips
Lodging can be the most difficult piece to figure out when you're planning a multigenerational trip. Trust me, I understand your challenges. Maybe you have young kids who go to bed early or teens who like to stay up late. Maybe grandpa and grandma really need some alone time. After taking countless multigenerational trips with our family, my best suggestion is to give yourselves plenty of space. After spending all day together, day after day, if you're cramped into a tiny space, tensions are probably going to be a bit high by the end of your stay. Luckily, there are a lot of options in Park City that allow families to spread out a bit but still be together, which always seems to make a trip go smoother. As a general rule, lodges and hotels get more expensive as you get closer to the ski resorts, but the convenience is simply fantastic for families. Here are some of the best options for large groups in Park City:
Westgate Resort and Spa
The Westgate is my top recommended lodging option if you're going to be skiing at Park City Mountain, Canyons Village during your stay. Their main villas have 2 bedrooms, 2 bathrooms, plus a full kitchen and living room. If you need more space, you can also reserve a 1 bedroom unit with or without the kitchen and living room. You're right next to the ski hill so you can even come back to your room for lunch, or if you've got little ones who need a break during the day, it's really easy to just bring them back to the room for some downtime. They also have some great heated pools and hot tubs which are great for the whole family! 
Stein Eriksen Lodge
If you want some convenience while you're skiing at Deer Valley, Stein Eriksen is the place to go. Stein Eriksen is located slopeside at Deer Valley and has a little bit of everything when it comes to lodging. You can rent a regular hotel room or you can get suites that sleep up to 18 people. Stein Eriksen is known for its high-end service as well as its fantastic dining options. As a guest at Stein Eriksen, you also have access to the Champions Club (mentioned above), and if you need to sneak away for some pampering, Stein Eriksen is also home to Alpine Serenity, the only 5 Star spa in Utah.
Newpark Resort Park City
Newpark Resort is another good lodging option for families and large groups visiting Park City. They offer standard rooms, suites, and even townhomes depending on what suits your group best. There is also an outdoor pool and hot tub. Newpark Resort is located at Kimball Junction which has tons of dining and shopping within walking distance as well as the Swaner Nature Preserve which is great for family fun. This is a great location if you don't need to be right on the ski hill, but want great access to the entire Park City area.
Park City Vacation Rentals
With Park City Vacation Rentals there are many options throughout Park City which can sometimes have a bit more flexibility than hotels offer. If you have a large family and all want to stay in the same unit, this is a fantastic option as there are several rentals available in Park City that sleep 10 people or more.
Best Restaurants in Park City for Large Groups
Choosing where to eat with a large group can be tricky.  If you've got a big group, I recommend going to a restaurant with plenty of options so that everyone can find something that they like.  Here are a few that I recommend for multigenerational family trips where everyone from the kids up to the grandparents can find something they like.
Wasatch Brew Pub
This restaurant is one of the most family-friendly in town and offers a relaxed and casual atmosphere. Their Loaded Mac & Cheese is out of this world and all of their burgers are outstanding, though the Wasatch Buffalo Burger is my personal favorite.  
Vessel Kitchen
Located at Kimball Junction, Vessel Kitchen is a farm-fresh casual restaurant. Menus are seasonal and all of the dishes highlight fresh ingredients and flavorful combinations. If you're trying to stick to a strict diet like Whole-30 this is a great option.
Squatters Roadhouse Grill
If you ask a local where the best grill in town is, don't be surprised if they direct you to Squatters.  With great options for burgers, sandwiches, and pizza, it's a great place to refuel after a long day of adventures.  Our family personally loves the bacon-topped meatloaf, and I'm partial to their amazing grilled salmon.  
Java Cow
If you're looking for a fun place to take the kids for some ice cream or hot cocoa, Java Cow is the place to go.  Located on Main Street, this is the best place to go for a treat!