One of the most thrilling ways to enjoy a winter in Park City is hopping on a snowmobile to explore out-of-reach terrain in pristine wilderness areas. On a snowmobile, you have the ability to access miles and miles of untouched terrain beyond what other adventurers might be able to see. Backcountry Snowmobiling is a snowmobiling outfitter located in Coalville, up a private, rural canyon not too far from Main Street Park City, about 40 minutes, near the Western Slope of the Uintas. Their base camp sits at 7,500 feet elevation, higher than any other company's base camp in a canyon poised for perfect backcountry touring with inspiring views of the rugged rocky landscape and tranquil pine trees and aspen forests.
Backcountry Snowmobiling started 11 years ago and has access to not one but two private ranches with over 30 miles of groomed trails and 80,000 acres to explore. Riders can choose between two - or three-hour tours, and each snowmobile can hold up to two people, which is great if you come with your kids or a family member/friend who is just along for a scenic ride through the forest. If you've just arrived from warmer climates and are not yet prepared for the cold, Backcountry also supplies riders with snowsuits, gloves, boots, and helmets for all sizes and ages.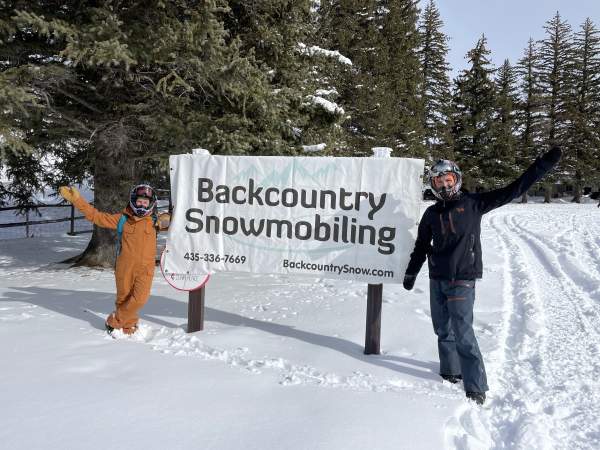 Details
What: Backcountry Snowmobiling
Where: 4142 E Chalk Creek Rd, Coalville, UT 84017
When: Open 7 days a week from 8 AM - 8 PM. They have multiple tour times a day where you can choose between two- or three-hour expeditions. You can check out the times on their booking website: https://backcountrysnow.com/snowmobile-tours/
Who:  Beginner to expert snowmobilers will love this adventure as they cater to everyone's skills and sense of adventure.
Experience
Booking a snowmobiling tour with Backcountry Snowmobiling was straightforward, you can book directly from their website and choose what day, time, and however long you want your tour to be; just make sure to do it 48 hours in advance, so they have enough time to prepare for your journey. After booking our tour, we had great communications from the outfitter confirming our adventure and giving us the proper directions to get to their base camp lodge.
As my husband and I headed to Coalville and left the hustle and bustle of I-80, I already felt like we were on an adventure, the road got less populated, and the scenery became more remote. We've had a ton of snow this season, and as we continued to climb up the canyon, the pristine white hills were hard to take your eyes off of because of how stunning they were with that blanket of snow. Rounding every corner, you came across ranches and farmland with magnificent horses dotting the landscape.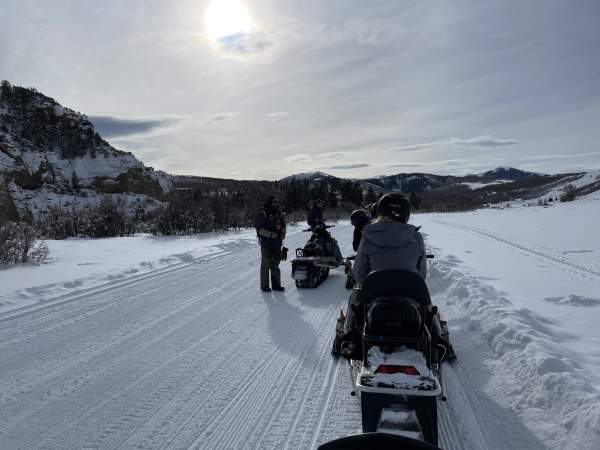 We soon arrived at the Backcountry lodge and were greeted by our guides Dan and Gage, and the cute lodge pups roaming around looking for ear scratches. The manager Jess helped my husband and me with our forms and got us geared up with properly fitting helmets and goggles. The lodge is full of winter snowsuits, gloves, boots, helmets, goggles, and other warm gear in case you do not have the proper winter attire for a snowmobiling adventure.
After getting our gear dialed, we headed out to learn about the snowmobiles. Gage ran through all the safety precautions and how to use the machines out on the trails. I opted to do a tandem with my husband so I could take pictures along the ride, but being a rider I think was just as fun as actually driving the snowmobile, as I got to experience the terrain, scenery, and adventure of it all without having to pay attention to where I was going.
We then headed out on the trail for our 2-hour snowmobiling adventure. We traversed over a little bridge and climbed to a spectacular view of rugged rock formations wrapped in snow with pine trees jutting out from their little canyons. We stopped a couple of times for pictures along the way, and the guides did a great job of asking each person on our tour if they wanted photos with their sleds.
We continued on, climbing higher and higher, past open pow fields and hillsides covered in scrub oak and shrubs.  In the distance, we even scored a moose sighting! The guides mentioned that they encounter many types of wildlife on the property, including elk, deer, and moose - who, in the most recent days, they had to avoid because they were right on the trail.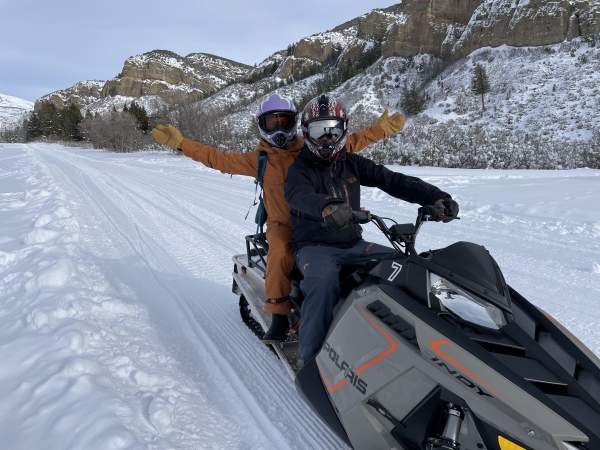 We then arrived at an open field that looked like a track, which used to be an airfield, where the guides let us loose to circle the track however fast we wanted to really test out the machines. At this point, I took control of the snowmobile and tried my hand at driving it along the track. What's so great about this tour is that it is super accessible for all types of riders. Kids to adults, beginners to more advanced. The trails are nicely maintained and free of rocks and other debris and the machines are fairly straightforward to operate, so if you've never driven a snowmobile, you can still do so with confidence. Snowmobiles give people the opportunity and access to see more of this beautiful landscape. If you're unable to ski or snowshoe, you have the ability to immerse yourself in the wilderness and enjoy the great outdoors with a snowmobile.
After we got our wiggles out, we grouped back up and headed back on the trail through a snow-covered forest, climbing even higher, about 9000 feet, till we arrived at a beautiful overlook of some Uinta peaks. We got off the machines and had some fun in the deep snow before hopping back on and descending back the way we came.
Advice

Make sure to look at the weather before your tour and dress appropriately; wear base layers and wind/water resistant/proof outerwear if you do have it. If not, they can provide you with the right layers.
Wear waterproof boots, sneakers won't keep your feet warm and dry, but if you don't have boots, the outfitter also has boots for you to rent.
Don't forget gloves - but you can also rent gloves there too!
I wore a hood balaclava under my helmet, and it really helped to keep my head and ears warm from the wind.
I'd also suggest bringing a snack, as snowmobiling is quite a physical activity, and they did not provide any on the two-hour tour.
Bring a GoPro if you have one to get action shots!
During our tour, I asked our guides what their favorite part of the job is, and they said they love watching riders who have never seen snow before take it all in and enjoy this wintry landscape. And I agree it's quite fun watching people who have never experienced winter enjoy it for the first time. Winter is a magical time of year, and for any activity that gives you easy access to dive deeper into this dazzling landscape, I give two thumbs up!