Sometimes all you need in life is a getaway with your best friend, your four-legged best friend that is! And a summer getaway to Park City is exactly the joy-filled trip you both deserve. Who doesn't love watching their pup frolic amongst blooming aspens and sweet-smelling pines? The childlike wonder of it all, the pure bliss, the tongue-out happiness - it really rubs off on their human companion as if you were the one zooming around our trails. 
Park City, otherwise, know as Bark City, has been established as a destination for dog lovers with our dog-friendly culture, from off-leash dog parks to dog-friendly bars and restaurants, canines are welcomed with open arms during all seasons! 
We're very pup-friendly here but we still have leash laws to help curb unruly doggy behavior. All dogs must be kept on leashes at all times except on enclosed private property and designated off-leash dog areas. Letting dogs run at large is unlawful and these laws help protect our community.
If you are interested in bringing your best bud along for a Park City getaway, there are a plethora of options to keep you and your pup happy. Read on for our fun-filled itinerary for Three Magical Summer days that you and your pup will look back on with great fondness for a long time!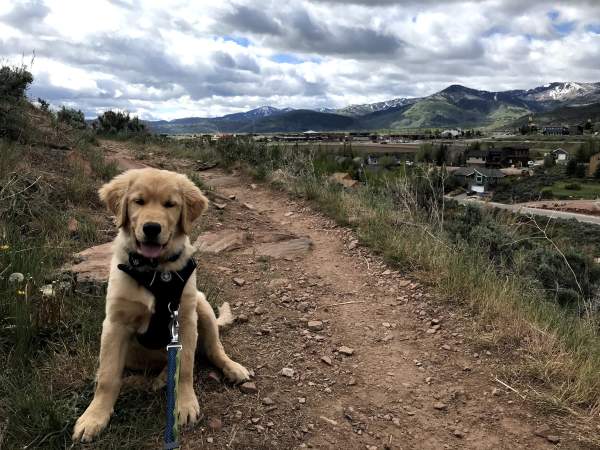 Getting Here - Driving, Flying, and Rental Cars.
Wherever you are coming from getting to Park City is a breeze! A road trip with the pup sounds super fun and can be fairly easy as we are right off I80. If you plan on driving with your pup so that he/she can have all their goodies there is plenty of parking in the area and all hotels have parking garages so your vehicle won't be far.
But if you prefer flying catch a morning flight if you can as Salt Lake International Airport is just a 35-minute ride away, so it's very possible to check into your room, then lace up those sneakers to hit the trails for a full day of fun in the sun.
The Salt Lake International Airport is pet-friendly as there is one animal relief station located outside of the airport on the west side of the terminal, and two animal relief stations within security designated to relieve animals. They are located in Concourse A near gate A9 and in Concourse B near gate B20.
Passengers traveling through the airport with animals are required to keep the animals in a crate, kennel, or other approved container. The exception is therapy dogs accompanied by a licensed organization, working law enforcement animals, or service animals that are trained (or are being trained) to assist people with disabilities.
Since Park City is only a hop, skip, and a jump away from the airport, grabbing an Uber or Lyft can be ideal. These rideshare options permit service animals to accompany riders at all times. However, if you're traveling with a pet that's not a service animal, drivers may choose whether or not to allow the pet in their vehicle. So, If you're planning to ride with a pet that's not a service animal, it's good practice to contact the driver who accepted your ride request to let them know. 
And if you plan on renting a car, most car rental companies are pet friendly and allow pets in the vehicles, with some of them requiring your pet to be confined to a carrier. Renters are responsible for any damage caused by the pet, and to avoid cleaning charges, vehicles should be returned clean and free of pet hair.
Day One
Once you've arrived in Utah, either by car or plane, the majestic Wasatch Mountains welcome you and your furry-legged friend. You're both probably salivating at the sight of these beauties and are ready for adventure ... and a bite to eat. You'll stay on-mountain at Deer Valley with easy access to downtown Park City and lots of trails only a short drive away. As you pull up to the Montage Deer Valley, you and your pup will feel right at home as they speak WOOF fluently. The Montage welcomes dogs of any size for a flat fee of $100 which includes in-room beds, stainless steel bowls, a welcome dog toy, plus organic dog treats. Pups can also enjoy their very own room service menu with a specialized in-room canine dining menu treating every member of the family to a special meal.
Once you've dropped your bags, head down the hill to the Deer Valley Grocery Cafe for a delicious and peaceful lunch overlooking the Deer Valley Ponds. The deck is a great spot to dine and watch people stand up paddleboarding while your pup keeps an eye on the ducks swimming by. Enjoy their famous Lox Plate of smoked salmon, capers, whipped cream cheese, arugula, vine-ripened tomato, pickled Spanish red onions, lemon, on a toasted everything bagel paired with a Bloody Mary and you are on your way to a great day!
After you've fueled up hop in the car and head past The Montage up to Empire and Guardsman Pass, one of the more spectacular drives in the area. There you will find a bustling parking lot of hiking enthusiasts and their fun-loving furry friends. If you are a fan of high alpine lakes without having to travel far, boy are you in for a treat! The trail to Lake Lackawaxen is dog friendly so you can let your pup wander off-leash smelling all the wild summer flowers. You'll meander through open meadows, with scenic views of the Wasatch, small scree fields, and dense Aspen groves and once you reach the lake, which is just below Clayton Peak (Brighton Resort is just over the other side), your pup can take a little dip to cool off.
Head back to The Montage after your 3-mile hike to rest and rejuvenate for a yummy dinner of sushi and seafood at The Blind Dog Grill. This distinctive fusion sushi spot near the Kimball Art Center is owned by a dog lover who understands K-9 dining better than most restaurateurs. Grab a spot on their fantastic patio and enjoy some cocktails and snacks with the pup. Start with the Ahi Tuna Nachos and then try the Firecracker Roll of spicy tuna & fresh jalapeno with tempura crisps, housemade sriracha, and the Frida Roll comprised of salmon & mango with Thai chilis & cilantro. Wash it all down with their Top Dog Margarita made with don julio blanco tequila, cointreau, agave nectar, lime juice, and orange juice garnished with volcanic sea salt around the rim.
You've been so busy playing and dining that you almost forgot that you've just arrived! So after a big day of travel and activities head back to The Montage to get a restful night's sleep, as there are many more adventures in store for day two in Park City!
Day Two
7:00 AM - 12:00 PM
Well if Day One is any indication of what the rest of Park City has in store for you, then you are in for quite a day of enjoyment! You'll definitely want to wake up and start early as it does get quite hot out for you and your pup. Grab a quick breakfast at The Montage before heading out for a morning of mountain biking or hiking on the trails of Round Valley. Don't worry a more robust brunch will be in your future.
Round Valley is a mecca in Park City for both humans and their pets as a large portion of the area are leash-free. This sprawling 1,400-acre wonderland boasts 30 miles of trails, best accessed from the Quinn's Junction trailhead (84098 Gilmor Way). Grab rental gear from White Pine Touring and head out on the Round Valley trails for a morning of exploring and exercise. And just be aware of the signage as not all of Round Valley is designated off-leash, so please respect the well-marked areas/trails where dogs must be tethered. If you're biking try your hand at the Rambler and Ramble On trails as they are great cross-country flowy singletrack that ramble (hence the name) through sagebrush, willows, and dogwoods. Your pup will have a grand ole time following behind frolicking amongst the brush.
12:00 PM - 3:00 PM
Once you've lapped the trails of Round Valley, either load up your bike or bike on over to FiveSeeds Cafe for brunch via Park City's extensive bike path system. This trendy spot has a great outdoor dining area with picnic tables and water bowls to quench your pup's thirst. At FiveSeeds you'll find great coffee, and great food as their menu is full of nourishing flavorful dishes that are crafted from the best in local, seasonal produce, with a definitive nod to the famed Australian foodie culture from where the owners hail. Satiate your appetite with their Breakfast Board where you can sample a handful of their wonderful dishes like the petite smashed avo & pea toast or petite shakshouka, petite granola, or petite chia pudding. If you're into lunch then their Fried Chicken Sando with crumbed chicken breast, Calabrian chili aioli, housemade dill pickles, and cabbage slaw is to die for! Quench your thirst with some fresh-squeezed orange juice and one of their specialty lattes - matcha, golden, beet, or chai.
After you've gorged on Aussie delights, drop your bike back off at White Pine and head over to Willow Creek Dog Park for a pawfect afternoon of fun in the sun and splish-splashing with other pups. Willow Creek Park is an enclosed 2.4-acre fenced area with grass and a large dog-friendly pond. The pond features both a zero-entry point on the east bank and a floating dock for the most adventurous dogs. Inside the dog park, you will also find a 1/3-mile soft surface trail and a 24,000-square-feet area of "fetch" space. The dog park features an agility course for your furry best friends to challenge themselves while taking in the views of the Canyons side of Park City Mountain and 3 small shade shelters for owners to enjoy while keeping an eye on the pups.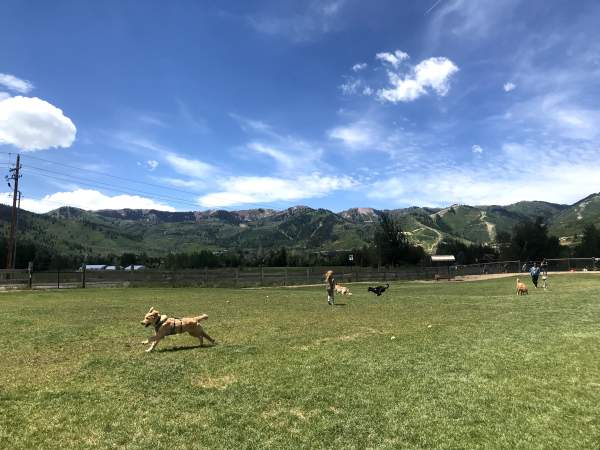 3:00 PM - 6:00 PM
After your pup has sufficiency tired him/herself out with chasing other dogs around the park and fetching balls out of the pond, head back to The Montage for some me-time. Set pup up in your room for an afternoon nap, while it's your turn to enjoy some wading at the Montage pool. Enjoy the views of Deer Valley from your lounge chair and celebrate a big day of adventure with a delicious cocktail. The days are long here in the summer, so no need to hurry as the warmth of the day continues into the night.
6:00 PM - 10:00 PM
After you've both refreshed from some well-needed R&R set out for a night on the town over on Main Street. Have The Montage shuttle drop you and your pup off at the High West Saloon, just off of Main Street. Get seated at a table on their patio and enjoy an evening of sipping whiskey, people watching, and enjoying the day turn to dusk. Indulge in a meal of pork spareribs with citrus garlic glaze sesame seeds and Niman ranch sirloin carne asada tacos with ranchero crema, pickled onions, and cotija, followed by the s'more cookie filled with mill creek chocolate, graham cracker bits, and marshmallow, all paired with one of their fantastic High West Old Fashioneds. 
Sufficiently full, take a stroll down Historic Main Street enjoying the Old West Vibes. Most stores are pup-friendly and are always excited to hand out a couple of free pets, scratches, and doggie treats. Stop by Hemped Park City at 804 Main St, where you can treat both you and your pup to some CBD goodies. Grab a tube of CBD salve, a bath bomb, and vegan Melatonin Gummies to soothe tired muscles and promote a good night's sleep once you get back to the Montage. 
Day Three 
After a big two days, feel free to sleep in a bit, as you did book an evening flight so you could enjoy another full day in Park City with your pup. Once awake and dressed, head over to Atticus Coffee, Books & Teahouse for your morning brew. Leisurely enjoy a cup of tea, coffee, or one of their famous 'frosts' while you peruse their bookshelves and grab some gifts for friends and family back home. Pup is probably getting a little restless at this point to get on the trail, so you swiftly head on over the Silver Star area where you'll be hiking the Armstrong Trail.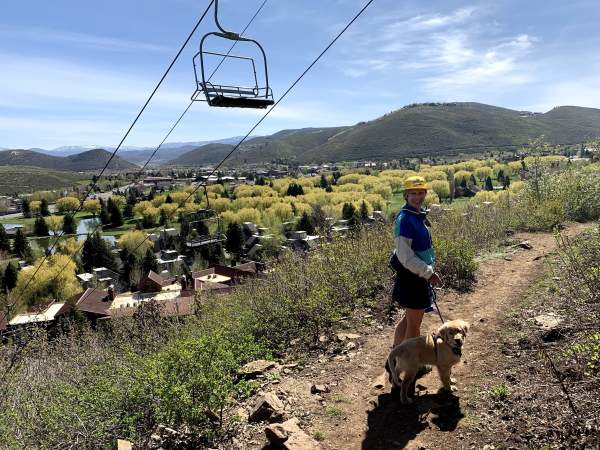 The Armstrong Trail is a 3.3-mile loop that starts at the base of the Silver Star lift and heads uphill meandering through shady aspen groves. The trail does get pretty steep at times but it is manageable. Take a snack and water break once you get to the King Con lift and enjoy the views of the slopes of Park City Mountain. You'll continue past the lift and back uphill. At this point, you've probably had a handful of mountain bikers pass you, as this a popular biking trail as well. Once you reach Dawn's Trail you'll start heading downhill with sensational views of Park City. Dogs are able to use this trail but must be kept on a leash. When you've completed your 3.3-mile loop pop over to the Silver Star Cafe for lunch.
The Silver Star Cafe is a great place to grab some grub after a strenuous hike with your pup.  The Cafe offers a dog-friendly patio with water bowls for your thirsty pup, along with diverse food and beverage menus for its human patrons. Try their Smoked Turkey "Club" Sandwich with fried egg, spinach, smoked paprika aioli, bacon on toasted sourdough, and cheers to an amazing 3 days of adventuring with your pup with a Palo-mosa of fresh-squeezed grapefruit juice, sparkling wine, and a splash of silver tequila.
Head back to The Montage to grab your luggage and transportation down Parley's Canyon to the airport or on the road back home. Take one last minute to soak in the views of the Wasatch and relish in this weekend's activities with your pup. You both should be sufficiently tired and happy from all the fresh air and outdoor play.
Park City is an outdoor lovers paradise, and what's better than being able to share this awe-inspiring place with your outdoor-loving pal, as our furry friends help us all get a little more excited about recreating out in nature.