You've just wrapped up a full day on the slopes with your kids. While you'd most likely want to soak your aching muscles in the hot tub, your kids are still FULL OF ENERGY! 
Great news though - some of the best memories from a family ski vacation are made off the hill! That's right, with so much to do in Park City, there's no reason not to keep making memories after the lifts close. 
To take the guesswork out of what you can do, we took our two preteen kids out for an evening of fun, and I can't wait to share one of the best après-ski activity you can find for older kids in Park City. 
Details 
Where: Park City Escape Room, Downtown Park City (136 Heber Ave, right above Handle Restaurant)
When:  Various start times are available throughout the day, reservations are strongly recommended
Who: There are 4 different rooms and each is available for a different suggested age group. We tried the travel room which is suggested for ages 9+
Cost:  Prices range from $20-$37/person depending on the room challenge you choose
Time: 45-60 minutes
Experience 
This was the kids pick, and I honestly had no idea what to expect. 
If you're like me and have never been to an escape room before, you're in for a treat. Your group will be taken into a room with your team and locked inside (don't worry, you can get out if there's a problem--or if like my daughter, you really have to use the restroom!). You'll be given a set of clues and puzzles that you need to decode in order to be able to unlock the room and escape.  At the Escape Room in Park City, each team is paired with a guide who is out of the room but watches you on a camera and gives you a few hints on a screen, or if you're really stuck, they'll give you a clue.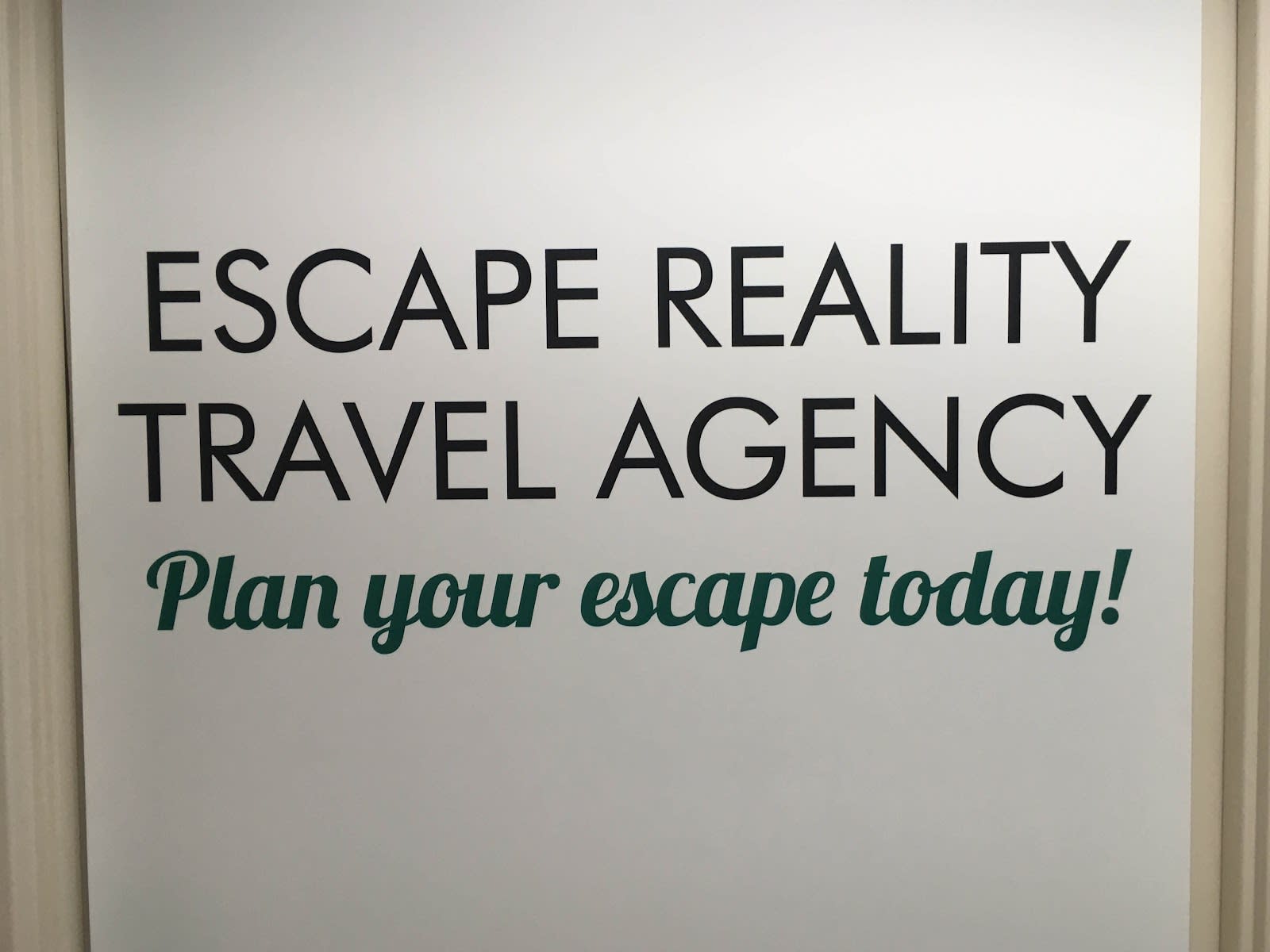 Being the travel lovers that we are, we chose to try out the travel escape room which is geared towards ages 9+.  We entered a room with lots of locks, boxes, pictures, and had no idea where to start, but knew that we only had 45 minutes to escape. After a couple of minutes of fumbling around aimlessly, calling out random things we read or noticed, our guide gave us a hint to point us in the right direction. We got our first clue solved, and we're all feeling pretty amazing until we realized that we still had a long way to go. Thankfully, frequently as we hit a roadblock or things started to get tense, our guide would give us a little hint. It was the perfect combination of pushing our observation skills, thinking out of the box, but not letting it get to the point of arguing. As a mom, I especially appreciated that because so often when we push the limits for our kids, someone ends up frustrated or with hurt feelings. I feel like our guide always stepped in at the perfect moment to avoid this!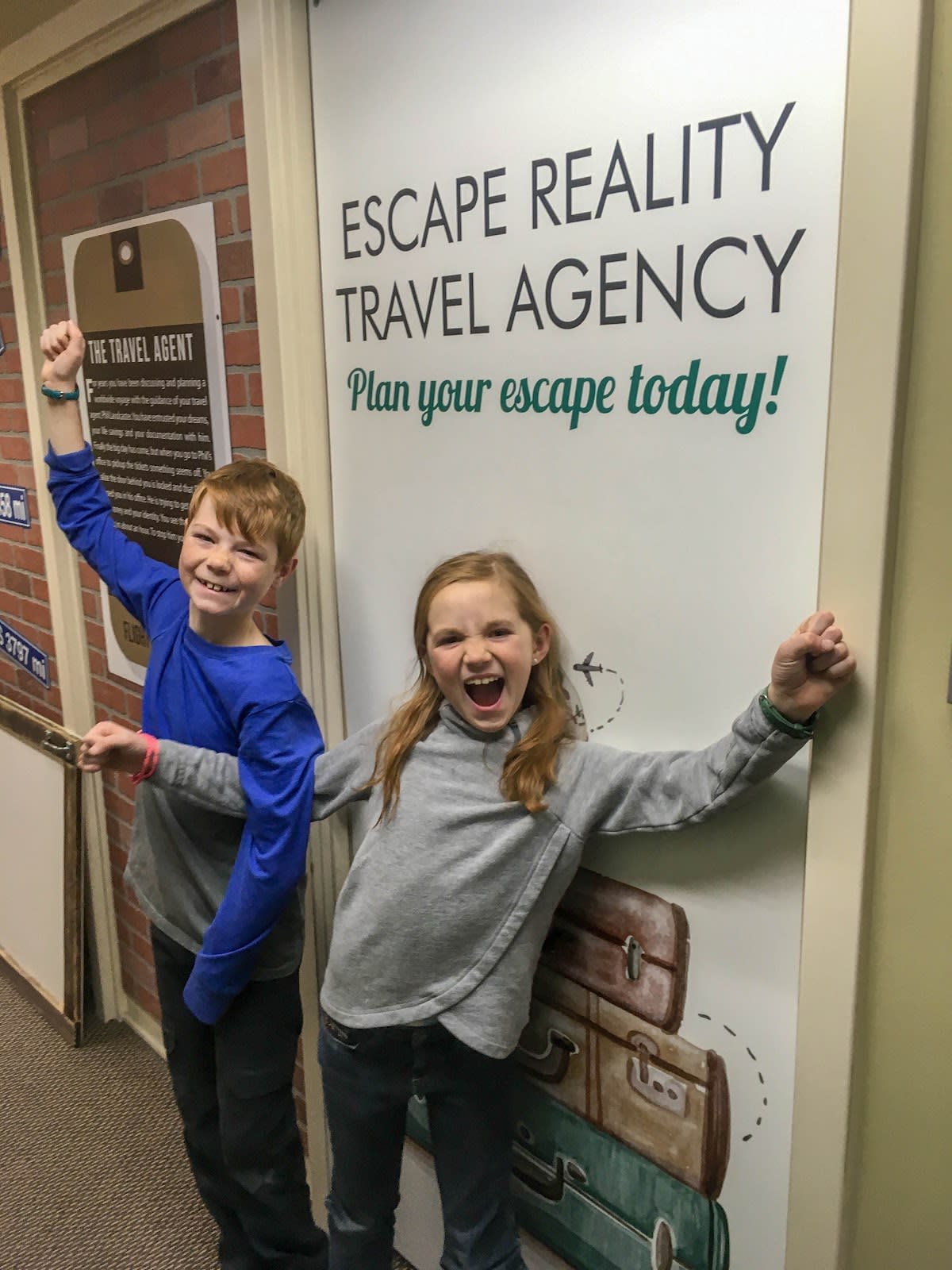 As we worked through the puzzles, it gave our kids a chance to take the lead on a few things and for everyone to problem solve together. Each clue we solved got us one step closer to escape, but most importantly, made the 4 of us work better together as a team. As the clock counted down closer to zero, everything turned into a frenzy as we were going as fast as we could to solve things. Were we going to make it?
With less than a minute to go, our guide let us know that the next group was running late and gave us 5 more minutes to solve the last few clues and ESCAPE. It was exactly what we needed. In about 2 minutes we had solved our final clue, the door popped open, and we were FREE.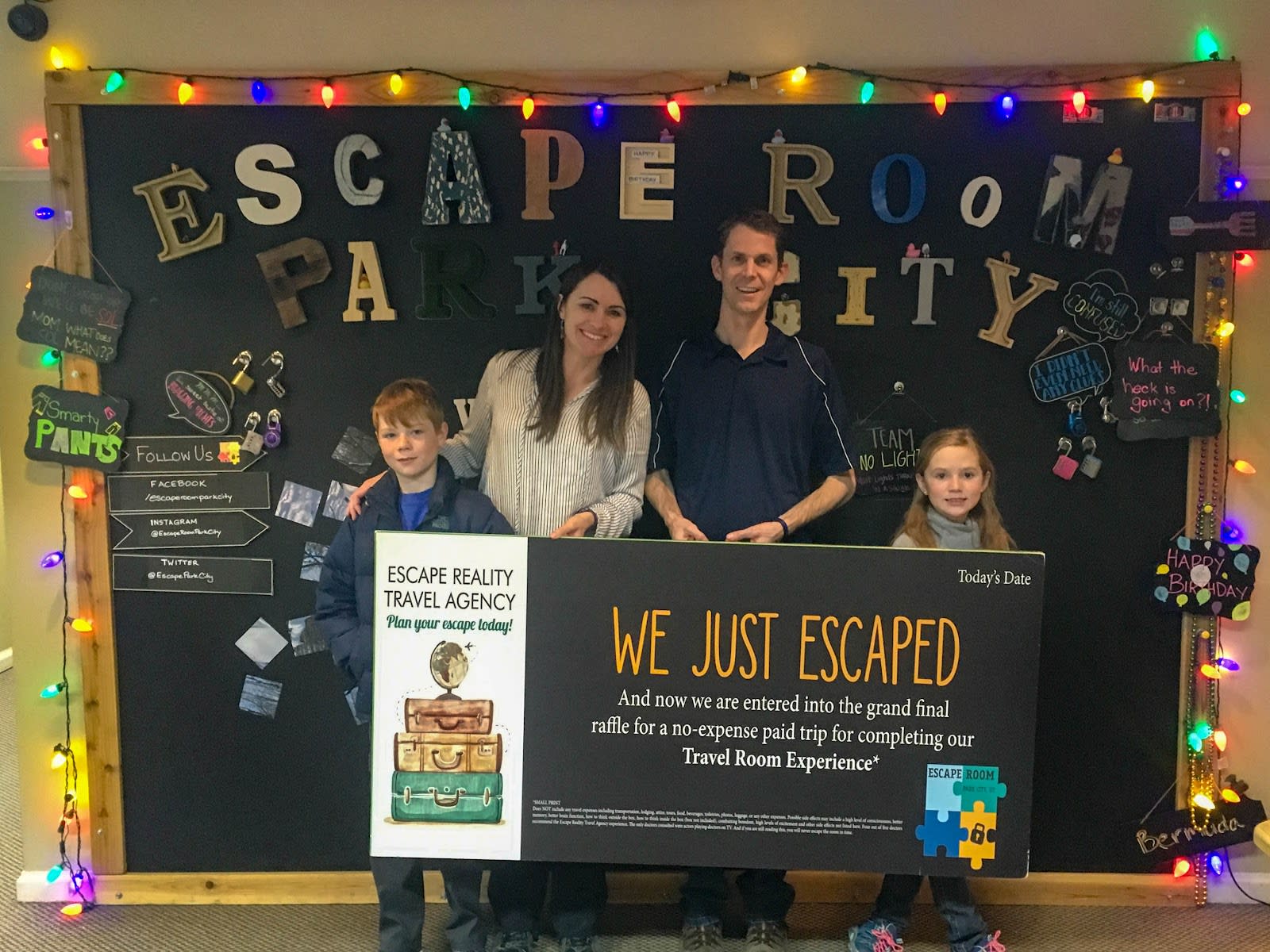 Smiles and high fives were all around as we all laughed about our experience and congratulated each other's contributions and brilliance!  It was seriously so much fun for each one of us and was one of the best team building venues that we've visited as a family. 
When I asked the kids if they were ready to end out the night with ice cream, my daughter turned to me and smiled "Mom, this was already pretty perfect - I think we should end here."  And that's when I knew that we'd found the perfect combination.  Activity, good food, and best of all a great bonding experience.