Sometimes all you need in life is a getaway with your best friend, your four-legged best friend that is! And a winter getaway to Park City is exactly the joy-filled trip you both deserve. Who doesn't love watching their pup frolic in the snow? The childlike wonder of it all, the pure bliss, the tongue-out happiness - it really rubs off on their human companion as if you were the one diving headfirst into snowbanks yourself. 
Park City, otherwise, known as Bark City, has been established as a destination for dog lovers with our dog-friendly culture, from off-leash dog parks to dog-friendly bars and restaurants, canines are welcomed with open arms during all seasons! 
We're very pup-friendly here but we still have leash laws to help curb unruly doggy behavior. All dogs must be kept on leashes at all times except on enclosed private property and designated off-leash dog areas. Letting dogs run at large is unlawful and these laws help protect our community.
If you are interested in bringing your best bud along for a Park City getaway, there are a plethora of options to keep you and your pup happy - check out our conclusive guide to Park City for you and your pup here. And continue reading for our fun-filled itinerary for Three Magical Winter days that you and your pup will look back on with great fondness for a long time!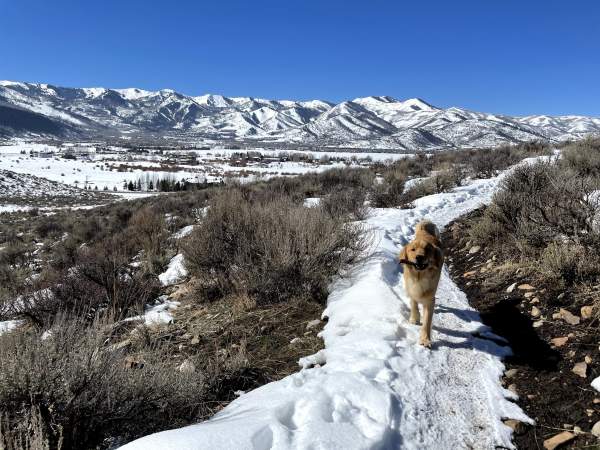 Getting Here - Driving, Flying, and Rental Cars Oh My!
Wherever you are coming from getting to Park City is a breeze! A road trip with the pup sounds super fun and can be fairly easy as we are right off I80. If you plan on driving with your pup so that he/she can have all their goodies there is plenty of parking in the area and all hotels have parking garages so your vehicle won't be far.
But if you prefer flying catch a morning flight if you can as Salt Lake International Airport is just a 35-minute ride away, so it's very possible to check into your room, then suit up for a full day of snowy activities.
The Salt Lake International Airport is pet-friendly as there is one animal relief station located outside of the airport on the west side of the terminal, and two animal relief stations within security designated to relieve animals. They are located in Concourse A near gate A9 and in Concourse B near gate B20.
Passengers traveling through the airport with animals are required to keep the animals in a crate, kennel, or other approved container. The exception is therapy dogs accompanied by a licensed organization, working law enforcement animals, or service animals that are trained (or are being trained) to assist people with disabilities.
Since Park City is only a hop, skip, and a jump away from the airport, grabbing an Uber or Lyft can be ideal. These rideshare options permit service animals to accompany riders at all times. However, if you're traveling with a pet that's not a service animal, drivers may choose whether or not to allow the pet in their vehicle. So, If you're planning to ride with a pet that's not a service animal, it's good practice to contact the driver who accepted your ride request to let them know. 
And if you plan on renting a car, most car rental companies are pet friendly and allow pets in the vehicles, with some of them requiring your pet to be confined to a carrier. Renters are responsible for any damage caused by the pet, and to avoid cleaning charges, vehicles should be returned clean and free of pet hair. 
Day One
Once you've arrived in Utah, either by car or plane, the majestic Wasatch Mountains welcome you and your furry-legged friend. You're both probably salivating at the sight of these beauties and are ready for adventure ... and a bite to eat. You'll stay at one of our central location hotels so you have easy access to all the areas of Park City. As you pull up to the Waldorf Astoria Park City, you and your pup will feel right at home as they speak WOOF fluently. The Waldorf provides extraordinary world-class service to your furry companion as well as their humans accommodating you and your pup's every need such as in-room bowls, dog beds, and homemade doggie treats (engraved with your pup's name). The Waldorf welcomes a maximum of two dogs up to 100 pounds each per registered room. A $100 non-refundable cleaning fee is required once per stay, per reservation.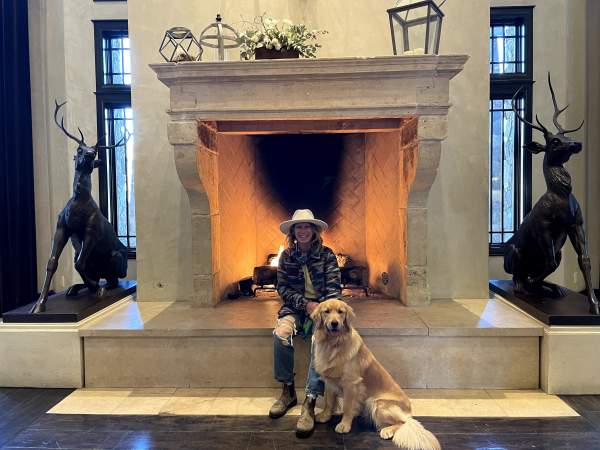 Once you've dropped your bags, you both probably need to stretch your legs a bit after your morning's travels. Head across the street to take your pup for a walk on the trails of Matt Knoop Park or over to the Willow Creek Dog Park, only a short mile away. Willow Creek Park has an enclosed 2.4-acre fenced area (with grass and a large dog-friendly pond ins the summer - that'll most likely be covered in snow). Play fetch with your pup or let them rough house with the other dogs enjoying their activity break. The dog park also features an agility course for your furry best friend to challenge themselves while taking in the views of the Canyons side of Park City Mountain. After some off-leash fun, you can walk along Willow Creek's trails that encompass 66 acres of undeveloped open space. The trails are groomed in the winter for cross country and skate skiers.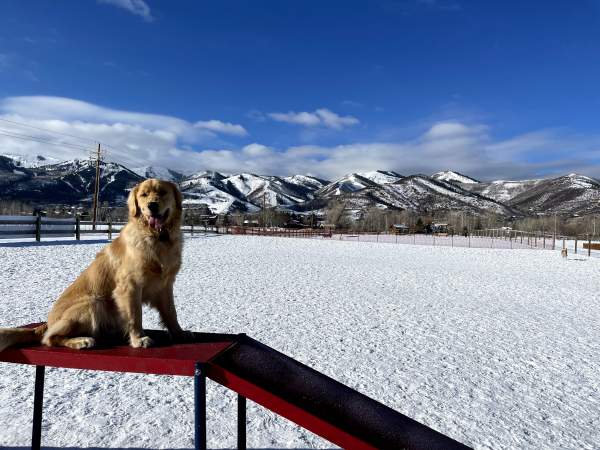 After you've played in the snow for some time, you and your pup have definitely worked up an appetite! Head over to one of Park City's newer restaurants, Hearth and Hill in the Kimball Junction area, a not too far jaunt from Willow Creek and the Waldorf. Hearth and Hill has a back patio that is dog friendly with many heaters to keep you warm while you dine on contemporary American cuisine that is locally driven. The staff at Hearth and Hill will provide your pup with their very own water bowl while you feast on some of their delectable options like the Truffle Mac and Cheese, Cheddar Biscuits, Refuel Salad, and their H and H Burger.  Polish off your meal with one of their delightful cocktails like the Smoke Show - a mix of Mezcal, Jalapeño, Lime, and Tajin.
After a big day of travel and playing in the snow head back to the Waldorf to get a restful night's sleep, as there are many more adventures in store for day two in Park City!
Day Two
7:30 AM - 10:00 AM
Since it's winter in Park City, you don't have to get up too early as the sunrises around 7:45 AM and the temps are usually on the chillier side. Hopefully, it snowed overnight so there's a fresh blanket of the white stuff for your pup to play in! Start off day two with a latte from Hugo Coffee, located inside the Park City Visitor Center, a short distance from the Waldorf. Enjoy great views of the mountains in this dog-friendly cafe. You can bring your pup inside as you enjoy a hot coffee in one of their comfortable chairs or couches in the dog-friendly lounge area. It's a lovely place to have a chill easy morning before a big day of exploring. Also part of your purchase goes towards rescuing dogs! What could be better than that? They've currently donated over $30,700 and helped 486 rescue dogs become adopted. Hopefully while there your pup can make some new friends.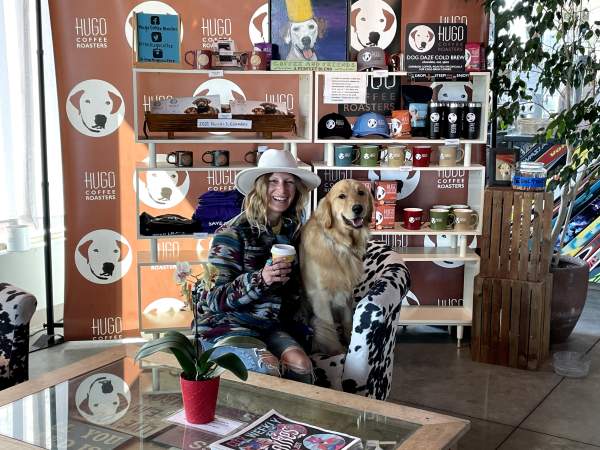 After you've lounged around at Hugo, it's time to get moving! Close by is the Run a Muk Off-Leash Dog Park. Run A Muk is a pretty unique doggy playground with 43 acres of open space and 2 miles of trail for you and your pup to run free. The trail wanders through aspen groves and open shrublands with great views of the surrounding hills and ski jumps at the Utah Olympic Park. You and your pup will love running a muk along these trails, as well as socializing with other pups and their owners. And just a reminder a leash is required in the parking lot.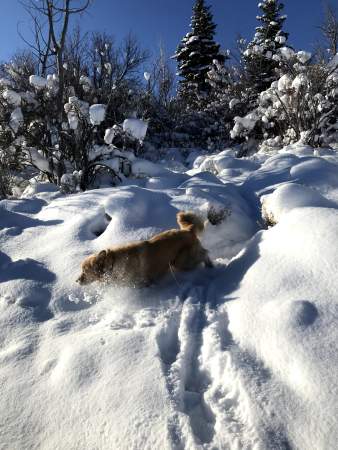 Since you're here during the winter, you might be a ski or snowboard enthusiast and would like to get some turns in while you're here in Park City. Maybe you and your pup could use some playtime apart. Head back to the Waldorf and suit up for a late morning and afternoon of shredding the gnar. Have the Concierge at the Waldorf call Fetch who offers a full range of doggie services located just minutes from downtown Park City. You can arrange for a pup playdate of kennel-free supervised playtime on their sprawling 50 acres of dog-friendly terrain. They offer pick-up and drop-off service at no additional charge as long as the location is within their typical pick-up area (greater Park City) and floats somewhere in their typical time windows. Schedule Fetch to come pick up your pup at the Waldorf for a couple of hours of doggie socializing while you hit the slopes!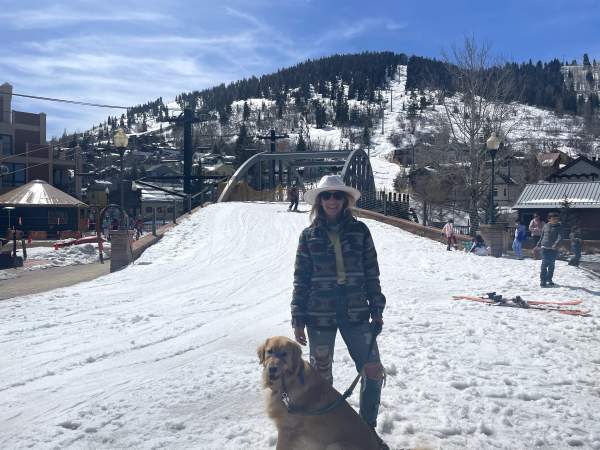 11:00 AM - 2:30 PM
Head up the Frostwood Gondola at the Canyons and take a couple of runs off of the Orange Bubble, Super Condor, and Sun Peak Lifts before heading towards the Park City side of the resort via the Quicksilver Gondola, and down Quit'in Time all the way under the Town Lift to the Bridge Cafe and Grill where Fetch will you meet you to drop off your furry friend. The Bridge Cafe has a great dog-friendly patio over looking skiers coming down the slopes into town and a delightful American/Brazilian menu with dishes like Shrimp Tacos, Coxinhas, and All Day Breakfast. This clearly counts as apres ski so grab a Capraihina as well to cheers a great day of physical activity in the mountains!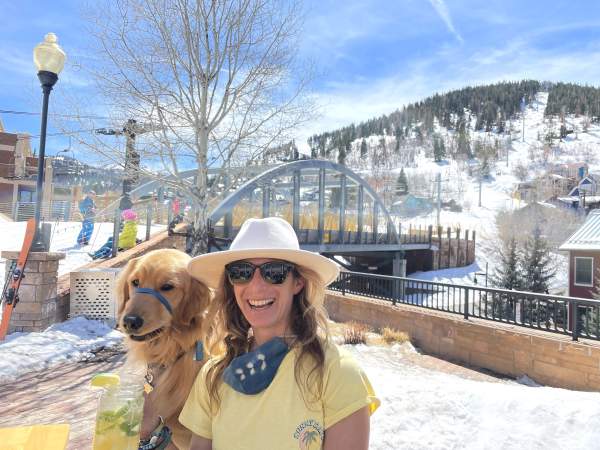 4:00 PM - 5:30 PM
Since you're just steps away from Park City's Historic Downtown, you and your pup can parade around Main Street and take in that Old West Mining Town feel. Most stores are pup-friendly and are always excited to hand out a couple of free pets, scratches, and doggie treats. Your first stop will be Hemped Park City at 804 Main St right across the street from the Bridge, where you can treat both you and your pup to some CBD goodies. Grab a tube of CBD salve, a bath bomb, and vegan Melatonin Gummies to soothe tired muscles and promote a good night's sleep once you get back to the Waldorf. They also have CBD products for pets like CBD Peanut Butter Flavored Spray that helps with long travel journeys, separation anxiety, or other potentially stressful situations, and CBD BBQ Kabob Treats designed to support your pet's vitality and health.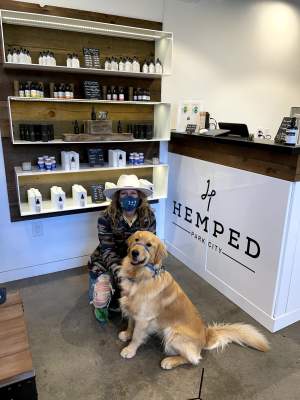 Before calling for the shuttle back to the Waldorf, walk over to Library Field, and enjoy one last play session of the day with your pup. Your pup has free range of this open field next to the Park City Library. This is a local favorite spot near Main Street, that isn't exactly a dog park, as it is not fenced in, but is perfect for pups to meet and greet each other and have some fun running around. After a couple of last barrel rolls in the snow call the Waldorf shuttle to come to pick you up to bring you back to the comfort of your hotel room.
6:00 PM - Good Night
Back at your hotel room happy and tired, draw yourself a bath and plop in the CBD bath bomb you bought from Hemped, while your pup enjoys his dinner. Then call room service, and snuggle up in bed with your pup and a movie till you fall asleep dreaming about what tomorrow will bring.
Day Three 
Wake up feeling refreshed and ready to take on the day! Grab some delicious breakfast from Powder, the Waldorf's in-house restaurant, and fuel up for today's winter outdoor activity. You and the pup will be heading to Round Valley for either some snowshoeing, cross country skiing, skate skiing, or Fat Biking. Round Valley is a mecca in Park City for both humans and their pets as a large portion of the area is leash-free. This sprawling 1,400-acre wonderland boasts 30 miles of trails, best accessed from the Quinn's Junction trailhead (84098 Gilmor Way). Grab rental gear from White Pine Touring and head out on the Round Valley trails for a morning of exploring and exercise. And just be aware of the signage as not all of Round Valley is designated off-leash, so please respect the well-marked areas/trails where dogs must be tethered.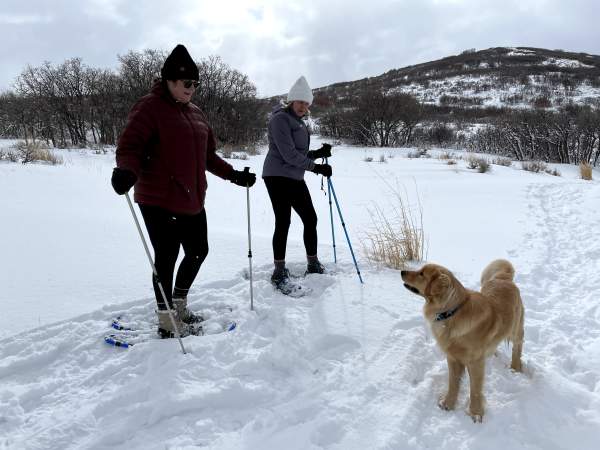 After a morning of tiring out the pup amongst our snowed covered trails, drop your gear back at White Pine and head to the Troll Hallen Lounge at Stein Eriksen Lodge for a light lunch. Service animals are allowed inside, and any well-behaved pup is welcome to join its owner on the deck. They have heaters to keep you warm as you dine on indulgent dishes like the Dungeness Crab & Lobster Toast or the Lamb Shakshuka Torpedo and a glass of champagne while watching skiers shush down the slopes at Deer Valley Resort.
Head back to the Waldorf to grab your luggage and transportation down Parley's Canyon to the airport or on the road back home. Take one last minute to soak in the views of the Wasatch and relish in this weekend's activities with your pup. You both should be sufficiently tired and happy from all the fresh air and outdoor play.
Park City is an outdoor lovers paradise, and what's better than being able to share this awe-inspiring place with your outdoor-loving pal, as our furry friends help us all get a little more excited about recreating out in nature.