Looking for a fun and sustainable way to get around and enjoy all that Park City has to offer this summer? Well, look no further than the Summit Bike Share program. Launched in 2017, the bike share system offers a network of 20 stations and 190 electric-assist bicycles available 24/7. These shared bikes are a great alternate transit option for residents and visitors to explore the area and are perfect for errands, commuting, or recreation.
The electric-assist bikes act just like regular bikes but don't have any complicated gears or buttons to learn, you just simply begin pedaling and the bike provides an extra boost to get you moving and up any hilly terrain without breaking a sweat!
Going for a Ride is Simple:
JOIN - To start riding simply purchase a membership on the website, mobile app, or directly at a station kiosk. Riders can sign up for a Pay Per Ride, a Resident/Employee Annual, or Monthly Pass.
UNLOCK - Unlock a bike using the mobile app or tap your membership card/fob on the handlebars.
RIDE - Please consider wearing your helmet and enjoy the ride! FYI - keep your ride under the allotted time to avoid incurring extra time fees. Also, there is a secondary lock that can be used to secure the bike to a rack for any stops you need to make along the way.
RETURN - Dock your bike at any station. Listen for the sound to confirm that it has been secured and check the bike screen for the "docked bike" indication to appear.
Our bike share program helps minimize traffic and creates a more environmentally friendly and sustainable mode of transportation for our community. For example, let's say it's Sunday and the Park Silly Sunday Market is going off, traffic and parking can be quite a mess around Old Town, but if you park over by Kimball Junction and grab a bike from one of the stations around that area you can pedal to Park Silly, getting some physical activity in, and saving yourself a headache.
We've put together a fun itinerary to help you get from Kimball Junction to Main Street Park City without having to use your car and travel through the 224 corridor.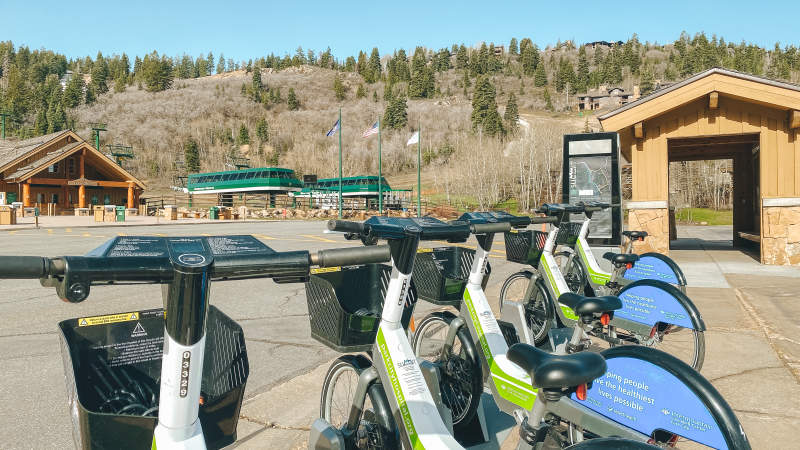 Start at the Outlets Docking Station
With plenty of places to park your car start your journey at the Outlets (6699 N Landmark Dr) and grab a bike from their docking station. Pedal on the paved Millenium Trail that connects through a tunnel under 224 to the New Park shopping area.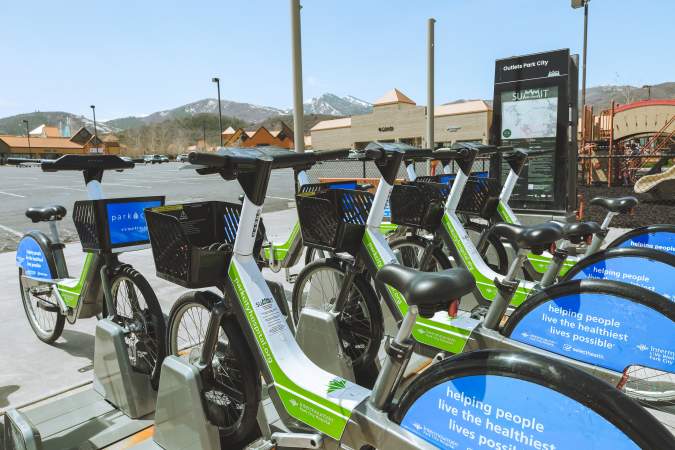 New Park Docking Station
Dock your bike and check out the Swaner Preserve and EcoCenter, a 1,200-acre nature Preserve and a 10,000 square foot LEED Platinum building with interactive exhibits about the surrounding environment. They offer weekly nature tours, wildlife viewing opportunities, environmental education for children and adults, evening lecture series, and a gift shop with local and eco-friendly art.
While you are over in the New Park area, grab a coffee from the newly opened Hill's Kitchen, a spin-off cafe from local favorite Hearth and Hill. Next, we are off to Willow Creek Park!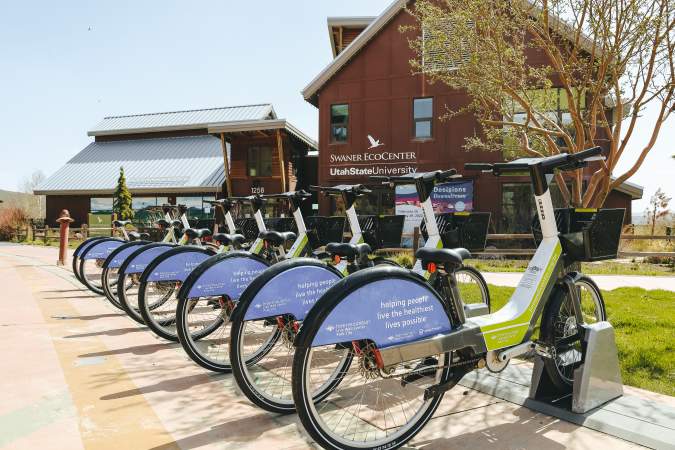 Willow Creek Park Docking Station
Grab your bike, and let's pedal along the Basin Express path over to Willow Creek Park. Dock your bike and enjoy the spectacular views of the Canyons side of Park City Mountain Resort. You can watch all the Park City pups swimming and belly-flopping off the Willow Creek Pond dock, which is quite a hoot!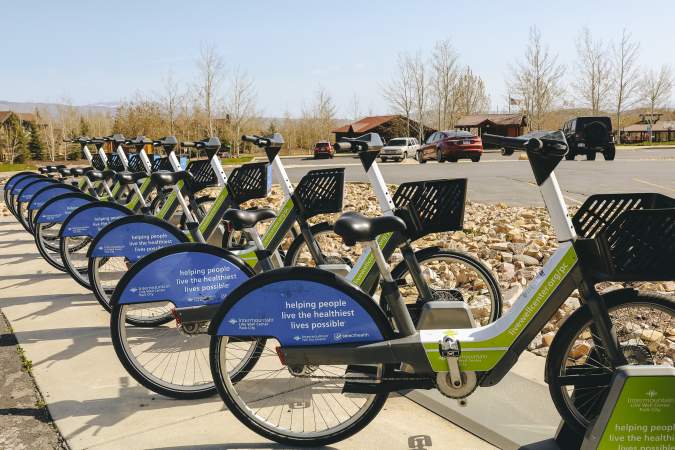 Park City Library Docking Station
From Willow Creek Park, hop back on the bike, and follow the McCleod Trail/Willow Creek/Hwy 224 Connector Trail that parallels Highway 224 on the east side of the highway. Paved or well-grated, you can ride this trail all the way to Downtown Park City. Much of the trail follows a stream bed and has park benches along the way, in case you'd like to take your time. You'll get to see the picturesque "White Barn,"  which is located on the opposite side of the highway.
Once at the Park City Library, take a breather and enjoy the views of Park City Mountain, peruse the books, maybe grab a bite to eat at the Lucky One's Cafe, or save your appetite for once you get further into Old Town.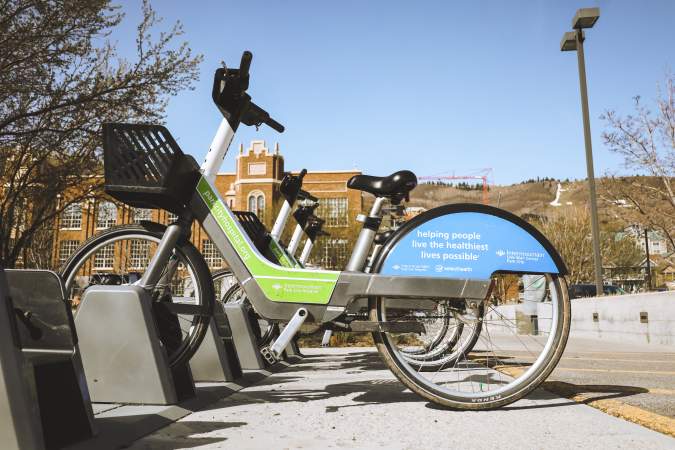 Old Town Transit Center Docking Station
From the Library, cycle along the path to the Old Town Transit Center and dock your bike for a stroll along Historic Main Street. Grab some souvenirs or a bite to eat at the many fabulous restaurants along the strip, like the Bridge Cafe, Cafe Terigo, or The Spur Bar and Grill. If you'd like to bike a little further there is one last docking station at Deer Valley Resort.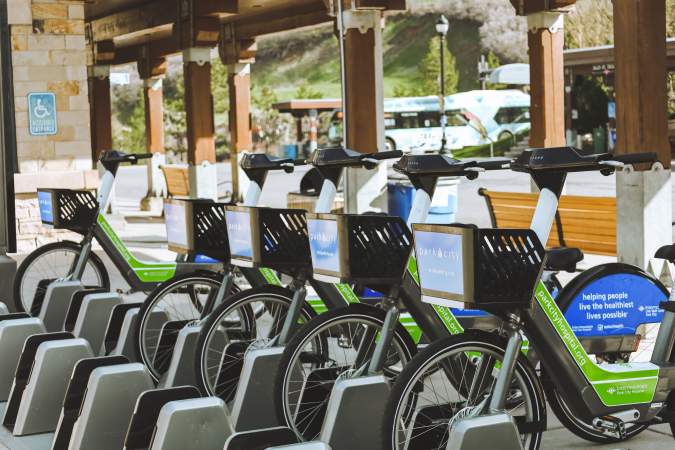 Deer Valley Docking Station
On your way to Deer Valley, you bike right past the Deer Valley Grocery Cafe, another local's favorite for a midday meal. With views of the Deer Valley Ponds, the Grocery Cafe is a wonderful spot to fuel up, and maybe take a stroll around the water. Once at Deer Valley walk around the base area and enjoy more scenic mountain views.
To conclude your ride, either pedal back to your car or dock your bike at the Old Town Transit Center and take the bus back to the Outlets.
By using the Summit Bike Share you have a positive impact on our community and can improve our vibrancy, connectivity, livability, and experience for all visitors and locals alike!