Even when there's no snow, there's still plenty for the whole family to do this summer at Park City Mountain. Yes, Park City Mountain is a great year-round resort with lots of unique and fun activities for the entire family. And in the heat of the summer, is there anything better than escaping to the mountains for some fresh air and fun?  
We recently took our kids up to explore what there was to do, and even though they range in age from 2 to 12, it wasn't hard to find something that everyone loved there. 
Details 
WHAT: Summer Activities at Park City Mountain
WHERE: Park City Mountain, 1345 Lowell Ave
WHEN: 6/14 - 9/2 Monday - Saturday 10am - 8pm and Sunday 10am - 7pm
WHO: All Ages, though limited activities are available for kids under 3
Alpine Slide
The alpine slide is the perfect activity for the whole family, and since this is one of the longest alpine slide tracks in the world, you really shouldn't skip this. At over 3,000 feet long, you get a lot of bang for your buck. Since each rider controls their speed, you can go just about as fast or slow as you'd like.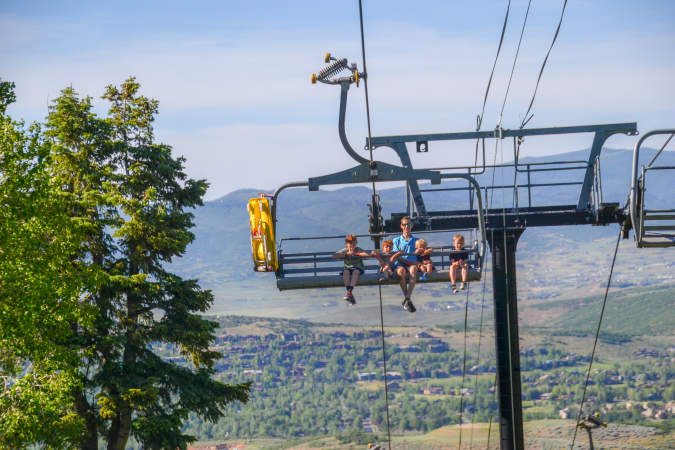 So that means that our adrenaline craving 12-year-old could fly down the track, while it wasn't a problem for his younger sister to take her time. While it's tempting to have everyone drive their cart, our 7-year-old, while technically old enough to drive it himself, had a hard time leaning forward enough to really get the sled going fast, and since he's already pretty light, he wasn't able to go as fast as he wanted and asked to ride with mom next time. Even our 2-year-old was able to ride down with dad, and he literally giggled the entire way down the mountain. 
Cost: $22 for 48"+  $12 for riders from 35"-47"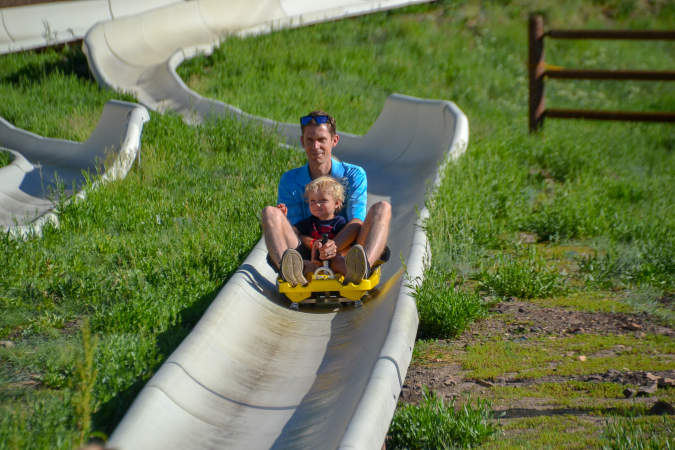 Mountain Coaster
If you got a taste of downhill fun on the alpine slide but are looking for some more action and excitement, try out the mountain coaster. Yes, it's exactly what it sounds like - a roller coaster on the mountain. To go down the mountain coaster, you board a small cart at the bottom and are pulled up to the top. While most carts just had one adult or an adult and a kid, we saw one that had two grown men on it, so pairing up can really work for just about anyone (plus the extra weight can speed you up).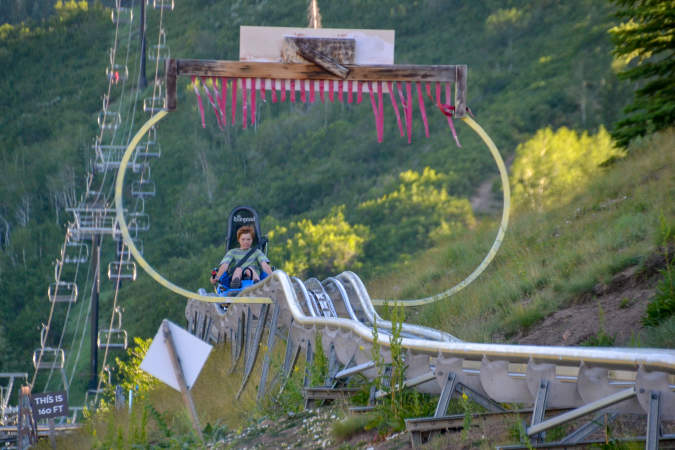 Before going down the coaster, they gave us instructions for everyone to go as fast as possible to avoid any collisions, so when we got to the top, we released the brake and started to race through the forest at top speed. It felt exactly like a roller coaster as we twisted, turned, and dropped along the track, so while my son was whooping and hollering, I was trying not to get sick. The whole ride takes about 7 minutes, but the downhill was done in about 2 minutes. If you've got older kids or teens, you'll probably want to buy an unlimited pass so that they can do laps over and over on this ride. 
Cost:  $27 for 54"+   $12 for riders from 42"-53"
ZipRider Zipline
If you love the feeling of falling and flying through the air, then this attraction should be on your list (though both of those things terrify me, so we skipped this ride). The ZipRider starts where the Payday Express stops mid-mountain at the alpine slide. From there, you climb a tower and soar straight down to the base area. Honestly, even looking at the drop made me a bit dizzy, but we watched several people go down the zipline, and everyone raved about it. If you're thinking about doing this, note that closed-toed shoes are required. 
Cost: $28 for riders 100-275 lbs
Flying Eagle Zipline
The Flying Eagle is a zipline that's designed specifically with kids in mind. Instead of dangling from a harness, two riders sit side by side on the Flying Eagle Chair. The chair then reverses you up to the top of the run and lets you go. It doesn't go nearly as fast as the ZipRider and kids as young as 3 years old can ride it. 
Cost: $15 for riders 54"+  $12 for riders 42"-53"
Mountain Village
At the Mountain Village base area, there are also several other activities you can try out that are all just $12. Some of these like the climbing wall and Legacy Launcher Trampoline are suited to both adults and kids, and you can also try out panning for gold, or miniature golf if you're looking for something great for the entire family. 
The base area also has a kids ropes course and zipline that's designed just for kids from 30-100 lbs. It's not too long and also isn't very far off the ground, so it's a great introduction for kids to what a ropes course is like.
Cost: $24
For a Calmer Day on the Mountain
Scenic Chair Lift Rides
Want a great view that you can just sit back and enjoy?  The scenic chairlift ride is for you. Unlike most chairlift rides that whisk you up to the top in only a few minutes, Park City slows down their lifts for summer access.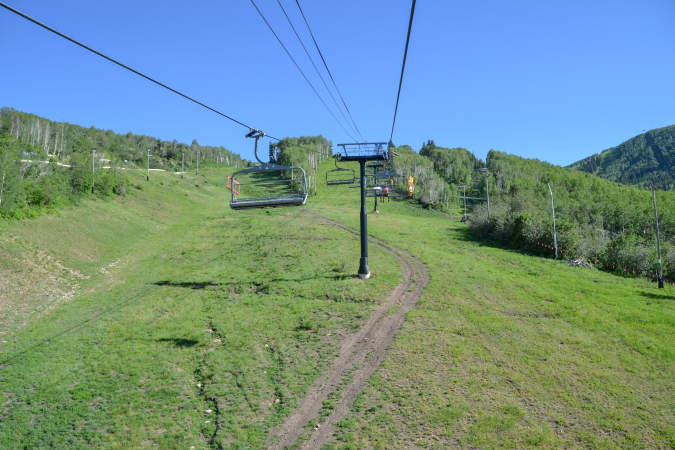 While it may be boring if you are a 10-year-old who loves the speed of the alpine coaster, it's absolutely perfect if you want to just relax and enjoy the views. During the summer, the Town Lift, Payday Express, Crescent Express, and Red Pine Gondola are all available for scenic rides. 
Cost: $25/adult  $21/ages 5-12, Free for 4 and under. Note: babies in carriers are only allowed on the Red Pine Gondola. 
Hiking
Park City Mountain has an extensive trail system that is great for hiking and mountain biking. Several of the trails can be accessed from the Mountain Village base area, while others need to be lift accessed.