Hiking in Park City can be a four-season activity that is fun for the whole family. We are lucky to live in a place where we have access to a plethora of trails that highlight some of our best scenery from shady aspen groves, high alpine lakes, and wildflowers, to autumn leaves, wildlife, and epic views.
Every local has their favorite trails to wander, get lost in the present moment, and relish in awe. Below I'll be highlighting six of my favorite hikes, and as you can see all but one feature a lake. For me, the perfect mountain trail is characterized by intermediately challenging terrain, good views, groves of trees, and high alpine lakes. All of my favorite hikes encompass these characteristics in one way or another.
Bloods Lake and Lackawaxen Trail
Distance: 2.8 miles round trip
Elevation Gain: 465 feet
Trail Use: Hiking Only
Loop or Out and Back: Out and Back or Loop
Dog-Friendly: Bloods Lake - No, Lake Lackawaxen - Yes
Access: Transit to Trails is a great option for these hikes!
If you are a fan of high alpine lakes without having to travel far, boy, are you in for a treat! These two pristine lakes are perfect for picnicking and swimming. Bloods Lake is a local Park City favorite, as the trail is relatively easy but does have some moderately steep areas and can get very crowded as it is a very popular hike. But just beyond Bloods Lake by a mile, you will find Lake Lackawaxen, another dazzling high alpine lake. Since Lake Lackawaxen is a bit further of a hike, you'll get a little more solitude by going the extra mile. Also, your four-legged friends are allowed to swim at Lake Lackawaxen, unlike at Bloods, where dogs must be on a leash.
To reach both lakes, you start at the Bloods Lake Trailhead. Schedule a free ride with Transit to Trails. Note: Empire Pass is only open from May to October. The trail is beautiful as it meanders through meadows, with scenic views of the Wasatch and dense Aspen groves (my favorite - especially in the Fall). The trail can get pretty steep and a bit strenuous at one point but then flattens out as Bloods Lake comes into view. 
Beyond Bloods Lake sits Lake Lackawaxen just below Clayton Peak (Brighton Resort is just over the other side). As I mentioned before, the trail to Bloods Lake is popular, but if you continue onto Lake Lackawaxen, the crowds begin to thin out. What I love about this hike is that Lake Lackawaxen makes you feel like you are in high alpine terrain as you hike through open meadows and small scree fields before reaching the lake. It's quiet and peaceful, and the scenery makes you want to meander over hiking at a brisk pace.
To reach Lake Lackawaxen, you have a couple of different options. Park City's Mountain Trails Foundation made a trail that you can take to your left as you make your way from the trailhead. This trail is dog friendly, and it will take you directly to Lake Lackawaxen, bypassing Bloods Lake. Another option is to head to Bloods Lake first and then, finding the Lake Lackawaxen trail at the southeast end of the lake, hike up the path that looks like it leads left. You will hike up a couple of small hills, through pretty, open meadows and a small boulder field, where the trail could get a little fuzzy, but you'll be able to see it based on the worn-down rocks. If you feel lost, aim for the group of trees straight ahead, as Lake Lackawaxen is just beyond those trees.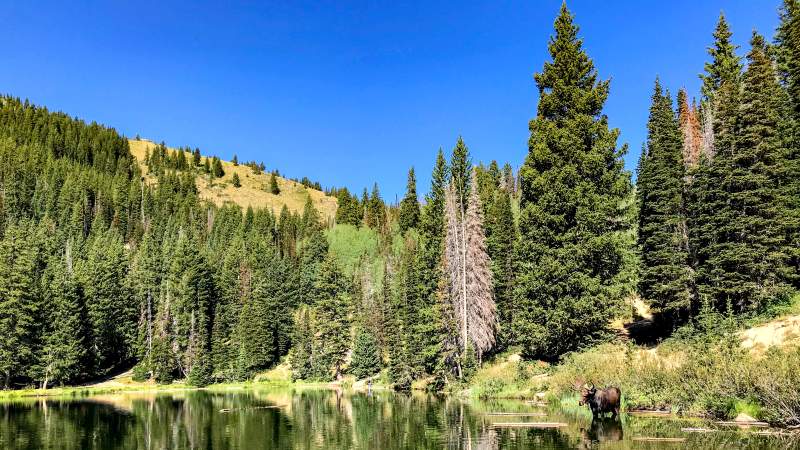 Silver Lake to Bald Mountain
Distance: 4.7 miles 
Elevation Gain: 1,433 feet
Trail Use: Hiking/Running Only
Out and Back or Loop: Out and Back
Dog-friendly: No
Access: Visitors can take free public transit to the Silver Lake Village.
Deer Valley's Silver Lake Trail is an intermediate hiking trail that is designated as a foot-traffic only, so you're guaranteed more tranquility as you hike through the peaceful landscape. This trail is perfect during the summer when wildflowers bloom and in the Fall when the aspens begin to turn their golden hue. This is an absolutely gorgeous hike that is well marked and starts at the bottom of the Silver Lake chairlift and ends at the top of Bald Mountain with picturesque cliffs on one side and a bird's eye view of the Heber Valley on the other.
As I started my hike up, I navigated through a narrow trail of dense trees that made me feel like I was in another world. Climbing higher, I popped in and out of aspen groves, and as I crossed over ski runs and under lift lines, the scenery was on display as it opened up to panoramic views of the Jordanelle Reservoir, my favorite part! The last 600 feet of elevation is a steep push, but once at the top, I continued to enjoy the 360-degree views of Park City and beyond.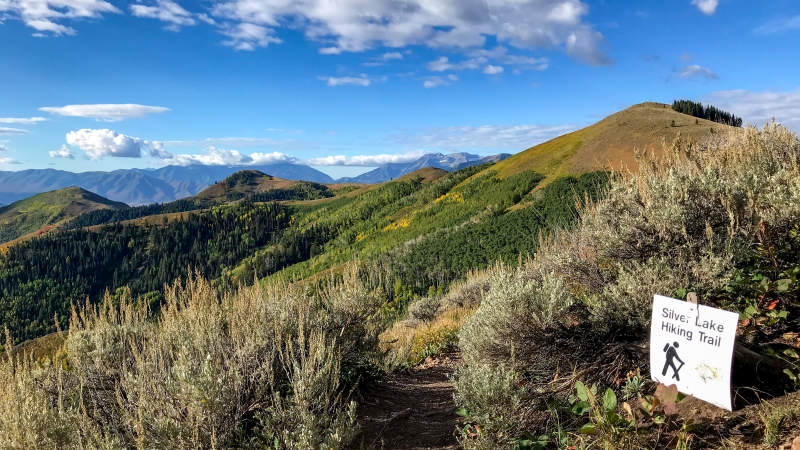 Lofty Lakes Loop
Distance: 4.4 miles 
Elevation Gain: 962 feet
Trail Use: Hiking/Running Only
Out and Back or Loop: Loop
Dog-friendly: Yes
Parking: Pass Lake Trailhead.
The Uintas are a magical mountain range close to Park City with quite an array of high alpine lakes. The Lofty Lakes Loop really showcases some beautiful scenery along with blooming wildflowers if you happen to head there during peak bloom, usually mid-July through early August. This hike starts at the Pass Lake Trailhead just off Mirror Lake Highway near Pass Lake. There are two trailheads for this hike - one in the NW corner of the parking lot and one in the southern area. We hiked this route in a counter-clockwise direction, so we started from the NW corner TH. If you want to hike this in a clockwise direction, start from the trailhead in the southern end. The trail is slightly rocky but very gradual and well defined. The first lake you come across is small yet quite picturesque - no wonder it's called Picturesque Lake! Continuing on, Scout Lake comes into view, and it's a spectacular spot with droves of wildflowers blooming. A perfect place to set up a picnic. The trail then starts to gain more elevation as you hike towards a small pass between Scout and Lofty Lakes. We encountered a small snow patch which just added to the joy of the day. As you make your way over the small pass, you get beautiful views of not only Lofty Lake but the many peaks surrounding you. Past Lofty Lake, you will start to descend a few switchbacks and have another excellent view, this time of Cutthroat Lake. Stay left at a faint trail split, and you should be hiking directly south where you will come to Kamas Lake. As you head back to the parking lot, you'll see a lot of great signage that will direct you where you need to go. Day hikes like this area are pure magic. You feel like you've gotten away from it all and are rewarded with all the views that add up to a great day out in nature. 
Advice: There is no permit, but there is a $6 fee (good for three days) for accessing the Mirror Lake Highway and trails. You can purchase the pass at the ranger station in Kamas, UT, or any self-serve stations along the highway. If you have an annual National Park Pass or yearly American Fork Canyon Pass, you can use either to park free.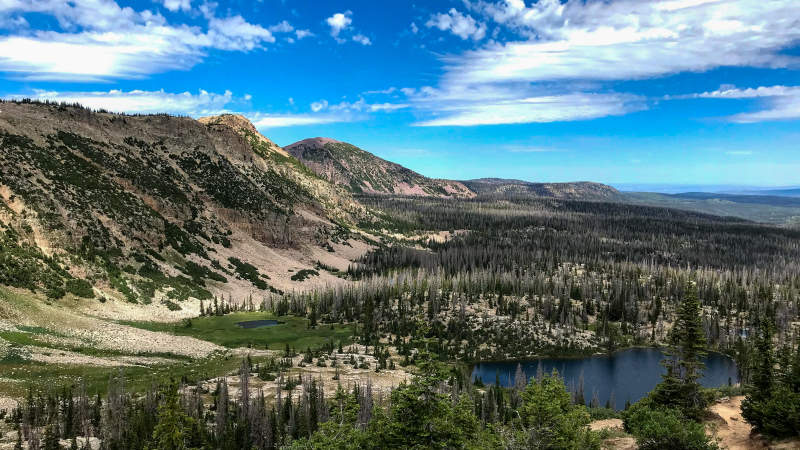 Three Divide Lakes
Distance: 5.4 miles 
Elevation Gain: 547 feet
Trail Use: Hiking/Running/Backpacking
Out and Back or Loop: Loop
Dog-friendly: Yes
Parking: Crystal Lake Trailhead
In addition to the Lofty Lakes Loop, The Three Divide Lakes Trail is another spectacular hike full of high alpine lakes for swimming, relaxing, and enjoying life outside. The trail is very well maintained, not very difficult, and mostly flat, so you can meander as fast or as slow as you want. You pass by several lakes with great views around every corner. To get to the Three Divide Lakes, when you reach Clyde Lake, make sure you actually go over the small ridge to the south (perhaps 100-150m). Although the trail is named after them, it does not actually go to them. If you don't walk over the ridge from about the middle or even western end of Clyde Lake, you will miss them completely. There is no sign indicating they are there, just hidden a very short distance away. That's why this hike is favorite - a perfect jaunt to find your own little slice of heaven.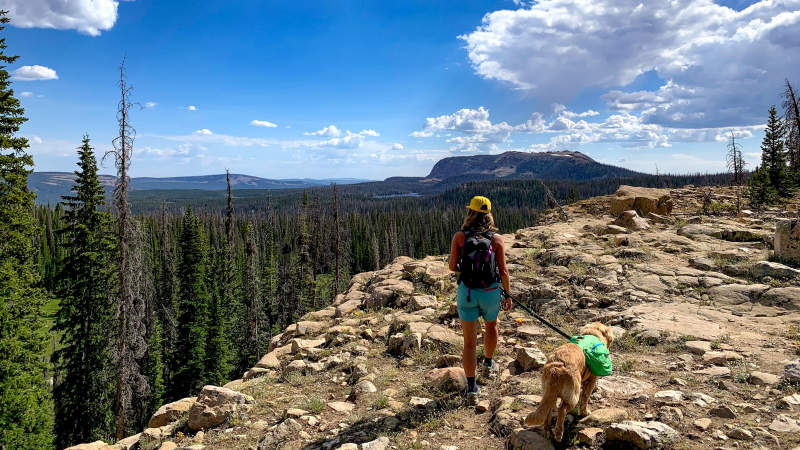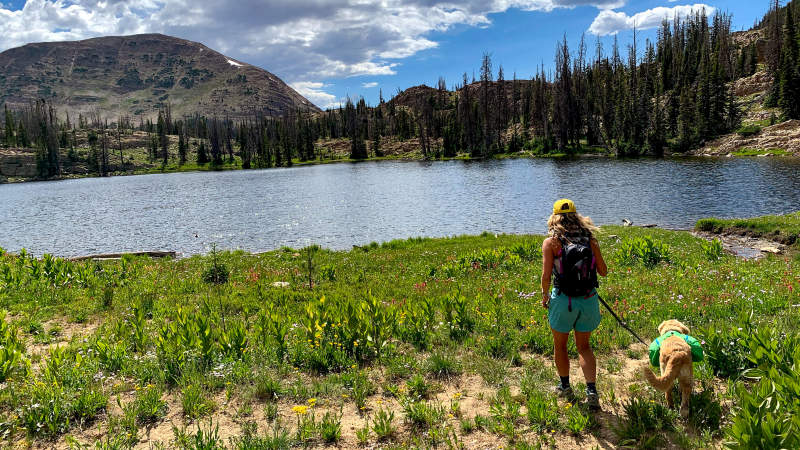 Armstrong
Distance: 3.3 miles 
Elevation Gain: 754 feet
Trail Use: Hiking/ Mountain Biking
Out and Back or Loop: Loop
Dog-friendly: Yes (on leash)
I love this trail in the Fall, as it is an excellent hike amongst the golden aspens. Take the 2-Green bus to Silver Star, located on Three Kings Road. From here, begin hiking on the Silver Spur trail for a half mile until you reach to get to the base of the Silver Star lift and head uphill, meandering through shady aspen groves. The trail does get pretty steep, but it is manageable. Take a break once you get to the King Con lift. I love sitting here for a moment dreaming about winter. You continue past the lift and back uphill. At this point, you've probably had a handful of mountain bikers pass you as this is a popular biking trail as well. Once you reach Dawns Trail, you'll start heading downhill with sensational views of Park City. Dogs can use this trail but must be kept on a leash. When you've completed your 3.3-mile loop, pop over to the Silver Star Cafe for lunch and then check out Silver Star Ski & Sport for any bike or paddleboard rentals you may need this summer.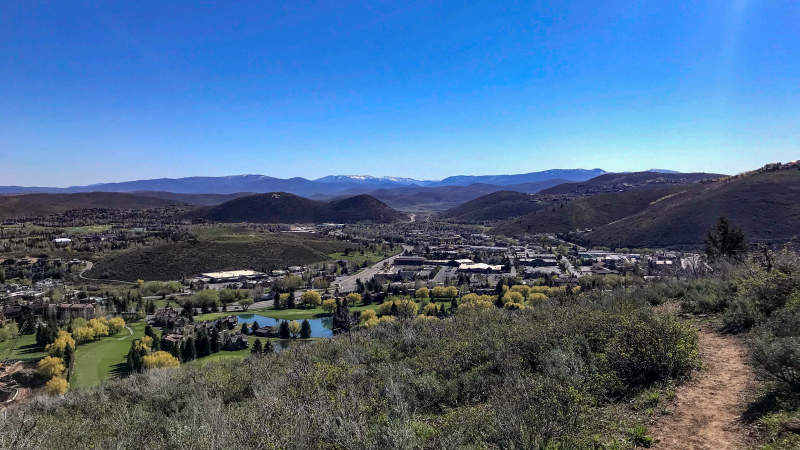 Advice
Set realistic goals and research the trail ahead of time - pay attention to the total distance and the total elevation gain. Have an idea in mind of how far you can comfortably hike in a day and how much elevation gain is too much, and get an idea of how long the hike will take so you don't get stuck on the trail in the dark.
Bring enough water and snacks for twice the time you think you'll be on the trail.
Tell a friend where you are headed in case of an emergency.
Bring layers and rain gear - the weather can be fickle this time of year.
Wear comfortable sneakers or hiking shoes.
Keep in mind the altitude if you are coming from a lower elevation - stop as many times as you need to catch your breath, stretch your legs, and hydrate.
Wear sunscreen - even on cloudy days, at our elevation, sun exposure is a year-round concern.
Leave No Trace - Pack out all trash you have, including dog waste, and stay on the trail.
Make sure your phone and camera are charged to take all the photos of the beautiful foliage.
Practice proper trail etiquette - downhill hikers always yield to uphill hikers. All hikers yield to horses. 
If you are on a shared multi-use trail, stay alert, and be aware of your surroundings. Mountain bikers should always yield to hikers.
Check to see if you can schedule a ride with Transit to Trails to get to your desired trailhead!