The beauty of being in Park City is that there are so many amazing lakes nearby. We decided to go to Rockport State Park since it's less crowded than Jordanelle or Deer Creek, but still has lots of great amenities. 
Since Rockport has so much to offer, we decided to make a big event out of it and invited Grandma, some cousins, and an uncle. We had 11 of us in total, but there was plenty of space for us to spread out and play and let the kids run wild for a while. Whether you're looking to sneak away for a few hours or are doing a big multigenerational get-together, Rockport State Park has something that everyone will love. 
What Makes Rockport State Park Unique?
Rockport State Park is a reservoir located a few miles north of Peoa, about 15 miles outside of Park City. Although it's so close, it's remote enough to make you feel like you've escaped for the day. There are beaches and great shores for swimming all along the edge of the lake. There are three day-use areas, with covered picnic tables and easy access to the water, nine campgrounds, and even cabin and yurt rentals. While we were just visiting for the day, we are already planning on going back next month and camping, since the easy water access from the campgrounds is something our kids would absolutely love.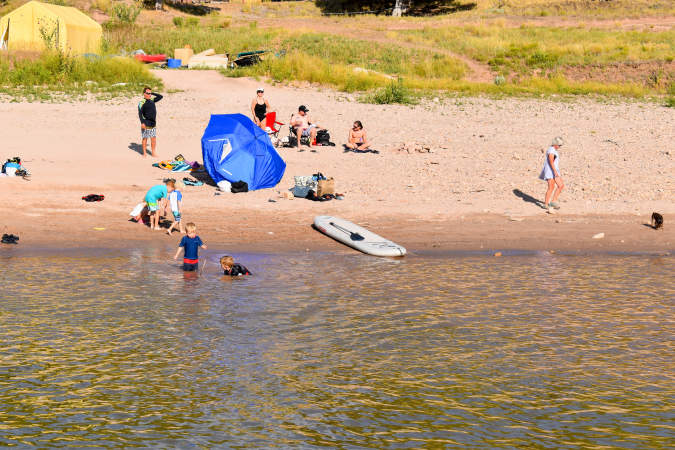 What is There to Do at Rockport State Park?
As you can imagine, the main draw of Rockport State Park is the lake. If you're coming up for the day, plan on parking at one of the day-use areas. We found that the beaches at the Highland picnic area to be great for kids with fewer rocks than other areas and lots of space for them to run around. 
While there is no designated swim beach at Rockport, there is a no-wake zone along the shores, and we felt very comfortable letting our kids swim there. We were there on a Friday afternoon and evening, and I was shocked by how few boats were on the lake (less than 15), which made it feel even safer for kids.
We brought our SUP, a few small inflatable toys, and lots of buckets and shovels, and the kids were in heaven. The older kids spent most of their time swimming and paddling around on the SUP while the younger kids were pretty content to dig in the sand and splash in the shallows. The water temperatures are really pleasant this time of year, so the kids had no hesitations about jumping right in. 
My middle son loves to fish, and he was thrilled to learn that there are docks designated for fishing only. If you've got a fisherman in your crew, make sure to bring all your gear along, since this is an excellent spot for fishing.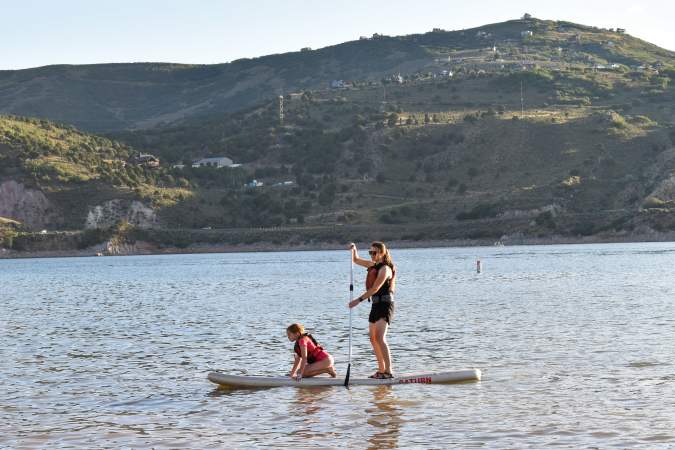 Boat Rental at Rockport State Park
Boat rentals are available at the Marina at Rockport, where you can rent ski boats, kayaks, wave runners, and SUPS. You can also rent a floating pavilion and water trampoline for only $130 for 4 hours, which is excellent for large groups like ours since it includes a table, seating for 12, and a barbeque grill. 
Since we were trying to appeal to a large age range with toddlers, teens, adults, and even Grandma, we decided that a wave runner would be the best boat to rent while we were there. The wave runners fit three people, so we took turns with the adults riding with a couple of kids each, and it worked out amazingly well. We paired each of the kids up with a cousin who was similarly adventurous and then took them for rides. The toddlers got to go nice and slow and were hilarious as they shrieked with every splash of water. The teens were an absolute blast as they wanted to ride as hard and fast as possible (they fell in several times, which they loved). Probably the highlight for me was seeing the kids all beg Grandma to be the next to ride with her. 
It was such a perfect combination for our big family group that I know we'll be back soon to rent wave runners at Rockport again. Finding an activity that a 3, 13, and 63 years old all love equally can be pretty difficult, but this nailed it, and I feel like riding wave runners here was one of the best activities we've done together. 
One big perk of renting a boat at Rockport is that all gas is included in your rental fee. This can make a significant difference in the price of your rental since most marinas charge you for the gas used, which is usually at a $5/gallon price, which adds up quickly. The staff were also incredibly kind and were so patient getting all the kids fitted in life jackets and always helped them on and off the boat.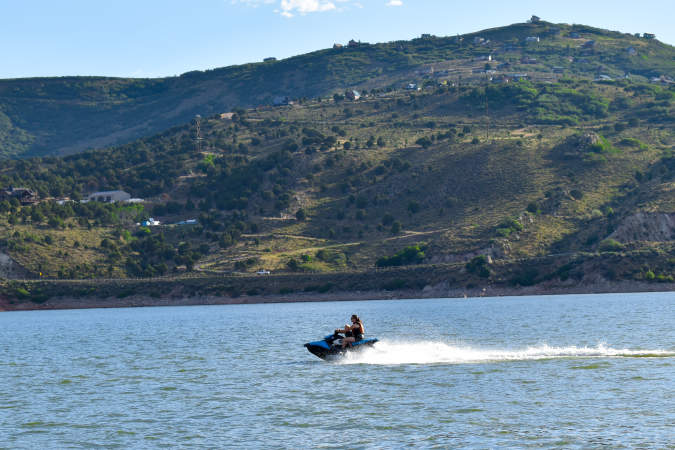 Eating at Rockport State Park
If you're looking for fine dining at Rockport, you won't find it. You will find a convenience store at the marina that sells snacks and a bit of boating and fishing gear. It's great in an emergency, but if you're planning on being there for the day, you're going to want more. 
Your best option for food at Rockport State Park is to order a to-go lunch from a restaurant or deli in Park City. We were there in the afternoon and evening, so we decided to order a picnic dinner from Luna's Kitchen. Hands down, the best thing we tried was the Cobb Salad, which was the best Cobb I've ever tried complete with peaches and maple-flavored bacon. While they don't have a kids menu, there are plenty of kid-friendly options to choose from. Our younger kids picked the ham and cheese quiche, which was the perfect non-messy meal for them and worked great since they would only take about three bites before jumping back in the water. We tried a few other things, and everyone decided that the BLTA was the best sandwich from Luna's Kitchen. 
The grand finale of the night was when we brought out dessert. The cupcakes were the clear winner among the kids (the frosting was so light and delicious), but I personally loved the peanut butter chocolate chip brownie. The best part about eating cupcakes at the lake is that when the kids are done making a mess, you can just throw them all in the lake to rinse off.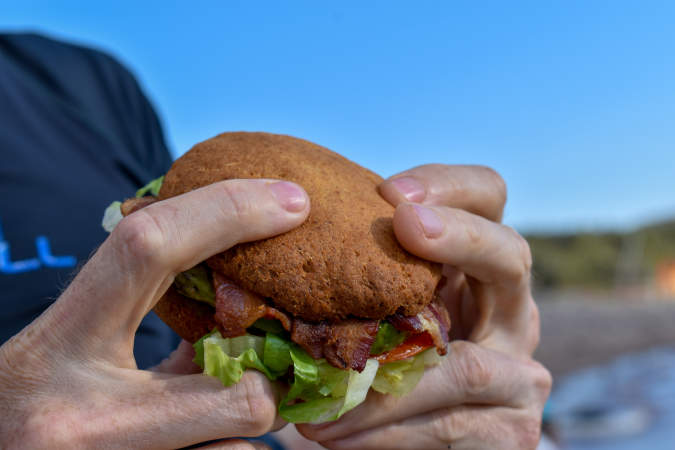 What to Take With You to Rockport State Park?
If you're heading out for a lake day at Rockport, it's time to pack all the toys and food! Here are some essentials that you won't want to forget:
Picnic lunch or dinner: We recommend Luna's Kitchen.
Water toys or inflatables: SUP, kayaks, tubes, and other floaties are all great.
Shade: Although the picnic areas have shade, there is no shade right on the beach, so plan on bringing a shade tent or giant umbrella.
Beach Toys: If you've got younger kids, shovels and buckets are a must. For older kids and adults, bring along frisbees, a soccer ball, and a trick kite. 
A beach or picnic blanket.
A lot of sunscreen.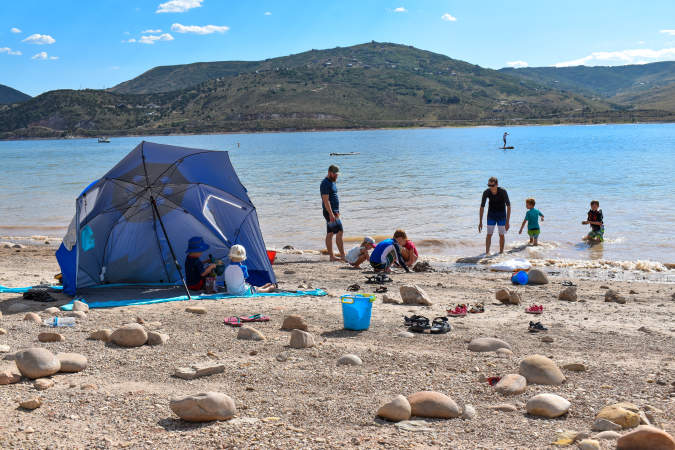 At 8:30 pm, we were literally dragging the kids out of the water because they decided that this was the best place ever, and they were never leaving. That's the power of getting outside and adventuring as a family here in the mountains around Park City.