It's not a secret that there are plenty of places to get a great glass of wine in Park City. However, there is only one place in Utah with a wine collection this varied that offers a wine tasting with a certified Sommelier.
Details
Where – Stein Eriksen Lodge.
What – 1hr Private Wine Tasting with Sommelier
When – Offered at 4 or 5 PM Daily, Reservation Required
Who – Up to 20 Guests 
Experience
Right from the start, the experience had my attention and was exciting. After checking in and being welcomed by Sommelier, Jim Dahlgren, my guest and I were escorted to an unexpected area of the property and brought to an unmarked door, only to find one of Utah's most extensive wine cellars.
With over 15,000 bottles of wine and 12,000 different selections, it is not a surprise that the wine cellar at Stein Eriksen Lodge is the largest in the state. After entering, Jim gave a brief history of the collection and how it has grown over the years, as well as a quick overview of the system in which they keep track of over a 1 Million dollars' worth of wine.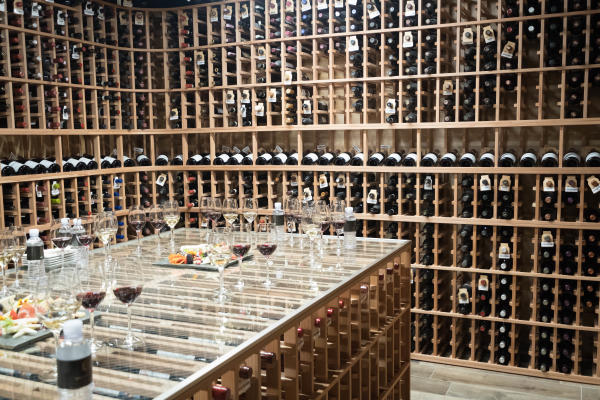 Afterward, we moved to the back room of the cellar where we each had six glasses of wine and a charcuterie board waiting. I had selected the Wine Tasting option and had two white and four red wines pre-selected by the Sommelier to taste together.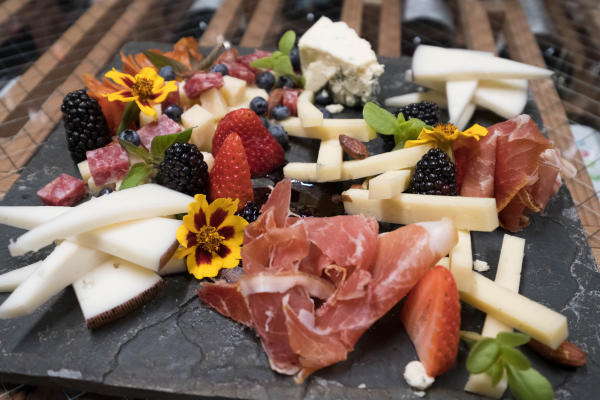 I must say, this can be for all levels of experience, from new fans of wine to experienced wine enthusiasts. I have been enjoying wine for some time and was very excited to have the opportunity to spend an hour with a sommelier. However, while my appreciation of wine is great, my knowledge is not as vast. Fortunately, Jim was a great host and answered every question I had. Additionally, I was able to learn some tasting techniques and what it meant when certain sensations occurred while sipping wine.
As a group we worked our way through each glass, discussing the color, aroma, taste, and the finish of each one. I asked basic questions while my guest asked more advanced questions, which worked out great for me as I learned a lot. Additionally, the three of us discussed our individual tastes and each of our progressions into the wines we usually prefer to drink.
After discussing our thoughts about the last glass, it was time for the big reveal. This was my first time participating in a tasting, and I really enjoyed the experience of guessing what varietals of wine were in each glass. Additionally, after each wine was revealed, Jim gave a little more insight into each wine and the location it was from.
Highlights
The behind the scenes look into the wine cellar and the opportunity to taste with a certified Sommelier was fantastic.
The selection was amazing, and I enjoyed each wine very much, some more than others, but definitely tasted some new wines I will consider in the future.
I loved how conversational this experience was, even though I learned a lot, it didn't feel like a lecture or class.
Advice
Dress warm, the tasting lasts an hour inside the wine cellar, where it is kept at a cool 55 degrees Fahrenheit to keep the wine at the perfect temperature.

Don't be shy, take advantage of being with a certified sommelier and ask questions. 

This was an awesome experience to do as a couple, however, it would also be great for a group of wine-loving friends. My advice would be to have a small group so everyone can participate in the same conversation. 

Make a dinner reservation at Glitretind Restaurant to immediate follow your tasting.
Dinner at Glitretind
While making your reservation for the Wine Tasting, I highly recommend making a dinner reservation at Stein Eriksen's award-winning restaurant, Glitretind to follow your Blind Tasting. The name Glitretind means "Shimmering Mountain" in Norwegian, and it is very fitting as the dining room looks out on the snowy mountains of Deer Valley. The menu at Glitretind offers regional American cuisine, focusing on meat, fresh seafood, and locally sourced ingredients. The restaurant's menu of hearty fare changes completely twice a year. Making it a great addition to your wine tasting experience.
Not only will you enjoy a wonderful fine dining experience, but the Sommelier you just spent an hour discussing wine with, will have a thorough understanding of your preferred taste in wine. Ensuring that they can recommend the perfect glass or bottle of wine to compliment your palate and dinner.
For those new to wine, this will be a fun and unique learning experience. For those who are passionate about wine, the Wine Tasting is an amazing opportunity to talk about wine and test your skills!
If you are looking for a unique experience on your next holiday in Park City, or want to add a little more to a celebratory dinner, look no further, as this will surely be one of the memorable moments you will want to relive and share with others. 
To make a reservation, call Giltretind Restaurant at (435) 645-6455.