Did you know about the designated U.S. Olympic training site right here in Park City? Imagined and constructed for the 2002 XIX Olympic Winter Games and the VIII Paralympic Winter Games, Utah Olympic Park (UOP) is a global legacy and Park City's most renowned venue.
It gets better.
Your group gets to be a part of it (really be a part of it!) when they meet in Park City.
Take a peek at the UOP webcam for proof, then hop back here to read five surprising facts about this inimitable venue.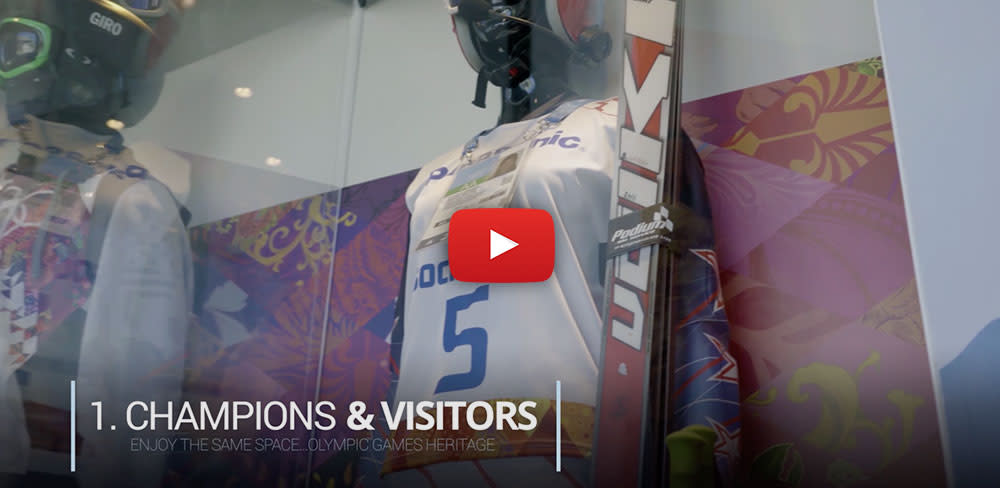 World champions and visitors enjoy
the same space.
Seventeen years ago, UOP hosted 14 events during the Games in Utah. Of course, the question after the Olympics ended remained: how will this Olympic legacy continue to create lasting benefits for Utah residents and visitors from all over the world?
This unique opportunity has shaped the one-of-a-kind experiences found at UOP, and it's created a tangible connection to the spirit and Olympic heritage of Park City.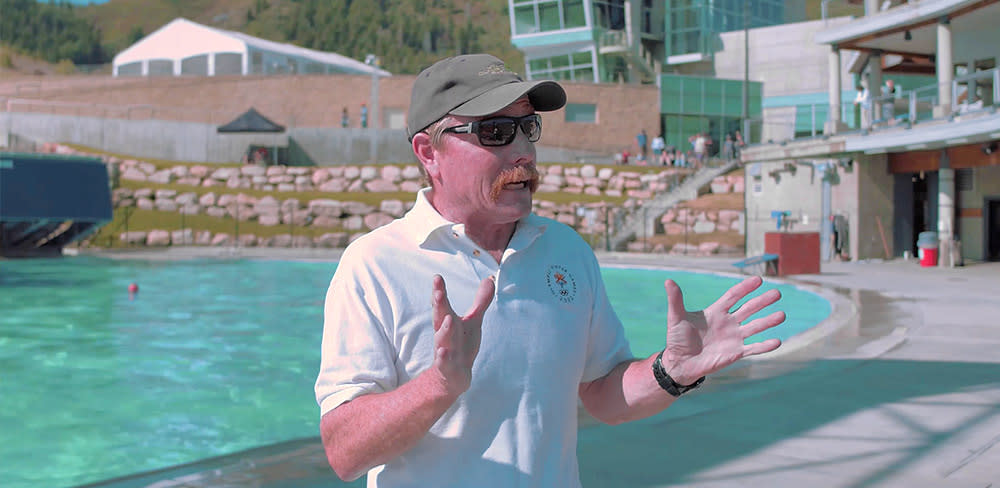 UOP has the revered
Carl Roepke.
Even if you've heard the story about UOP's Olympic heritage, there might be one aspect of UOP that you're not aware of:
UOP has Carl.
No one tells the Park's story and brings the Games to life better than Carl Roepke. As a former USA Luge Team member, an '08 and '09 U.S. Luge National Masters Champion, the commentator for the 2002 Olympics, and more notably, the beloved tour guide for UOP, he's the man that really binds the entire group experience together. Truly.
And the best way for your group to get the Carl Experience is to plan for a guided tour. He'll take attendees around to explore the venue and learn about the amazing stories of Olympic achievement (and even tell some tales that can't be read anywhere). Your group will get to visit the top of the world's highest Nordic ski jumps along with one of the fastest sliding tracks in the world. It's a tour that sticks with people, long after they've departed Park City.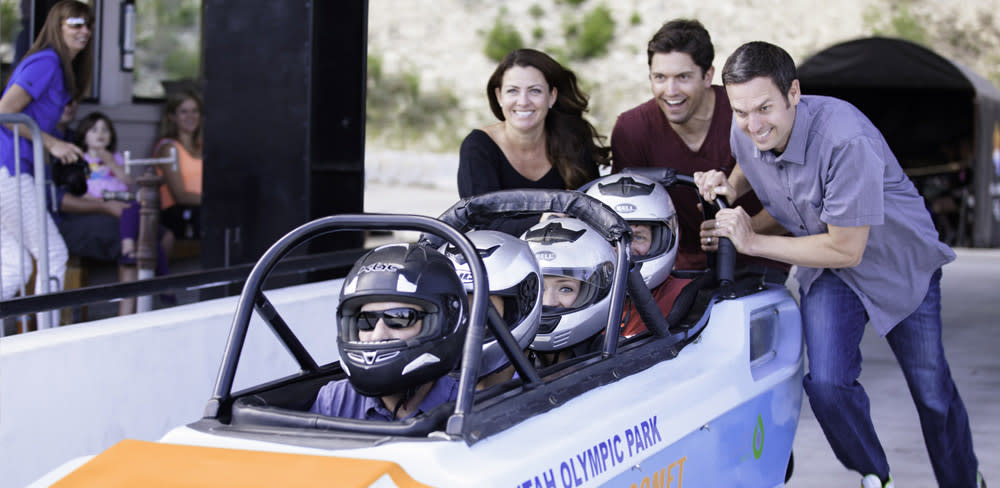 Attendees can ride in a bobsled down an
Olympic track.
Summer is peak season at the Park. That means summer packages, beautiful weather and exclusive experiences – like riding in a bobsled down the same track that was home to bobsled, skeleton and luge events during the 2002 Games. How thrilling is that? How unique is that? You haven't bonded with a team member until you've hit about 60 mph in a bobsled with them.
Maybe your group doesn't want to go horseback riding or hiking one day. UOP gives groups of all sizes and athletic abilities the chance to do something different. They can zipline over the pines, take a chairlift ride, test their agility on the ropes course and even see world champions train, all in a day's fun.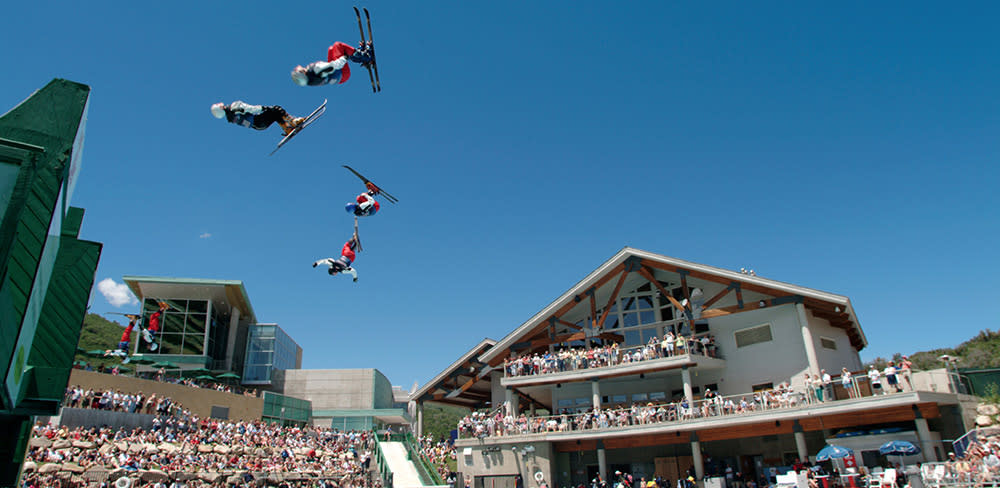 Olympians turn into acrobats.
During the Flying Ace All-Star show, attendees can see Olympians and National Team skiers and snowboarders in acrobatic form as they ascend up to 60 feet in the air before landing in the Spence Eccles Olympic Freestyle Pool.
It's as cool as it sounds.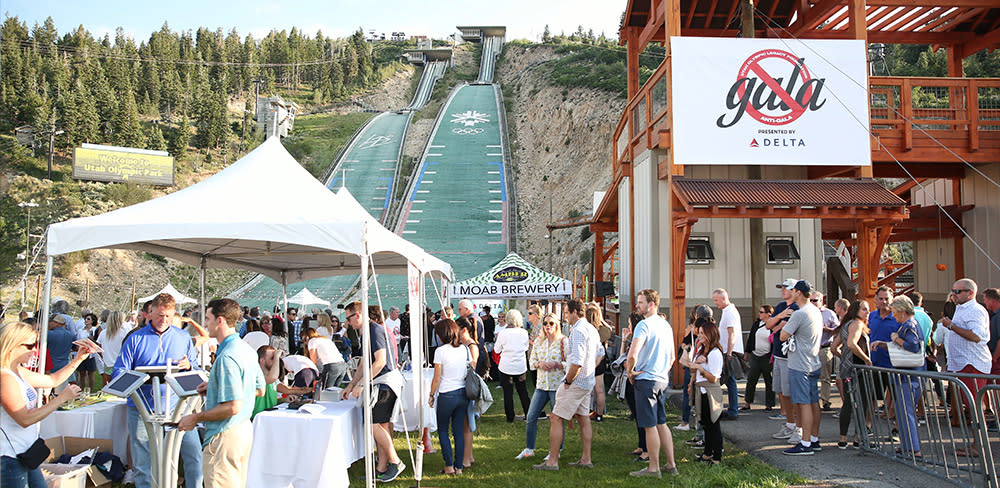 The meeting spaces
are epic.
From a one-of-a-kind space perched at the top of the K120 Olympic Nordic ski jump to meeting rooms with picturesque basin and mountain views, the meeting spaces at UOP are far from ordinary.
Ready to pique attendees' interests and boost attendance? Sometimes, it only takes a venue and a team of destination experts.
Submit your RFP to get the planning going or reach out directly to our team to start some conversations.