If you're an individual between the ages of 9 to 99, you've probably heard someone singing the praises of pickleball. 
A combination of tennis, ping-pong, and badminton, pickleball is one of the fastest growing sport in the U.S. for the last three years. According to the Association of Professional Pickleball Players, an estimated 36.5 million people in the country are playing pickleball, with A-list athletes like LeBron James and Patrick Mahomes investing in professional pickleball teams.
A fast-moving game that appeals to all ages, pickleball was invented in 1965 by three friends looking for a game to play on vacation in Washington State. While the sport isn't exactly brand-new, pickleball has recently experienced a meteoric rise in popularity.
Proponents of the game say it's easy to learn, social, and fun—and it can be as competitive as you want it to be. Players of any age or skill level can enjoy pickleball almost immediately, and you don't need much, if any, racquet experience to pick it up fairly fast. All you need to play is a court (often a repurposed tennis court), a paddle, balls, and a few friends. 
If you want to brush up on the rules of the game, check out some pickleball videos to master the basics. 
Ready to play in Park City? Read on. 
The Popularity of Pickleball in Park City
The Park City community has seen a growing interest in pickleball in recent years. Pickleheads.com ranks Utah as the state with the most interest in pickleball in the U.S. 
What's behind the growth of pickleball in Park City? "There's a healthy, active adult community here in town that has been driving the popularity of pickleball," says Greg Leitzke, tournament director and past president of the Park City Pickleball Club. Case in point: Four years ago, the club had about 30 members. Today, there's more than 1,000. 
The sport has no age limit, either. Alongside the 50- to 60-somethings who've traditionally played pickle, there are kids as young as 8 playing now, Leitzke says. There's even a pickleball club at the high school. Add in a few hundred more people who are either just visiting or pickleball-curious at any given time, and you've got thousands of people looking to pick up a pickleball game in Park City.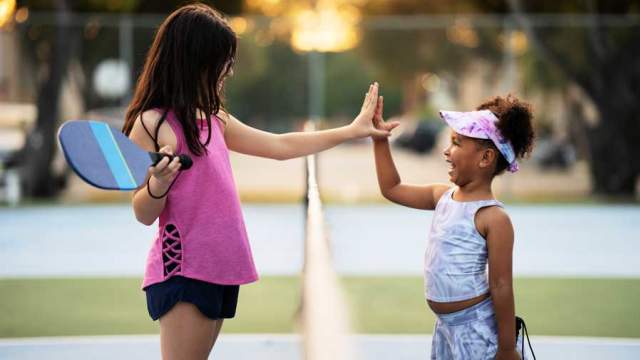 Where to Play Pickleball in Park City
Whether you're a beginner or looking to get involved in competitive play, you're in luck. No matter where you're from, visitors to Park City can rest assured they'll be able to find a pickleball game that's perfect for their skill set and experience. 
To join open play: 
For a one-time fee, you can join open play sessions throughout the week at the Park City Municipal Athletic & Recreation Center (PC MARC) or Basin Recreation.
If you want to try joining a pick-up game, head to Willow Creek Park, which has four fenced-in tennis courts that can be repurposed for pickle. All you need to bring is your paddle! 
It's first-come, first-served, but Leitzke has a pro tip: Go between 8am and noon. "That's when people come to get together for a game, and you'll meet people from not only Park City, but also people visiting from all over the country," he says.
To Play with a Foursome: 
If you have a group of four ready to play, check out the free courts at City Park or Trailside Park. These are also first-come, first-served, but you'll need to supply your own teammates and gear. City Park, closer to downtown, features three fenced-in tennis/pickleball courts that have pickleball nets set up, while Trailside has four fenced-in courts with pickleball nets available as well. 
To Take a Lesson: 
If you'd like to brush up on your skills or learn the rules, the PC MARC offers clinics and lessons. All clinics require pre-registration. To learn more about lessons, contact the PC MARC. 
To Get Competitive: 
Consider joining the Park City Pickleball Club for a one-time fee of $25. Then you'll have access to the Club's full list of tournaments, socials, and other events. You'll also be able to choose from up to 20 open play events per week, which take place at City Park, Trailside Park, and PC MARC all summer long. Players ranked 2.5 and up in the DUPR scoring system are welcome.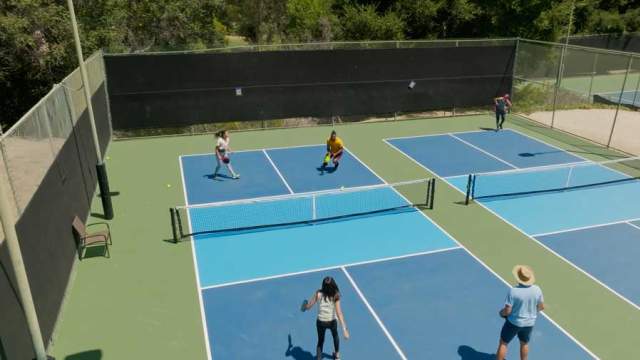 Visiting in the winter? 
During the winter months, there are fewer options for open play, but the PC MARC has indoor courts available to rent.
In even better news for pickleball players planning to visit Park City in the future: The Park City Council recently approved a plan to build eight new indoor pickleball—plus 16 outdoor pickleball courts—at the Park City Sports Complex (PCSC) in Quinn's Junction, as well as additional improvements to the PC MARC's pickleball facilities. 
Clearly, there's no stopping the rise of pickleball in Park City—so you might as well get in the game!