Park City is renowned for excellent cuisine, from fine dining to slope-side nibbles and everything bite in between. The only challenge with choosing a restaurant for allergy-free omnivores is the plethora of options. Selecting a restaurant (especially in a group setting) can feel daunting and sometimes scary for those with dietary restrictions or allergies.
Fortunately, Park City has plenty of restaurant choices that accommodate a variety of eaters. It's more than possible to satisfy everyone in the group – from a hearty plant-based meal to safe dishes for someone with celiac or other allergies to inclusive dining experiences.
Dive into this list of recommendations that covers breakfast, lunch, and dinner at eateries that cater to restrictions, and let the feasting begin.
350 Main
With nearly 30 years of operating experience, 350 Main is a staple Main Street dining establishment. It remains a family-owned restaurant committed to delectable dishes for a memorable evening feast. 
"We feel it is incredibly important to make everyone feel welcome and know they can enjoy an amazing meal in our restaurant. We want anyone that walks through our doors to be able to sit down, eat something delicious, and not have to worry about anything else," explains General Manager Ryan Monette. "When developing our menu, our chef considers options for every dietary need."
Bursting with locally sourced ingredients, the menu clearly states dishes that contain nuts, gluten, or animal products. And diners with allergies can rest assured that integrity is the top priority.
"Our executive chef, Jason Johnson, takes food safety and food allergies as a top priority. There are specific places in our prep kitchen where the high-allergy items are prepared. Prep areas are always sanitized between items. We use color-coded cutting boards. We even keep our fryers entirely gluten-free. All of this is to ensure that cross-contamination does not occur," Ryan explains. "We also do everything possible to change a dish to cater to your preference. Our servers are very well versed on what can and cannot be left off a dish to adhere to an allergy or preference and well-armed with alternatives."
"We have tons of options for everyone," Ryan says. "My personal favorite is our vegan entrée, the Indonesian Rice Noodles. It comes with an Indonesian peanut sauce, rice noodles, green beans, crispy shallots, and a coconut broth."
Five5eeds
An Australian-inspired breakfast and lunch establishment, Five5eeds embraces Park City's health and wellness culture. Local ingredients grace the detailed menu item descriptions with clearly marked indicators for dishes that contain nuts, gluten, and animal products.
"It's important to us to offer meals that cater to food allergies/sensitivities," explains Five5eeds operator and co-owner Ian Pope. "Many of our dishes are naturally vegetarian, vegan, or gluten-free. Not because we consciously designed them that way but because we love using unique, nutritious ingredients and different flavors. Most of our dishes containing meat, animal, or wheat products can be changed by request (noted in the menu). We don't simply omit key ingredients, but substitute them for high-quality, nutrient-rich options that result in a well-balanced, tasty meal."
Ensuring customer safety is a top priority so patrons with allergies can indulge without stress. Simply inform the waiter of any allergies, and the kitchen will take it from there. "All allergy dishes are prepared separately, on clean equipment and fresh service ware," Ian states.
For people breakfasting with restrictions, Ian's top recommendations include, "For a lighter breakfast, our Chia Pudding and Bircher Muesli are naturally gluten-free and can be made vegan on request. For a heartier breakfast, our Breakfast Sandwich is nut-free and can be made gluten-free, and our Pulled Pork Benedict can be made gluten-free."

Hearth and Hill
In December of 2023, Hearth and Hill, a beloved Kimball Junction gathering spot for lunch and dinner, will celebrate five years of operational success.
Brooks Kirchheimer, founder and owner, explains why the establishment is committed to creating an accessible dining experience for an assortment of dietary needs. "It is important to offer a variety of choices for guests with all dietary restrictions because, as frequent restaurant diners, we know it can be difficult to find a restaurant that can accommodate a wide range of dietary needs. We want to make it easy for our guests to know exactly what they can order." That's why the menu marks dishes containing gluten and animal products.
"Our service staff has extensive knowledge of nut-free or dairy-free items. Each time we come out with a new menu, our culinary and front-of-house managers get together and put a full 'menu matrix' together that states what ingredients every menu item contains and what allergens it would contain so that servers have that knowledge at their fingertips," Brooks explains.
People with allergies need to notify their server at the time of ordering. The kitchen takes rigorous action when receiving allergic notifications. "We have a Chef or Manager review all items with serious allergies before they leave the kitchen and head for the guest's table. We have also trained extensively with our staff on the importance of being aware of any and all modifiers on any item ordered."
One of Brooks's favorite menu items is the Beer Battered Cauliflower (GF, V). "It's been one of our best sellers since it came on the menu over three years ago. It is made with a Carolina gold sauce in a GF fryer."
Salt Box
Located in Prospector Square, Salt Box is Riverhorse on Main's casual counterpart, serving breakfast, lunch, and dinner. It's a place where anyone can eat any meal of the day because the Salt Box menu is for everyone.
"Parkites are avid enthusiasts of sports, healthy diets, and outdoor adventure. We are here to support them and cater to their tastes and needs without cutting corners," explains Director of Operations Vasile Petric. "We are not saying that our food is mostly vegetarian, vegan, or GF by any means, but we are considering healthier alternatives and wholesome ingredients for our menus."
Customers with allergies or preferences must inform the wait staff when ordering. A well-trained team of chefs follows strict procedures for preventing cross-contamination. "As a rule of thumb, our staff members are always making sure to confirm all dietary restrictions and allergies, as well as the level of the sensitivity of our guests," Vasile states. "Starting from a clean knife cutting board to the dedicated friers, our culinary team is always encouraged to take the extra moment to make sure the order is executed as per the instructions received from our Front of House associates. We empower our team and offer the right tools for our kitchen associates to perform all special requests with grace and without any of them considering these requests a nuisance."
Vasile's favorite dish for folks with food sensitivities is the Curry Bowl. "It's dairy-free, gluten-free, vegan, flavorful, colorful, and a crowd-pleaser. We typically serve it with chicken for a boost of protein. However, I like to substitute the chicken for grilled tofu. Super versatile and tasty."

Sammy's Bistro
Nestled in Prospector Square, Sammy's Bistro is a comfortable and family-friendly eatery. The extensive menu features made-from-scratch recipes focusing on fresh, high-quality ingredients.    
The founder of Sammy's Bistro is a Parkite and former competitive skier, Sam Harris. His endeavor began as a booth at the Park Silly Sunday Market. He opened the Bonanza Drive-based restaurant in 2011, intending to provide delicious and affordable food for all community members. The menu is influenced by Sam's years of experience as a line cook and waiter.
Gluten-free and folks with celiac will appreciate the carefully donated menu, highlighting gluten-free items and appropriate modifications. Sammy's Seafood Cioppino with Rice is a conglomeration of clams, mussels, calamari, prawns, and mahi mahi. The Savory Chicken Bowl features pulled slow-roasted chicken, Asian spices, and vegetables, with a signature broth and tomatillo aioli. Both dishes earned a place on Diners, Drive Ins, and Dives and are favorite meals for people with celiac and gluten sensitivity.
The herbivore-friendly menu features an assortment of vegetarian and vegan-friendly dishes, including the Vegan Coconut Red Curry with Rice featured on Diners, Drive Ins, and Dives. The entrée combines a cornucopia of vegetables in a house-made curry broth (also gluten-free).
Dos Olas
The Pendry Park City, located in the Canyons Village, features various savory cuisine options, including the area's newest Mexican eatery, Dos Olas — where the executive chef, Carlos Segura, crafts menu items that reflect his heritage in Mexico City. The dishes are made from scratch and include secret family recipes, like the 27-ingredient mole that simmers for five days before serving. Plus, a variety of signature entrées seeped in Chef Carlos' authentic Mexican cooking.
Eaters with dietary restrictions can appreciate how the menu clearly states allergies and dietary accommodations. Herbivores are in for a real treat, with several options, including the Coliflor Con Mole featuring the revered five-day mole, sweet plantains, and roasted cauliflower. People with gluten sensitivities will find plenty of options as well, like the Avocado Shrimp Ensalada with grilled shrimp, mixed green, avocado, heirloom tomatoes, and cilantro-lime dressing or the signature Nachos Grande with barbacoa chicken or carnitas, served on house-made tortilla chips with guacamole, Oaxacan and asadero cheeses, and jalapeños.
The libations feature authentic Mexican beers and a robust selection of tequilas to accompany a feast. Compliment the authentic Mexican meal with an unforgettable cocktail. The Strawberry Guava Mezcalita mixes mezcal, High West Rendezvous Rye, and Domain de Canton with Atticus Strawberry Guava Tea shrub, Drambuie, lime, and Telegraph honey.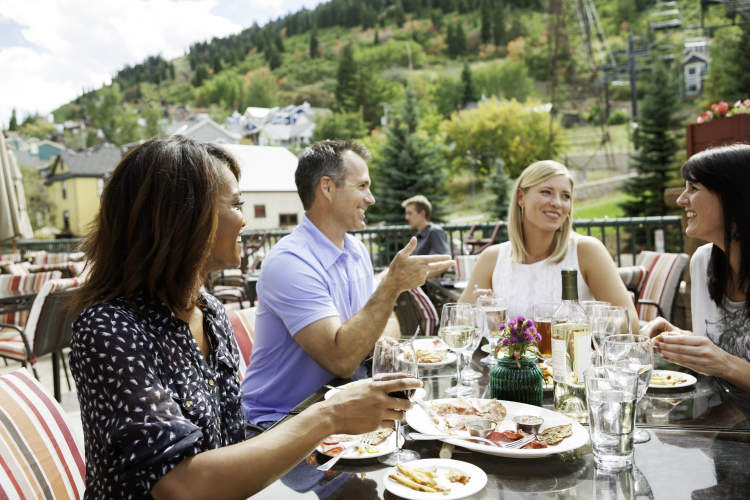 But Wait There's More
These are just a sampling of great restaurants that accommodate gluten free and specific allergy diets. Many restaurants in Park City can accommodate most dietary restrictions. Calling ahead and reading menus beforehand is key. So don't let anything get in the way of your culinary adventure in our little mountain town. We have some truly world class eating establishments featuring cuisine from all over the world!