After lots of anticipation and excitement, Woodward Park City is finally open for business! If you've been around Park City for a while, you'll instantly recognize Woodward Park City as the location of the former Gorgoza Park tubing hill. After purchasing Gorgoza, Woodward has turned the area into a giant action sports complex. Even though Woodward has a lot to offer, the tubing hill is definitely one of the top winter highlights and is one of the best activities for all ages of winter fun in Park City. While we were there, everyone from toddlers to grandparents was joining in on the fun.
Details
What: Tubing
Where: Woodward Park City
When: 10 AM - 8 PM (Last start time is 6 PM)
Who: All Ages 
Prices: Tubing sessions are sold in 2-hour blocks. Ages 7+: $40- $60; Ages 4-6: $20 - $30; and Ages 3 and under: Free
Prices vary depending on time, day, and volume, and they do sell out. Reservations are recommended.
Experience 
I recently took my boys ages 5, 7, and 12 to the tubing hill to check out their new runs and see if it passed the "kid fun test". Well, it's no shocker, but they all loved it and my 7-year-old said that it's the coolest thing he's done all winter! If even the thought of sledding or tubing with your kids makes you tired, then Woodward is perfect for you! Perhaps the best part of going to a tubing hill like Woodward is that you don't have to waste all your energy constantly walking back up the hill.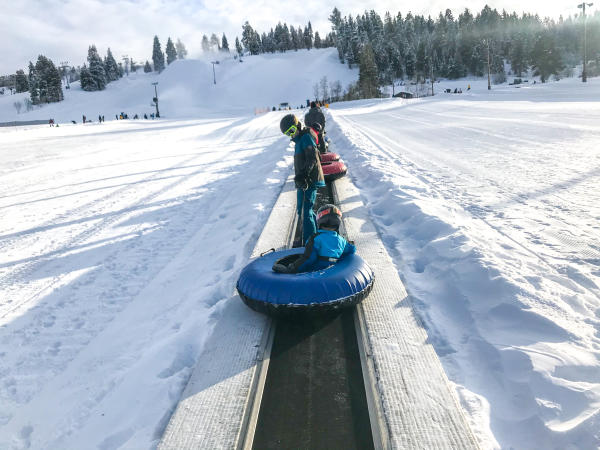 Once you get to the tubing area and pick up your tube, head over to the magic carpet surface lift for a ride up the mountain. If you've never ridden a magic carpet before, it's essentially a moving walkway (like at the airport), that's designed for snowsports. The first magic carpet will drop you off at mid-mountain if you'd like to try the shorter hills. Here there are 3 shorter lanes which are a perfect introduction if you're feeling nervous or have younger kids with you. 
I took my boys on the shorter hill and everyone agreed that the shorter hill was too slow for their tastes, so every time thereafter, we opted to take the second magic carpet all the way to the top. Once you get to the top, you're greeted with 4 lanes and a 1,200-foot tubing hill to speed you down to the bottom of the mountain. It looks like a pretty long run from the top, but in reality, it only takes about 30 seconds to go down.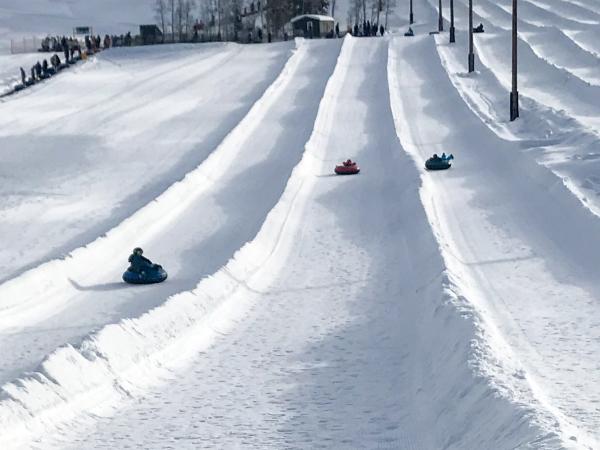 My 5-year-old was a bit nervous on our first run, so I had the brilliant idea that we would go down together, with me holding onto his tube. Well, as it turns out, going down in a group, only makes things go FASTER because of the extra weight, so while he was happy to have mom right there, he wasn't a fan of the extra speed. The opposite was true of my older sons, who saw how fast we went and from then on, only wanted to go in a group so they could go as fast as possible!  For safety reasons, they only allow groups of 4 tubes at a time, which turned out to be perfect for us. 
Since there are 4 lanes at the top, you can also race each other down the hill, with everyone having their own lane, so you don't ever have to worry about collisions.  
How safe is tubing?
As a parent, one of my biggest concerns when taking my kids somewhere new is safety. I know from lots of experience that my kids like to push the limits and that always causes me a bit of anxiety. Thankfully, after our first run, I felt absolutely safe as we were tubing at Woodward. Even though the tubes can get going pretty fast, I never felt unstable or that there was a chance of falling out. There were a few times were our tubes started spinning around a bit and we even bounced into the walls a time or two, but because of how well everything is groomed, it was a really smooth ride the entire time. If you're worried about safety, sit lower inside of your tube where you'll be more balanced. If you want more of an action-filled ride, get a running start and go down on your stomach, face-first.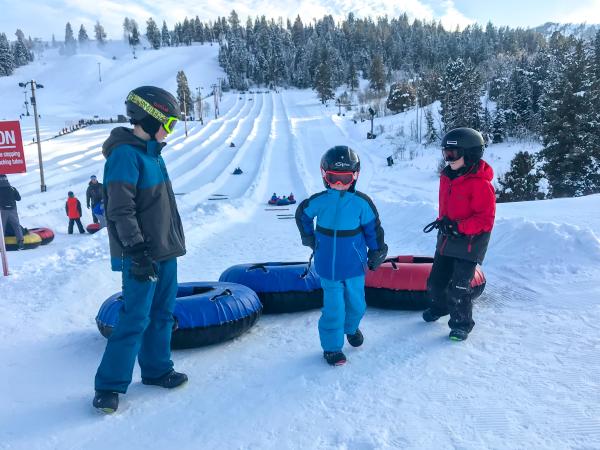 Also, as you can tell, we all chose to bring our own helmets, but they are not required (in fact, most people went without them). We chose to bring them mostly for a bit more peace of mind for me since I know my kids like to push the limits sometimes, but if your kids do the same it's something you should consider as well. 
At both the top and the bottom of the tubing hill, there are attendants to help you if you have a problem, or if like us, you can't get going at the top after everyone's in their tubes and you need a good shove to get down the hill. At the bottom, the attendants will encourage you to collect your tube and keep moving as quickly as possible, so you don't accidentally get hit by the next tube coming behind you. 
According to their website, they only sell a certain number of tickets for each time slot, though because of the popularity of Woodward, combined with the holidays, it still felt quite crowded and we spent a lot of time waiting in line. During our 2 hour session, we were only able to go down the hill 5 times, and that was only because we were running every time that we weren't in line so that we could go more. Until the popularity of Woodward decreases a bit, I recommend either going first thing in the day or during the middle of the week if you can so that you can maximize your tubing time. 
What else can you do at Woodward Park City?
Woodward is best understood when split into its two sections: the Mountain Park and the Action Sports Hub.
The Mountain Park is the outdoor snowsports area that really does have a little bit of something for everyone. The first attraction that Woodward is perhaps the most recognized for is the tubing hill. This is an all-ages tubing park that prior to being bought by Woodward operated as Gorgoza Park for a number of years. There are also several different terrain learning parks available to teach different skiing and riding skills depending on your ability. The terrain learning parks are designed to get you comfortable with different terrain features such as rollers, banked turns and jib features, that get progressively more difficult as your skills increase. For advanced athletes, the performance jumps and features at Woodward are pretty amazing and are pretty spectacular for the rest of us to watch as well. This is the section of the park where you'll see athletes soar over huge jumps, attempting amazing tricks, and dialing in their skills on new complex features. 
The Action Sports Hub is located inside the building and is packed full of action sports training areas. As soon as you step inside, you'll feel the energy and excitement that permeates the whole building. Some of the highlights are an indoor skatepark, a giant trampoline zone, a parkour area, and even a pump track. One of the most unique features of the Action Sports Hub is the indoor ramps and jumps where athletes can practice their jumps in a safe way while landing in a foam pit or on an airbag. Throughout the entire gym, there are coaches on hand to help you learn correct techniques, perfect your form and give you tips and tricks to take your skills to the next level. To participate, you can purchase a 2-hour open-gym pass or if you want more specific instruction, they have several drop-in classes available throughout the week.