Ruts Suck! Mud is Murder! These are common phrases you see splashed across social media each spring and they're pretty much right. Albeit, the latter one is a touch dramatic. It's true, as the town melts out, our 400+ miles of singletrack need time to dry out. For some, riding or hiking in mud seems fine. The trails are going to dry out regardless, right? So what's the big deal with using muddy trails, anyway?
Why Mud Matters
Singletrack trails are not just lines drawn on the hillside but are built in a way so that they last for decades to come. A good trail builder incorporates the natural terrain and features with a design that promotes good drainage. Ideally, a well-made trail will have 3-6% of slope on the downhill side that allows the water to drain. This combined with water bars quickly removes water from the surface of the trail. A poorly designed trail will erode and spring runoff greatly exacerbates that. Too much water and the dirt will have the consistency of peanut butter.
When you run a tire through or plod in the muck with your boots, an imprint of your tire or foot is left over. These shapes will solidify as the trail dries and the velvet smooth singletrack is now rough. And because these shapes have altered the trail, if there are enough of them, it will impede the built-in drainage and lead to quicker erosion. One long tire track through mud essentially acts as a canal for water. That water pulls dirt away and erodes away the trail. A good rule of thumb for trails is if the dirt is sticking to your tires or shoes, it's too soft and muddy to be used.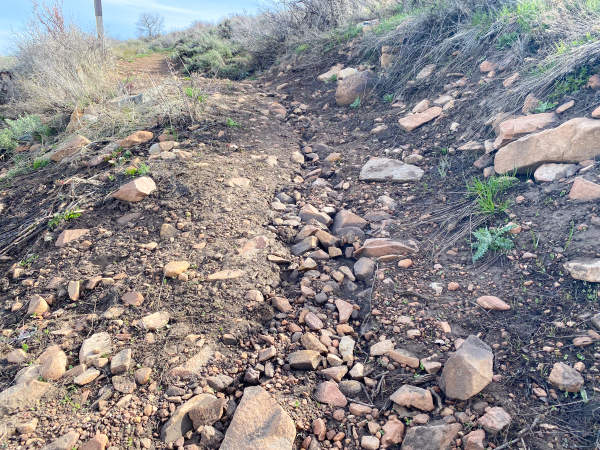 Here is a counter-intuitive piece of advice concerning puddles. We're telling you not to ride through mud but what about standing water? Ride straight through it. Yes, you read that right. If enough trail users maneuver around a puddle, it will widen. This not only widens the trail (keep singletrack single, right?) but also pushes the mud to the peripherals of the trail and creates more damage and more options for erosion. So yes, ride straight through the middle of the puddle!
Where to Find Rideable Trails
This is simple, find the sun! South and west facing aspects will be the first to get warm spring sun. North facing trails do get sun but not directly and will hold their snowpack and water content for longer periods. A good trail is usually dynamic and goes across, up, over, down, and around a multitude of aspects on any given terrain. An example of this is the new Skyridge trail network on the northside of the Jordanelle Reservoir. The climb switchbacks up the south facing hillside before gaining the ridge and crawling across to the north side. The south-facing switchbacks may dry out quickly but the bit of singletrack on the north is going to hold water and mud for longer. So you could do an out-and-back on the switchbacks but please turn around before hitting any northside slop.
Areas in Park City that dry out quickly are the front side of Glenwild, south facing parts of Round Valley, Riverview in Heber, and Dutch Hollow in Midway. A little known and much less ridden trail is Rocky Top on highway 35 towards Francis. This out-and-back is all south facing except for the top and sits at a low elevation so it dries out quickly.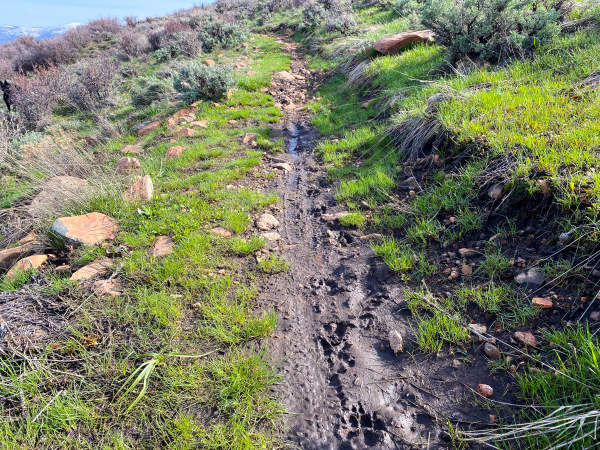 A Quick Note on Hero Dirt
If you're a storied trail user, then you have probably heard the moniker "Hero Dirt." This is dampened dirt on the trail that can provide enhanced traction (also called "Brown Pow" to some cross-seasonal linguists). This does not count as mud. Remember, if the dirt sticks to your tires or heels, it's too muddy. But if the dirt is damp and not sticking, then it's just tacky, and you're good to go!
Updates on Trail Status
If you don't want to do the reconnaissance yourself, there are some handy tools to find out if the local trails are ready to go. First off, make sure you are following the Mountain Trails Foundation on Facebook. These guys do a great job of updating the public on which trails are closed or open. They post near-daily updates. Plus, they have a good time doing it; their posts are often hilarious. Basic Recreation, the South Summit Trails Foundation, and the Wasatch Trails Foundation all leverage email blasts and social posts for updates for their own network of trails in Summit Country and the Wasatch Back. Apps like Trail Forks rely on user-generated updates with date and time stamps, so you know you are getting the most recent information from users like you.
Get Out and Find Something to Ride
And there you have it! Riding in mud is really bad for the trails as damage like ruts and deep footprints lead to quicker erosion and create rough, uneven surfaces where it's not intended. Thankfully, trail maintenance crews and the public can fix them on community dig days. So while ruts do in fact, suck, mud is definitely not murder.