Among its many summer adventure possibilities, Park City, Utah is home to three thrilling summer slide rides. It's not always easy to choose which slide to ride, so we're here to give you the inside scoop and lead you through the twists and turns of deciding which slide (or slides!) is right for your summer adventure. Photo credit: Park City Mountain Resort 
The Alpine Coaster at Park City Mountain
Park City Mountain's alpine coaster is no ordinary slide, folks. With an automated ascent up the mountain and an exhilarating (and beautiful!) ride down the tracks, this roller coaster offers a unique perspective of the resort.  Like the alpine slides, the coaster's cart allows you to control your own speed, but this ride is even longer than its slide counterparts.  Solo operators must be 54" or taller in height and at least 16 years old for this ride.  Passengers must be between 38" and 53" tall to ride.

Try the Coaster if:
You love a thrill and want to feel the wind in your hair
You've tried the Alpine Slide (and liked it!) and want to take it to the next level
You want to check out the resort from a different point of view
The Alpine Slide at Park City Mountain  
Beyond its Alpine Coaster, Park City Mountain is home to many other thrills, including an alpine slide, or should we say, slides. Choose your route down one of the four tracks, offering a variety of rides or even the chance to race your friends/family down the picturesque mountainside. Your ride will cover over 3,000 feet on a concrete luge-like slide and you can control your own speed, allowing you to enjoy the ride at your own pace. You must be 48" tall to operate your own sled and between 35-47" tall to ride as a passenger with a responsible driver of age 16 or older.

Try this Alpine Slide if:
You are with a group and/or want to race your friends
You are with younger children who want in on the adventure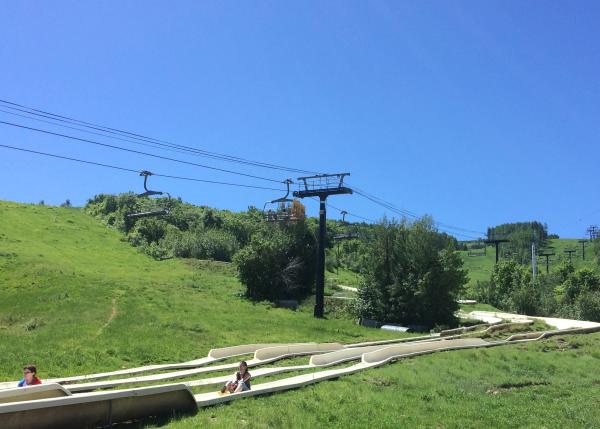 The Alpine Slide at Utah Olympic Park  
Channel your inner Olympian and a ride down the Utah Olympic Park's Alpine Slide. This metal, single track slide is built into the mountainside of the 2002 Olympic venue, and features 18 banked turns making for a totally different experience than the other alpine rides. Enjoy scenic mountain views of the Snyderville Basin and the Uinta Mountains as you cruise down this slide, before checking out what else is going on at the Park.  Similar to the slide at Park City Mountain Resort, you can control your own speed and go for a ride at whatever speed is suitable for you. You must be 48" tall to ride alone and at least 3 years old and under 48" to be a passenger with accompanied by a driver age 13 or older.

Try this Alpine Slide if:
You are in search of a fast, smooth ride
You want to feel the Olympic spirit at a host venue of the 2002 Winter Olympic Games
You want to take in the panoramic views of the Park City area from above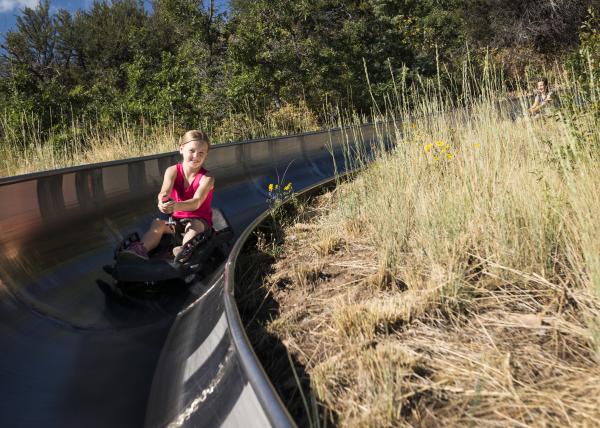 This is just an introduction to the summer sliding possibilities in Park City.  For a wilder, faster thrill, you may want to try Utah Olympic Park's Extreme Tubing or Bobsled.