If you haven't already noticed, Park City is not just any old ski town. We are also a town full of art and culture and have quite an array of creative talent from the stage, and culinary plate to the canvas, and the pottery wheel. At the forefront of our artistic development has been the Kimball Art Center, one of Park City's oldest and most established nonprofit organizations. Their mission is to inspire and connect through art. They believe art should be accessible to all and that art plays a critical role in the overall success of the Park City community. That's why they provide art education in Utah schools at no cost, offer free exhibitions in their galleries, and host a number of annual community events at no charge.
Since 1976, The Kimball Art Center has been a resource for creative expression, social connection, and community dialogue. The KAC provides international quality art exhibitions and dynamic educational opportunities for the citizens of Park City, Summit County, Wasatch County, and the region's many visitors. 
How It Got Started and What They Do
In the summer of 1969, a group of local Park City artists came together to launch an open-air arts festival on historic Main Street. Their aim was to imbue Park City – already a bustling ski resort during the winter – with cultural off-season offerings. Within a few short years, the Art Festival had taken off, drawing some 40,000 visitors to the town. Inspired by the artists' creative energy, Ogden-born philanthropist Bill Kimball decided to expand upon their efforts through the creation of a permanent home for the visual arts in Park City.
Bill Kimball's hopes came to fruition several years later when, in 1976, the Kimball Art Center opened its doors. Its first location was the once-dilapidated, newly-renovated Eley Garage on Park Avenue. At its opening, Bill Kimball expressed his fervent hope that the space would "provide the opportunity for each person to expand his/her interest in the arts." For nearly fifty years, Kimball Art Center has been engaged in the work of fulfilling its founder's vision.
Since its founding, KAC has expanded considerably in its programs and offerings. Within months of opening, Kimball was teeming with activity, offering over 35 classes spanning many media, and exhibiting the work of local students, as well as established Utah artists. The Kimball Arts Festival – true to the spirit of its originators in the summer of 1969 – has established itself as one of Utah's leading cultural events, attracting 50,000 visitors annually, and garnering national attention for the 200+ artists whose work it displays.

Highlights and Winter Programming They Are Excited About
The Kimball Art Center has an exciting lineup this winter. Please join them for the following exhibitions and educational programming.
Upcoming Exhibition
Maia Cruz Palileo: Long Kwento
Open from January 14, 2022 to May 1, 2022
Influenced by the oral history of the artist's family's arrival to the United States from the Philippines, Maia Cruz Palileo investigates larger questions pertaining to identity, history, migration, and concepts of time. Infusing narratives with both memory and imagination, Palileo translates diverse materials into a novel formal language to describe a new world of their own making.
This exhibition of new paintings and sculptures stems from research Palileo conducted at the Newberry Library in Chicago, where varied documents, spanning centuries and cultures, offered a kaleidoscopic vision of the Philippines as seen through numerous eyes, and recalled by Westerners. Palileo recontextualizes these stories, portraits, and images in an attempt to resuscitate these figures from the exploitative gaze of these ethnographic images. Inspired by Damián Domingo, Palileo's expressive, gestural paintings imbue a sense of humanity and dignity to the subjects. Palileo integrates historical narratives from the colonial past of the Philippines with stories and memories of life as a Filipinx American growing up in the United States, producing paintings that possess dream-like qualities that hover between fact and fiction. Combining Palileo's extensive research with narratives of American Imperialism, beginning with the Filipino-American war, and the artist's own understanding of a fractured and complex past, the work evokes nostalgia and romanticism while critiquing the ramifications of colonization, past and present.
This exhibition is organized by CCA Wattis Institute for Contemporary Arts, San Francisco.
Jibade-Khalil Huffman: Parallax Distance
Open from January 14, 2022 to March 27, 2022
Jibade-Khalil Huffman is a collector of visual culture, layering images familiar and unknown to build new meaning. Using unrelenting movement, Huffman's work draws on all senses, utilizing video, audio, text, and the ultimate tool: the viewer's own experience. Kimball Art Center's exhibition will be the second iteration of a body of work titled You Are Here, where Huffman questions the nature of our own realities and the modes through which we understand them. As part of this show, Huffman is creating a video game that viewers will be able to play within the gallery.
Artists Maia Cruz Palileo and Jibade-Khalil Huffman will be present.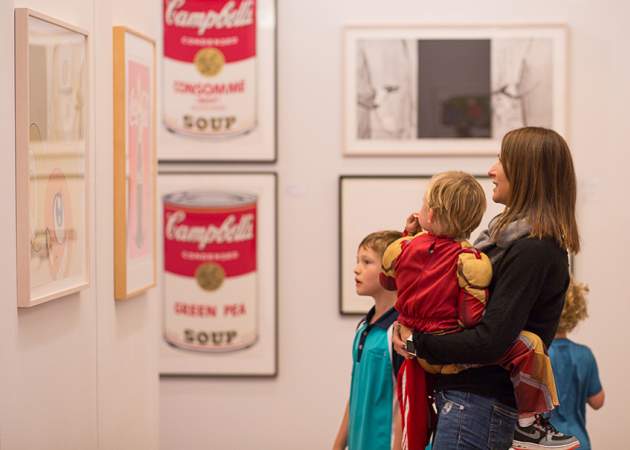 Upcoming Education Programming 
Family-friendly tours to explore our current exhibition. Educators foster youth-friendly discussions focused on noticing elements in the art, learning vocabulary, and supporting creative ideas. Tours are followed by an art making experience that links to the themes and materials in the exhibition.
Ongoing: The next one is December 18th from 10 - Noon. 
Art + Art History Classes with Lisa Nevot
Friday, January 14th, 2022 4:30 PM- 7:30 PM
Learn about Georgia O' Keefe and paint using her style as inspiration. This workshop is a great way to explore painting with acrylics and explore a profound artist. $60 + $15 material fee. Make sure to register for this class!
Sign up for these two day weekend clay classes designed to support students as they progress to the next level. From pottery wheel basics to advanced hand building there is something for everyone!
Designed for all ages (6 and up), each week the class explores a different 3-Dimensional media. From clay to wire, enjoy learning new sculptural skills and building fun art. A great class for all creative types who want to play in the studio and try new materials.
In addition to mounting regular exhibitions of local and world-renowned artists, The Kimball Art Center encourages artistic creation across media through the more than 300 classes it offers annually, robust classroom outreach programs, summer camps for children of all ages, and studio spaces for the Park City community. Unique in its status as the only nonprofit organization in Utah committed to bringing art education to public school classrooms, the KAC reaches some 15,000 students each year.